Portsmouth, New Hampshire, is a charming city in southern New Hampshire along the Atlantic coast. You'll find lots of things to do in Portsmouth, NH, but you can also fit a lot into a single day there.
It is easy to get to Portsmouth thanks to being near many larger New England cities and popular travel destinations. We were able to discover Portsmouth as part of a New Hampshire weekend getaway and enjoyed exploring the city.
If you are going to New England or looking for easy and fun New England day trip ideas, don't miss out on a day trip to Portsmouth NH.
*Some of the links in this post are affiliate links. By using these links, you are helping support our site without any added cost to you.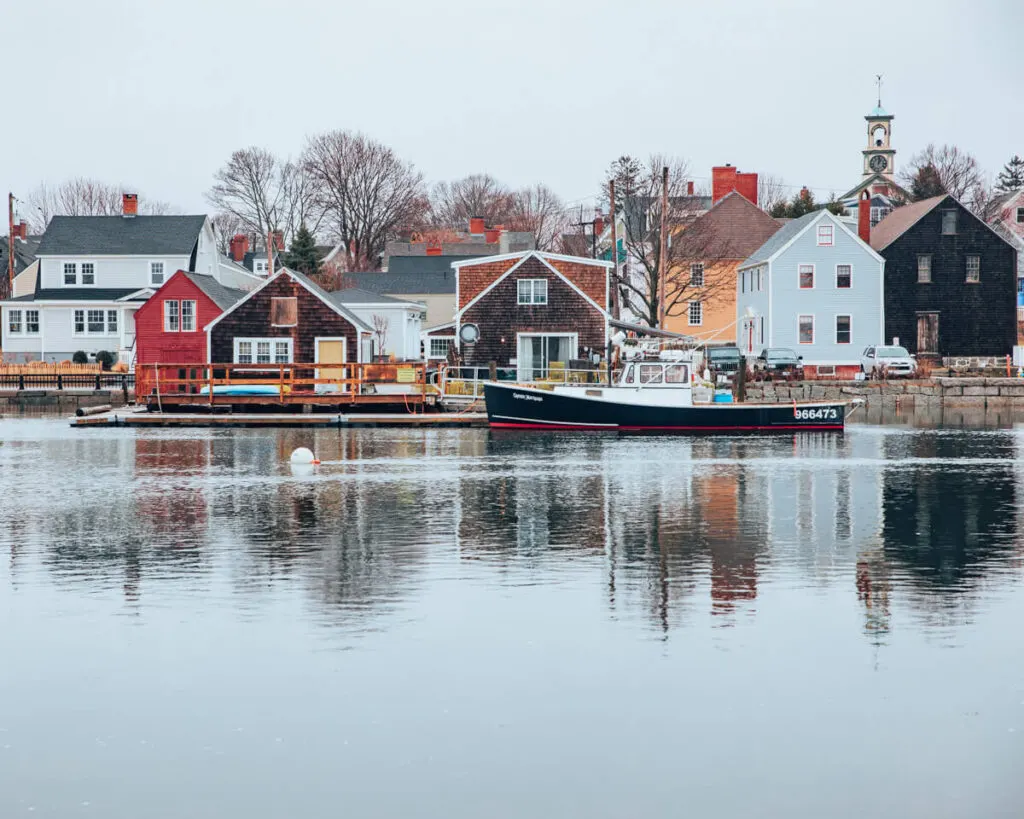 When to Visit Portsmouth New Hampshire
Portsmouth is a beautiful city any time of year. We visited towards the end of March and had off-and-on rain all day.
However, the temperatures were more mild making it comfortable to walk around in a jacket. We are from Florida, so we used our winter jackets. We did see a lot of people in just lightweight rain coats though.
Spring brings the flower blossoms out and the start of warmer weather. Some of the outdoor eating options begin operating for the season, and you can enjoy walking around in fewer layers.
Summer is a popular time to visit Portsmouth thanks to the beaches and warmer weather. You can enjoy eating outdoors at many of the street cafes and on the restaurant decks overlooking the water.
Fall is also popular for New Hampshire thanks to the fall colors but not as busy for Portsmouth. If you will be visiting New Hampshire in the fall, don't skip out on spending at least one day in Portsmouth.
Winter brings cold weather and snowy days, so make sure to pack accordingly. Thanks to the colder weather, you can often find off-season deals and less people visiting.
How to Get to Portsmouth NH: Day Trip Options
There are many places you can use as a starting point for a Portsmouth, NH, day trip. If you have longer to stay in Portsmouth, these are also easy day trips from Portsmouth. Portsmouth is a great stop to add to your New England weekend getaways.
Boston, Massachusetts: Located just over an hour from Portsmouth, it is easy to take a day trip to Portsmouth from Boston.
White Mountain National Forest: If you'll be exploring the White Mountains, you can get to Portsmouth in about 2 hours.
Portland, Maine: Take a beautiful drive down the coastline with several great stops since Portland is only an hour from Portsmouth.
Providence, Rhode Island: Located just two hours away, Portsmouth is an easy day trip from Providence.
Hartford, Connecticut: While it is a little further away at just over two hours, Portsmouth is still a doable day trip from Hartford.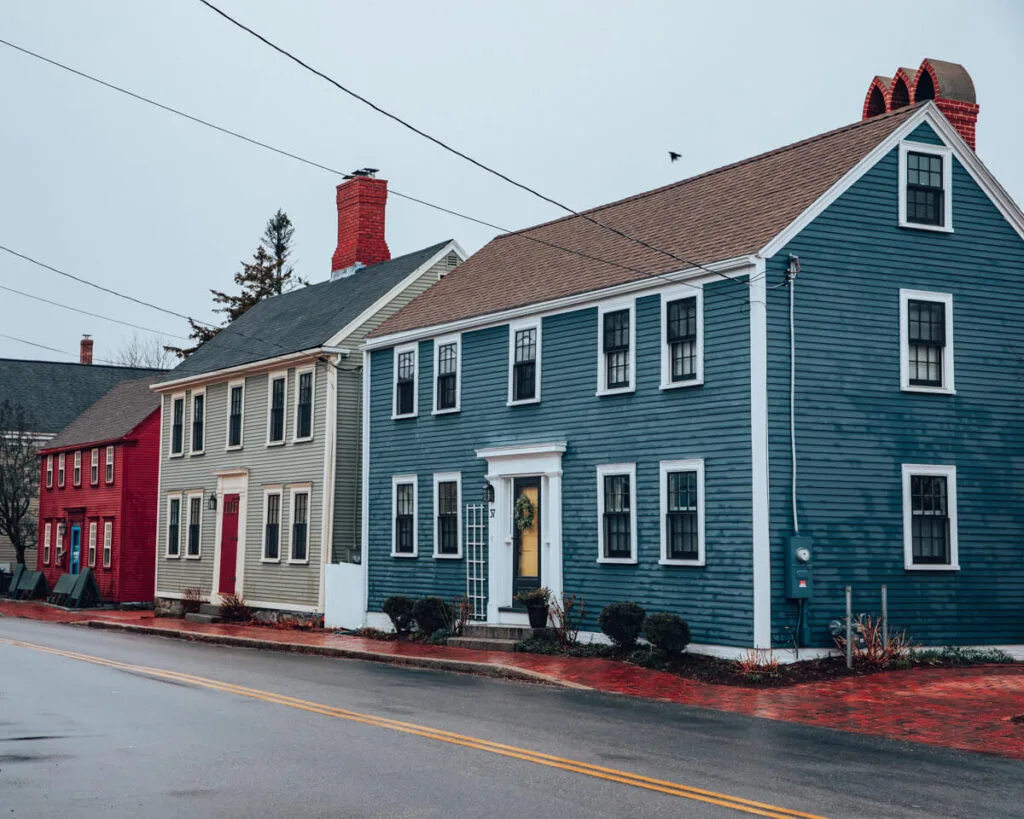 Best Things to Do in Portsmouth, NH
Portsmouth is a beautiful city with stunning homes, cute cafes and shops, and beautiful waterfront views. You can spend the day in downtown Portsmouth or get out to explore more of the area. Here are some of the best things to do in Portsmouth, New Hampshire, even if you only have one day.
Market Square
Market Square is a popular area of Portsmouth. North Church stands tall as a focal point in the square, but you'll also find local cafes, shops, and historic buildings including the Portsmouth Athenaeum. If you opt for a guided walking tour in the city, it will likely start here.
If you want to grab some food or drink, consider Cup of Joe Cafe & Bar. This cute cafe has outdoor seating along Commercial Alley for when the weather is nice. Then visit Salt Cellar, a specialty salt shop just down the alley, and pick up some unique gifts at Off Piste.
From June through October 18 each year, you can also walk down to the Moffatt-Ladd House & Garden. Built in the 1760s and inhabited by the same family for more than 150 years, this National Historic Landmark is now a museum offering guided tours.
Another historic home in the area is the John Paul Jones Historic House Museum. Open annually from Memorial Day through Columbus Day (and on Veteran's Day for free), you can tour this stunning 3-story home built in 1758 now operated by the Portsmouth Historical Society.
Dinner With a View at River House
When you get hungry for lunch or dinner, head to River House for a meal overlooking the Piscataqua River. The patio is open year round, but it is closed in and heated in the winter.
Enjoy fresh local foods including seafood and non-seafood options. I tried out the chicken sandwich with avocado and their delicious fries. My husband enjoyed the seafood paella to get a taste of the various types of seafood in the dish.
We both left full and got to enjoy the view while we ate. I would highly recommend a meal here.
If you want to enjoy lunch or dinner and a show before leaving Portsmouth, you can head just down the street to the Seacoast Repertory Theater or head back into downtown for a stop at the oldest theater in the state and 14th oldest in the country, The Music Hall.
If the River House is full, other top suggestions include the Black Trumpet just around the corner or Earth Eagle Brewings a little further away.
Portsmouth Harbor Lighthouse and New Castle
The Portsmouth Harbor Lighthouse was closed temporarily when we visited, but we were still able to see it. There is a little spot with a few parking spots to see the lighthouse near New Castle Beach. If you go down Ocean Street, you can look out across the water to see the lighthouse.
The drive down 1B takes you all through the islands of New Castle, New Hampshire. This is the smallest town in New Hampshire and the easternmost town as well. Comprised entirely of islands, you get some great water views on the drive.
I loved the homes throughout Portsmouth, but some of my favorites were in New Castle. New Castle is also known for Fort Constitution, Fort Stark State Historic Site, and Wentworth-by-the-Sea Hotel.
Prescott Park
Prescott Park is another one of the more popular things to do in Portsmouth, New Hampshire. It offers great views of the Piscataqua River.
In winter and early spring, the park is mostly empty and a good place for a walk. However, in the summer, the park comes to life.
It is a popular spot for festivals and concerts as well as outdoor movie nights with the Prescott Park Arts Festival. Get the full list of events on their website here.
With room to run or walk along the water and picnic tables with grills, the many opportunities for family fun make this a popular spot. With over 10 acres of land, the park makes for a great green space within the city.
You can also plan a visit to the nearby Warner House if you are in the area at the right time. This home was built in the early 1700s and is the oldest, urban brick home in northern New England. It is open from Thursday through Sunday from 11 a.m. until 4 p.m. from the end of May through mid-October.
Four Tree Island
Four Tree Island makes for a great stop in the summer. With picnic tables and grills, you can enjoy a picnic meal overlooking the Piscataqua River and Memorial Bridge.
This island is accessed on foot only, but there is a parking lot near the path. It is a short walk on a land bridge out to the island. The island itself is small, and you can easily walk all the way around it.
The best part of the island is the view of Memorial Bridge, perfect for a photo of the bridge crossing from New Hampshire into Maine. There is also a monument "for those who sailed here to find a new life" facing the bridge.
Governor John Langdon House
One of the most famous homes in Portsmouth is the Governor John Langdon House. This beautiful home is open to the public each year from June through October 16.
You can tour the inside of the house daily from 11 a.m. until 4 p.m. with tours every hour. Tickets are $15 for adults, $13 for seniors, and $7 for students and children.
If you want to see the exterior of the beautiful Georgian mansion, you can wander the grounds daily from dawn until dusk for free.
Strawbery Banke Museum & Surrounding Area
The Strawbery Banke Museum was not open when we visited, but we did explore the area. The outdoor museum is open from May 1 through October 31 each year and is one of the most popular tourist attractions in the city. If you visit in the winter, the museum is closed, but you can enjoy the ice skating rink instead.
Covering just about 10 acres, you can walk among the heritage gardens and historical buildings while learning about the history of the area. You can go in several of the buildings, with a few of them dating back to the 17th century.
The homes around Strawbery Banke were also favorites. We spent an hour or so walking around the homes near Marcy Street by Sanders Fish Market. You can also view these homes from the parking lot for Four Tree Island.
USS Albacore Museum
We drove past this museum but did not have time to explore it with only one day in Portsmouth. The USS Albacore Museum is open every day from 9:30 a.m. until 4:30 p.m., but the last ticket is sold at 4:00 p.m.
The submarine was used as a research submarine to test new features to use on modern submarines. You can take a self-guided tour through the submarine to learn about its history. Make sure to stop by the Memorial Garden which serves to honor those who served on the USS Albacore and other US submarines.
Beaches Near Portsmouth
If you are like us and love the beach, there are several beaches near Portsmouth. The easiest one to get to is Wallis Sands Beach.
There is a large parking lot for this beach. While there was no charge for parking there in winter, there is a fee throughout the warmer months of $15 per vehicle. If you plan to visit on a busier day, you can reserve a parking spot ahead here.
The sandy beach also has a grassy area with picnic tables above the beach. We enjoyed walking on the beach even on a cold winter day.
From Wallis Sands, you can also drive down the coast to Rye Harbor to enjoy the beachfront homes and restaurants as well as the boats in the harbor. It's a pretty drive, and you can continue from Rye Harbor back into Portsmouth.
Portsmouth NH Day Trip Itinerary
There are a lot of things to do in Portsmouth, so what can you actually get done in a day? A lot of it will depend on the season.
Because we visited at the end of winter, many of the options listed here were closed. For us, we chose to start the day with a walk on the beach and then explore Market Square.
After lunch at the River House, we went to Four Tree Island and walked around the Strawbery Banke area. Then we took the drive out to New Castle to see the lighthouse in Portsmouth.
Because we were staying in the White Mountains that night, we had to leave a couple of hours at the end of the day for the drive.
If you are visiting in summer or fall, more of the museums are open then. I've included a variety of options so that you can pick and choose the ones that best fit your interests to add to your day trip itinerary.
Where to Stay in Portsmouth, New Hampshire
If you choose to stay overnight instead of just taking a quick day trip to Portsmouth, NH, check out The Hotel Portsmouth (Agoda | Booking).
Built in 1881 as a private home, it was converted into a law office, then a beauty salon and eventually a hotel. The Hotel Portsmouth opened in 2014 after a six-month renovation, and it looks amazing.
As one of the best hotels in Portsmouth, it offers spacious rooms and beautiful decor. It is also close to Market Square and other Portsmouth attractions, so you can easily walk to explore the town.
They also have a breakfast buffet with healthy and filling options. From yogurt parfaits to overnight oats to fruit cups to muffins and more, we had plenty of options to fill up on before leaving to explore.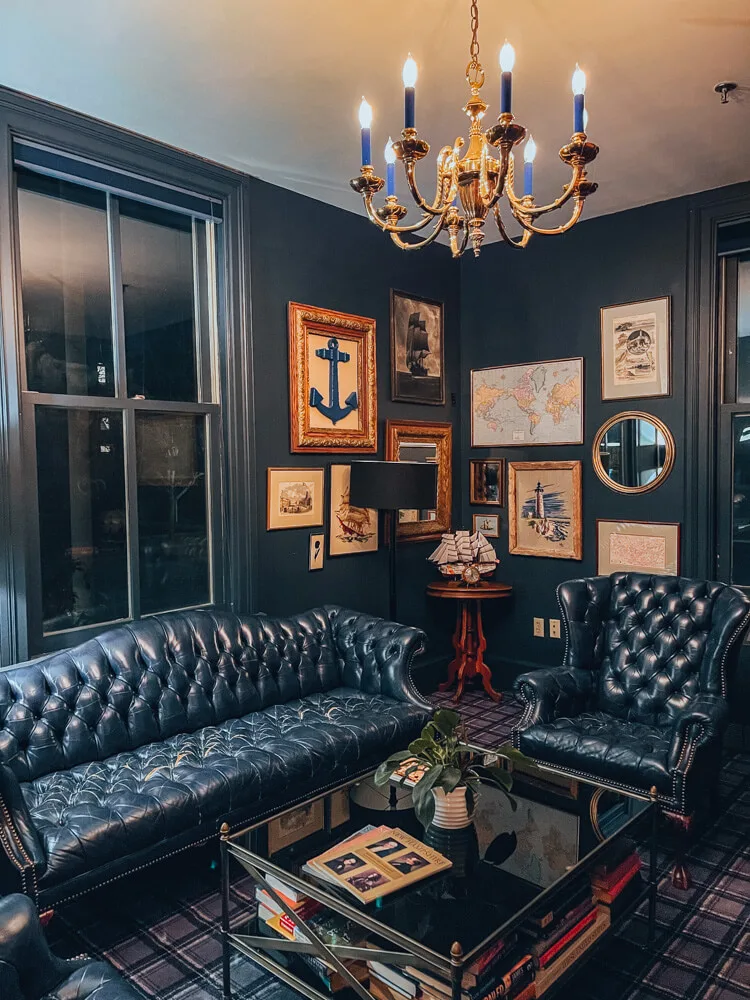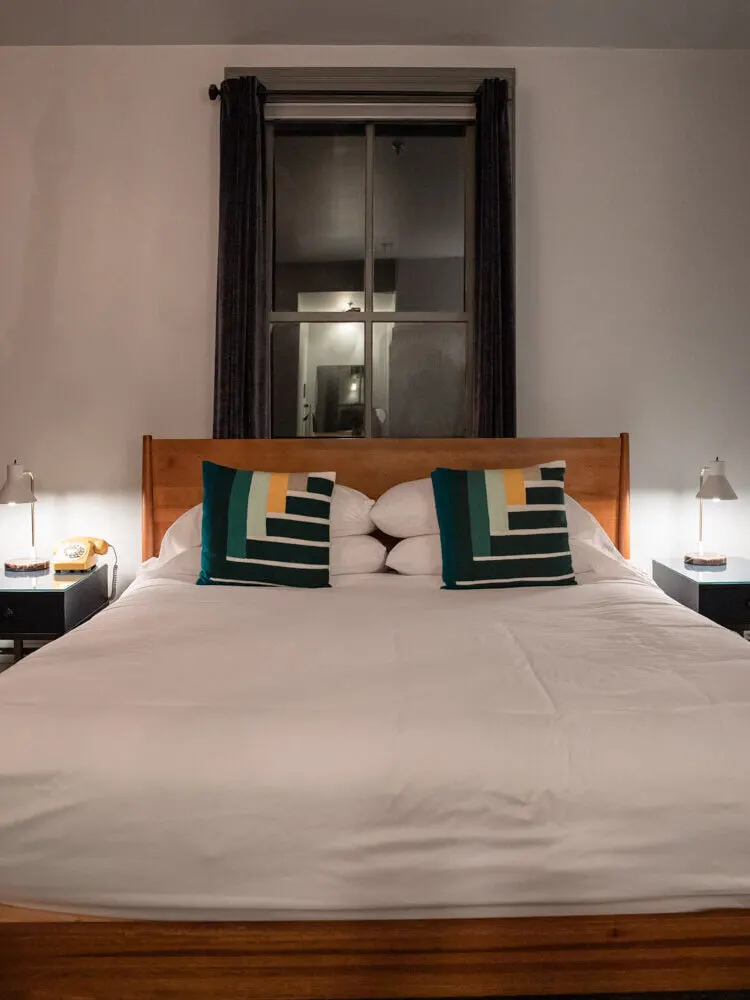 Why Take a Day Trip to Portsmouth, NH
If you have longer to spend in New Hampshire or in Portsmouth, you can definitely find plenty of beautiful places to keep you busy. However, if you are looking for easy New England day trips, consider taking a day trip to Portsmouth, NH.
It's a beautiful city even in the cold and rain. The architecture of the homes and buildings is incredible, the food is delicious, and you can find plenty of free things to do in Portsmouth to make this a budget day trip.
For more New Hampshire travel tips, get our full weekend in New Hampshire itinerary. It includes one day in Portsmouth and then a trip up to the White Mountains to explore more of the beauty of New Hampshire including the best waterfalls in New Hampshire.
Like this post? Pin it for later and share it with others!