We love a good weekend getaway, and getting up to New England has been a goal for us for a while. We recently had a chance to go on a New Hampshire weekend getaway with the tourism board of New Hampshire and fell in love with the state.
From cute inns to waterfall hikes to eating all things maple, we loved every minute of our weekend in New Hampshire. In fact, we ended up extending the trip to see even more of New Hampshire and New England!
We celebrated our 12th wedding anniversary over the weekend while we were there, so it was perfect timing for one of those romantic weekend getaways to explore new places.
If you only have enough time for a long weekend in New Hampshire, here is what we would suggest for seeing the best that New Hampshire has to offer.
***This post was sponsored by Visit New Hampshire and Spirit Airlines. However, all thoughts and opinions are my own. Some of the links in this post may be affiliate links. Purchasing through them helps support this site without any added cost to you.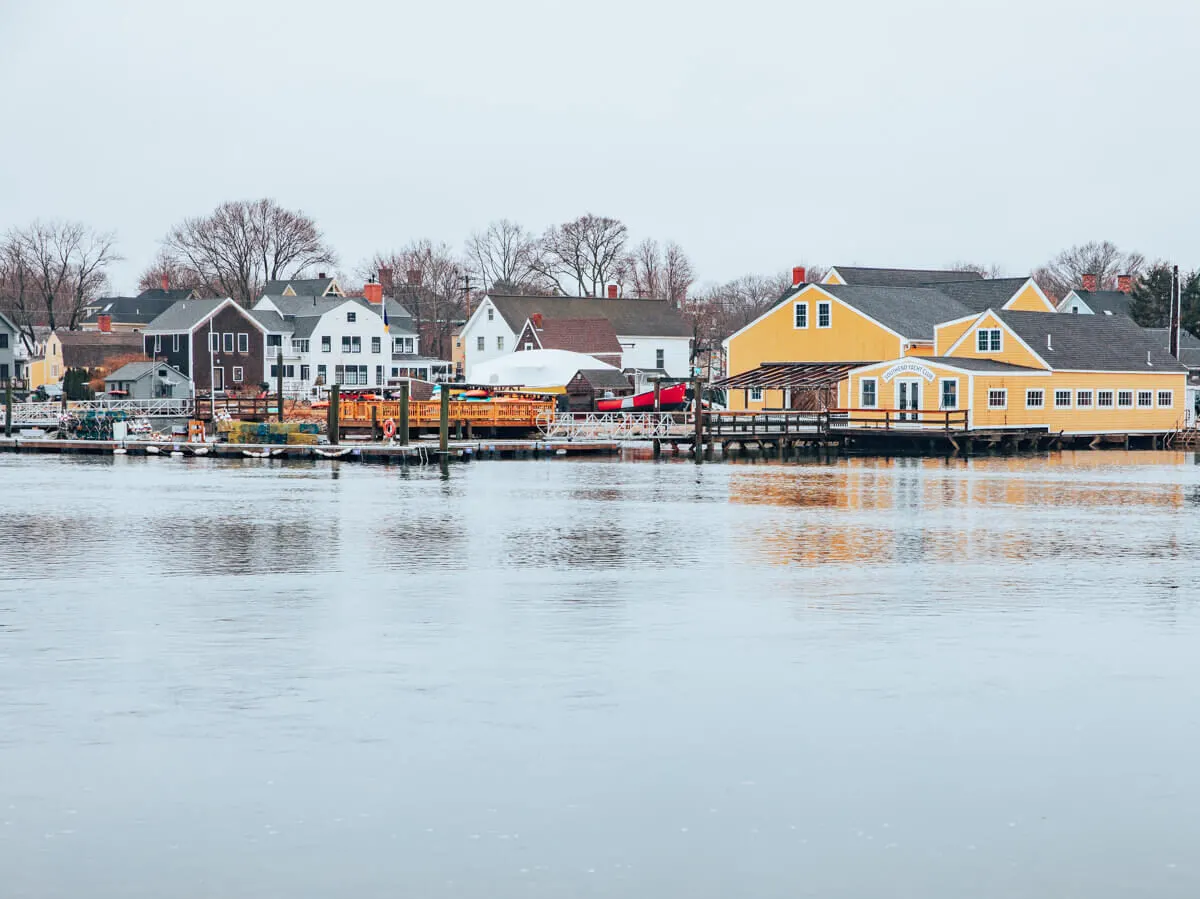 Day 1: Arriving for Your New Hampshire Weekend Getaway
Since we live in Orlando, our best option to get to New Hampshire on a budget was with Spirit Airlines. Spirit Airlines now offers a direct flight from Orlando International Airport to Manchester-Boston International Airport.
We tend to use Spirit Airlines fairly often to get around the country thanks to Orlando being a hub city. We can often find cheap direct flights to where we want to go.
While you do pay for the features you use with the airline, we tend to travel light (backpacks only) and do not care so much where we sit on the plane. This flight was a short 3 hour flight, so we just ate before the flight and grabbed some fast food on the way to the hotel once we arrived.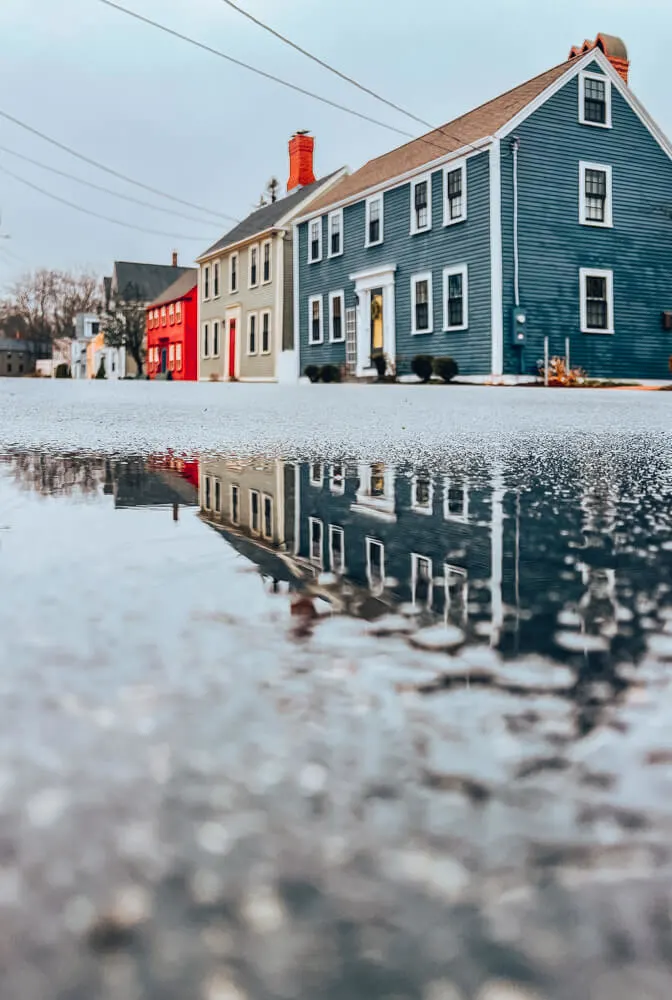 Where to Stay in Portsmouth: The Hotel Portsmouth
Once we arrived in New Hampshire, we headed straight to Portsmouth where we stayed at The Hotel Portsmouth. This beautiful hotel was built as a personal home back in 1881.
It went through a few transformations over the years before becoming The Hotel Portsmouth. First it became a law office and then a beauty salon where the Governor of New Hampshire's wife used to go to get her hair done.
It became an inn in 1985 before opening as The Hotel Portsmouth in 2014 after a six month renovation. Justin welcomed us to the hotel with a tour since we were interested in the history, so don't be afraid to ask if you are interested.
The hotel offers spacious rooms and beautiful decor. It is also close to Market Square and other Portsmouth attractions, so you can easily walk to explore the town.
We would love to go back and stay for more than just a night in this Victorian masterpiece.
Day 2: One Day in Portsmouth New Hampshire
Start off your second morning of the trip with a delicious breakfast at The Hotel Portsmouth. We were impressed with the options, especially the healthy ones, the hotel had to offer.
From yogurt parfaits to overnight oats to fruit cups to muffins and more, we were able to eat our fill before heading out to explore. If you like to sit and relax in the morning after breakfast, enjoy the study or the drawing room before you leave.
Since we only had one day in Portsmouth, we wanted to make the most of our time.
Explore Market Square and Downtown Portsmouth
Downtown Portsmouth is a very walkable town. While our day in Portsmouth included a lot of off-and-on rain, we were still able to walk through Market Square and down some of the surrounding streets. Market Square is typically considered to be one of the best things to do in Portsmouth, NH.
There are lots of cute shops and cafes to stop in if you see something that catches your eye. For us, we just worked off our breakfast by walking around and taking in the architecture of the city.
Where to Eat in Portsmouth: The River House
For lunch, stop at The River House. There is parking outside of the restaurant, but you can also just walk over from Market Square.
Even with the colder temperatures in March, we still got to enjoy a waterfront view thanks to the heated and enclosed patio. In the summer, the patio is open for fresh air dining overlooking the Piscataqua River.
I know I should like seafood since I was born and raised in Florida, but I'm not a fan. They had lots of fresh seafood options but also had options for others like me who are dining with a seafood lover.
I ordered the chicken sandwich with avocado and fries. While the sandwich was great, these were some of the best fries I've had in a long time – and I'm picky about my fries!
My husband enjoyed the Seafood Paella so that he could have a wide range of seafood options. Seafood is his favorite food, and we are spoiled with fresh seafood options in Florida. However, the River House got his seal of approval for the delicious dish.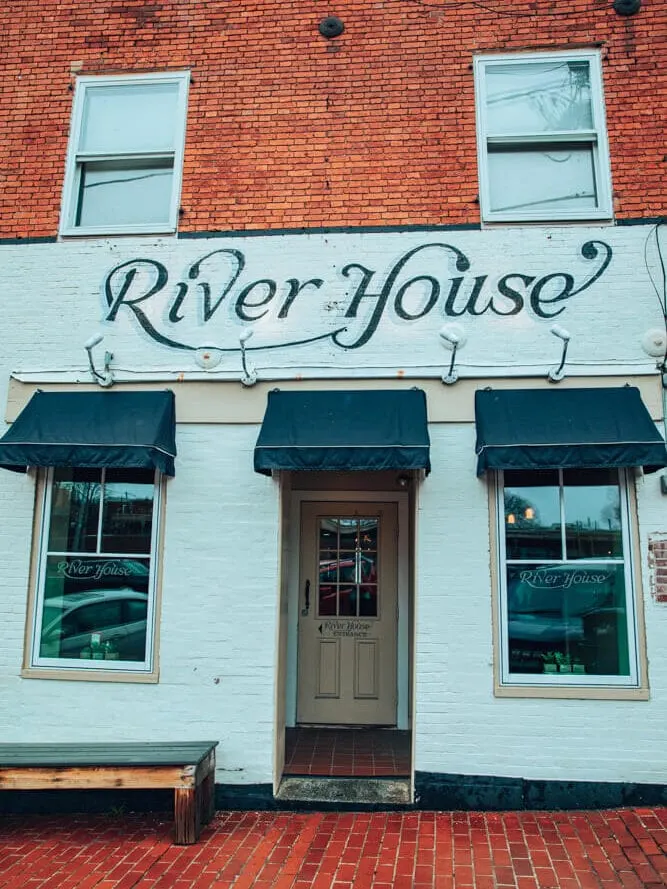 Four Tree Island & Little Harbour
After finishing up lunch, we decided to see more of Portsmouth before heading up to the White Mountain National Forest for the night.
Four Tree Island offers a pretty little walk around the island to see the Piscataqua River and Memorial Bridge. They have picnic tables and grills set up if you visit in the summer and want a place to hang out for a little while.
You can also stop at Prescott Park for a different view of the Piscataqua River. There is some parking near the park or you can walk down the street from The River House.
Because I fell in love with the architecture of the homes in Portsmouth, we ended up parking over in the Little Harbor area to walk around and see the homes.
This area is located near Sanders Fish Market on Marcy Street. There are so many colorful homes to take in as you walk around the area.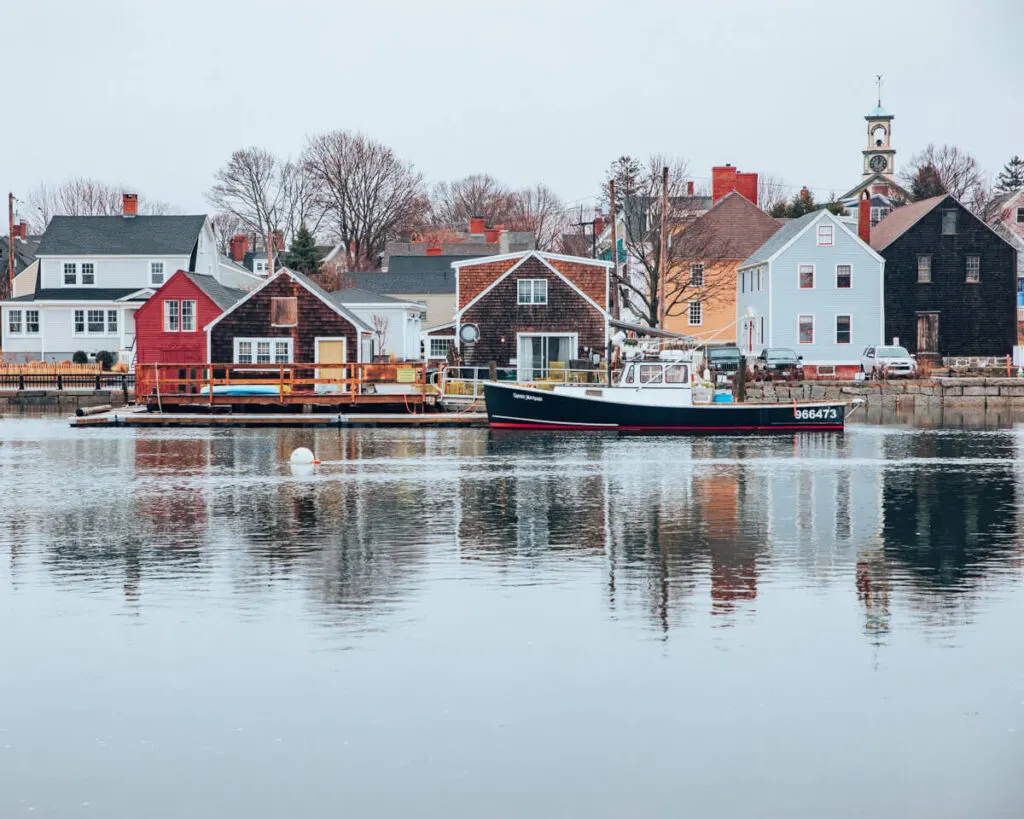 Beaches in Portsmouth & Portsmouth Lighthouse
You can't go to New England without seeing a lighthouse. The Portsmouth Harbor Lighthouse is temporarily closed, but there is still a way to see it.
It takes a little bit of navigating (and if you travel with me, you'd have to hear, "Look at that house!" about a thousand times), but there is a little spot with a few parking spots to see the lighthouse. If you go down Ocean Street near New Castle Beach, you can look out across the water to see the lighthouse.
Because we love the beach, we had to see the beach in New Hampshire too. It was only a 15 minute drive from downtown Portsmouth. Even with the wind and rain, a visit to the beach is never a bad thing.
We started out at Wallis Sands State Park. This pretty sandy beach also has a rocky divider between the public beach and the beaches in front of the stunning beach houses.
After walking along the beach and talking to a local out walking his dogs, we also drove down 1A to Rye Harbor State Park where you can see the boats in the harbor.
Our exploring took up most of the day, so then it was time to head to our next stop – White Mountain National Forest.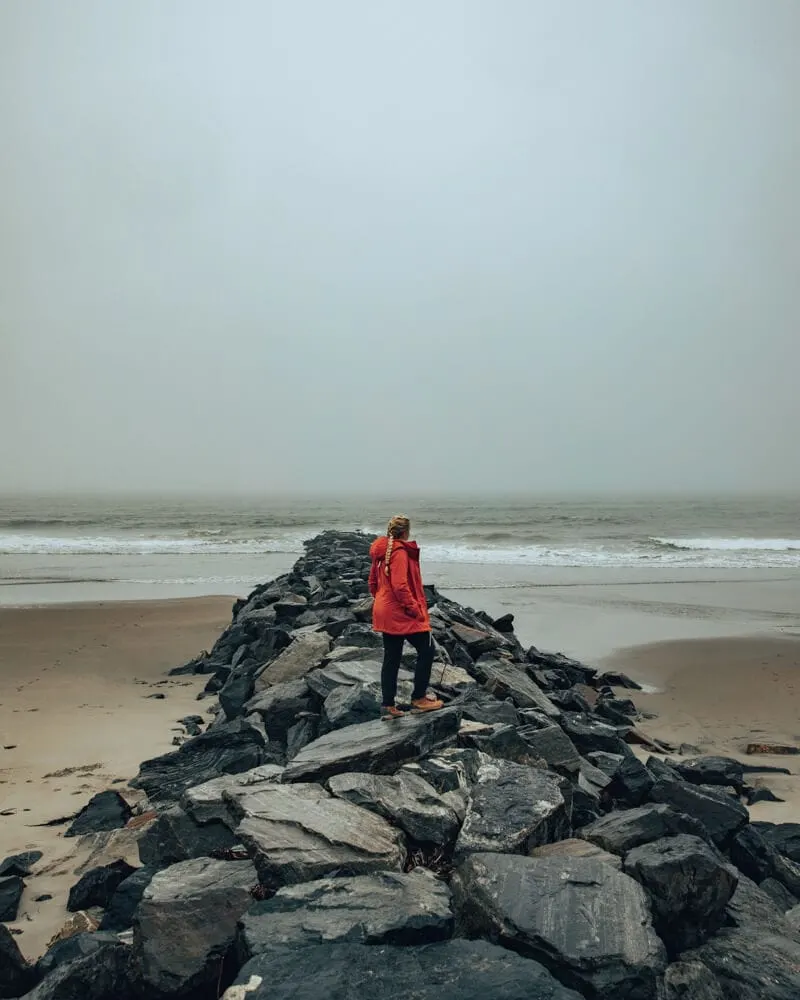 Drive from Portsmouth to the White Mountains + Optional Hike
The drive from Portsmouth to the White Mountains took about 2 hours. It was an easy drive and beautiful even in the late winter. We can only imagine how pretty it would be in the fall!
If you have time, you can fit in a hike on your way to your inn for the night. Bald Mountain is a good workout but not too difficult for beginners.
You'll want shoes that have some sort of grip, especially if the trail is wet. Most of the trail is an easy walk with an incline, but the last part involves some scrambling.
If you aren't up for the scrambling, that's okay. There is still a spot before you get to the tougher part where you can enjoy almost the same view.
In total, the hike is about .7 miles with a total ascent of about 250 feet. The top of the mountain gives you 360-degree views of the surrounding mountains, Echo Lake, and the Cannon Mountain ski runs.
If you don't have time for the hike after exploring Portsmouth, you can always try it out the next day.
Where to Stay in the White Mountains: Adair Country Inn & Restaurant
After spending so much time on our feet for the day, we were ready to relax when we arrived at Adair Country Inn & Restaurant. We fell in love immediately when we drove up the driveway. This is the perfect romantic weekend getaway spot for couples looking to escape the hustle and bustle.
Built in 1927 as a wedding gift by the bride's father, Adair remained a private home until she passed away in 1991. Now it operates as a 9-bedroom inn with rooms varying in decor and size.
We stayed in a suite called the Kinsman Suite with a large sitting area and jetted tub in the bathroom. It was on the second floor of the inn and is one of the larger rooms available.
The room also has a private balcony overlooking Mount Washington and the surrounding mountains for a perfect mountain view guest room. With how great the view was in March, I can only imagine when it is lit up with fall colors, covered in fresh snow, or full of the bright greens of summer.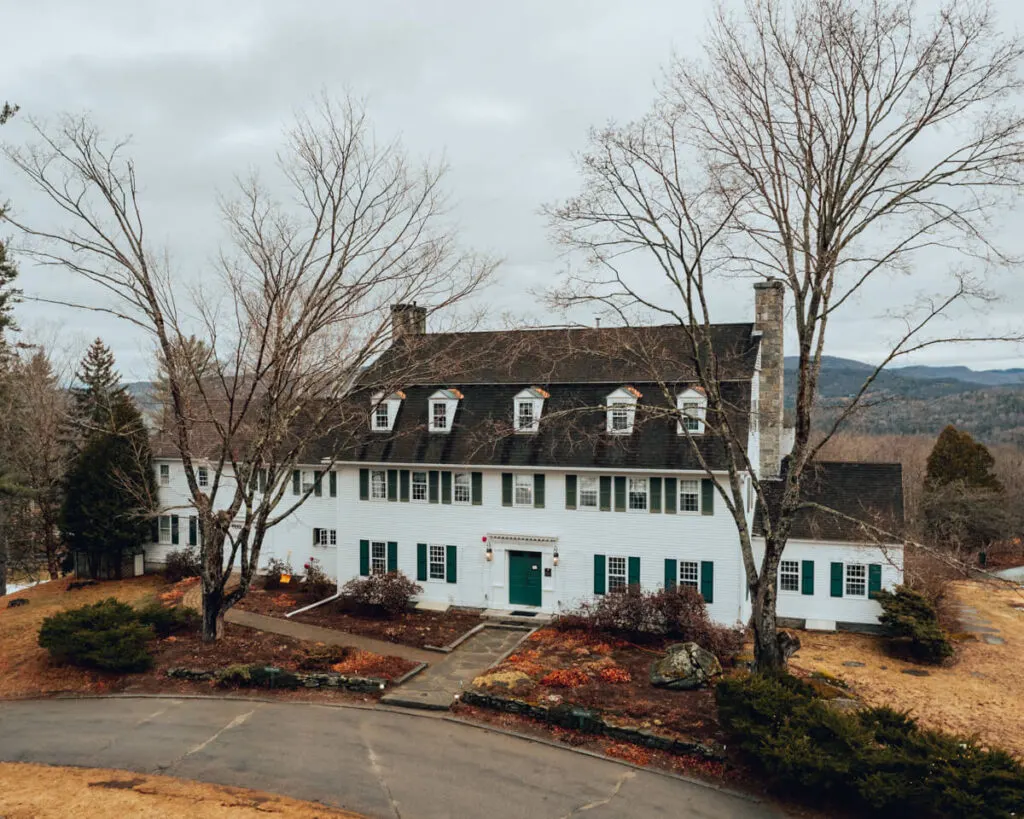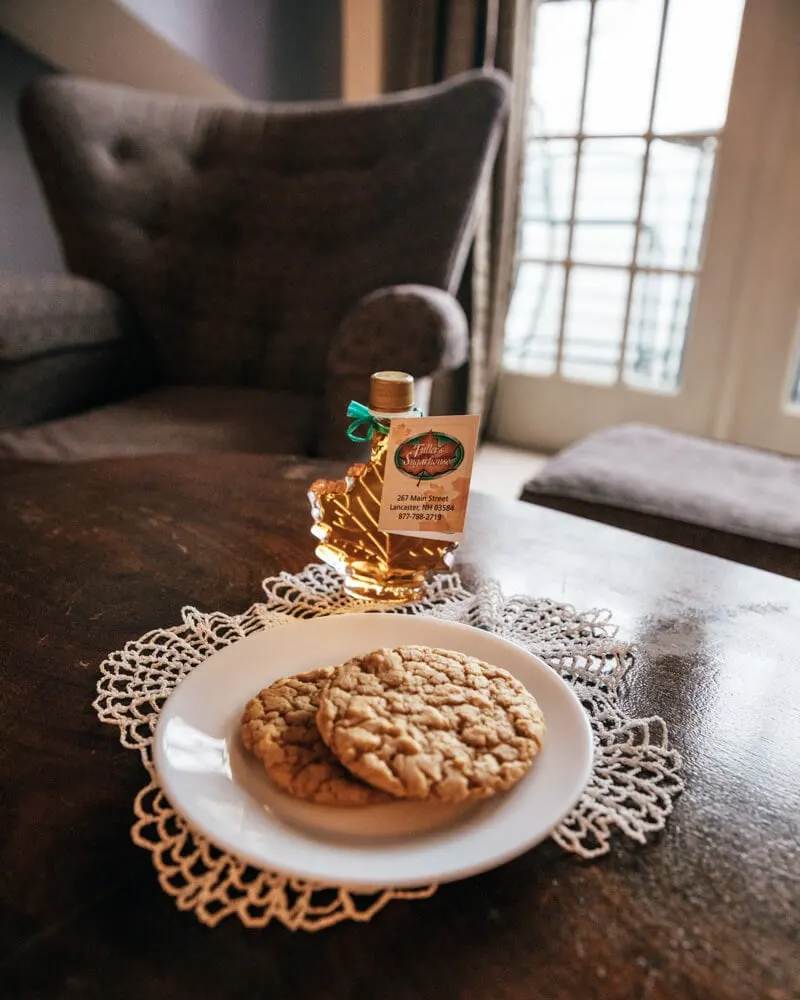 The main level includes a bar, a dining room, and a huge living room with plenty of space to spread out. The basement has been converted to a game room, and we spent time that evening shooting some pool after dinner.
You'll also find a cabinet full of games and a TV with couches around it if your room does not have one. There is a fireplace with additional sofas in the middle of the room as well to just relax and enjoy.
Stacey, the innkeeper, stopped by to check on us as well as the other guests staying there. He is extremely friendly and welcoming and very knowledgeable about the area. He and our waitress for the night both gave us tips for some hikes to try with our extra days.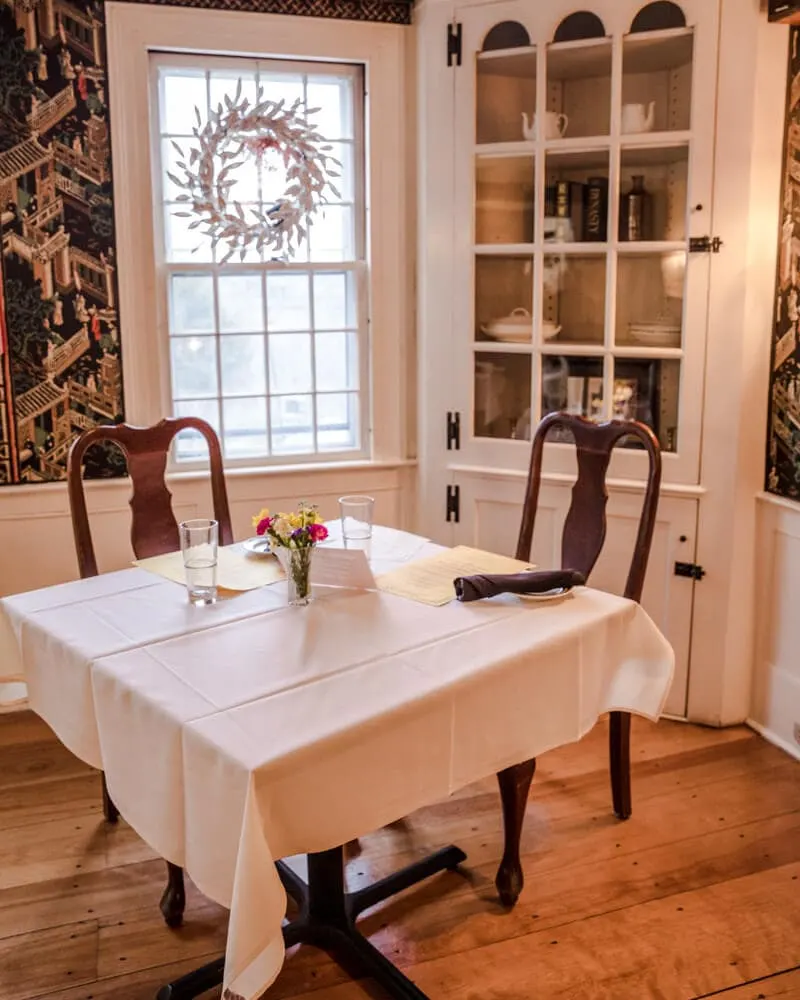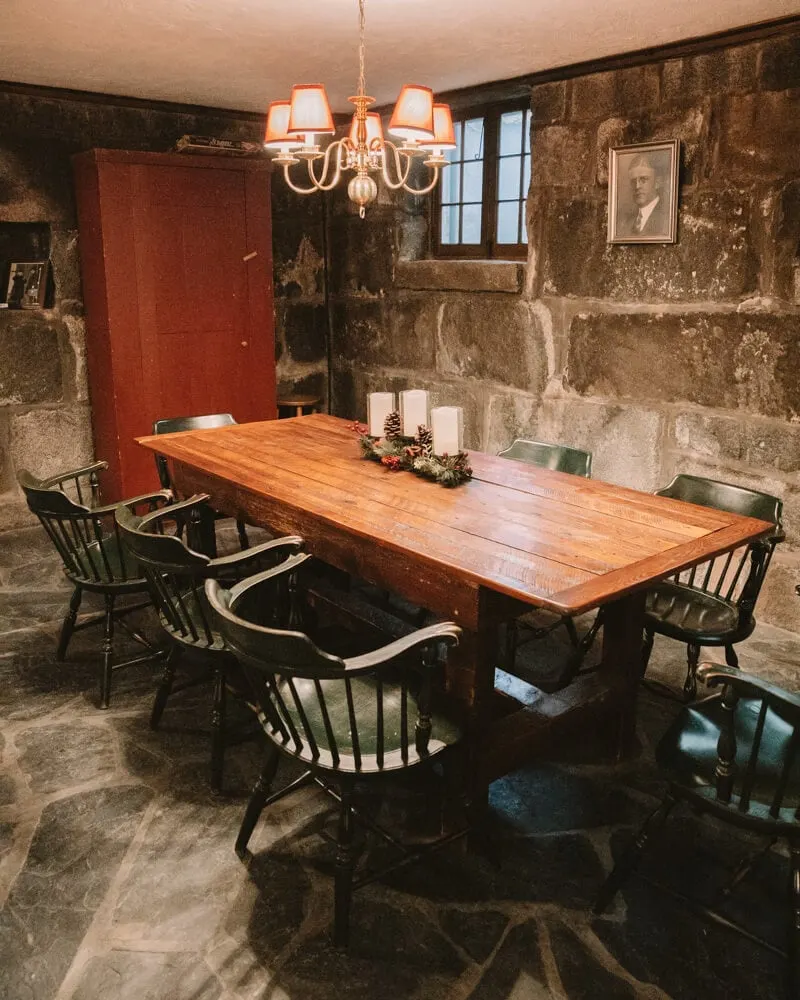 The Adair Country Inn and Restaurant serves dinner in two seatings, a 6 p.m. seating and an 8 p.m. seating. The service is top-notch, and the food is incredible.
Because we were visiting in March, we got to enjoy their Maple Celebration Dinner. Even locals come over for the special yearly event where every dish has a maple element.
With four courses, I planned to skip the salad since I'm not much of a salad person. However, one bite of the salad and I couldn't even skip that course.
We left completely full but with no regrets. We even asked for tips on how to make the sweet potatoes and found out the secret was the local maple sugar.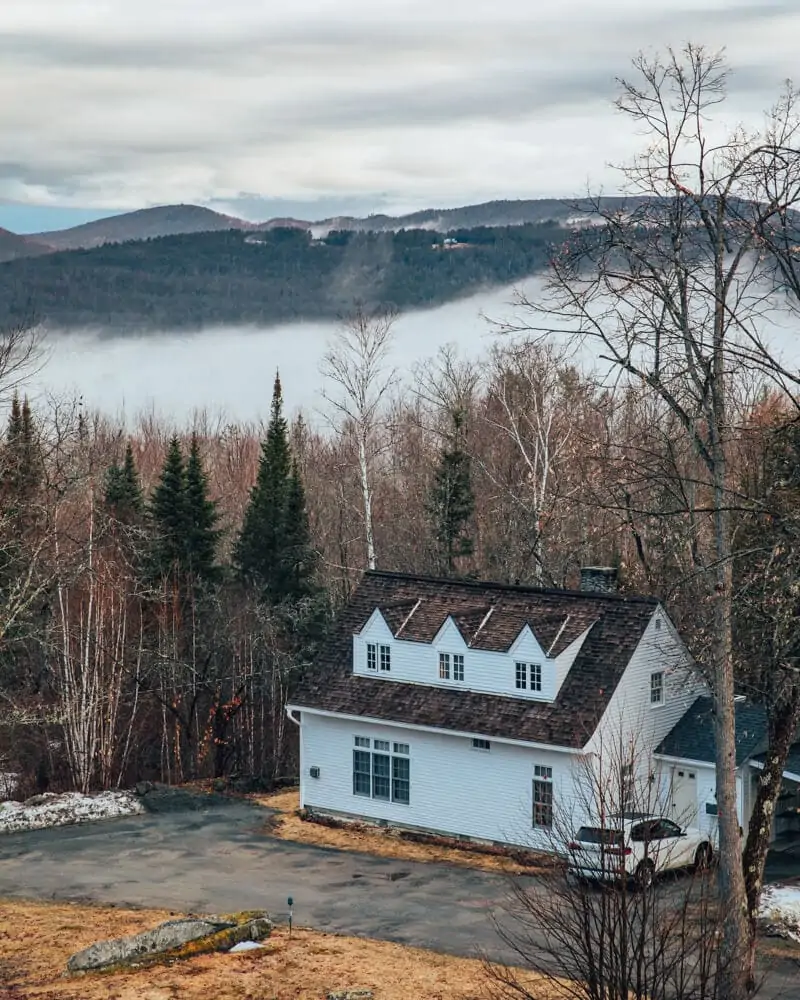 Day 3: Best Things to Do in the White Mountains
The White Mountains are famous for their fall colors, but they are beautiful any time of year. We were thankful to have a full day exploring the White Mountains and seeing more of the area.
Best Pancakes in the White Mountains
We were torn with our option to stay at Adair for breakfast, but we heard so many great things about Polly's Pancake Parlor that we had to check it out.
Get there early, especially on the weekend. Stacey shared with us that he's seen it have a wait time of a few hours in the later morning on weekends.
We arrived at 7:30 or so in the morning and walked right in. Stacey's advice was to be there by 8 or chance waiting in line for a while, especially on weekends or busy times of the year.
At Polly's Pancake Parlor, they serve more than just pancakes. However, you can't go and not get the pancakes!
They have a variety of batters to choose from and lots of options for what to include in your pancakes. We did a mix of batters to try out the different options in the stack of pancakes.
Each table is set with maple syrup (of course!), maple sugar, and maple spread. Don't be afraid to try all three on your pancakes.
Polly's Pancake Parlor is an affordable option for breakfast in the White Mountains and has something for everyone. Even kids will love the big fluffy pancakes they are famous for.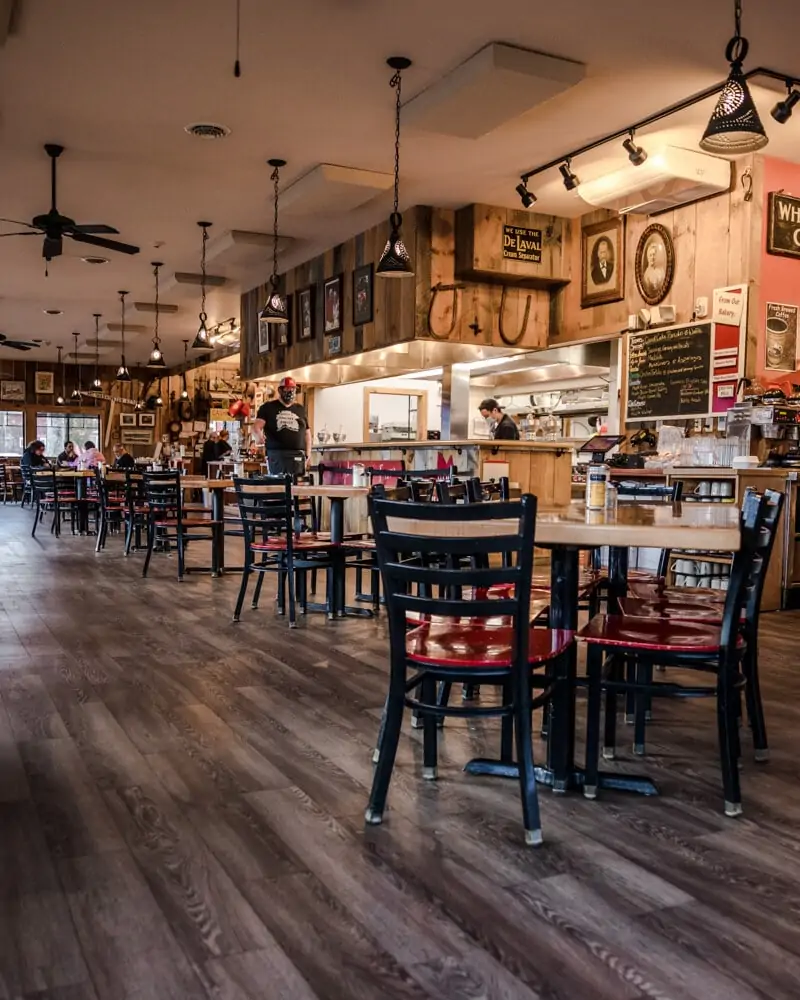 Maple Celebration Weekend
If you visit New Hampshire in March, don't miss out on the maple season events going on in the state. To learn more about maple syrup and how it is made, we opted for the New Hampshire Maple Experience at The Rocks Estate.
While the estate used to be privately owned, it was donated to the Society for the Protection of New Hampshire Forests and is now run by the organization.
The experience starts with a horse-drawn ride to see more of the estate. Because of the requirement to have a crop, the estate also grows Christmas trees. You can take a walk through the Christmas tree farm if time allows.
The ride also gives you a chance to learn about the history of the property and the renovations that are taking place. On the ride, you will also get to see the working maple lines and learn a little bit about how the trees are tapped and the sap is collected.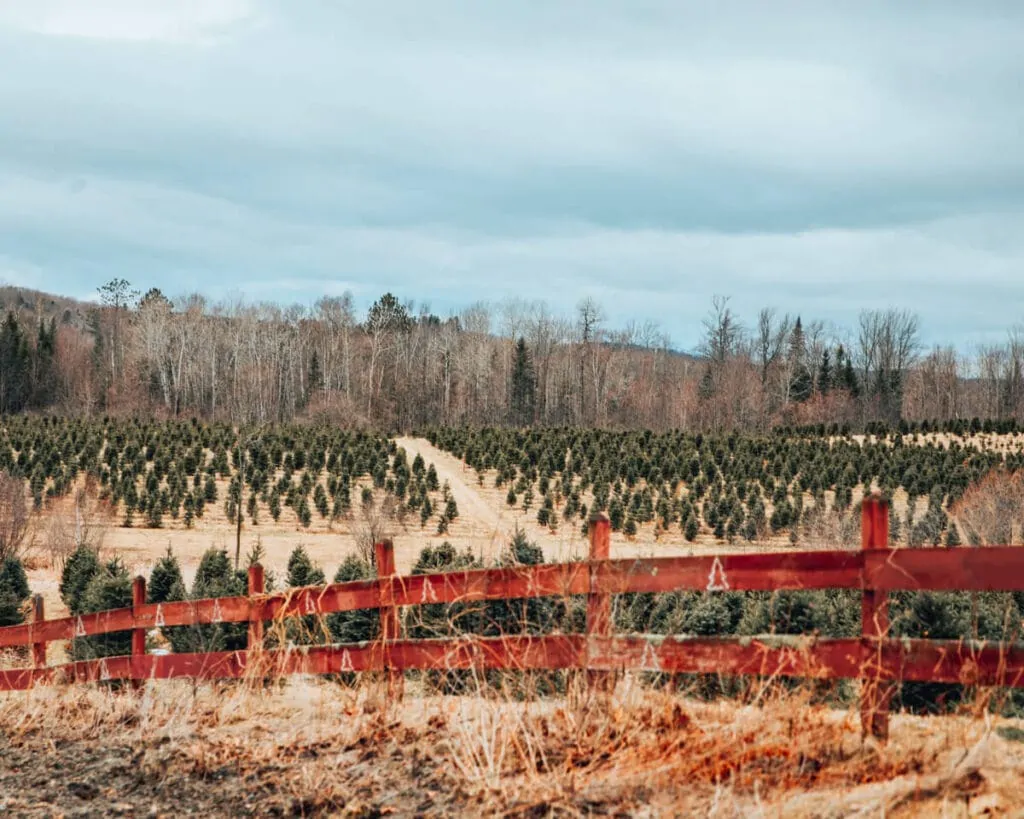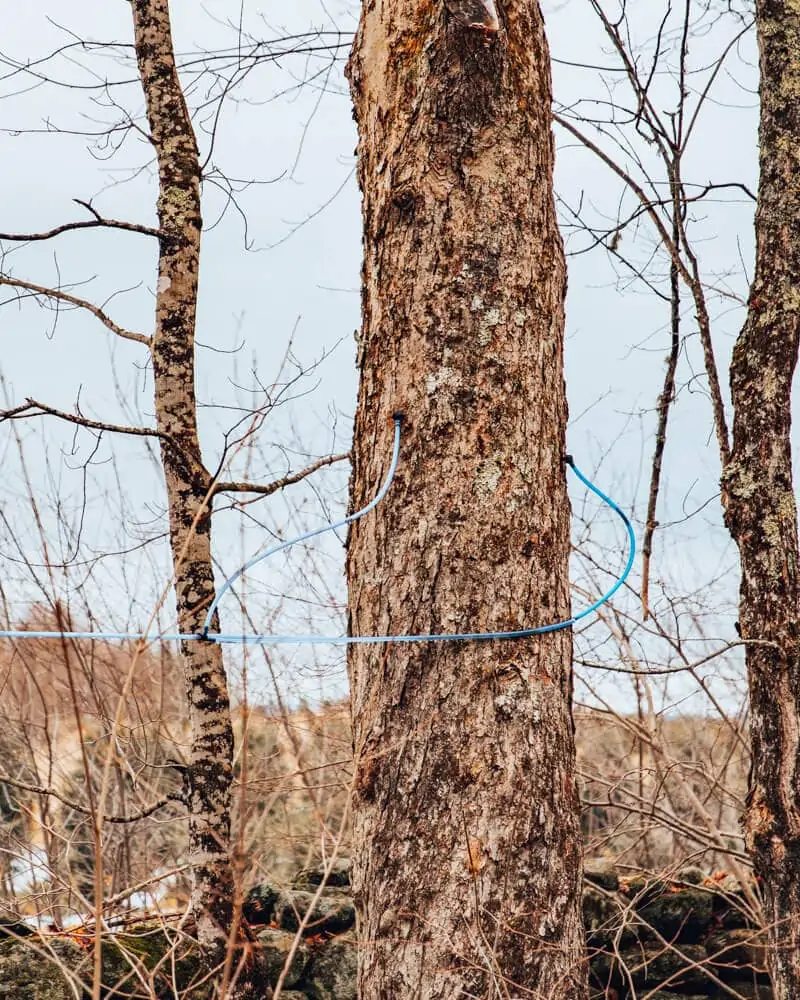 Once the ride is complete, learn to tap a maple tree the old-fashioned way and see the sap start to flow if you are lucky. The sap runs best when the temperature drops below freezing at night and then warms up during the day.
We even got to taste the sap which looks like water. Let me just say that I much prefer the finished product.
The final stop of the tour is a visit to a working sugar house. Brad, who owns Presby's Maple Farm, teaches you all about how to take the sap and turn it into maple syrup and other maple products.
Brad knows pretty much everything there is to know about making maple syrup, and we learned a lot in the short time we were with him. He was happy to answer any questions and showed us the process of evaporating the water out of the sap to create the maple syrup we all know and love.
At the end of the tour, you get to taste the maple syrup he makes. I did not think I was a huge fan of maple syrup without pancakes or waffles, but I could have taken the whole shot of maple syrup plain. They did have donuts to dip in it though, so I contained myself.
If you are looking for maple syrup, I highly recommend buying from Presby's Maple Farm. They do ship if you don't have room to pack it in your luggage.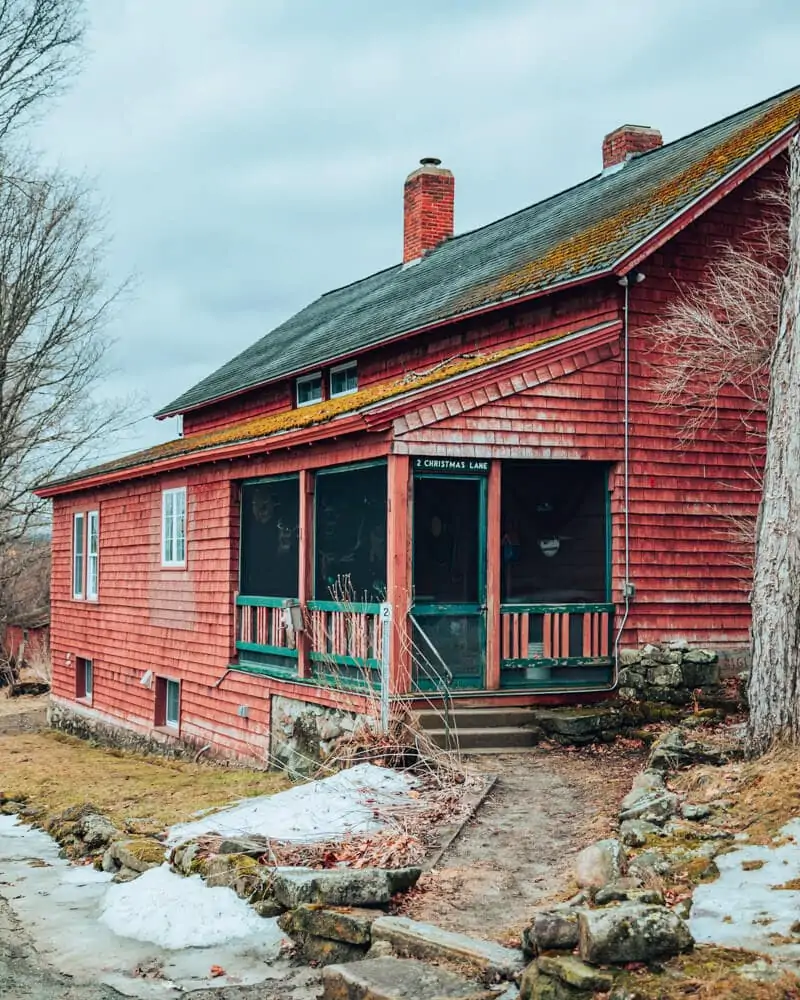 The Mount Washington Cog Railway
It turns out that Brad also is a part-owner of our next stop, the famous Cog train in New Hampshire as well as a nearby Mount Washington resort. The Cog allows you to sit back and enjoy a trip up the mountain where you may get lucky and have a great view.
The Mount Washington Cog Railway has trains that run throughout the year and rarely stops operating for weather. However, in the winter the Cog does not go all the way to the peak of Mount Washington.
Mount Washington has some of the most severe weather on earth. It holds the record for the highest surface wind ever recorded at 231 mph. The coldest temperature ever recorded on the mountain was -50F with a wind chill of -102.59F.
We talked to the engineer for a while at the stop, and he said he'd seen multiple times where it was a 100-degree difference between the base and the summit of the mountain. He also showed us pictures of a clear day when you can see all the way to the ocean – those days are rare though!
Due to the extreme weather and lack of a place to get in out of the cold at the summit, the Cog Railway built Waumbek Station as a stopping point for winter rides. There is a fire going, warming huts, warm drinks, cookies, and marshmallows for roasting.
The mountain was covered in clouds when we took our ride, but it was still a fun ride. Seeing how the Cog works and the refreshments make it enjoyable even in the cold, rain or fog/clouds.
Exploring and Hiking in the White Mountains
If you are visiting when it is not maple season, you can use some of your time to explore the White Mountains and do some hiking in the area.
If you are flying out on this night, you'll need to factor in drive time back to the airport. We stayed another night and planned to fly back the next morning before we decided to extend the trip.
Here is our complete guide to the best waterfalls in New Hampshire.
If you have some time, some of your options include:
Elephant Rock: You don't have to climb up to enjoy this one, but you can. We stopped to take a picture of Saco Lake while it was mostly frozen and noticed Elephant Rock on the map. When we looked up, it was right in front of us. It's easy to spot if you know it is there, and it really does look like an elephant.
Silver Cascade: Another spot that is easy to view from the road, Silver Cascade features water running down the mountain over rocks creating a beautiful waterfall visible from the road.
Bald Mountain: If you missed this hike before, you can always add it in here.
Diana's Baths: An easy hike and beautiful year-round, Diana's Baths is perfect for a summer picnic or stunning when frozen in the winter.
Echo Lake: Another easy and super short walk, Echo Lake can become a much longer hike if you go around it. It freezes in winter and looks like a fun spot to picnic and swim in the summer.
Flume Gorge: This one is a can't miss in the fall, but it is also popular with ice climbers in the winter. We loved seeing this one frozen over, but you can't get all the way back into the gorge in the winter when the boardwalk has been removed. It is still a beautiful hike though. You can make it an out and back or a full circle. As a bonus, you'll also find one of the famous covered bridges on the hike.
Kancamagus Highway: Another famous fall spot is the breathtaking drive down the Kancamagus Highway. Many of the overlooks are closed in winter, but there are still a few where you can stop and enjoy the view. This one is another must in the fall and is great any time of year.
Honeymoon Bridge: Located in Jackson, New Hampshire, this bridge is one of the more famous photo spots in the area and an easy stop if you stay at our next inn.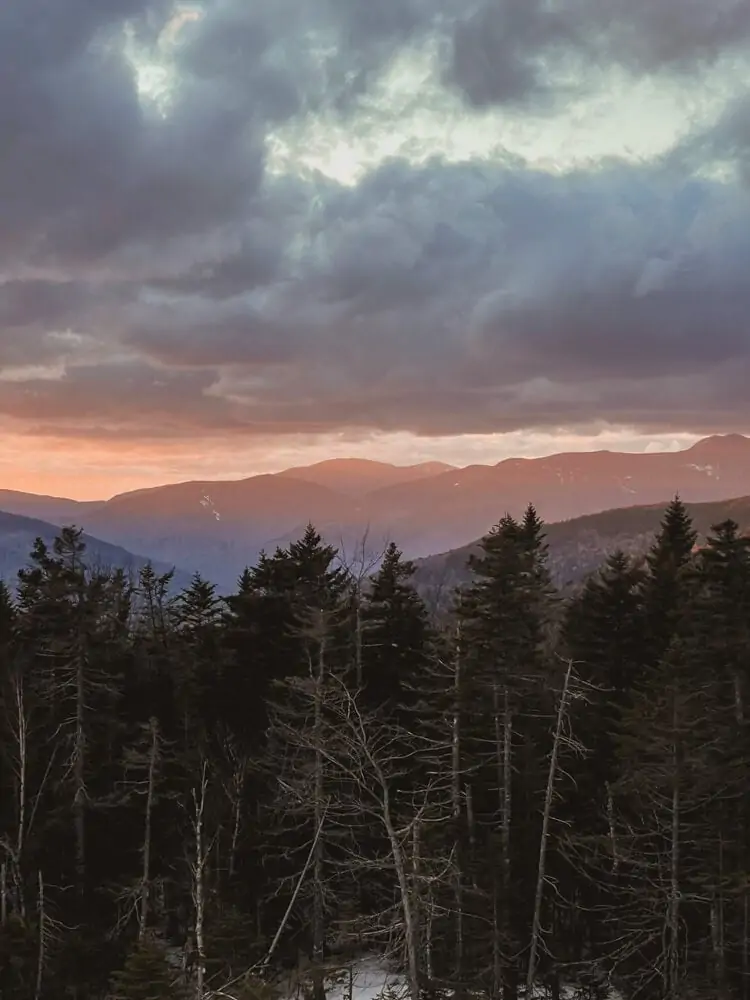 Where to Stay in Jackson New Hampshire: The Wentworth Inn
If you are looking for another option for where to stay in the White Mountains or if you stay an extra night, The Wentworth Inn is a 61-room inn close to many of the great hikes and views in the White Mountains.
This inn is much larger than Adair but still has a personality of its own unlike standard hotels. The large downstairs area includes a fireplace with sofas, a sunroom with a pool table and several seating areas, the bar with happy hour specials and their restaurant which serves breakfast and dinner.
We got to enjoy both dinner and breakfast here, and we had no complaints. Dinner is a multi-course meal like at Adair, and you simply choose which options you want. The restaurant tries to serve as many farm-to-table local options as possible, and everything was delicious.
There are plenty of options for rooms at the Wentworth Inn. From more standard rooms to suites and even some rooms with outdoor hot tubs, the Wentworth Inn is perfect for romantic weekend getaways and New Hampshire getaways where you can escape it all.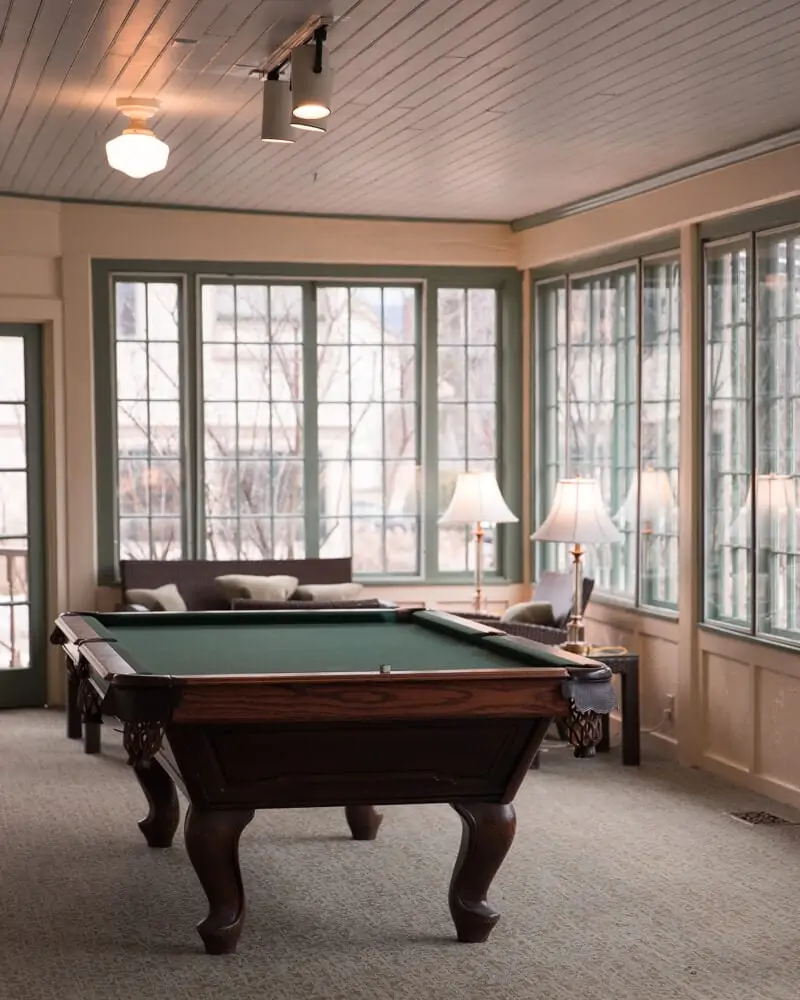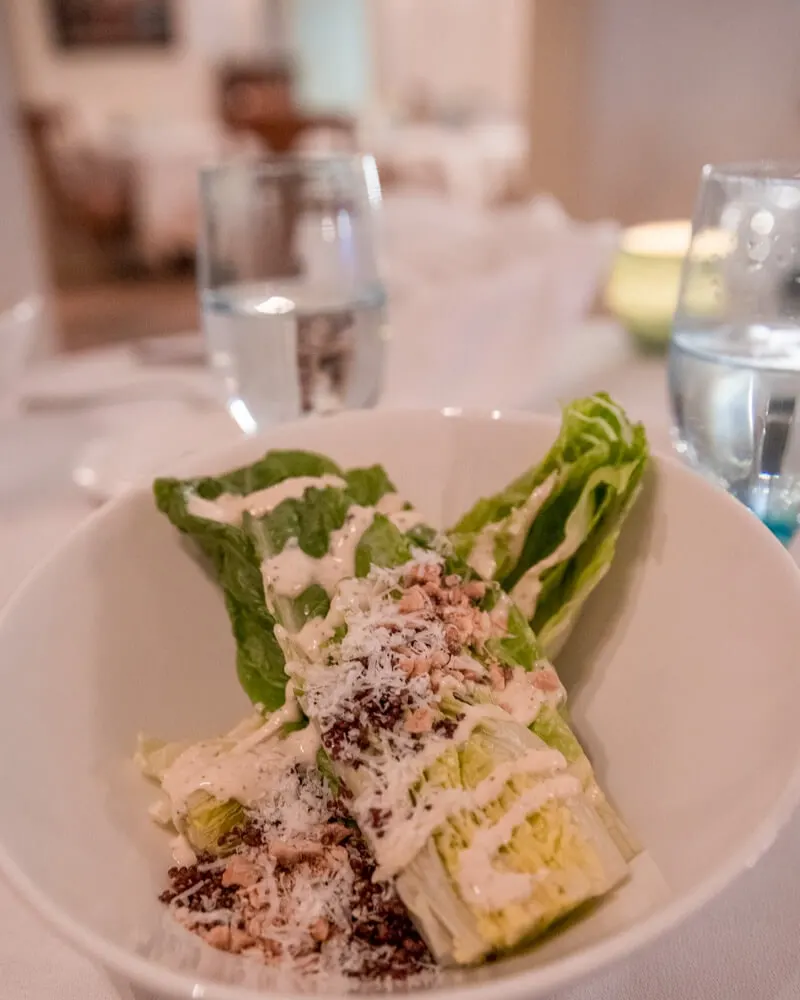 Day 4: Wrapping Up Your New Hampshire Weekend Getaway
Before you leave for the airport, make sure to take advantage of the Wentworth Inn's breakfast. With a buffet as well as a menu, you can get a good meal before you have to leave. We ordered french toast and pancakes in addition to the buffet spread.
Having just a few days in New Hampshire will leave you wanting more. Even though we extended our trip, we are already hoping to return in the fall for leaf-peeping, in the winter for skiing, and in the summer to do more of the hikes in the White Mountains.
Looking for more New Hampshire travel tips? Don't miss our one day in Portsmouth itinerary and our list of the best New Hapshire waterfalls.
Like this post? Pin it for later and share it with others!