When it comes to the best places to eat in Kanab, you'll find there is a wide variety in the Kanab restaurants you have to choose from.
From Mexican to culinary specials to down-home cooking, there is something for everyone in the small town of Kanab.
This area of Southern Utah is just 3 hours from Las Vegas and 5 hours south of Salt Lake City. Kanab is known for its beautiful national parks and state parks including Zion National Park and Bryce Canyon National Park as well as the famous Lake Powell located nearby.
You'll be hungry after a day of exploring and hiking in the area. Check which day of the week it is (many are closed one day a week) and then head to one of these places to eat in Kanab to get your fill.
For tips on what to do near Kanab on your Utah road trip, check out our full guide to visiting White Pocket Arizona In Vermillion Cliffs National Monument and the Great Chamber near Kanab.
Other nearby options include the Grand Canyon National Park (the North Rim), Grand Staircase Escalante National Monument, Coral Pink Sand Dunes State Park, Buckskin Gulch, a variety of slot canyons, and Best Friends Animal Sanctuary.
This post may contain affiliate links. Any purchases or bookings made through these links earn us a commission at no extra charge to you.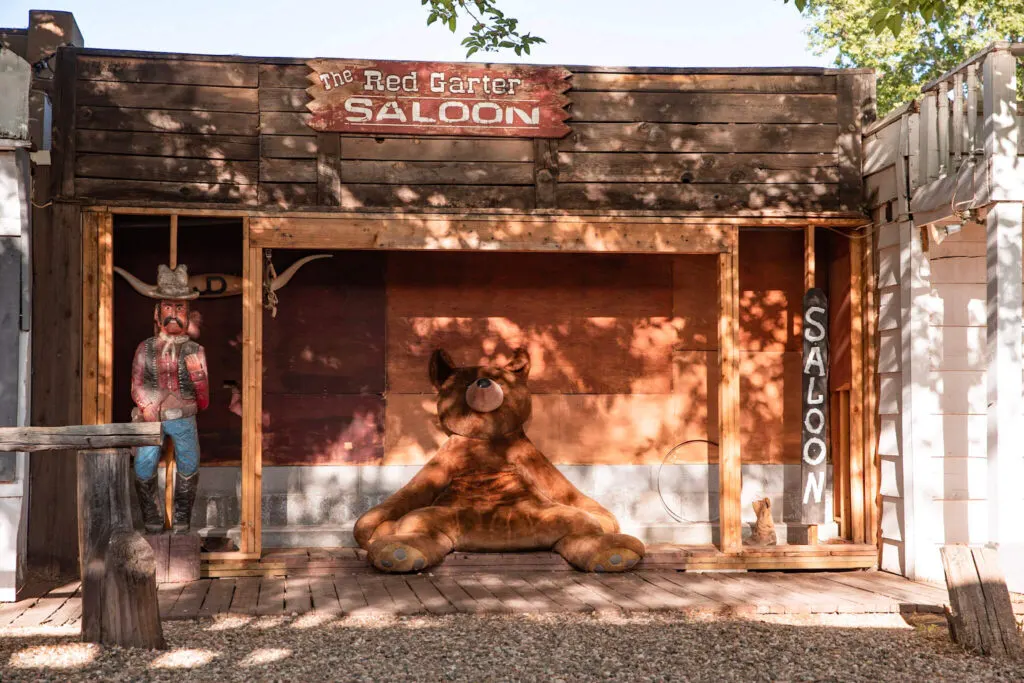 Best Places to Eat in Kanab Utah
Rocking V Cafe – The Best Restaurant in Kanab
Rocking V Cafe is one of the best restaurants in Kanab. We almost always visit at least twice when we are in Kanab each time.
Rocking V Cafe is a popular spot, so if you plan to go for dinner, you should call ahead to get a reservation. If Melanie is still serving there, ask for her as your waitress.
The food is amazing and high quality. The atmosphere is fun and relaxed. The great service goes above and beyond (and we are from Orlando and used to Disney-level service). Plus, we love the cool art from locals on display around the restaurant.
You'll find that Rocking V is a casual dinner with some fine dining elements, especially when it comes to the great food they serve. They serve comfort food perfect to fill you up after a day of adventure and offer vegan, vegetarian, and gluten-free options.
The Ed & Red Hummus here is one of the best things on the menu. It is delicious and a great way to start the meal. The pita bread is amazing, served as thick pieces warm. It comes with lots of veggies as well as red pepper hummus and puréed edamame (hence the Ed & Red name).
We both love their pasta, but one of my favorites is the Adobe Chicken lunch dish. It comes with mashed potatoes that are to die for, and the roasted corn salsa just makes it even better.
My husband also loves their burgers. You really can't go wrong with anything you order.
Rocking V Cafe is closed on Tuesdays and Wednesdays and is located at 97 W Center St.
Iron Horse Restaurant – Best BBQ in Kanab
Iron Horse Restaurant is another one of our top places to eat in Kanab. This one is a fun place for kids or larger groups and has a fun area to wait for your table. If you love BBQ, you can't miss this Kanab restaurant.
Even if there is no wait, you'll want to enjoy all of the photo spots outside of the restaurant. There is a Western facade, spots to put your face for a photo, and even an old wagon. Kids will love running around and playing in this area if there is a wait.
Iron Horse offers both indoor and outdoor seating options. The outdoor area is dog friendly and covered for protection from the sun and the occasional rainstorm.
They are known for their smoked brisket, and the brisket sandwich is definitely worth ordering. We also love their pulled pork sandwiches.
They also offer burgers, steaks, seafood, salads, and desserts (including some really good ice cream perfect for cooling down after a warm day!).
Ask for Brad as your server if he is still working there – his service was excellent.
Iron Horse Restaurant is closed on Sundays.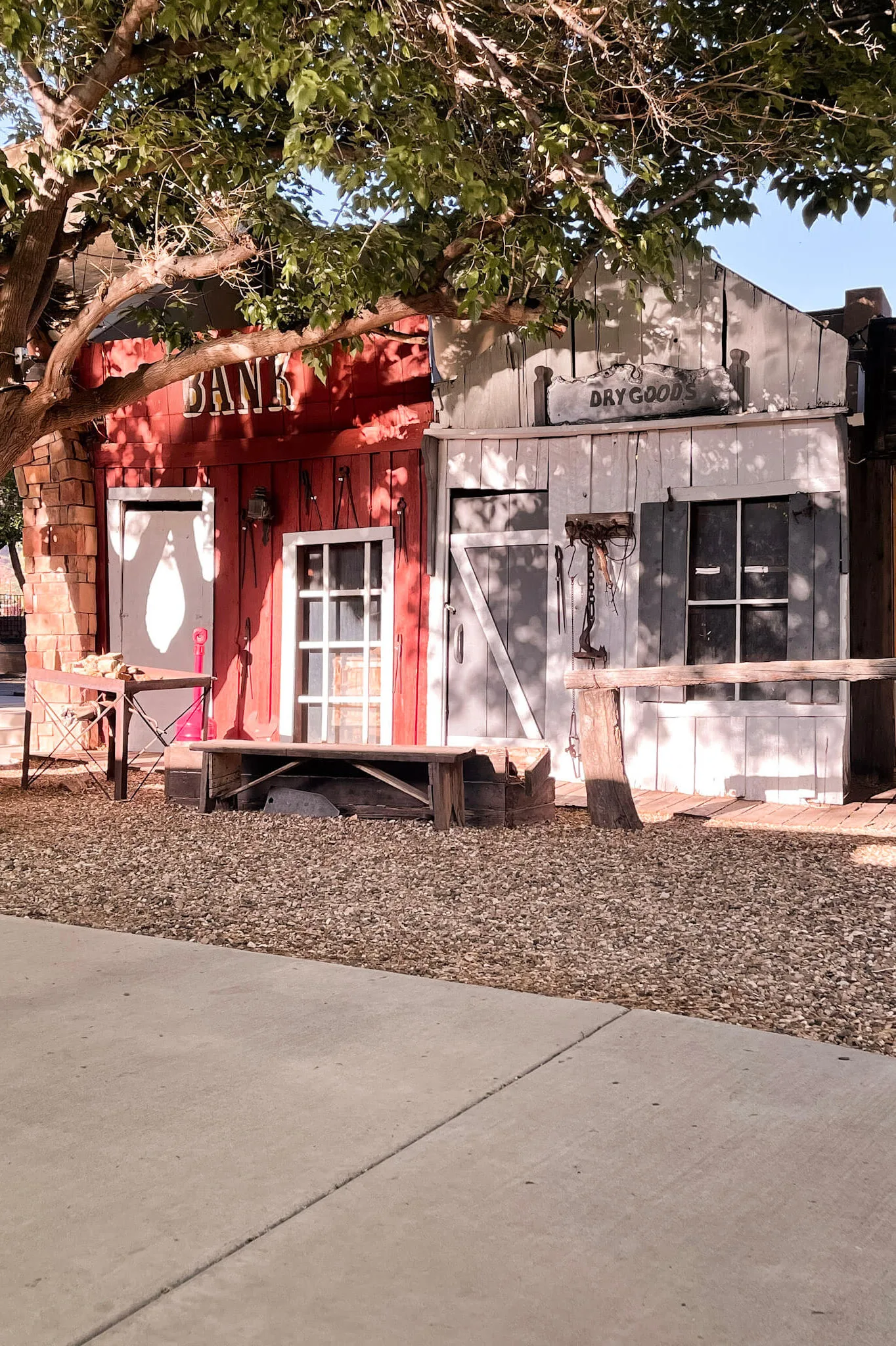 Escobar's Mexican Restaurant – Best Mexican Restaurant in Kanab
Escobar's Mexican Restaurant is another of our favorites. If we need to get some food pretty quickly, it makes for a great option.
Beware though – it is very popular and not a large restaurant. We've had to wait 30 minutes or more just for a table. However, once you are seated, you'll find the service is quick and you are eating in no time.
Escobar's also offers both indoor and covered outdoor seating. Thanks to the covering, the outdoor seating is nice even when it is hot outside. Coming back covered in the Utah dust, we didn't have to feel bad being dirty sitting outdoors.
Make sure to get the queso and guacamole to start. We also love their burritos, enchiladas, and quesadillas. The rice and beans for your sides are also perfect.
Escobar's Mexican Restaurant is closed on Saturdays.
Wild Thyme Cafe – Best Freshly Grown Ingredients
Wild Thyme Cafe offers both indoor and outdoor seating right in a relaxed setting and is one of the best restaurants Kanab has to offer. The food is fresh and uses an on-site garden and off-site greenhouse for greens and fresh-grown ingredients.
While they do offer chicken, beef, and fish featuring Southwestern flavors in their dishes, they also offer a wide variety of options for those who are vegan, vegetarian, and gluten-free.
The food here is delicious, and we've taken advantage of both the indoor and outdoor seating. The outdoor seating had heaters since it was still cool in the evenings, and we were able to enjoy the time despite the colder (for us) temperatures.
If you end up eating at Wild Thyme, make sure to order some cheesecake for dessert. As a self-proclaimed "dessertie", I had to try it and loved it!
The Soda Fountain at Kanab Drug – The Best Ice Cream in Kanab
Attached to Kanab Drug, The Soda Fountain offers pizza, sandwiches, salads, soups, paninis, and ice cream. To be honest, I've only ever had their ice cream, and I highly recommend a stop, especially on a hot Utah day.
If you need some food to go for your hiking and exploring, take a wrap to go and enjoy it on the trail. When you get back, reward yourself with a cookie, sundae, malt, or milkshake. The Soda Shop does offer vegan and gluten-free options as well.
If you are up for it, don't miss out on their Ultimate Series. These milkshakes are covered in toppings and added flavor drizzles and are a Kanab favorite.
Kanab Drug is a pharmacy and store, so you can pick up anything you are low on or forgot here as well. The building also features wings painted on the back for a great photo spot in Kanab.
The Soda Fountain in Kanab, Utah, is closed on Sundays.
Glazier's Market Kanab – Grocery Store and Deli Meats
Glazier's Market is not your traditional restaurant, but we do use it to get food for our long hikes and days of adventure. When we go out to White Pocket or Great Chamber, we always stop at Glazier's first to get some bread and deli meats for sandwiches.
If you are staying in a vacation rental or just like to have groceries on hand when you travel, Glazier's is your best option in Kanab. It is overpriced compared to larger cities (most locals go to St. George), but you should be able to find anything you need there.
Fusion House Kanab – Asian Fusion in Kanab
Fusion House Kanab offers Pan-Asian specialties, lots of vegetarian and vegan options, and seasonal options to use fresh and available ingredients.
At lunch, you'll find Japanese Bento Boxes and their signature fried rice on the menu while all-day dining offers classic Asian dishes. They also offer several fusion platters, boba tea, and Mochi ice cream for dessert.
Fusion House is closed on Sundays and Mondays.
Peekaboo Canyon Wood-Fired Kitchen – Best Pizza in Kanab
Peekaboo Canyon Wood Fired Kitchen can be found in the Flagstone Boutique Inn & Suites (check rates and availability on Agoda and Booking.com). If you are looking for wood-fired pizzas, this is the best artisanal pizza in Kanab, served right from their wood-fired oven.
They also offer dishes inspired locally and abroad and a full bar.
As for the decor, you'll find local touches throughout. The tables for indoor seating are handmade locally harvested black walnut. Outdoors, the tables are made of quartzite sandstone.
Lotsa Motsa Pizza is another great pizza option but can't compete with Peekaboo Canyon.
Peekaboo Canyon Wood Fired Kitchen is closed on Sundays and Mondays. They are also closed from 3 p.m. – 4 p.m. on the days they are open.
Sego Restaurant – New American Restaurant and Cuisine
Sego Restaurant focuses on menu items that show off our country's unique and eclectic options. With a social plates dining concept, you are encouraged to share the great food with your dining companions.
Their menu features land and sea options alongside garden faire and toast. Their key makes it easy to find dishes that are vegan, vegetarian, pescatarian, gluten-free, and spicy.
Sego is located inside Canyons Boutique Hotel (see pricing and availability on Agoda and Booking.com).
Sego Restaurant is closed on Thursdays and Sundays.
Vermillion 45 – French/Italian Bistro in Kanab
Vermillion 45 serves French and Italian dishes alongside fresh seafood and steak options in a nice ambiance. If you are looking for more of a gourmet option or a great date night, consider a trip to Vermillion 45.
This Kanab favorite was started by Walt Thirion and Marjorie Casse who missed the food they enjoyed in their native Belgium and France. Their friend, Chef Cesidio d'Andrea is a classically trained French chef trained in the French Culinary Academy and brings with him experience from several Michelin-starred restaurants (including running one in Paris).
Together they developed a menu that features French, Belgian, and Italian dishes in a casual bistro setting. If you visit near the holidays, they have a special Christmas and New Year's menu to go along with their regular menu and take-out menu.
Vermillion 45 offers vegetarian and gluten-free options as part of all of their menus.
Vermillion 45 is closed on Mondays and Tuesdays.
Chuckwagon Cookouts – Chuckwagon Lunches with an Audience Participation Show
Chuckwagon Cookouts is open from March through November each year (check for exact dates if visiting in March or November). A great place for family fun, enjoy Chuckwagon Cookouts and How the West Was Lost, their audience participation show.
Their ingredients are all names you can actually pronounce, and their roast beef spices are gluten-free as well as MSG and soy-free. They also only use coconut oil, and their beef is slow-cooked in German clay pots.
Since they are located on the grounds of the Little Hollywood Movie Museum, make sure to factor in time to stop and find out why Kanab was known as Little Hollywood. You can visit the real sets of several movies and get the full list of Western films, movies, and TV shows that have been filmed in Kanab from 1924 to the present day.
Houston's Trails End – Down Home Cooking
Houston's Trails End serves down-home cooking with a Western flare in an old-west setting. The rolls here are a must. In fact, we ordered extra to go for snacks on our hikes the next day.
Open since 1945 and operated by the Houstons since 1975, you'll find old family recipes all throughout the menu including Grandpa Bob's country gravy. They also offer mobile catering if you are planning an event in Kanab.
We loved the casual atmosphere of the restaurant along with the hearty portion sizes and quick service.
Houston's Trails End is closed on Sundays. They are sometimes open for breakfast and lunch, usually on Friday and Saturday if they are.
Big Al's Burgers at the Junction Drive-In – Fast and Casual Dining
Big Al's Burgers is an old-school burger joint serving burgers, chicken sandwiches fries, and a variety of milkshake options. If you need to grab some quick food in Kanab, this is a great option.
Big Al's Burgers is closed on Sundays.
Best Breakfast in Kanab Utah
Kanab Creek Bakery
Kanab Creek Bakery is open from 8 a.m. until 1 p.m. every day except Mondays and Tuesdays. It is owned and operated by the same people who run Vermillion 45.
This European-style bakery features artisanal breads like croissants, baguettes, and pastries perfect to grab and go as well as hot brunches for those who have time to relax and enjoy the food. Everything is made from scratch using a wood-fired oven.
Sunny Creek Coffee
Sunny Creek Coffee in Kanab is open on weekdays from 7 a.m. until 2:30 p.m. The location outside of Coral Hills Family Dental does not have a place to eat, but the location at Kanab Outpost and Kanab Tour Co. does have indoor seating.
They serve coffee, tea, smoothies, and breakfast sandwiches, and are known for the best breakfast burritos in Kanab. They also have avocado toast and a lunch menu that features sandwiches.
Origin Breakfast Buffet
Origin Breakfast Buffet is open daily from 7 a.m. until 10 a.m. For just $12 USD, you can go through the buffet line that features options like scrambled eggs, potatoes, bacon, sausage, yogurt, cold cereals, fruit, and more. Children under 8 are half-price.
Jakey Leigh's Cafe Bakery
Jakey Leigh's Coffee Shop is open daily from 7 a.m. until 2 p.m. (1 p.m. on Sundays) with additional hours from 5 p.m. to 9 p.m. on Saturdays.
With both indoor seating and a shaded outdoor patio, you can order a variety of breakfast drinks as well as fresh baked bread and pastries, breakfast sandwiches and burritos, avocado toast, and eggs with toast or an English Muffin and bacon or ham.
Adria's Restaurant
Adria's Restaurant is open every day except Mondays from 8 a.m. until 2 p.m. for breakfast and lunch and serves dinner on Thursday, Friday, and Saturday.
Breakfast features scrambled eggs, pancakes, french toast, biscuits and gravy, and more. Lunch and dinner include fast options, pasta, sandwiches, burgers, salads, ribs, ribeye, and more in a casual atmosphere.
Willow Canyon Coffee
Located in Willow Canyon Outdoor, this souvenir and outdoor shop also offers snacks and drip coffee and espresso across from Glazier's Market. The locals here are happy to share tips for visiting the local attractions. It is open from 7:30 a.m. until 5:30 p.m. daily.
Best Kanab Restaurants to Try for Vegans, Vegetarians, and Gluten-Free Options
Coyote Sky Tacos is the first restaurant in Kanab to be all vegan. They serve tacos and nachos that are 100% plant-based with no animal products. View their full menu here.
Asava Juice and Smoothies offers organic juice and smoothies for a healthy option in Kanab. We met the owner while eating at Wild Thyme Cafe and ended up checking it out the next day. It is definitely worth a stop for a refreshing drink!
Rocking V Cafe is known for offering great options for vegans and vegetarians as well as those who are gluten-free.
Wild Thyme Cafe also has a good selection of vegan and vegetarian food and those who are gluten-free. With many of their greens grown on-site or in their greenhouse, you're getting fresh options too.
The Soda Fountain Kanab offers vegan and gluten-free options for those who are wanting a dessert that meets their needs.
Fusion House offers both vegan and vegetarian options on its all-day menu.
Vermillion 45 has several vegetarian and gluten-free options on all of their menus.
Sego Restaurant has a key on its menu, making it easy to find dishes that are vegan, vegetarian, pescatarian, gluten-free, and spicy.
Where to Eat in Kanab
You'll find there are plenty of options in Kanab all centrally located in the town. Kanab has it all with good food in a variety of restaurants, so you can't go wrong with this list.
For hotels in Kanab, check Agoda and Booking.com for current availability and prices.
Let me know which ones you tried in the comments!
For more Utah travel tips, check out:
Like this post? Pin it for later and share it with others!