When looking for ideas for our eighth anniversary and my Spring Break, driving from Orlando to New Orleans was perfect after we waited too long to find flight deals. Visiting New Orleans in the spring meant cooler air and less humidity than in the warm summer months. In the end, we spent four days in New Orleans with one night on the road.
Below you can find a map of the drive from Orlando to New Orleans with stops along the way and in New Orleans. Find the best places to eat and things to do in New Orleans along with multiple hotel options. New Orleans is great for a quick getaway in the southeast, full of amazing food, a unique culture, and historical sites worth a visit.
***This post may contain affiliate links. Purchasing or booking through these links earns us a commission at no extra charge to you.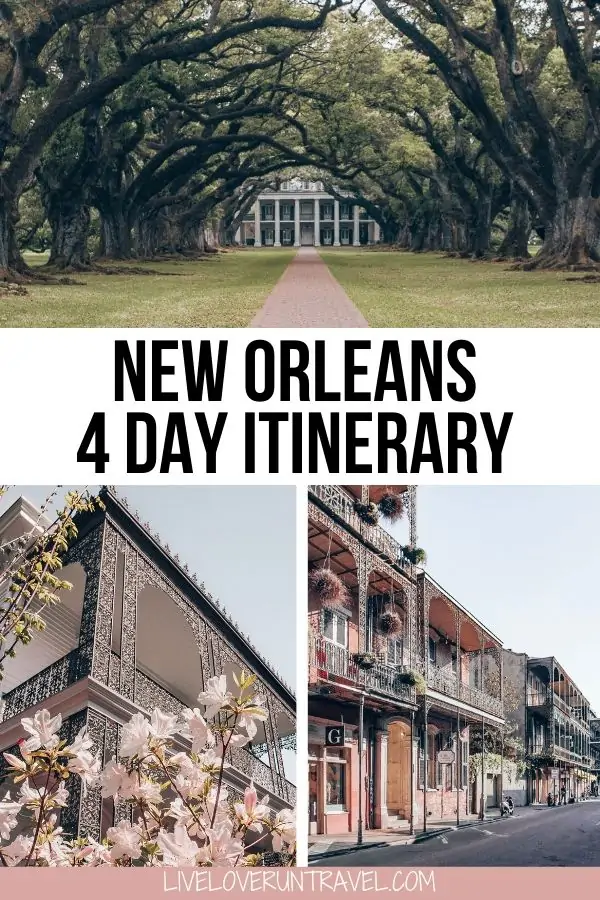 MAP OF ORLANDO TO NEW ORLEANS DRIVE & STOPS
This map shows the best stops on a Orlando to New Orleans road trip. You can stretch out the drive over a couple of days or make the trek all in one day. The map also is split up into layers for things to do in New Orleans, the best places to eat in New Orleans, and hotel options in and around New Orleans. Feel free to add this map to your Google maps to use for your trip.
WHERE TO STOP ON A ROAD TRIP FROM ORLANDO TO NEW ORLEANS
The drive from Orlando to New Orleans takes about 9.5 hours. You can easily drive from Orlando to New Orleans in a day, but there are plenty of places to stop along the way as well. Of course, Orlando has plenty to do on its own, especially at Christmas. If you are already an Orlando local just looking to get away to New Orleans for a few days, here are some of the best stops along the way.
FLORIDA CAVERNS STATE PARK
Florida Caverns State Park is located in Marianna, Florida, north of Interstate 10. The entry fee is $5 per vehicle, and the park is open from 8 a.m. until sundown every day of the year. The highlight of the park, the cave tours, are not available on Thanksgiving and Christmas.
Much of the park is still closed due to damage from Hurricane Michael in 2018. However, flashlight cave tours are available daily. To purchase tickets for a tour, visit the Florida Caverns Gift Shop. Tickets must be purchased in person for $10.75 ($5 for ages 3 – 12) and are sold on a first-come, first-serve basis starting at 9 a.m. CST. The electricity in the caverns has not been restored yet, so bring your own flashlight or use one of the provided flashlights.
When the tour begins, descend underground into one of Florida's cave systems. The passages are narrow, and some only have a ceiling height of 4 1/2 feet (1.37 meters). Wear shoes with a good grip as some of the passages are slippery. The caves stay 65 degrees (18C) all year. Bring a light jacket if that temperature sounds cold to you.
On the tour, enjoy hearing about the cave's history while the guide also points out stalactites, stalagmites, and flowstones. The tour only takes about 45 minutes, making Florida Caverns State Park a perfect way to stretch your legs on the drive from Florida to New Orleans.
PENSACOLA BEACH: PERFECT STOP FOR THE NIGHT
We chose to split the trip up into two days, so we spent the night in Pensacola. The drive from Orlando to Pensacola takes about 6 hours. From Pensacola, it is only another 3 hours to New Orleans.
If you plan to visit the beach in Pensacola, check out Johnson's Beach National Seashore. Because we went for sunrise, we did not have to pay an entry fee. Later in the day, there is a fee, but the beach here is untouched. After a quick run through the park, we relaxed on the beach with only a few people fishing nearby. The paved road there was perfect for a quick 2 mile run with the beach on one side and Big Lagoon on the other side.
LAMBERT'S CAFE: LUNCH STOP OFF THE BEATEN PATH
We stopped at Lambert's Cafe in Alabama on the way to New Orleans to enjoy the "Home of the Throwed Rolls." I visited Lambert's years before with friends and enjoyed it. I wanted to take my husband back, but it is a little out of the way. I was not as impressed with it this time either. The meal was overpriced to me. The first time I went, the staff played jokes on you while you ordered and ate. This time, that fun atmosphere was much more tame. They do still throw your rolls across the room for you. If you are looking for southern food on the way to New Orleans, this is a stop for you.
GULF SHORES AND THE BEST OF ALABAMA'S BEACHES
If you are looking for another beach option on the way to New Orleans, stop in Alabama. The road goes along the beaches, so it is not far to get off the road to New Orleans and visit the beach for a day or a few hours. Gulf Shores is one of the top rated beaches in Alabama, but really, take your pick as you drive. Gulf Shores is not far from Lambert's (about 20 minutes) and about 3 hours from New Orleans.
SPENDING 4 DAYS IN NEW ORLEANS
Once you finish the drive to New Orleans from Orlando, get ready to enjoy the atmosphere and food of New Orleans. From historical sites and museums to live music to a variety of delicious foods, your four days in New Orleans will fly by.
THINGS TO DO IN NEW ORLEANS IN 4 DAYS
New Orleans has plenty of things to do, but the best things to do are to just explore the different neighborhoods. Walk around the French Quarter and Garden District and see what you can find. If you enjoy history, check out the National World War II Museum or some of the nearby plantations. New Orleans is perfect relaxing and taking it easy as you explore the area.
WALK AROUND THE FRENCH QUARTER & BOURBON STREET
At night, going to Bourbon Street allows for great people-watching opportunities. There are plenty of restaurants and bars and many places with live music (see Best Places to Eat in New Orleans below). At night, artists, performers, and musicians line the road hoping for tips from those walking by. Even if you don't drink, Bourbon Street at night is something to experience. The restaurants in this area do get crowded at night, so make sure to get there earlier in the evening to avoid the lines.
One of the best pieces of advice I got for Bourbon Street at night was to wear closed-toed shoes. Keep this in mind if you go! The road gets somewhat dirty as the night gets later.
While the French Quarter is known for the nightlife, spend some time just wandering the streets of the French Quarter in the daytime as well. Most people go to Bourbon Street at night, but the architecture in this area was beautiful during the daylight hours when you could really enjoy seeing it.
Some of my favorite streets include Burgundy Street, Toulouse Street, St. Peter Street, and Dauphine Street. These streets have beautiful architecture to enjoy and make for great photo spots in New Orleans. One of the most photographed buildings in the French Quarter is located at Royal Street and St. Peter Street. Another great spot for photos is at the corner of Royal Street and Saint Philip Street. Jackson Square and the Saint Louis Cathedral are popular in Instagram photos of New Orleans as well.
TAKE A FREE WALKING TOUR OF THE GARDEN DISTRICT (MAP INCLUDED)
I loved wandering the Garden District and looking at all the beautiful houses. Instead of taking an actual tour, we used the walking tour map below to do our own free walking tour. Since we had a vehicle, we ended up walking the first half and then driving the second half. The driving part was a little more difficult because of so many one way streets, but parking was readily available for us to jump out and take pictures or stop and take in the view.
The Garden District in New Orleans is full of beautiful homes and perfectly manicured lawns. You feel like you stepped back into the past with the styles of architecture found here. Several celebrities and sports stars also call the Garden District home including Sandra Bullock and Archie Manning.
If you do your walking tour of the Garden District in the warmer months, make sure to head out early. New Orleans gets hot and humid in the summer months. Make sure to wear comfortable shoes since the sidewalks are pretty uneven at times.
NATIONAL WORLD WAR II MUSEUM IN DOWNTOWN NEW ORLEANS
We aren't usually museum people, but the National World War II Museum in New Orleans was impressive. If you enjoy history or have a relative who fought in World War II, take the time to experience this museum. It makes for a perfect rainy day activity in New Orleans too.
The museum consists of four large buildings that are well-organized. Tickets cost $27.00 for adults with different prices for seniors, military personnel, college students, and children. World War II Veterans get in for free.
We ended up spending about 5 hours wandering the museum. With so much to see and so many interactive exhibits and videos, feel free to spend an entire day here. In fact, they offer a second day pass for $6.00 if you need to come back.
We traveled through the museum in reverse, starting in the fourth building which houses quite a few large planes and vehicles used in WWII. The third building has one floor that focuses on the European theater and one floor that focuses on the Pacific theater. The floor with the Pacific focus included so much information that I do not ever remember learning in school as the focus at school was on Europe.
From there we went to the second building which has a 4D movie going through the history of WWII. It is an extra charge, but the movie was well worth the small cost. It was impressively done. We ended our time in the first building which has most of the temporary exhibits. When we visited, the focus was on the merchant marines and Louisiana's contribution to the war.
OAK ALLEY PLANTATION & OTHER PLANTATIONS IN NEW ORLEANS
New Orleans has quite a few plantations within easy driving distance. If you have never visited one before, take a drive out of New Orleans to see one of the many in the area. Several present both the lives of the slaves and slave owners while others focus more on one or the other.
OAK ALLEY PLANTATION
We chose to start at Oak Alley Plantation, and we spent the morning and early afternoon there. This plantation is known for the tree-lined walkway to the front door. If you want pictures without many people around the walkway, get there near opening or wait patiently between tour groups coming through. The cost to enter this plantation was $25 for adults with cheaper tickets available for children and youth. They do offer a 10% discount for teachers, first responders, and military with ID.
Oak Alley has rebuilt the slave cabins, and you can walk around them and through some of them at your own pace. Included in this area are stories of some of the slaves and descriptions of their lives. One cabin includes a list of the names of all of the slaves who worked here.
You can tour the inside of the house with a guide. Tours are every half hour, and you meet at the front door. The guide takes you through the different rooms which have been redecorated with pieces from the time period. Some of the pieces belonged to the owners over the year. The tour points out the different eras of ownership as well as different experiences in the house by both slaves and owners.
EVERGREEN PLANTATION
There are several other plantations nearby, and one of those is Evergreen Plantation. You can tour Evergreen Plantation for $20 for a 90-minute walking tour. After spending so long at Oak Alley and with an hour drive back to New Orleans, we decided to just take some pictures and then head back to town.
OTHER HIGHLY RECOMMENDED PLANTATIONS
Other plantations that were highly recommended to us include the Whitney Plantation which has a focus on slavery and the Laura Plantation. There are so many along River Road that you can visit or just see from the road. They are all located about an hour outside of New Orleans.
BEST PLACES TO EAT IN NEW ORLEANS
While I do not claim to be a foodie, New Orleans has some amazing food. There is quite a variety in terms of the types of food, the types of restaurants, and the prices for the food.
CAFE DU MONDE
Everyone says you have to have the beignets at Cafe du Monde, and it's true. They cost $3 with tax for 3 beignets. The main one near the French Quarter and Mississippi River is open all hours and also serves coffee and hot chocolate. This location is mostly outdoor patio seating, but the area is large with lots of tables.
I went around 4:30 in the afternoon on a Tuesday and only waited in line for about 5 – 10 minutes. Be aware that the line gets quite long at certain times of the day. Because most people stop for the beignets and then leave, the line moves pretty quickly.
VESSEL NOLA
Someone recommended Vessel NOLA to us, and we loved it. We went for our anniversary dinner. On weeknights, it is pretty empty since it is outside of the main tourist areas. On weekends, it is much busier and there may be a long wait.
Vessel NOLA is a former church converted into a restaurant. The service was top notch with Bri taking wonderful care of us throughout the evening. We enjoyed the braised beef shortrib with baked macaroni and cheese and the daily market fish. I can't remember the type of fish, but my husband loved it. For dessert, I enjoyed their homemade vanilla ice cream with crumbles on top. It was the best ice cream of the trip!
FELIX'S RESTAURANT & OYSTER BAR
Felix's on Bourbon Street is perfect for enjoying a view of Bourbon Street with a good meal. While we were there, we ordered the Char Grilled Oysters, Jambalaya, and Grilled Chicken Breast. Several of the tables are right next to the windows and open doors to Bourbon Street. The restaurants on Bourbon Street get busy later in the evening, so eat an earlier dinner to avoid the lines.
CAFE BEIGNET
This was my favorite of our stops on Bourbon Street. Cafe Beignet had outdoor seating, live music, and, of course, beignets. The beignets are delicious, and the atmosphere is laid back. The weather was perfect for sitting outside, so we sat and listened to the band for a while before continuing down Bourbon Street.
SURREY'S CAFE & JUICE BAR
A friend suggested Surrey's to us, and we were glad we stopped for lunch there. This makes for a perfect stop for lunch before or after your Garden District walking tour. We walked down Magazine Street from the Garden District, taking in the views on the way. We split the Triple Grilled Cheese and the Spinach Cheese Melt with Grilled Chicken.
ATCHAFALAYA RESTAURANT
This restaurant sits a few blocks off of Magazine Street. The staff here was wonderful, even though we did not have reservations. Reservations are highly recommended for this restaurant, but the staff managed to find us a table anyways. We found it online when we were already in the area, and it showed as $$. This was definitely more of a $$$ restaurant, but the food was good and service was excellent. We met up with another travel blogger here, and we ended up just splitting some sides for the most part. My husband tried the gumbo while I had the twice-baked potatoes and creamy corn grits.
NEW ORLEANS HAMBURGER & SEAFOOD CO.
While wandering around the French Quarter and down by the Mississippi River, we decided to stop for dinner at the New Orleans Hamburger & Seafood Co. because of the outdoor seating upstairs. We sat overlooking Decatur Street and split some cheese fries for an appetizer before having shrimp alfredo (for him) and chicken alfredo (for me).
WHERE TO STAY IN NEW ORLEANS
New Orleans has lots of hotels and places to stay, but staying closer to the popular areas like the French Quarter and Garden District can get expensive. We considered a few hotels and bed and breakfasts right in the center of town, but they were either unavailable or over our budget for the dates we needed thanks to Spring Break prices. We also looked into AirBnB and Homeaway, but the only ones available in our price range were way outside of town.
Because it was a last minute trip and Spring Break, we spent the first night outside of New Orleans in Slidell. Slidell is about 30 minutes outside of New Orleans. Since we drove to New Orleans, we did not mind staying a little ways outside of town. We stayed in the Holiday Inn Express Slidell. The rooms were large and clean. Breakfast was included, and there was a selection of cereals and pastries as well as a pancake-maker and biscuits, eggs, sausage, and gravy.
The rest of our nights there, we moved closer to New Orleans and stayed at Comfort Suites Harvey – New Orleans West. From this hotel, we could be in the French Quarter, Garden District, or downtown within about 15 minutes. Again, this hotel was clean and breakfast was included. Breakfast included cereal, toast, biscuits & gravy, a waffle-maker, etc. My favorite thing about this hotel was that they put out chocolate chip cookies every afternoon for guests.
To check current availability of hotels in New Orleans for your trip, click here to search on Agoda or here to search on Booking.com.
WHY TAKE A ROAD TRIP TO NEW ORLEANS
If you're going to be in the southeastern U.S., take a road trip to New Orleans. Having a car in New Orleans makes it easier to get around to the different areas. Come hungry as you will find plenty to eat no matter your preference for food. Don't worry though – you walk off the calories as you explore New Orleans on foot. Four days in New Orleans was the perfect amount of time for our spring break itinerary. Driving from Orlando to New Orleans made for a relaxing getaway to explore a new place.
Like this post? Pin it for later and share it with others!