Orlando is known as The City Beautiful and known for being a place to have fun. It makes sense then that there are lots of fun things to do in Orlando at Christmas. From ice skating in shorts to gingerbread houses big enough you could actually walk inside, Christmas in Orlando is a special time of year.
Christmas in Orlando is the perfect winter escape if you are ready for sunshine and 70 degree temperatures (21 – 26C). If that sounds like something you would like, use this list to find all the best holiday activities Orlando and Central Florida have to offer this year. Thankfully there are things to do in Orlando for Christmas for every budget, from free to Disney.
In this guide from an Orlando native, you can find the best things to do in Orlando at Christmas in 2021 including dates, times, and prices. In addition, maps and addresses in this post make planning your Christmas in Orlando even easier. Also included are a few day trip options in case you want to see some of the best things to do in Florida at Christmas and not just in the Orlando area.
If you're looking for more Orlando Christmas tips, don't miss our guide to the best Orlando Christmas lights!
UPDATED FOR 2021
Some changes may occur at the last minute, so links to event pages have been included when possible. Please check into the event to make sure there was not a last minute cancellation.
***Some of the links in this post may be affiliate links. If you purchase through these links, we earn a small commission at no extra charge to you.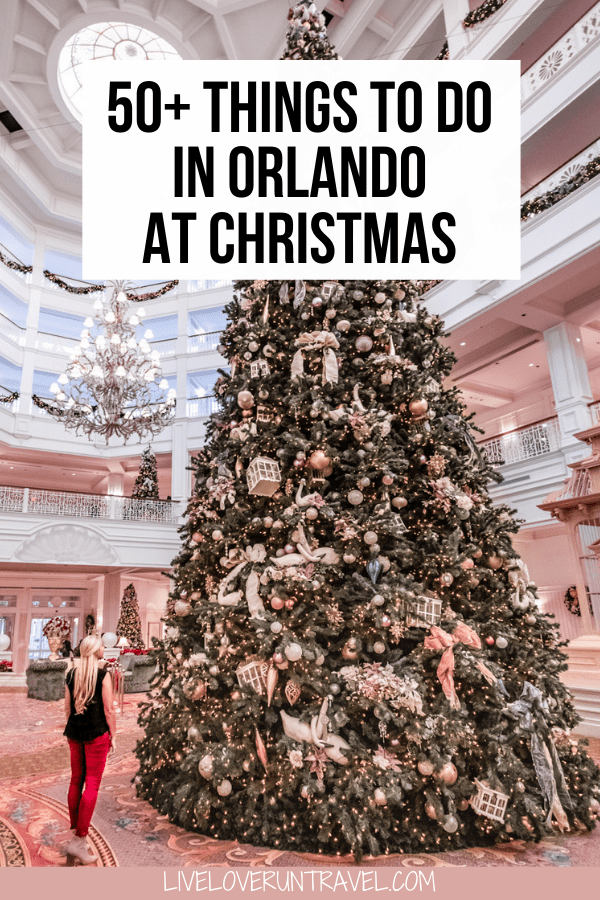 MAP OF THE BEST THINGS TO DO AT CHRISTMAS IN ORLANDO & SURROUNDING AREAS
Feel free to click the star at the top of this map to save it to your maps for later. This map helps you see which of the Christmas activities are located close together to make your planning a little easier. Please note that some of these events take place only on certain days. Check the listings below to see when each event takes place.
Looking for a hotel in Orlando to explore our Christmas activities? Check current deals on Agoda and Booking.com.
THE BEST CITY EVENTS IN AND AROUND ORLANDO AT CHRISTMAS
Oftentimes, places are labeled as being in Orlando but are actually in one of the surrounding towns and cities. Orlando and these surrounding cities host quite a few holiday events in November and December leading up to Christmas. Many of these events include food, music, and fun activities for all ages. Check out the best Christmas events Orlando and the surrounding cities offer this year.
#1: CITY OF ORLANDO TREE LIGHTING CELEBRATION & LIGHT SHOW
Date & Time for Celebration: Friday, December 3, 2021, from 5 p.m. – 9 p.m.
Dates & Times for Light Show: On display until January 6, 2022 with synchronized music and light shows hourly starting at 5:45 and running until 9:45 p.m. each evening
Cost: FREE
Location: Lake Eola Park, 512 East Washington Street, Orlando, FL 32801
Every year, Downtown Orlando celebrates the start of the Christmas season with the annual Tree Lighting Celebration. In 2021, this event takes place in person again on December 3. The event typically features the 72-foot Christmas tree covered in lights, live music and performances, The Daily City's Food Truck Bazaar, and other vendor booths.
If you can't make it to the tree lighting, that's okay because the tree is on display until early January. Every night, there is an hourly light show with synchronized music. The first light show each night is at 5:45 p.m., and the last one each night is at 9:45 p.m.
Don't just see the Christmas tree and leave though. Afterwards, walk around Lake Eola and see the other Christmas decorations. Take time to follow the nearly one mile path (.9 mi/1.4 km) around the lake to enjoy the rest of the decorations as well.
While you are in the area, on weekends in December leading up to Christmas, Santa is in the area. Santa is available for photos at the Eola House on Fridays and Saturdays from 4:30 – 9:00 p.m. and on Sundays from 5 – 8 p.m. (Santa may not be present in 2021).
View this post on Instagram
#2: THE DOWNTOWN ORLANDO CHRISTMAS PARADE PRESENTED BY THE ROTARY CLUB OF ORLANDO (CANCELLED)
Date & Time: This event is cancelled for 2021
Cost: FREE
Location: Parade route runs down Orange Ave, Central Blvd, and Rosalind Avenue (see route here)
While the actual Christmas parade through Downtown Orlando starts at 4 p.m., the festivities for the event run from 2 p.m. to 6 p.m. The parade route starts at Robinson St. and Orange Ave. and continues down Orange Ave. to Central Blvd. At Central, the parade route turns left and continues to Rosalind Ave. where it makes another left. The parade ends at Rosalind Ave. and Robinson St.
#3: NOW SNOWING IN CELEBRATION
Dates & Times: November 27 – December 31 with nightly snowfall hourly from 6 p.m. to 9 p.m.
Cost: FREE ENTRY
Location: Celebration Town Center in Celebration, Florida
Celebration is located just minutes from Disney World making it convenient for those visiting the parks for the holidays. Every night in December, snow falls in Celebration Town Center. It may be 70 degrees and you may be wearing flip flops, but you can still play in the Florida "snow" as Christmas music plays. Celebration also goes over the top with Christmas lights and decorations, but more about that later.
While entry into the area is free, some of the activities do have costs associated with them. The ice skating rink is open from 4 p.m. – 10 p.m. and costs $15 for 30 minutes including skate rentals. Carriage and sleigh rides are also available for $75 for up to four riders ($10 for each additional rider), and wagon rides are only $7 per person.
The celebration in Celebration is so popular that even Santa and Mrs. Claus stop by for pictures. The prices depend on the packages purchased, but Santa and Mrs. Claus stop by every day from 6 – 9 p.m. until December 24 (5:30 on Wednesday, Friday, Saturday, and Sunday). They even pose with your pets on Wednesdays starting at 5 p.m. until close.
The event also includes a special concert on December 11. These concerts are free and feature young talent from across the US including talent featured on national television and radio. Past performers include Justin Beiber, Keke Palmer, Ryan Beatty, Drew Seeley, All-Star Weekend, Mitchell Musson and more.
Parking is free in open lots in Celebration, but parking laws are enforced during the event. If you park illegally, your car may be towed at your own expense, so make sure to check signs before parking.
#4: 69TH ANNUAL WINTER PARK CHRISTMAS PARADE
Date & Time: December 4, 2021 from 9 a.m. to 10:30 a.m.
Cost: FREE
Location: Park Avenue in Winter Park between Cole Avenue and Lyman Avenue
Central Florida's oldest continual holiday parade happens each year in Winter Park, Florida. The parade goes down Park Avenue in the heart of Winter Park, starting at Canton Avenue and Park Avenue, continuing down Park Avenue to the south, and ending at Hannibal Square. The parade includes marching bands, local fire and police, and Santa.
The annual Pancake Breakfast by Leadership Winter Park takes place before and during the parade as well from 7 - 10 a.m. The Pancake Breakfast requires a ticket but includes pancakes, toppings, sausage, coffee, milk, and juice. The proceeds from the tickets go to leadership development programs for adults and youth.
View this post on Instagram
#5: WINTER PARK BOAT PARADE
Date & Time: Likely to be December 11, 2021 at 6 p.m.
Cost: FREE
Location: Rollins College, Cornell Fine Arts Museum, and Dinky Dock
Starting with a water ski show (cancelled for 2021) and ending with a boat parade, nothing says Christmas in Orlando like a celebration on the water. The event is free but donations benefit local food pantries including the food pantry at Winter Park High School, my alma mater.
The ski show typically starts at 3 p.m. The Rollins ski team and local skiers show off their skills on Lake Virginia. The best place to watch the ski show is from the public beach areas at Rollins College. Food and beverages are available for purchase. (The ski show is not taking place in 2021).
In the boat parade that follows at 6:00 p.m., locals decorate their boats with Christmas lights and other decorations. Many go all out as there are prizes involved for best boat, best Winter Park boat, and best Santa boat. The best areas to view the parade include the lake side of the Cornell Fine Arts Museum where the judges watch, the beach areas at Rollins College, and Dinky Dock.
#6: WINTER PARK OLD FASHIONED CHRISTMAS CRUISE
Dates: Most evenings in December
Cost: $65 each for most tickets
Location: 312 East Morse Boulevard, Winter Park, FL
Starting December 1, you can enjoy a nighttime cruise on the Winter Park chain of lakes to enjoy the lakeside Christmas lights. The tours last about 90 minutes and leave at 6:30 p.m.
While cruising through some of the prettiest lakes in central Florida, enjoy Christmas music and holiday trivia along with readings of T'Wass the Night Before Christmas and The Christmas Story. You'll also leave with a gift bag full of holiday treats. You can purchase tickets here.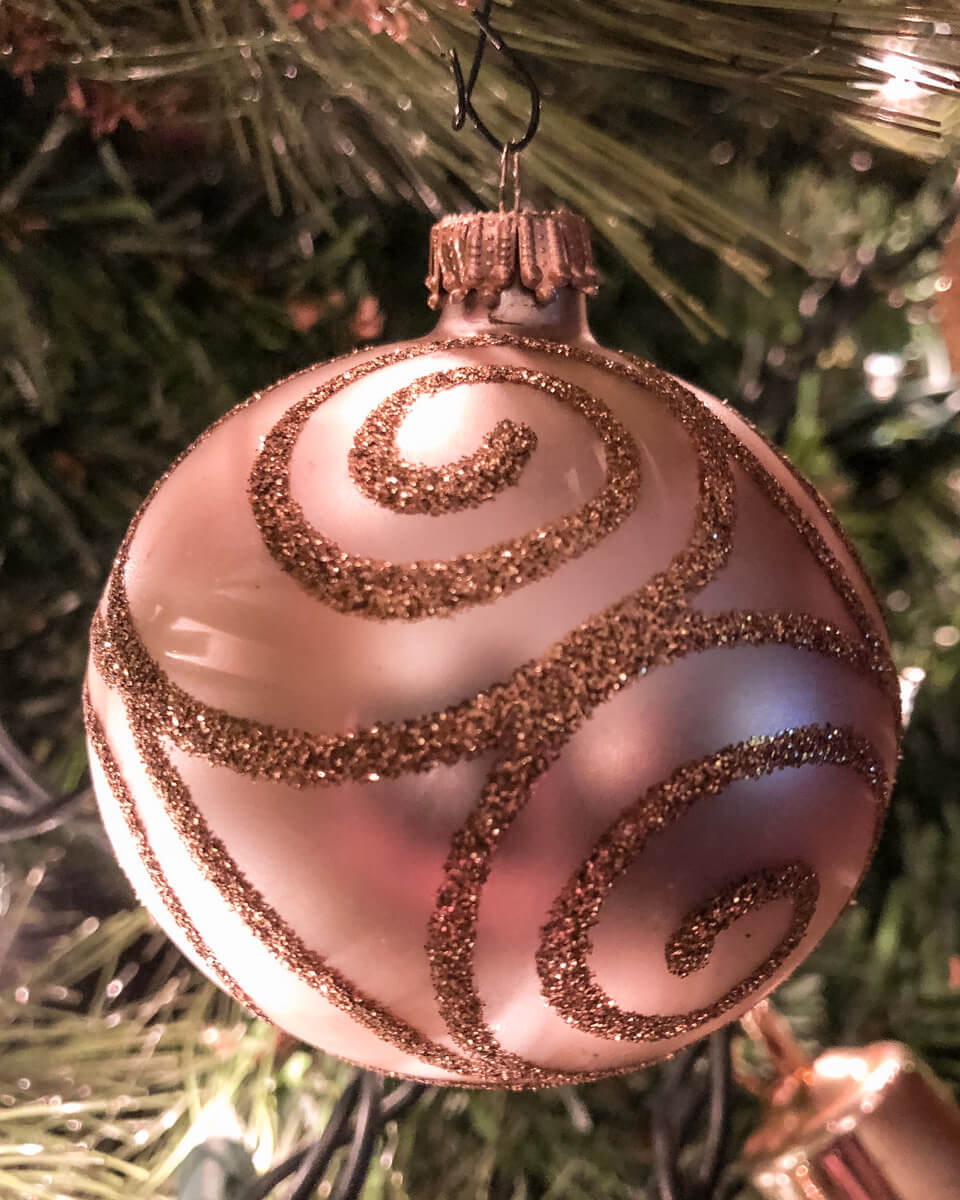 #7: OVIEDO CHAMBER HOLIDAY PARADE & SNOW MOUNTAIN
Date & Time: December 11, 2021 (Parade cancelled for 2021)
Cost: Parade is FREE; Snow Mountain is $20 in advance or $25 at the gate
Location: Oviedo on the Park, 321 E Mitchell Hammock Rd
This Christmas event starts with a parade down Oviedo Boulevard that ends on Center Lake Lane. Watching the parade is free, but there is a ticket fee to enter the Snow Mountain event.
The cost covers the activities inside the event, but there is also a cash bar and food available for purchase. Snow Mountain includes snow (last year they brought in 70 tons of it!), sledding, bounce houses, snow mazes, a holiday train, and more.
#8: OH, WHAT FUN IN LAKE NONA
Dates & Times: November 26, 2021 to January 2, 2022 (check calendar for times)
Cost: FREE but bring money for ice skating, food, and drinks
Location: Lake Nona Town Center
Oh, What Fun in Lake Nona is a more recent event in Orlando featuring an ice skating rink, live entertainment, holiday movies, Santa Claus, and a mailbox for letters headed to the North Pole. Snow makes an appearance as well every hour on the hour.
Holiday movies play on December 8 (Elf), December 22 (The Grinch Who Stole Christmas), and December 29 (Snow Dogs) this year. There are a variety of other special events and fun activities planned, so check out their site for the full details.
Santa makes an appearance at Santa's Cottage on special days for photos. From December 2 - 19, he visits for certain hours on Thursdays through Sundays. On December 20 - 24, he will be there every day for select hours as well.
While you can purchase a package to get photos with Santa and Mrs. Claus, you can also take your own Insta-worthy photos or film your next TikTok there on certain days without them. On December 6 - 8 and 13 - 15 from 5 - 10 p.m., you can pay a flat rate of $5 per group to take your own photos and videos in Santa's Cottage.
#9: COLLEGE PARK'S HOLIDAY ON THE DRIVE
Date & Time: December 11, 2021 from 12 p.m. - 4 p.m.
Cost: FREE
Location: College Park's Main Street
Each year, Edgewater Drive in College Park transforms into a winter wonderland. Santa comes with snow to welcome the holiday season from 12 p.m. - 4 p.m. Shops, restaurants and businesses along Edgewater Drive are also open for holiday dining and shopping. Parking is available for the event; see a map of the designated parking areas here.
#10: LIGHT UP WINDERMERE ON MAIN STREET
Date & Time: November 19, 2021 from 5 p.m. - 9 p.m.
Cost: FREE
Location: Windermere Town Hall, 520 Main Street
Held annually on the last Friday before Thanksgiving, Light Up Windermere takes place during the monthly Windermere food truck event. Live entertainment and over 100,000 white lights add to the holiday feel while dining on local food truck cuisine. The choirs from Foundation Academy and First Baptist Church at Windermere perform along with other local groups.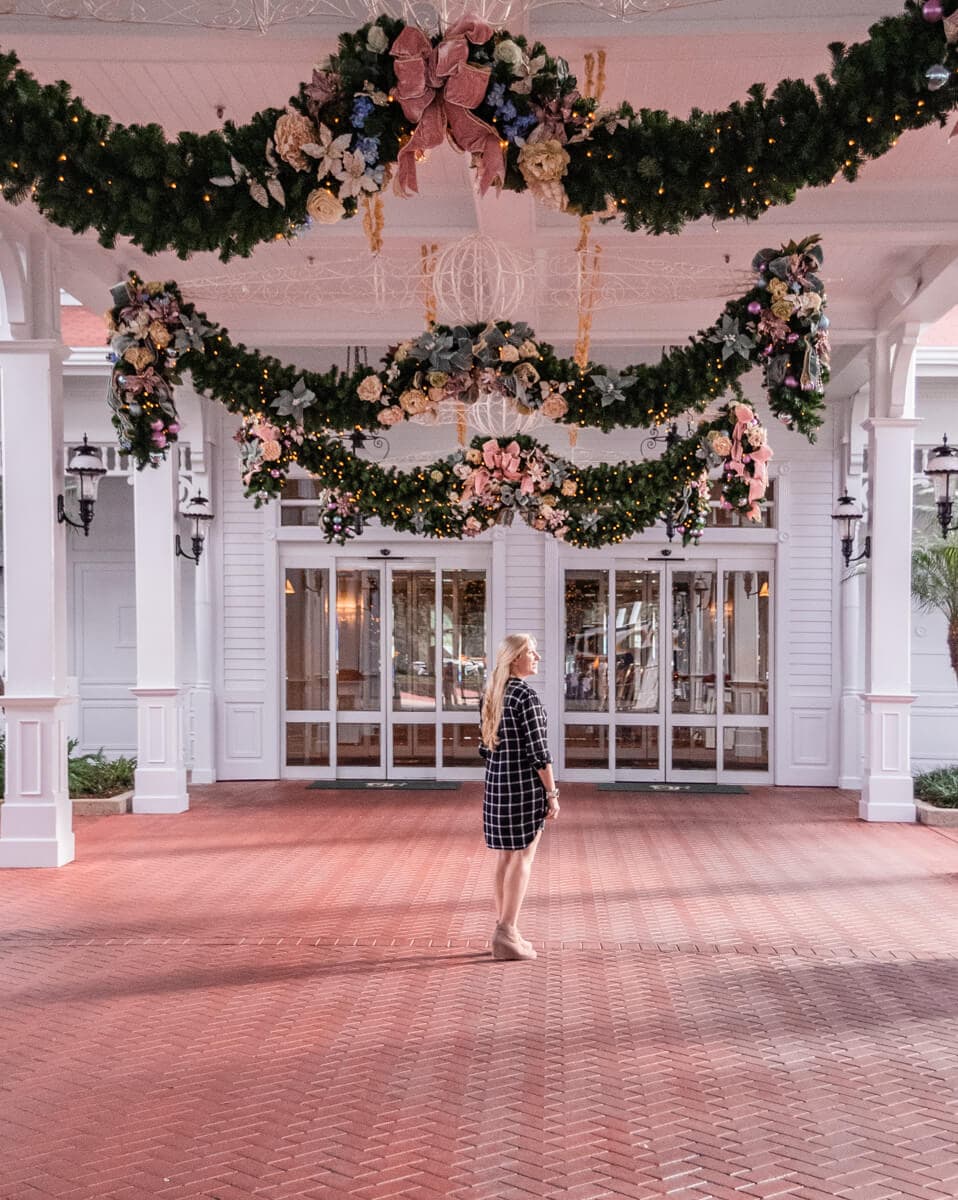 #11: POLAR EXPRESS TRAIN IN MOUNT DORA & CHRISTMAS LIGHTS
Dates & Times: November 15 - December 30, 2021 (lights come on November 27)
Cost: Varies, but some are FREE
Location: Downtown Mount Dora
Mount Dora makes the list for best things to do in Orlando at Christmas even though it is located about 45 minutes outside the city. Covered in over two million twinkling lights and known for its Polar Express train, Mount Dora knows how to do Christmas right. While these are what Mount Dora is best known for at Christmas, there are plenty of other holiday activities that take place in Mount Dora throughout the season.
The famous Polar Express train rides go from November 15 through December 30. The Polar Express is a magical one-hour trip set to the music of the motion picture of the same name. The ride also includes a cookie and hot chocolate along with a reading of the children's classic by Chris Van Allsburg.
Each passenger receives a silver sleigh bell from Santa and his helpers, and caroling and on-board entertainment fill the hour. Reservations can be made in advance, and guests should arrive one hour before their departure time. For ticket prices and to purchase tickets, click here.
Christmas really gets into full swing on November 27 with the lighting of the Main Street Christmas tree. Light Up Mount Dora has been cancelled this year, but the two million Christmas lights in Mount Dora will still be on for all to enjoy. Check out Mount Dora's additional Christmas activities here.
#12: LIGHT UP THE HOLIDAYS AT CRANES ROOST PARK IN ALTAMONTE SPRINGS
Date & Time: December 4 - January 2 starting at dusk
Cost: FREE
Location: Cranes Roost Park in Altamonte Springs
Celebrate the season with the City of Altamonte Springs at the annual Light Up the Holidays event at Cranes Roost Park. Along with live music and entertainment, train rides, kids activities and Santa and Mrs. Claus, enjoy one of the only Christmas fireworks displays in Orlando. Don't miss out on the 200,000 Christmas lights and the 60-foot tree that remain on display throughout the season.
The Holiday Fountain Show happens hourly from 6 p.m. to 9 p.m. each night with the water and lights synchronized with holiday music. There will also be live music on December 3, 10, and 17 from 7 - 9 p.m.
More details on the events here.
#13: CHRISTMAS IN CHRISTMAS, FLORIDA
Dates & Times: All Year
Cost: FREE
Location: Christmas, Florida
Yes, Christmas, Florida, is a real place where it is Christmas all year long. The town outside of Orlando has a Christmas tree up all year long at the intersection of State Road 50 and Fort Christmas Road.
It gets more popular at Christmas as some people like to mail their Christmas cards at the post office there to have their envelopes stamped with Christmas, Florida. The post office has holiday-related stamps you can use too. There is also a box for letters making their way to Santa in the post office.
If you make the drive out to Christmas, don't miss Swampy, the world's largest alligator. When you drive down SR 50 to Christmas from Orlando, you can't miss him on the side of the road.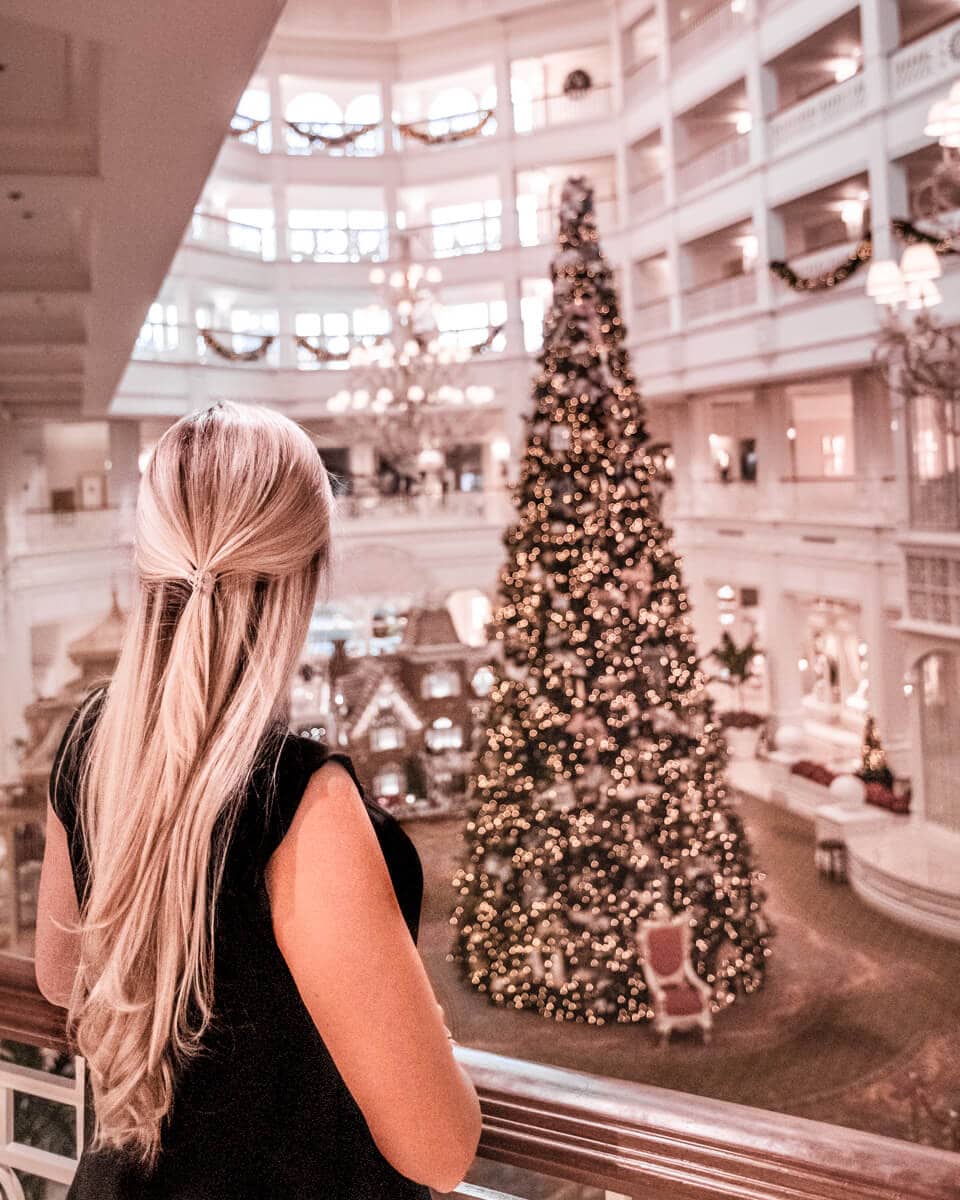 GREATER ORLANDO HOLIDAY EVENTS AND HAPPENINGS
In addition to many events and activities in specific cities, there are lots of other Christmas things to do in Orlando that are sponsored by specific businesses or organizations. Most of these events go on for several weeks each year, so you can easily fit many of them into the holiday season.
#14: CHRISTMAS AT GAYLORD PALMS
Dates: November 19, 2021 - January 2, 2022
Cost: Varies per activity (discounts for Florida residents and others; bundled tickets also available)
Location: Gaylord Palms Resort & Convention Center, 6000 West Osceola Parkway, Kissimmee
Each year, Gaylord Palms presents Ice!, a winter wonderland made of more than two million pounds of ice that is hand-carved into sculptures of all shapes and sizes. In 2021, ICE! is cancelled, but other holiday events are still taking place.
While ICE! is the main Christmas attraction at Gaylord Palms, there are plenty more holiday activities and shows to enjoy as well. In 2021, the main event is Mission: Save Christmas Featuring Elf! This multi-sensory walk through event features characters and iconic moments from Elf. You'll need to join with Elf to help save Christmas as you walk through. Tickets are required.
Make sure to walk through the St. Augustine atrium to take in the 60-foot tall Christmas tree. The Shine light show features over 2 million choreographed lights that make the tree and atrium even more beautiful at 9:15 p.m. each evening. Check out the Christmas Tree Trail too for eight more Christmas trees, each with a different theme.
If you are missing ICE!, you can snow tube indoors and race down one of eight lanes in a single or double rider tube for $21.99. Still not ready to leave the snow for the Florida sunshine? Grab a bucket of snowballs for $11.99 and test your aim at interactive targets made by Santa's Elves at Santa's Snow Throw.
Once you are snowed out, test your skills in the Naughty or Nice Escape Room where Jack Frost has added your name to the Naughty List. This is your one chance to erase your name from the Naughty List before Santa returns. You can also join Santa's Secret Service and use your decoder ring to decipher the clues in the Santa's Scavenger Hunt booklet ($12.99 per booklet) and break the code.
Make gingerbread cookies or a gingerbread house and take pictures with Cinnamon and Nutmeg, the Gaylord Palms' gingerbread couple (prices start at $22.99 per gingerbread kit). Then join Santa's elves in the Elf Training Academy to make creative keepsakes for your loved ones and earn your toy maker elf name on your elf hat before you go ($18.99 each). Don't forget to mail your wish list to Santa at the Reindeer Express Post Office before you go.
Mrs. Claus' Christmas Traditions gives Mrs. Claus a chance to retell the classic "'Twas the Night Before Christmas" along with a sing along filled with holiday songs. A freshly baked cookie and glass of cold milk are included in the $12.99 price. Ready for another story? Hear the story of The Nutcracker from the Sugarplum Fairy while enjoying Sugarplum Hot Chocolate in a souvenir mug for $15.99 per person at Sugary Sweet Storytime.
The Gaylord Palms also presents a special Christmas show called Cirque: Spirit of Christmas. Watch breathlessly as stunning feats are performed high in the air and on the stage below in a 25-minute show about a Christmas dream. Prices start at $4.99 and can be purchased here.
The Gaylord Palms also has two more complimentary Christmas shows. The Greatest Story Stage Show brings together six storytellers from around the world to share the story of Christmas and Jesus Christ. The show is free, but guaranteed seats can be purchased for $12.99 per person. Similarly, the Journey of Los Tres Reyes Magos retells the Christmas story as well as the story of Las Posadas and el Dia de los Reyes. Again, the show is free but guaranteed seats are available for $12.99 per person.
Get updated details on all of the events at Christmas at Gaylord Palms here.
View this post on Instagram
#15: LIGHT UP UCF (CANCELLED)
Dates & Times: Cancelled for 2021
Cost: FREE entry but prices vary by activity (full list of prices here)
Location: Addition Financial Arena at the University of Central Florida
Light Up UCF features a free holiday light show with over 200,000 lights and Orlando's largest outdoor skating rink in the middle of Orlando's largest college campus (and my alma mater). Enjoy the free Holiday Film Festival on Fridays and Saturdays at 7 and 9:30 p.m. featuring family friendly Christmas titles.
Santa makes an appearance on the weekends, and you can find rare Florida snow here as well on select nights. Rides include a Ferris wheel, the Light Up Express, the Arctic Glide Ice Slide, and the Winter Whirl. Prices for activities range from $2 - $12 (photo packages with Santa cost more) and discounts are available for UCF students, military, and groups. For more information on the event including a calendar of events, check out the official site here.
#16: CHRISTMAS IN COLOR DRIVE THRU LIGHT SHOW
Dates & Times: Nightly from December 1, 2021 - January 2, 2022 from 5:30 p.m. until 10:00 p.m.
Cost: $35 - $45 per vehicle (USE CODE LIVELOVE15 FOR 15% OFF)
Location: Island H20 Water Park
Enjoy a drive thru Christmas lights show just outside of Orlando at Island H20 Water Park. The drive goes for about a mile so you can see over a million lights synchronized to music.
Tickets are $35 for regular entry at a specified time or $45 for priority entry. Each ticket is good for the entire vehicle, so load up your family and friends and head to one of the best Orlando Christmas lights displays. Purchase tickets and see other locations here. Christmas in Color discount code for 15% off: LIVELOVE15.
#17: HAMLIN'S HOLIDAY FAIR (FORMERLY SANTA'S WINTER WONDERLAND VILLAGE AT WATERFORD LAKES)
Dates & Times: December 3, 2021 - December 19, 2022 (get specifics here)
Cost: FREE entry but bring money for rides and food
Location: 16313 New Independence Parkway, Sanford, FL (next to Walmart Supercenter)
Located near the Walmart Supercenter in the parking lot, Hamlin's Holiday Fair brings a carnival to Christmas. This event used to be held as Santa's Winter Wonderland Village at Waterford Lakes but moved to Sanford in 2021.
Find holiday food and European-style amusement rides as well as lots of Christmas lights and displays. In addition, Santa stops by on select evenings with the Grinch and Elf where you can take photos with them for FREE! Prices, hours, and height requirements for rides can all be found here.
#18: FESTIVAL OF TREES AT ORLANDO MUSEUM OF ART
Date & Time: November 13 - 21, 2021 from 10 a.m. to 5 p.m. daily
Cost: $20 for adults, $12 for children ages 3 - 11, $12 for senior citizens (65+), military and first responders (with valid ID)
Location: Orlando Museum of Art
Celebrating its 35th year, the Festival of Trees transforms the Orlando Museum of Art into a wonderland with sparkling trees and beautiful Christmas decor. The theme for 2021 is Sparkling Holiday Traditions and kicks off with a glamorous gala night.
After the kickoff, each day includes musical performances and family-friendly entertainment. Come check out designer Christmas tress in all shapes and sizes, hand designed wreaths, a gingerbread village, and more.
If you are interested, each piece is available for purchase. Tickets also include admission to the Orlando Museum of Art. Click here for more information.
View this post on Instagram
#19: WINTER ON THE AVENUE IN WINTER PARK
Date & Time: December 3, 2021 from 5:00 - 9:00 p.m.
Cost: FREE
Location: Central Park at the intersection of Garfield Avenue and Park Avenue
On the first Thursday of December each year, the Morse Museum lights up Tiffany windows in Central Park and presents a concert by the Bach Festival Choir and Brass Ensemble. The event showcases the Tiffany collection of windows in a public and informal setting.
The actual event takes place about a block away from the Morse Museum in Central Park at the intersection of Garfield Avenue and Park Avenue.
#20: SANTA'S TREE FARM
Dates & Times: November 20 – December 10, 2021, times vary (click here for more)
Cost: $2 - $7 entry fee per person depending on day but additional activities cost extra
Location: Santa's Christmas Tree Forest
There are lots of places to buy Christmas trees in Orlando, but Santa's Tree Farm is more than just a lot with Christmas trees. It makes the list of the best things to do in Orlando for the holidays because it offers so many fun activities for the family. Not only can you can come pick out a Christmas tree and see trees in all stages of growth, but you can also choose and cut down your own Christmas tree from the farm to take home with you (pre-cut trees are also available for less).
For an additional fee, Jolly Acres allows kids to play on Buddy's Bounce Pillow, test their skills in the Elf Maze and Crazy Maze, enjoy barrel tram rides, slide down Comet's Chase double barrel slide, try out the Shark Tooth Dig, race a rubber ducky in the duck race and more.
Adults enter for just the general admission price with a paying child. Add on a horse or pony ride and unlimited zip line rides for more fun. Single horse or pony rides can also be purchased.
If you are wanting to take family photos here (it makes for a great backdrop), be aware that no props, outfit changes, tripods, or professional equipment (such as reflectors or camera bags) is allowed on the weekends during general admission hours.
However, on weekdays, families can purchase a family photography pass. Professional photographers who are taking photos of one or multiple families must buy a professional photographer pass (each family still needs the family pass too).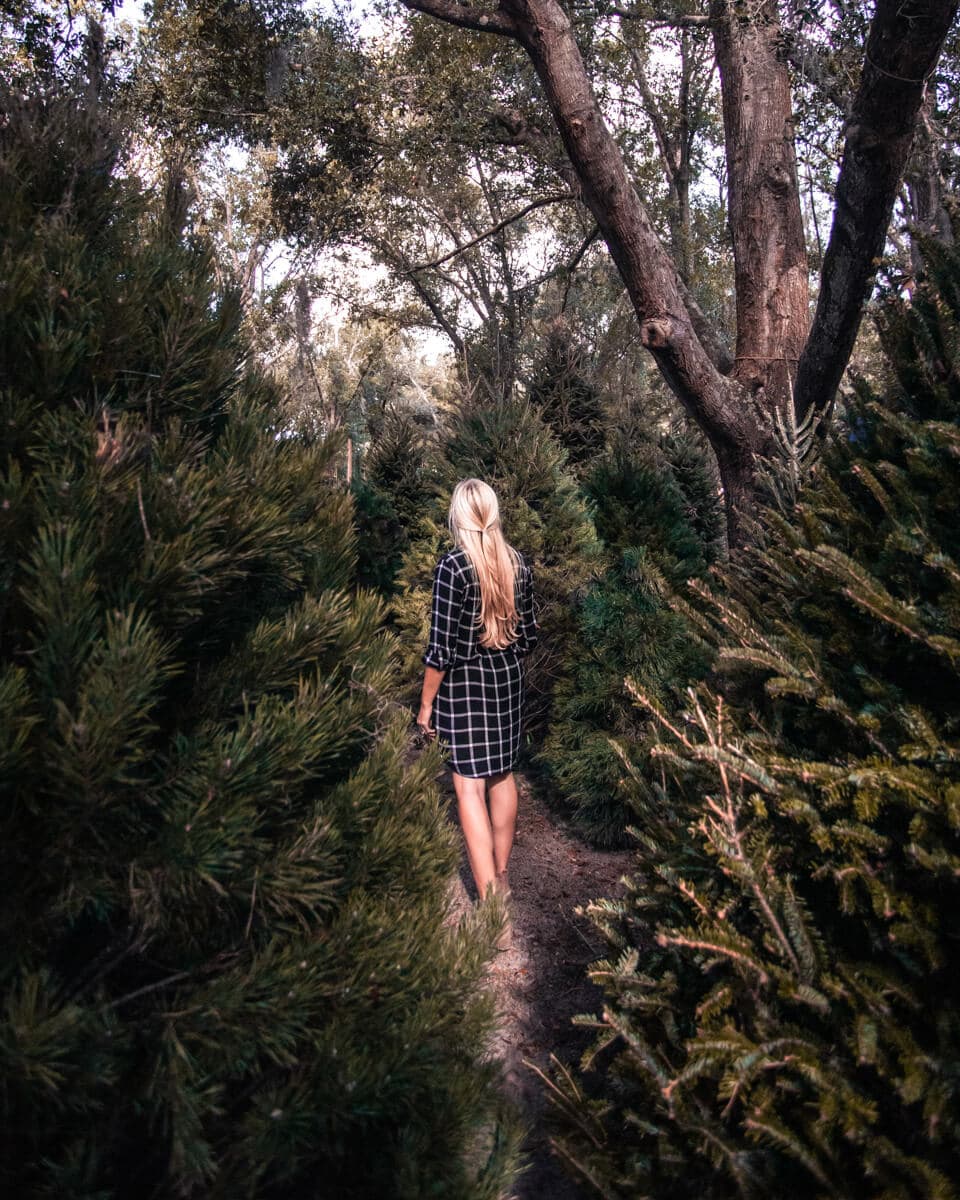 #21: THE NUTCRACKER BALLET BY THE RUSSIAN BALLET OF ORLANDO
Dates & Times: December 18, 2021 at 7:30 p.m. (seats must be claimed by 6:30 p.m. or they will be released to the general public)
Cost: FREE
Location: Walt Disney Amphitheater at Lake Eola Park in Orlando
Each year the Russian Academy of Ballet gives a free performance of The Nutcracker in Downtown Orlando at the Walt Disney Amphitheater at Lake Eola. Because this event is free, make sure to arrive early if you want to get one of the limited number of seats available. You can prepurchase VIP tickets here.
This is a free Orlando Christmas event you don't want to miss! Other shows also take place around Orlando throughout the month of December. Click here for dates and locations.
#22: SANTA'S WONDERLAND AT BASS PRO SHOPS
Dates & Times: November 6 - December 24, 2021
Cost: FREE
Location: Bass Pro Shop in Orlando
Santa's Wonderland at Bass Pro Shop gives you a chance to get FREE pictures with Santa. In addition, Bass Pro Shops offer free crafts as well as games and other activities. They even offer a free stuffed animal on certain days for the first 100 kids to take a picture with Santa.
Make sure to make your free reservation in advance as it is required in 2021. Show your confirmation at check-in and you are good to go. For hours and more information about special events at Santa's Wonderland at Orlando's Bass Pro Shop, click here.
#23: DRIVE THRU NATIVITY AT FIRST BAPTIST CHURCH OF PINE CASTLE
Dates & Times: December 22 - 24, 2021, from 7 p.m. - 9 p.m.
Cost: FREE
Location: First Baptist Church of Pine Castle
Enjoy live actors and animals presenting the story of the birth of Jesus as you follow the route through the church parking lot.
Instead of going inside the church for a Christmas performance, this unique Christmas activity near Downtown Orlando gives you a chance to experience the Christmas story from the comfort of your car.
#24: FREE HOLIDAY MOVIES IN AND AROUND ORLANDO
Dates & Times: Various dates and times depending on location (see below)
Cost: FREE
Location: Throughout Orlando (see below)
Several places in and around Orlando offer free holiday movies for families to enjoy. Most of the time these events take place outdoors in parks, so you may want to bring your own blankets or chairs. Snacks are typically available for purchase, but you may want to bring your own snacks as well.
In Lake Nona, holiday movies play on Friday nights at Oh, What Fun. The schedule for 2021 is Elf on December 8, The Grinch Who Stole Christmas on December 22, and Snow Dogs on December 29.
Meanwhile, at the University of Central Florida's Light Up UCF, the Holiday Film Festival presents holiday movies on Fridays and Saturdays at 7 p.m. and 9:30 p.m. (Light Up UCF is cancelled for 2021).
Throughout the holiday season, Downtown Orlando offers free movies at the Walt Disney Amphitheater each week on Fridays in December at 7 p.m. This year's movies are Elf (December 14), Polar Express (December 11) and The Santa Clause (December 17).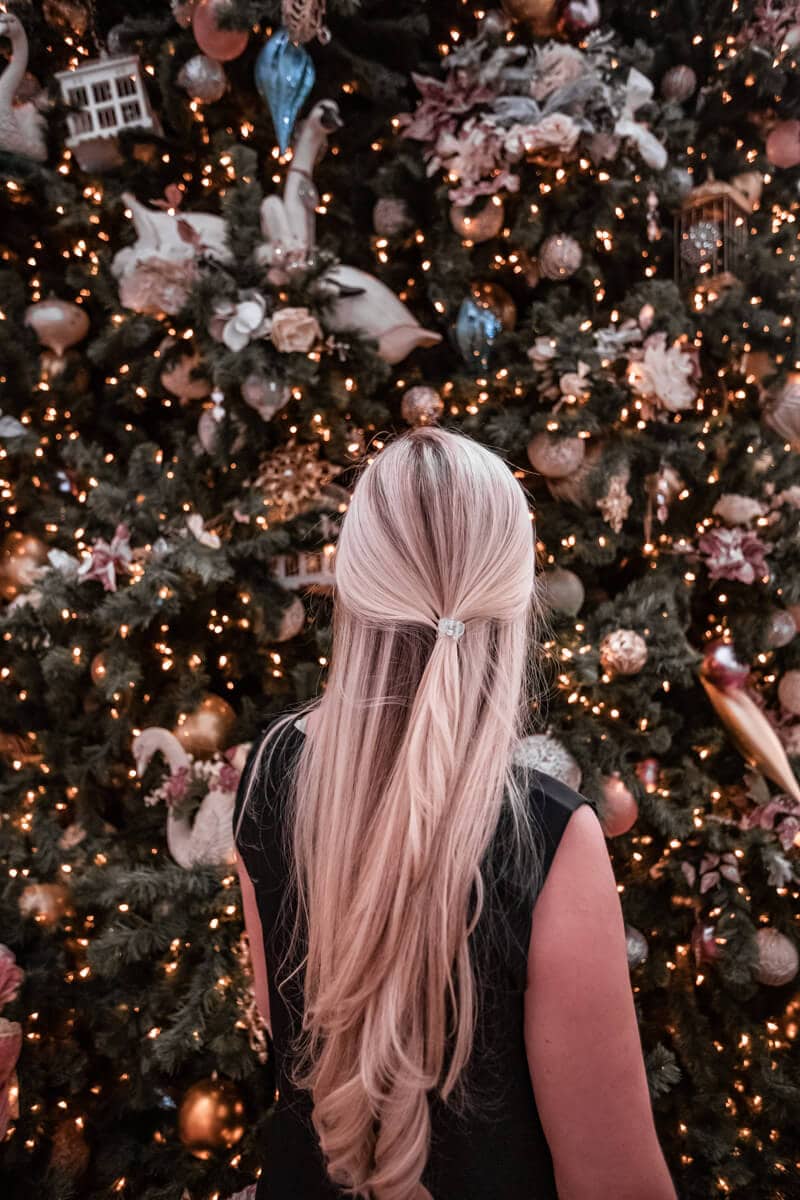 #25: COLORFUL CHRISTMAS AT CRAYOLA EXPERIENCE
Dates & Times: November 20, 2021 - January 3, 2022
Cost: Varies
Location: Crayola Experience at Florida Mall
The Crayola Experience is hosting Colorful Christmas in 2021 with a sing along hosted by Scarlet and her singing reindeer friends at Café Crayola, life-sized holiday animatronic characters sharing stories from the North Pole, and a holiday scavenger hunt.
Create a Christmas card, your own snowman ornament, or a reindeer you mold yourself. Need a refreshment after creating a holiday gift? Enjoy seasonal refreshments available only during this event.
#26: DAZZLING NIGHTS AT HARRY P. LEU GARDENS
Dates & Times: November 19, 2021 - January 9, 2022
Cost: $22 - $25 per person
Location: Harry P. Leu Gardens
Harry P. Leu Gardens is transforming into a winter wonderland in 2021 with a million lights for a new family friendly adventure that takes you on a three-quarter mile walk through an interactive holiday experience.
Start with a photo opportunity in front of a 30' Christmas tree before taking a stroll through a forest of lights and fog. The entire event has been remade this year to feature new surprises. Enjoy an 8,000 square foot light maze and 185 candle lit hanging Moroccan lanterns as part of the new features.
Parking is available at Harry P. Leu Gardens for $12. Otherwise you can park at Blue Jacket park (2501 General Rees Avenue) and take a free shuttle to Leu Gardens.
#27: GIVE KIDS THE WORLD VILLAGE: NIGHT OF A MILLION LIGHTS
Dates & Times: November 12, 2021 - January 2, 2022
Cost: Varies ($25 - $40 for adults and $15 - $20 for kids)
Location: Give Kids the World Village
Returning for a second year, Give Kids the World Village is offering a walk-through, fully immersive Christmas light event. See what it looks like to have the Avenue of Angels lit up with over 3 million lights and enjoy holiday treats and accessible rides. These rides and attractions have brought joy to critically ill children for 35 years.
There are three types of tickets available depending on when you visit and a limited number of tickets available. Standard dates are $25 for adults and $15 for kids. Peak dates are $35 for adults and $18 for kids. Holiday dates are $40 for adults and $20 for kids. You'll also need to choose a 2 hour window to visit when booking.
THE BEST CHRISTMAS LIGHTS IN ORLANDO
Christmas in Orlando is not complete without seeing some of the over-the-top Christmas light displays. From personal homes to parks to businesses, Orlando knows how to decorate for Christmas.
Many of the activities mentioned above offer beautiful Christmas displays with thousands or even millions of sparkling lights. Because those events have already been covered, this list focuses on parks and properties not yet mentioned in this list that are known just for their Christmas light display.
For even more options, head to our full post on the best Christmas lights in Orlando.
#28: THE GREAT CHRISTMAS LIGHT FIGHT HOUSE
Dates & Times: Open December 1 to December 31 from 6 p.m. to 9 p.m. nightly; back yard closes at 8:00 p.m. (back yard is closed for 2021)
Cost: FREE (donations are appreciated though) or $10 for the back yard
Location: 7849 Georgeann St., Winter Park, Florida
Also known as the Johanessen Lights, this house became famous when it was featured on the TV show, "The Great Christmas Light Fight." Each year, this family takes months to decorate their home (and weeks to take everything back down).
The front and back yard are fully covered in over a quarter of a million lights. In addition to the house and yard being covered with decorations, "snow" (aka bubbles) falls regularly in the front yard each night. The back yard is not open in 2021.
Because this is in a neighborhood, parking is limited. Be prepared to park and walk, and make sure to park on the side opposite the homes. Please be respectful of the neighbor's homes and yards; remember that this is a private residence and neighborhood while you are there. Be careful when coming and going as the road has many people walking to and from their cars in the dark.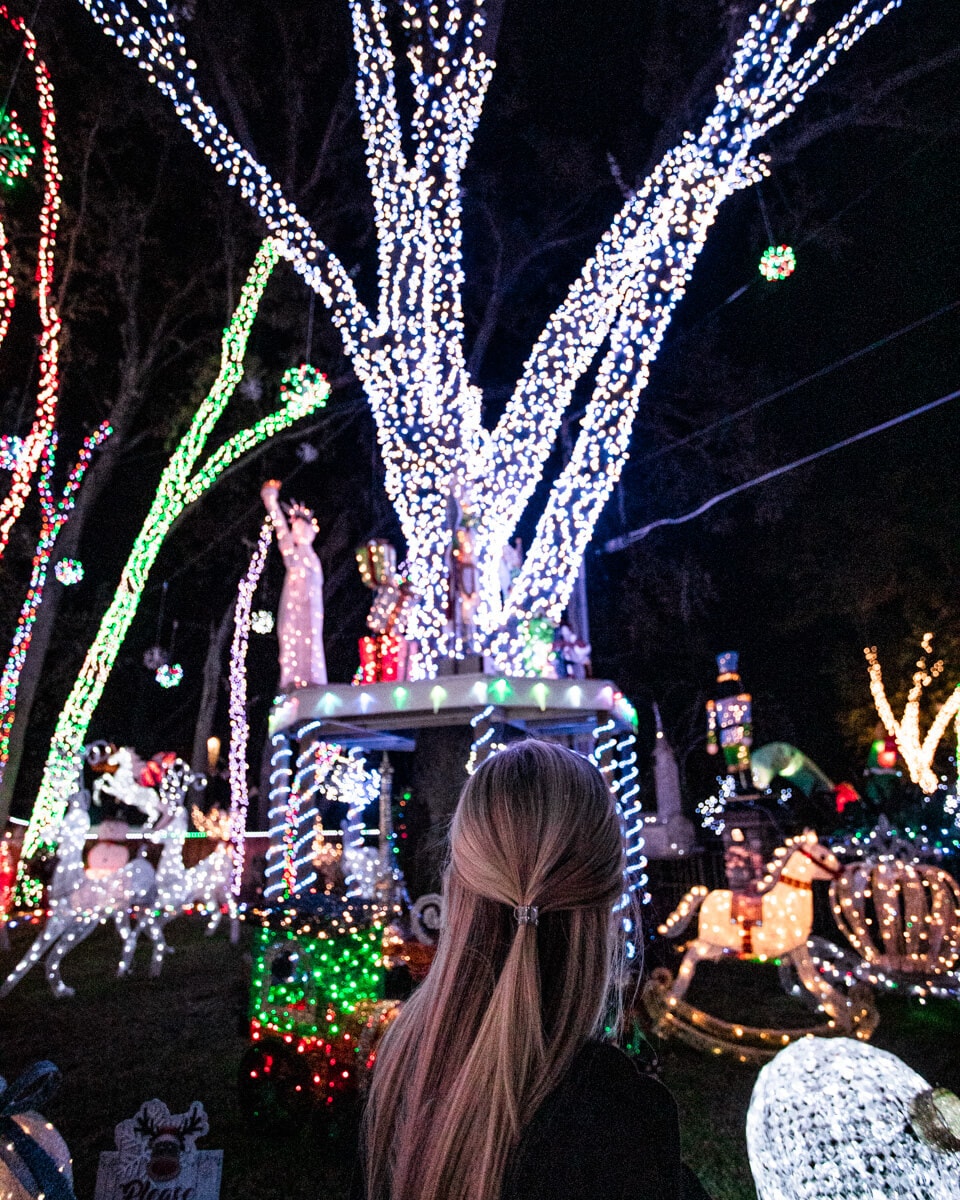 #29: GARDEN GROVE CHRISTMAS LIGHTS
Dates & Times: Evenings in December
Cost: FREE (but donations are welcome)
Location: Garden Grove Circle, Winter Park, Florida
This neighborhood has been one of my favorite Christmas light displays for years. It started out with just a couple of houses going all out for Christmas, but now quite a few homes in the neighborhood get into it.
Parking is limited and some people choose to just drive the circular neighborhood. Your best bet is to find parking anywhere in the neighborhood and walk the short loop.
The main house is one of the first ones you see when you drive in. This house is completely covered and even features a display in the garage and in the windows. Several other houses in the neighborhood also go all out, so don't just see this first house and leave.
Again, remember that this is a private neighborhood and private residences. Please be respectful of their property and the work they put into these displays.
#30: CHRISTMAS WONDERS HOUSE IN KISSIMMEE
Dates & Times: Evenings in December (6:30 - 9:30 p.m. on Sundays - Thursdays and 6:30 - 11:00 p.m. on Fridays & Saturdays)
Cost: FREE
Location: 1642 Sunburst Way, Kissimmee, Florida
This house in Kissimmee earned a spot on the 2009 national top five list of holiday light displays from Reader's Digest. Christmas music plays as you take in the thousands and thousands of lights covering the home. The lights stay up through New Year's Day.
#31: THE LIGHTS ON JEATER BEND IN CELEBRATION
Dates & Times: Thanksgiving through New Year's Eve from 6:00 - 9:30 p.m.
Cost: FREE
Location: 1027-1036 Jeater Bend Drive, Celebration, Florida 34747
Most neighborhood displays feature individual homes covered in lights. Celebration takes this to the next level. Rather than individuals all decorating their own homes, residents work together to present nearly a dozen homes in perfect synchronization with lights and music.
It isn't just lights either. Some of the homes use projections or project movie clips and snow flurries even take place here.
While you can drive through, the better way to see this street is on foot. Park on Celebration Avenue and walk down Jeater Bend Drive to take your time enjoying the Christmas lights surrounding you. Taking time to walk down the street also makes it less likely that people are honking at you to keep moving. If past years are any indication, Santa will stop by on the Saturday before Christmas between 7:00 and 9:00 p.m.
If you have time, drive through some of the other streets and neighborhoods in Celebration. Because there are competitions and different themes each year, you can find lots of beautiful homes all decorated for Christmas.
#32: CHRISTMAS LIGHTS IN CONWAY AREA
This is an area I drive around every year and have since I was a small child. My grandparents live in this area, and every Christmas they would load us up and take us around to look at the best lights. When we became adults, we started driving them around and still drive my grandma around each year.
Some of my favorites are on Cullen Lake Shore Drive (near Gramont Ave especially) and on Oak Island Road. For a fully interactive map to plan your drive through the area, the map below has the best lights of 2021. Click on the address to see if pictures have been added of that house.
Here is the map from 2020 in case there are houses that have not been added to the 2021 map yet:
ORLANDO THEME PARK HOLIDAY EVENTS & ACTIVITIES
No list of the top things to do in Orlando at Christmas is complete without mentioning the theme parks. While the goal of this list is to provide you with other options as well, the theme parks cannot be ignored.
Believe it or not, there are some free holiday activities at the theme parks that do not require tickets. If you are looking to spend Christmas in one of Orlando's many parks, here are the best things to do in the theme parks at Christmas. For more in depth coverage of things to do at Disney for Christmas, check out this article by my friends over at Florida Sun Adventures.
#33: GRAND FLORIDIAN CHRISTMAS TREE & OTHER DISNEY HOTELS
Dates & Times: Mid to late November through New Year's
Cost: FREE
Location: Disney's Grand Floridian Resort & Spa
Christmas at Disney is a special treat, and some things are even free. At the holidays, Disney hotels and resorts go over the top in their decorations, and the Grand Floridian is no exception.
The entire resort is gorgeous anyways, but at Christmas the lobby takes on a whole new look. A massive Christmas tree fills the center of the lobby and 14-foot tall edible gingerbread house. The gingerbread house usually is up the second week of November while the tree usually goes up a week later. The gingerbread house is open from 10:00 a.m. to 10:00 p.m., but expect a line in peak hours.
Be aware that parking at the resorts is extremely limited at the holidays. In order to park at the resort, you must be staying at the resort or have a reservation at the resort for a meal. Otherwise you have to find another way to get to the resorts. We decided to get a reservation for breakfast to visit Grand Floridian early in the morning. It gets much more crowded later in the day, especially when Santa is in front of the tree for pictures.
In addition to the Grand Floridian, other popular Disney resorts to visit at Christmas also feature massive trees and impressive gingerbread creations. For more massive trees, check out Wilderness Lodge and Disney's Animal Kingdom Resort.
For more incredible gingerbread creations, stop by Disney's Contemporary Resort for its giant 18-foot tall Cinderella gingerbread castle, Disney's Boardwalk Inn for its gingerbread academy allowing you to work alongside the experts, and Disney's Beach Club Resort for its moving gingerbread carousel.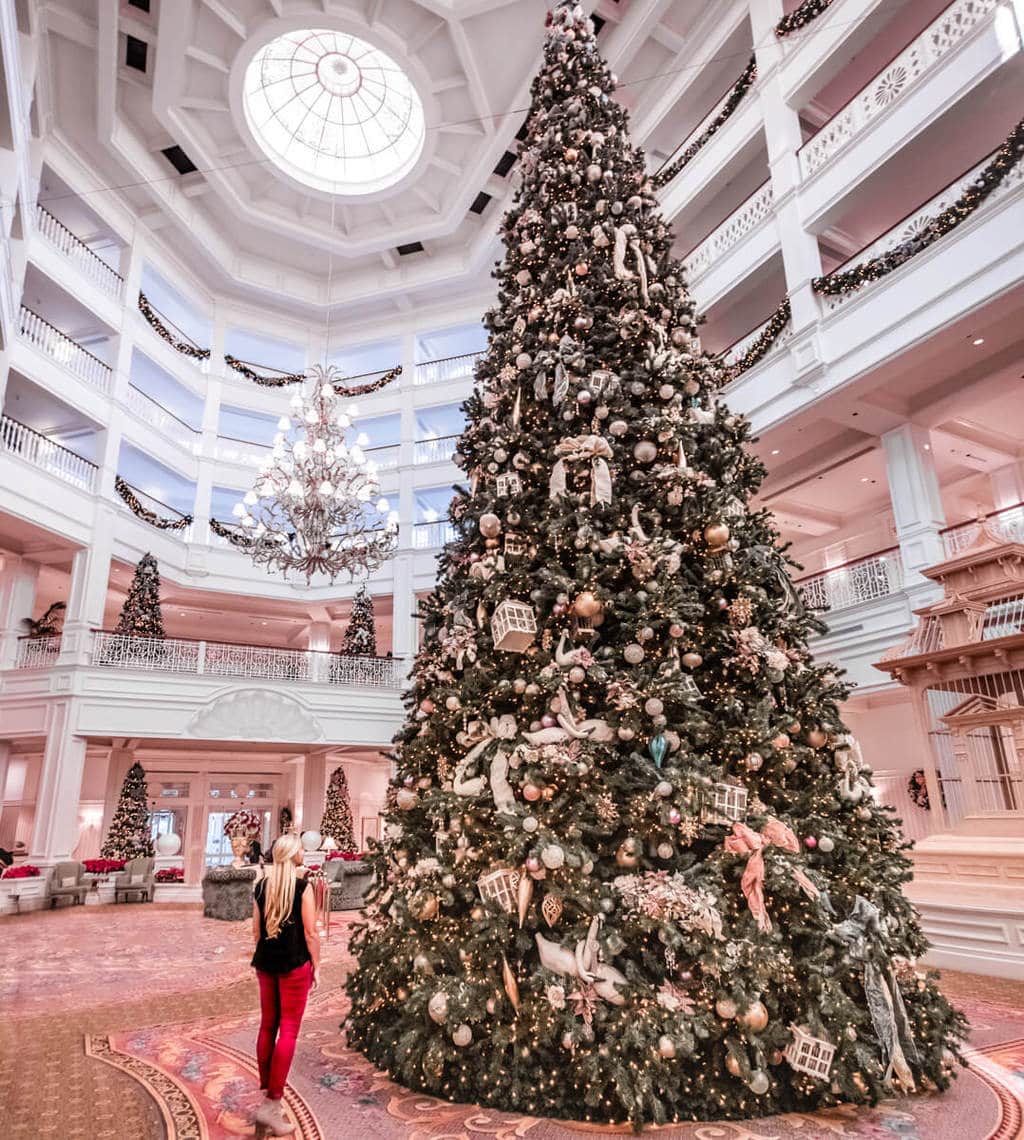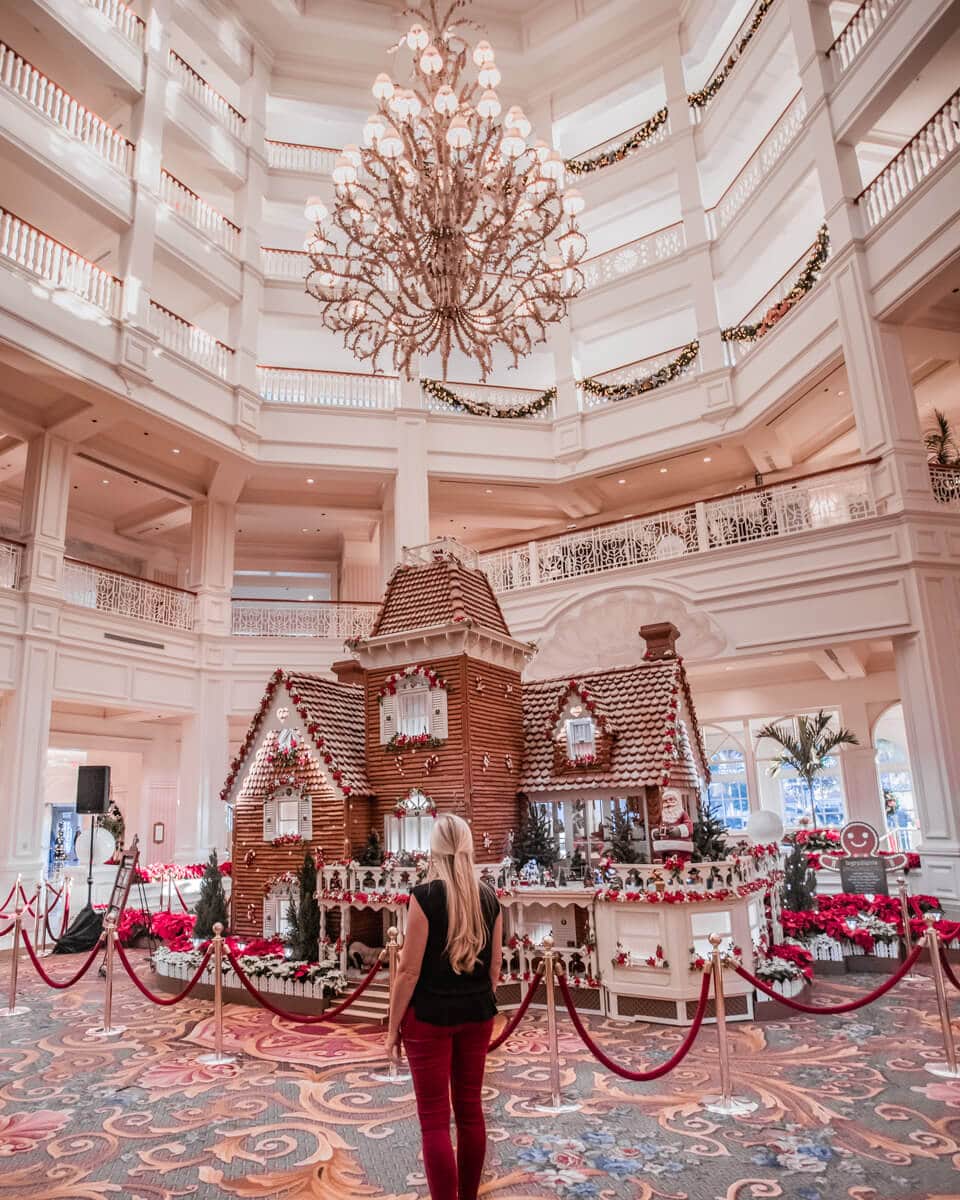 #34: HOLIDAY HARBOR NIGHTS AT LOEWS PORTOFINO BAY HOTEL
Date & Time: November 26, 2021
Cost: $69 - $99 plus tax
Location: Loews Portofino Bay Hotel
Celebrate the start of the holiday season in the Harbor Piazza at Loews Portofino Bay Hotel. Your ticket includes gourmet food from each of the hotel's restaurants as well as select wines and sparkling wines.
The food and wine stations are set up throughout the Piazza, and you can visit each station as often as you would like. Live music and dancing accompany the main event, the lighting of Portofino Bay's Christmas tree.
Purchase tickets for the event and view the menu here.
#35: EPCOT'S CANDLEIGHT PROCESSIONAL
Dates & Times: November 26 - December 30, 2021
Cost: Park admission required
Location: Epcot
Epcot's Candlelight Processional presents the story of Christmas through celebrity narrators accompanied by a massed choir and 50-piece live orchestra. This year's celebrity narrators include Bart Millard (12/8 - 12/10), Lisa Ling (12/11 - 12/13), Steven Curtis Chapman (12/23 - 12/25), and Pat Sajak (12/29 - 12/30). For the full narrator schedule and to purchase tickets, visit the official website for the Candlelight Processional.
#36: DISNEY VERY MERRIEST AFTER HOURS (REPLACING MICKEY'S VERY MERRY CHRISTMAS PARTY IN 2021)
Dates & Times: Select nights from November 8 - December 21, 2021 from 9 p.m. until 1 a.m.
Cost: $169 - $249
Location: Magic Kingdom
The 2021 Mickey's Very Merry Christmas Party has been replaced by the Disney Very Merriest After Hours tickets. The tickets get you into the park as early as 7 p.m. on select dates, but the event runs from 9 p.m. until 1 a.m.
During the Disney Very Merriest After Hours event, there is a special parade and fireworks show. Mickey's Once Upon a Christmastime Parade brings snow to Main Street and features impressive lights and of course, Disney characters known and loved by all. The parade does go on during the daytime during the week of Christmas and New Year's, so it is possible to see the parade without a special ticket. However, during the daylight hours, the lights are not as impressive.
The Minnie's Wonderful Christmastime Fireworks show includes the perimeter bursts during the Christmas party but again shows without the perimeter bursts during the week of Christmas to regular park guests. Other special shows, events, and meet-and-greets are also available during Mickey's Very Merry Christmas Party. Fore more information, visit the official event page.
View this post on Instagram
#37: SEAWORLD'S CHRISTMAS CELEBRATION
Dates & Times: November 12, 2021 - January 2, 2021 during regular park hours (Kawanza Celebration takes place from December 26 - January 1; Three Kings Celebration takes place January 1, 2, & 6)
Cost: Start at $89.99 for a one day ticket
Location: SeaWorld Orlando
SeaWorld Orlando's Christmas Celebration features special shows and meet-and-greets with Santa (starting daily at 11:30 a.m.) and Rudolph (starting daily at 4 p.m.). The shows are what set apart Christmas at SeaWorld with several special Christmas themed shows. For more information and to purchase tickets, visit the office event website.
The most popular show is O Wondrous Night. If you plan to see this show, arrive early as it does fill up quickly and has a limit to how many can fit in the room. The live nativity and 30 Christmas carols take viewers through the story of Jesus' birth as told by the animals who witnessed the birth.
Once the sun sets, the Sea of Trees light show brings 100 trees to life with dancing lights reflecting on the water beneath them. Other holiday shows at SeaWorld include Winter Wonderland on Ice featuring talented singers and skaters, Clyde and Seamore's Countdown to Christmas, Rudolph's Movie Experience, and Shamu Christmas Miracles.
View this post on Instagram
#38: CHRISTMAS TREE STROLL AT DISNEY SPRINGS
Dates & Times: November 5 - December 30, 2021
Cost: FREE
Location: Disney Springs
Formerly the Christmas Tree Trail at Disney Springs, Disney changed it to a "stroll" in 2020 to allow for more social distancing. The stroll returns in 2021.
One of the few free holiday theme park activities in Orlando is the Christmas Tree Stroll. Unlike some of the theme park holiday activities, this one is still fairly new and improving each year. The trail features 20 Christmas trees, each with their own theme. While some feature a character, others feature an entire movie. If you are going to be out at Disney Springs, take a walk through and see what themes were chosen for 2021.
#39: CHRISTMAS AT UNIVERSAL STUDIOS FLORIDA
Dates & Times: November 21, 2021 - January 2, 2022
Cost: Special park admission and reservations required for $69.99
Location: Universal Studios Florida and Universal's Islands of Adventure
Universal Studios brings out some Christmas magic at each of their parks. From Harry Potter to the Grinch, the parks have something for everyone including special performances on select days by the Mannheim Steamrollers. Daigon Alley and Hogsmeade both get a Christmas makeover and seasonal food and drinks including hot Butterbeer.
Outside of The Wizarding World of Harry Potter, the Grinch takes over Universal's Islands of Adventure for the Grinchmas Who-liday Spectacular. Grinchmas includes a live, musical stage show and a chance to meat the Grinch himself.
If you can't get enough of the Grinch, enjoy The Grinch & Friends Character Breakfast. This special breakfast does require reservations in addition to the regular park admission. Meanwhile, over at Universal Studios Florida, Santa, the Minions, and other Universal characters join together in Universal's Holiday Parade featuring Macy's.
Get complete details and purchase tickets here.
View this post on Instagram
#40: LEGOLAND'S CHRISTMAS BRICKTACULAR
Dates & Times: November 26-28 and December 4-5, 11-12, 18-19, 24-31
Cost: Included in park admission
Location: Legoland Florida Resort
The next place on our list of the best Orlando Christmas events is actually about an hour outside of Orlando. Legoland's Christmas Bricktacular takes place on select days in November and December. Unlike many other theme parks, Legoland Christmas activities are included in park admission.
The centerpiece of the special holiday event is a 30-foot Christmas tree made up entirely of LEGO and DUPLO blocks. Kids can also take part in a holiday-themed scavenger hunt complete with prizes, meet LEGO characters, and enjoy building activities with Master Model Builders.
View this post on Instagram
CHRISTMAS CONCERTS IN ORLANDO
Christmas carols are a big part of Christmas celebrations, and a few places in Orlando celebrate with special musical events. While many churches feature Christmas specials, these are the main annual concert events put on by Orlando groups. This list does not include concerts that travel through Orlando at Christmas.
#41: SINGING CHRISTMAS TREES AT FIRST BAPTIST ORLANDO (CANCELLED)
Dates & Times: Cancelled for 2021
Cost: $8 - $19 for the show only, $49 for dinner and the show
Location: First Baptist Orlando
The Singing Christmas trees began back in 1980 and has grown into one of the best Christmas events in Orlando (my mom used to sing in it too). The Singing Trees features a 300-member choir, a full 50-piece orchestra, powerful drama and dance, and 250,000 lights on two 45-foot tall Christmas trees that are in sync with the choir and orchestra.
Before the show, check out the Bethlehem Village with a petting zoo included in your ticket. Meet characters from the Christmas story and get a family picture. Dinner can be purchased with your ticket or you can purchase a ticket for the show only.
View this post on Instagram
#42: CENTRAL FLORIDA COMMUNITY ARTS CONCERTS & SHOWS
Dates & Times: Various dates in November and December (see below)
Cost: Tickets range from $5 - $50 depending on the show (see below)
Location: Different venue for each show (see below)
Orlando is blessed to have Central Florida Community Arts as a part of our community. CFCArts features three different holiday shows with CFCArts Theater, CFCArts Youth Theater Companies, and CFCArts Community Choir and Symphony Orchestra. Each shows takes place on different nights and in different venues around Orlando.
Click here for the latest updates on shows and to purchase tickets.
View this post on Instagram
HOLIDAY-RELATED SPORTING EVENTS IN ORLANDO
While many people may not start their New Year's Resolutions until New Year's, there is no reason not to start now. Fortunately, Orlando is full of Christmas and holiday-themed 5Ks. In addition to getting involved in the sporting events, you can also enjoy them from the sidelines.
Every year Orlando hosts a couple of bowl games near the holidays. Before the games even start, the Citrus Bowl Parade takes center stage. Whether you want to watch from the sidelines or get involved, here are the best sporting events in Orlando at Christmas.
#43: AUTONATION CURE BOWL
Date & Time: December 17, 2021
Cost: Start at $20
Location: Camping World Stadium
The Autonation Cure Bowl features teams from the American Athletic Conference and the Sun Belt Conference. In past years, teams from Conference USA and the Mountain West Conference have also made appearances. However, this bowl game is more than a game because funds raised benefit breast cancer research. For more information, visit the official website.
#44: CHEEZ-IT BOWL
Dates & Times: December 29, 2021
Cost: Start at $50
Location: Camping World Stadium
Each year, this bowl game features a team from the Atlantic Coast Conference (ACC) and the Big 12. While teams won't be decided for a while, tickets are available now.
The pep rally with coaches, players, bands, and cheerleaders from both teams takes place on December 28, 2021 at Pointe Orlando. The band and cheerleaders from both schools make appearences to pep up the crowd before hte game.
The next day, December 29, at 11:00 a.m., the Parade of Bands takes place on Park Avenue in Winter Park. Later in the day, starting at 1:45 p.m. on game day, the pregame tailgate party takes place on Tinker Field. This event features live entertainment, interactive games, inflatables, face painters, and more with free admission. Food and beverages are available for purchase.
#45: CITRUS BOWL
Dates & Times: January 1, 2021
Cost: Game tickets start at $51
Location: Camping World Stadium
Orlando's biggest bowl game, the Citrus Bowl, features teams from the Southeastern Conference (SEC) and the Big Ten Conference. In addition to the game, the pep rally takes place on December 31 at Pointe Orlando. The Big Ten team usually starts the pep rally at 4:00 p.m. with the SEC team pep rally following at 4:45 p.m.
The next day before the game is the official bowl game tailgate party starting at 9:00 a.m. Admission is free, but food and drinks are available for purchase. The tailgate party includes music, interactive games, inflatables, face painters, and more.
View this post on Instagram
#46: GREG WARMOTH REINDEER RUN
Date & Time: December 11, 2021 at 7:15 a.m.
Cost: $32 and up
Location: Usually at SeaWorld Orlando
Run 3 miles through SeaWorld Orlando with the Greg Warmoth Reindeer Run. While the first part of the race is in the parking lot, after that you run all through the SeaWorld park before it opens.
In addition to running through the park, each participant gets a long-sleeve tech shirt and a cookie cutter medal. On top of the medal and t-shirt, participants can purchase a single-day SeaWorld tickets for a 30% discount. Register for the race or find out more here.
#47: 2021 JINGLE BELL RUN
Date & Time: December 11, 2021
Cost: $25 and up for 5K
Location: Lake Baldwin Park, 4982 New Broad Street
Enjoy a fun untimed 5K run in the Jingle Bell Run at Lake Baldwin Park. A virtual option is also available in 2021 after being fully virtual in 2020. After the race, enjoy a complimentary breakfast and lunch, beer, kid's zone, live entertainment, and more. If you are feeling creative, take part in the costume contest.
This race benefits the Arthritis Foundation. All participants get a Jingle Bell Run shirt, finisher's medal, and jingle bells. Register for the race or get more information here.
#48: ADDITIONAL HOLIDAY THEMED RACES
If you are looking for more holiday themed races in the Orlando area, here are a few more to consider. First up is the Candy Cane 5K takes place in Winter Springs, Florida. The RDV Sportsplex Jingle Run 5K takes place in Maitland. You can also run in the Santa's Twilight 5K in Clermont at 6 p.m.
Finally, the day before Christmas, release some stress with the Holiday Stress Buster 5K in Lake Helen and burn off those Christmas cookies before you eat them all the next day.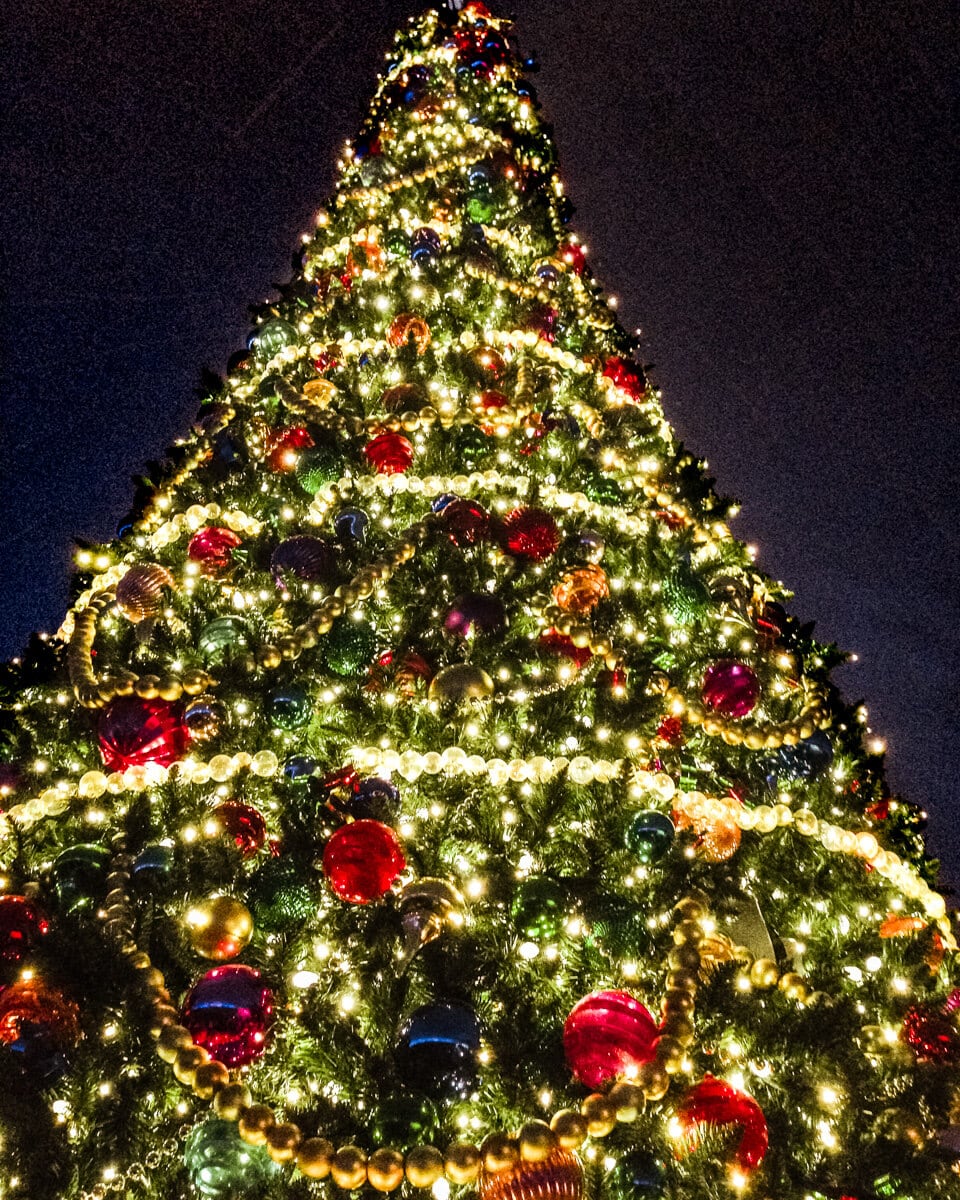 DAY TRIPS TO CHRISTMAS EVENTS NEAR ORLANDO
With so many great options in the greater Orlando area, this list features only a few of the major holiday events near Orlando. These holiday events are popular day trips for Orlando locals during the holidays. While you may be content staying in Orlando for the holidays, if you choose to venture out, here are the best events you will find nearby.
#49: ST. AUGUSTINE NIGHTS OF LIGHTS
Dates & Times: November 20, 2021 through January 31, 2022
Cost: FREE (unless you do a tour)
Location: St. Augustine, Florida
With over 3 million lights covering the city, St. Augustine's Nights of Lights is a Florida must for Christmas. Located less than 2 hours from Orlando, it consistently ranks among the top ten holiday light displays in the world by National Geographic.
Take time to walk around the old city or take a tour to enjoy the lights covering the city for a couple of months each year. The nice thing about this event is that it goes for over a month after Christmas, so you can save it for a fun event in January after the holiday hussle and bustle is over. For more information and tour information, click here.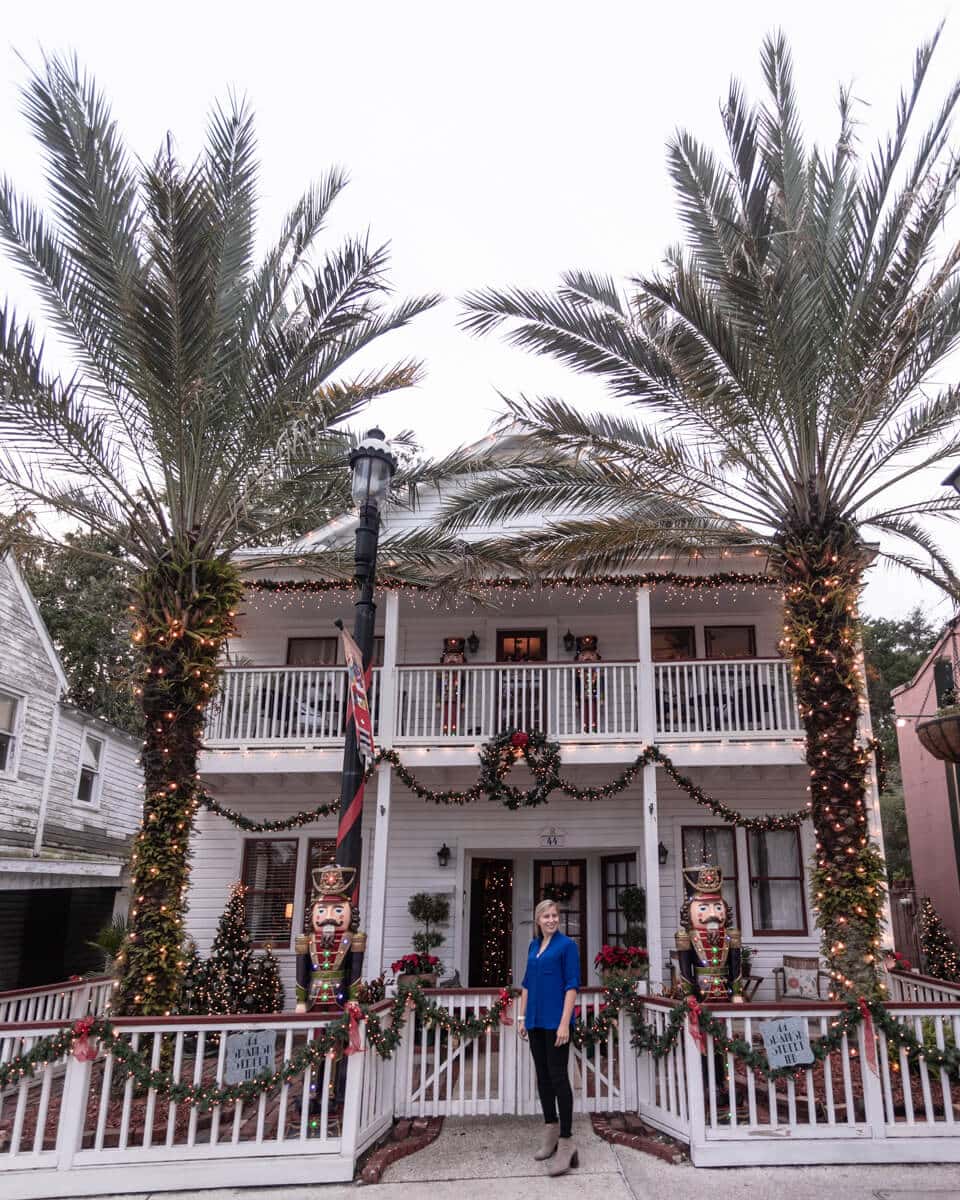 #50: BOK TOWER GARDENS
Dates & Times: November 23, 2021 - January 6, 2022
Cost: Starts at $14
Location: Bok Tower Gardens
Each year at Bok Tower Gardens, the Pinewood Estate is decorated differently for Christmas. Children can enjoy the tour too while they search for the Pinewood Christmas Squirrels hiding throughout the estate. Located just over an hour from Orlando, making it to Bok Tower Gardens and back in a day is easily doable.
During the Holiday Home Tour, visitors will tour Pinewood Estate, a 20 room, 1932 Mediterranean-style mansion that's decorated differently every year. Children will be entertained as well as they search for a family of Pinewood Christmas Squirrels hiding throughout the estate.
One night each year, the Bok Tower Gardens presents the annual Sunset & Symphony Concert featuring the Orlando Philharmonic Orchestra on December 1, 2021. Tickets are required and start at $30 for adults. For more information on this event as the holidays get closer, check the official website.
View this post on Instagram
#51: STETSON MANSION CHRISTMAS TOURS IN DELAND
Dates & Times: November 1, 2021 through January 22, 2022
Cost: $27 for adults and $15 for youth (plus tax)
Location: Stetson Mansion
Located less than an hour from Orlando, the Stetson Mansion Christmas Tour takes place from November to January several times a day. Reservations are required, and tours last 75 minutes. No high heels can be worn and no photography is allowed inside the house.
In 2019, the Stetson Mansion ranked #1 in Florida and #5 in the nation for holiday home tours by USA Today. Built in 1886, the mansion had one of the first Christmas trees with electric lights. The home is still privately owned and lived in but open to tours all year.
For reservations and more information, click here for the official website.
#52: SKYDIVING SANTAS AT COCOA BEACH PIER
Date & Time: December 12, 2021 from 10:00 a.m. - 3 p.m.
Cost: FREE!
Location: Westgate Cocoa Beach Pier
In this unique event, skydiving Santas jump from the famous WWII aircraft "Tico Belle" C4 and land on Cocoa Beach next to the Westgate Cocoa Beach Pier. Enjoy watching high speed landings, accuracy landings, wing suit jumpers and Santas landing directly on an inflatable sleigh on the beach!
WHY CHRISTMAS IN ORLANDO IS SPECIAL
From this list, you can see that Christmas in Orlando is full of holiday-themed events. Because there are so many events throughout Orlando, there is something for everyone. Whether you love the theme parks or would rather avoid them, you can find plenty to fill your holiday calendar.
As an Orlando local born and raised, some of these events have been part of my Christmas traditions for years. Others I plan to check out for the first time this year after getting suggestions from family and friends.
For even more Christmas fun, don't miss out on even more options with the best holiday lights in Orlando.
While we may not have white Christmases here in Orlando (unless you spend it at one of our nearby white sand beaches), you may find you like spending Christmas in flip flops.
Looking for a hotel in Orlando to explore the Christmas activities? Check current deals on Agoda and Booking.com.
If you are looking for other Florida vacation ideas, check out our reviews of Westgate River Ranch and Westgate Cocoa Beach Resort and Pier.
Looking for more Christmas inspiration? Check out this post on the best Christmas lights in London.
Like this post? Then share it with others or pin it for later.