Traveling in 2018 is completely different than it was when we started traveling together back in 2010. There were very few travel planning apps, we had to diligently seek out places that offered Wifi, and international data plans available were way too expensive. We had to rely on Google and Google Maps to get around, taking a screenshot of the directions and hoping we did not get lost. Now free WiFi is readily available around the world and there are a ton of travel planning apps you can use to help you get around and find things to do. In addition to these apps, we also use Next Vacay to get cheap flights through email alerts.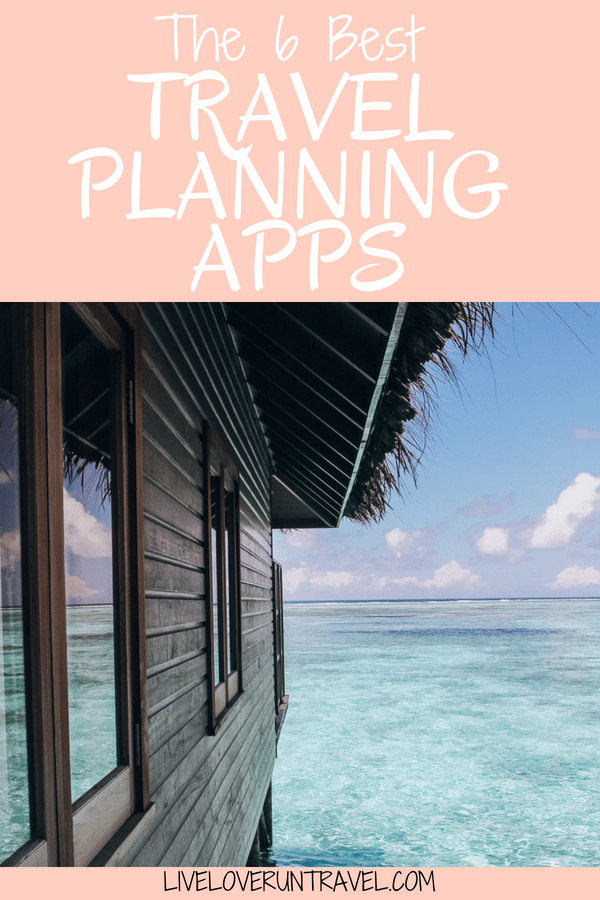 1. Rome2Rio
Our first travel planning app we love to use is Rome2Rio which helps us get around easily, especially in Europe. We have not used it as much in other continents to know how well it works there, but it really helps us figure out our options to get from one place to another. For example, if I type in Paris to London, I see the following options and more:
This helps as we decide whether we want to pay more and travel faster or pay less and travel slower. Sometimes we find that it is cheaper to take the fastest option. You can buy directly through the app or you can go to the site directly to purchase.
2. Agoda
We first found Agoda on our trip to Southeast Asia last summer. We were able to book some really nice hotels at a fraction of the cost, including our over-the-water bungalow in the Maldives. When we asked to extend our stay in Phuket an extra night, they told us to book through the app because they could not match that low of a price. We thought maybe they just marked up the prices to slash them, but our hotel in London was $319 for all three nights when the hotel charged $530 for that same room per night! When I started this blog, I signed up for their affiliate program because we love using them, so I am going to ask that if you book through them, you use this link or the ad in my sidebar so I can earn a commission from it. Even if you don't use the link, we have found them to be cheaper than any of the other hotel booking sites.
3. Hopper
Hopper is one of two options we use for booking flights (more details coming in a separate blog post about the other one we use). We use Hopper typically when we know we will have to go to a set location on set dates or in a set time frame. (The other one is for cheap flights but your dates and locations need to be flexible.) You can search for any location, and it will show you your options. You can also see what you can do to save money (click "See Tips" at the bottom). For example, sometimes moving the trip up or back a day or two is enough to save hundreds. Other times, if you are willing to drive to a different airport to depart or to fly in to a different nearby airport, you can save money. Hopper also gives you an idea of when you should book that trip by telling you if the price will rise or fall over the coming weeks or months. You can set it to alert you when the price falls or when the price is about to rise so that you don't miss out on the best deals. For example, we wanted to go to Europe in the summer of 2016. We found a flight on Hopper for $600 two weeks before summer break started when the cheapest we had found otherwise was $1000 – $1200 because it told us to fly in to Frankfurt for the cheapest flight in and out of Europe at the time.
I know the last few are relatively well-known travel planning apps, but I thought I would include them anyways since we do use them regularly.
4. Trip Advisor
Trip Advisor is one of the more popular travel planning apps out there. We both read reviews from Trip Advisor and write reviews for them. We have found this is the best place to find reviews of hotels, tours, etc. With the reviews, we always look at the pictures taken by regular people and not just the ones the company provided. This gives a better view of what it is really like. We also take things with a grain of salt. For example, we have seen complaints about the breakfast at a hotel or the size of the room at a hotel. We are not foodies and are not picky about the quality of food, especially when it comes to toast and cereal at breakfast for free. We also do not usually care too much about the size of the room since we try to spend our time out seeing the area instead of in our room.
5. AirBnB/Homeaway
If you have not considered staying in an AirBnB or Homeaway, why not? Depending on where you are going or how large or small your group is, it may be better than what you can find in a hotel. We always choose a place we have to ourselves, and we always read the reviews fully before booking. You also need to ask any questions before booking. We have stayed in an art studio in Zurich, a home in Chicago, a time share in Nashville, a condo in Panama City Beach, and a studio apartment overlooking the Eiffel Tower in Paris, all for better prices than a comparable hotel.
6. Groupon/Living Social
I have already written an entire blog post on using these apps to plan your travels, so you can check that out here to find out if they are a scam or a good deal!
Leave a comment below if you have some other travel apps we should check out!