Leprechaun Canyon Utah is located in North Wash about 28 miles from Hanksville. This picturesque canyon is famous for canyoneering, but it is possible to visit Leprechaun Canyon without climbing gear.
We loved doing this hike on a warm afternoon in Utah as the slot canyon walls provided shade and cooler air after a sun-drenched hike to get there.
This Utah slot canyon became a favorite slot canyon for us right away. It has three forks to explore on the trail. They range from too narrow to fit through to canyoneering required to wide enough for large groups to hike together.
There are lots of other great things to do near Leprechaun Canyon in Utah, so plan to spend a few days in Hanksville. While visiting the Hanksville area, make sure to stop by the Bentonite Hills to see the rainbow mountains that are famous in Utah as well as Capitol Reef's Temple of the Sun and Moon.
Here is everything you need to know to hike Leprechaun Canyon without technical gear including how to get there and when to visit.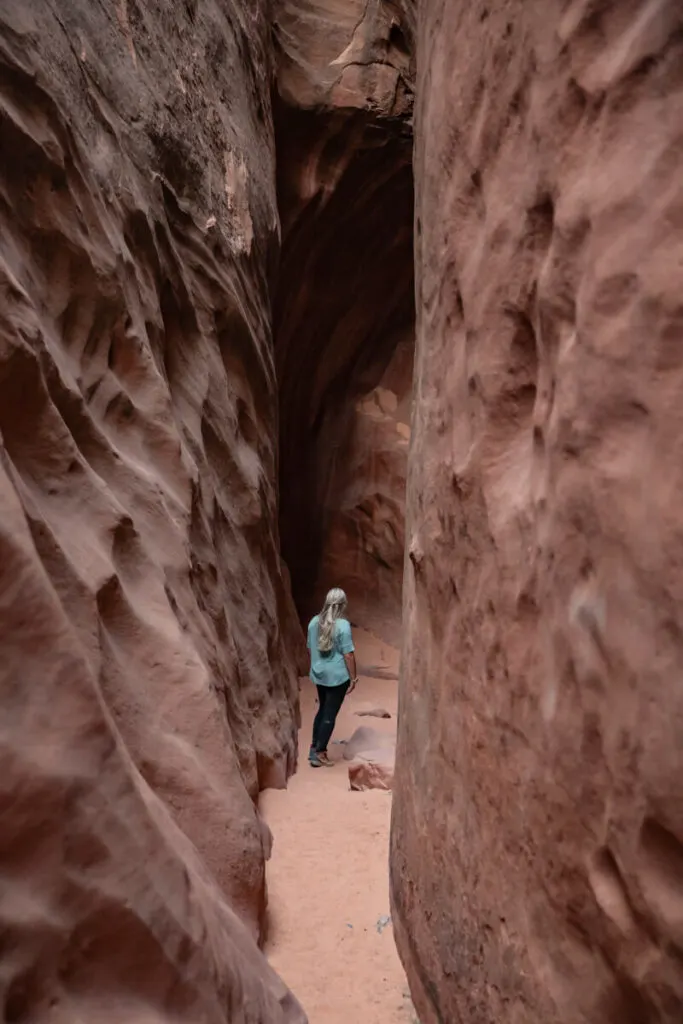 Please remember to practice leave no trace principles in Leprechaun Canyon. Do not mark on the canyon walls and remember to pack out everything you bring in with you.
Some of the links in this post are affiliate links. Purchasing or booking through them earns us a small commission at no extra charge to you.
Looking for more Utah travel tips?
How to Get to Bentonite Hills Utah
What Are the Blue Pools Near Moab?
Best Places to Eat in Kanab Utah
How to Visit the Great Chamber Near Kanab
Complete Guide to White Pocket Arizona
Don't have time to read this now? Pin it so you can come back to it later!
Tips for Hiking Leprechaun Canyon
Leprechaun Canyon is beautiful, but there are some things you need to know before you go. A few days after we first visited, my dad sent me a news article about a group being rescued in the area.
I found from reading it that rescues in this area are not uncommon. Being prepared for this hike and knowing your limits helps you have a better chance of a safe and enjoyable hike.
Safety Note about Leprechaun Canyon
Leprechaun Canyon is a fairly easy hike as long as you know your limits. There are routes that require climbing and climbing gear. You do not want to get into a situation where you cannot get back out of what you climbed into.
The slot canyons in this area require a good number of rescues each year. Bluejohn Canyon over in Robbers Roost (a favorite of Butch Cassidy) is also located in the San Rafael Swell and became well known for the story of Aron Ralston in 127 Hours.
Just a few days after we visited Leprechaun Canyon for the first time, a group of youth hiking with their leaders had to be rescued out of nearby Sandthrax Canyon. It is thought that they (like others who have been rescued from Sandthrax) were attempting to hike Leprechaun Canyon instead.
As with all slot canyons, know the weather forecast before you go. Slot canyons are prone to flash floods, so do not hike if it is raining, forecast to rain, or raining nearby. You do not want to get caught in a slot canyon in a flash flood.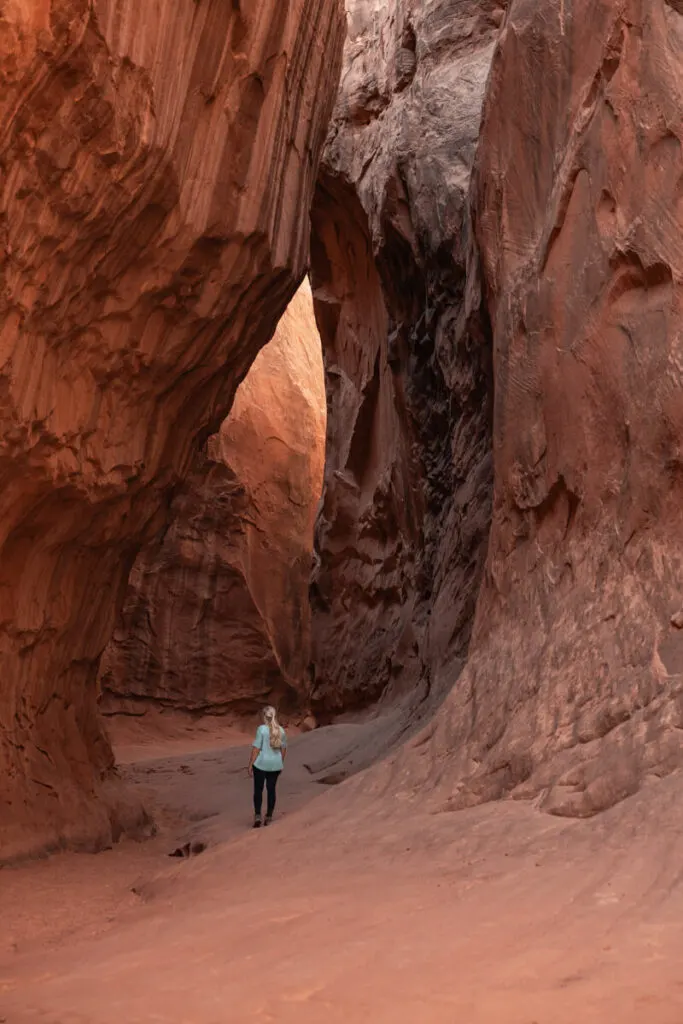 What to Take to Leprechaun Canyon
Make sure to download the AllTrails map before you go. I've included photos of the hike into the canyon and GPS coordinates for the parking area near the trailhead to help, but nothing is better than having a map and following it.
Make sure to bring plenty of water and snacks. Even though this can be a short and easy hike, you always want to be prepared just in case.
Utah gets very hot in the summer months, and you may not realize how dehydrated you are with the dry air and the shade of the canyon.
The first part of the hike is fairly exposed to the sun, so consider wearing sunscreen and using sun protection.
We both wore hiking boots and were glad we did. You will want closed-toed shoes for this one with good grip to be able to explore the hiker-friendly areas fully.
I also had on leggings and was glad with the brush we hiked through in the wash. I was also happy to have pants on squeezing through the skinny slots, but my husband did not regret his shorts.
We also took a flashlight and used it in one section of the last canyon where it gets dark because barely any light can make it through the tiny slot near the top of the canyon. A headlamp would also work here.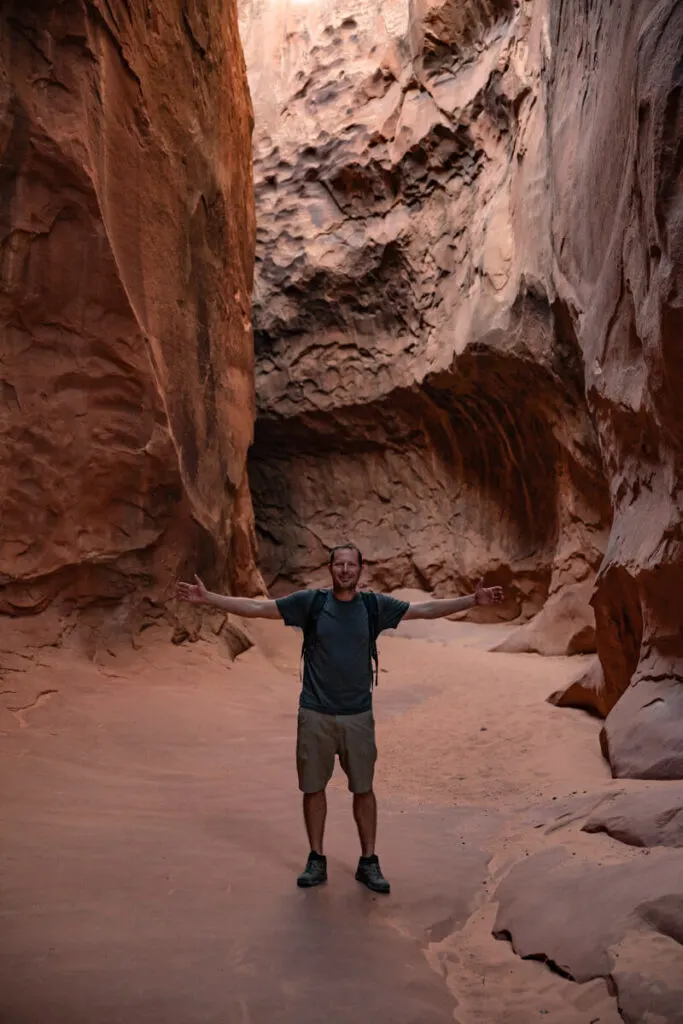 How to Get to Leprechaun Canyon
Leprechaun Canyon is a canyon North Wash is known for and one of the more popular hikes in the area. It is located about 28 miles from Hanksville, Utah on State Road 95. It only takes about 30 minutes to make the drive each way.
On Google Maps, it is located just west of Sandthrax Campsite. However, make sure you do not attempt hiking Sandthrax Canyon.
Sandthrax is one of the most technical canyons. Many people end up being rescued here because they hike into a spot where they cannot continue forward but also cannot retrace their steps without climbing gear.
This pin shows exactly where we parked to hike Leprechaun Canyon.
Getting to Leprechaun Canyon from Hanksville takes about 30 minutes. Take Highway 95 south from Hanksville towards Lake Powell and continue past the junction of Highway 276 and Highway 95.
After you pass Highway 276, the turn off onto a dirt road will be 2 miles down on the left side of the road near mile marker 28.
You'll see a small primitive camping area along UT-95 on the north side of the road just beyond where you turn. However, we continued down to the pinned spot linked above to park and start our hike since no one else was there. There is another parking area you pass on the dirt road you can also use.
Hiking Leprechaun Canyon (No Canyoneering Required)
Climbing and canyoneering in Leprechaun Canyon are required to go the whole way through the canyon, but you can hike into the canyon from the bottom and explore one of the great canyons of Utah that way.
If you want to do the technical sections of Leprechaun Canyon in East Fork, West Fork, and Main Fork, Road Trip Ryan has you covered. Make sure you have the proper gear before attempting canyoneering.
Make sure to download the AllTrails map for Leprechaun Canyon before you get to the area as service is limited or non-existent depending on your carrier. You can also read recent comments for trail conditions.
Once you park, continue up the wash on a social trail into the canyon floor. The trail does not have much shade, but you will walk through reeds and brush for the first half mile.
Mini Slot Canyon at Leprechaun Canyon
There is a mini slot canyon as you hike back to the main canyon. You can chimney or climb your way through it or go around it. We went through it just to see it but then returned to go around it to continue our hike.
This mini slot canyon is on the left and had a chockstone (rock wedged into the slot canyon) at the front of it. We had to climb over it as going under it was not an option.
The first slot canyon is a narrow slot canyon. We left our backpack near the beginning to explore further in, but you quickly come to a point where climbing is required because it is too much of a narrow squeeze on the ground.
Depending on your comfort level, you can continue or turn back. My husband continued a little ways, chimneying his way over the narrowest sections but then turned back. I turned back once we had to climb since I wouldn't have made it much further.
It is possible to climb out at the end or to chimney your way up and out, but neither of us had the skills or comfort level to try it. We took the easy way out instead by backtracking to the wash.
Continue the Leprechaun Canyon Hike
After the first slot canyon, continue up the wash to a ledge. This section does require some light scrambling (see photos below). It is probably 5 to 6 feet tall. My husband is 5'10", so use him for scale in the photos below.
Someone left a tall rock at the base when we went, so we climbed up using that. The slick rock had enough places to get traction that it was not a difficult climb. I have trouble with heights and did not have trouble with this section.
Once you reach the top of this section, walk to the left to get a view of the slot canyon you were just in from above. I loved the heart shape made by the joining sides of the canyon.
It's crazy to see how narrow it is from above, and it makes it hard to believe you were just inside of it.
Continue on the slick rock down the canyon to the point Google Maps has labeled as Leprechaun Canyon (using AllTrails). It's a short distance from here to the entrance to the main fork.
One of the best parts of the hike is at the mouth of Leprechaun Canyon. The main canyon starts with wide tall walls and then gets more narrow as you go. The light in the late afternoon was perfect as it caused it to glow.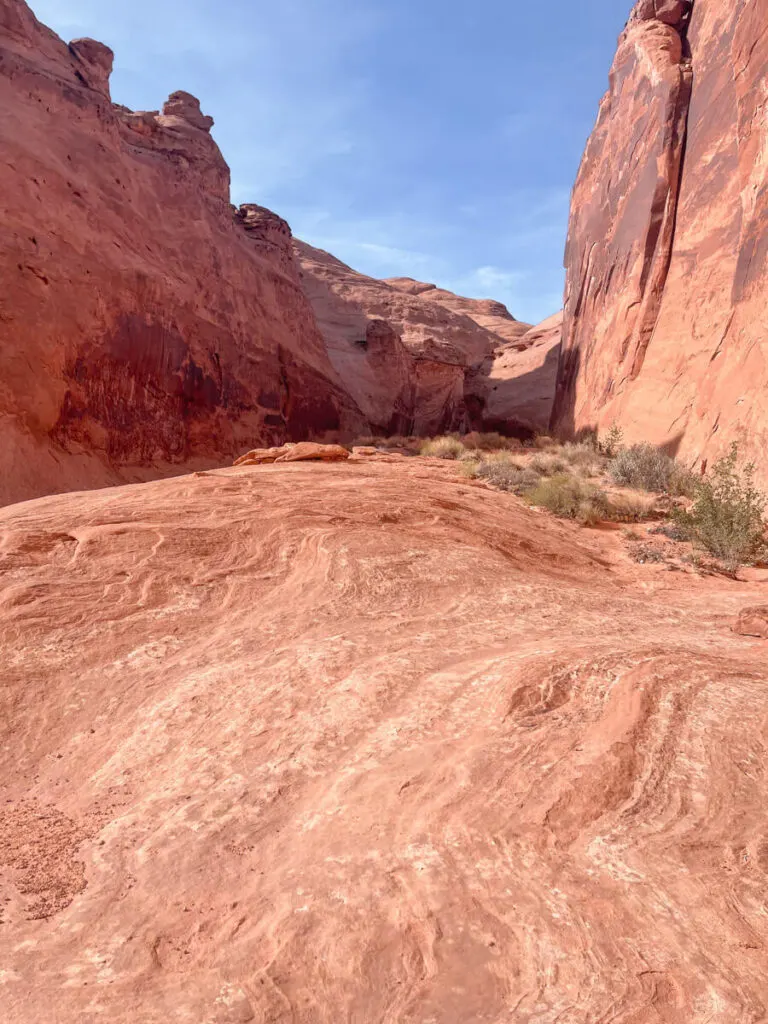 At one point the Navajo sandstone walls narrow quickly into a very skinny section that is quite dark even with the sun high in the sky. The walls are tall on each side, and the area at the base of the walls is the widest part of this section. You may want to avoid this section if you are claustrophobic.
After you get through this area, it opens back up a little bit to where you can see the sky. However, this is where the climbing begins.
If you want to continue straight, you need to climb. If you go to the right, you need to climb. Do not continue if you do not have the skills to get back to where you started.
We did a little bit of climbing around here within our comfort level and then turned around to return the way we came to our car.
How Long is the Leprechaun Canyon Hike?
The AllTrails route is 2.2 miles roundtrip. My Garmin watch showed we did a little more than that, but it also struggled deep in the canyon where the GPS signal had a hard time tracking where we were.
It is a relatively flat trail but did have 147 feet of elevation gain. My Garmin watch agreed with 143 feet of elevation change on the hike.
How Long Do I Need to Hike Leprechaun Canyon?
We spent a total of 2 hours from the time we left our car to the time we returned to our car. You could easily complete the hike much faster as we stopped to take pictures along the way and ate a snack too.
Plan on spending 1 – 3 hours on the hike depending on how much you want to explore the canyon.
Is Leprechaun Canyon Kid-Friendly and Good for All Hikers?
Leprechaun Canyon is generally kid-friendly. Young kids will need help up the one section where you have a scramble up the slickrock. Kids will have an easier time shimmying through the narrow sections of the slot canyons though.
If you are claustrophobic, you can hike back to the main part of the canyon where it is still wide. Narrow slot canyons are not great for those who are claustrophobic. You can always turn around and return to the wide-open areas if the slot canyon triggers your claustrophobia.
This trail is great for most hikers. The only difficult part (unless attempting canyoneering or climbing) is the one small climb on the slickrock. It is about 5 – 6 feet tall but slanted enough to make climbing not too difficult.
Dogs are not allowed in Leprechaun Canyon.
Is Climbing Required for Leprechaun Canyon?
While Leprechaun Canyon is known as a North Wash canyoneering route, don't be afraid to hike in from the bottom to explore the slot canyons.
You still get to see beautiful sections of the slot canyon that make it worth the hike without climbing skills.
Make sure to know your limits so you don't end up being one of the many rescues in this area though.
Best Time to Visit Leprechaun Canyon
This area of Utah gets very hot in the summer. According to AllTrails, the best time of year to visit the slot canyon is between March and October.
I would avoid the summer heat in June, July, and August though by avoiding the hottest hours of the day. We typically visit Utah in May, and the weather is good at that time of year.
Southern Utah's monsoon season is from July to September. This is when afternoon rainstorms are more likely and more likely to be severe. Watch the rain forecast any time of year but especially these months so you don't get caught in the flash floods.
We visited Leprechaun Canyon later in the day around 4 p.m. I liked that the sun was not directly overhead and made the canyon glow.
Try to visit in the early morning or late afternoon when the temperatures are cooler and the sun is not directly overhead for the best lighting conditions.
We did not see another person on our hike the whole two hours we were there. This is not a popular area compared to other parts of Utah because it is so removed from the popular Utah national parks. Depending on when you go, you may find groups or other hikers, but you are unlikely to find it crowded.
Where to Stay Near Leprechaun Canyon
We visited Leprechaun Canyon as part of our time in Hanksville, Utah. There are lots of things to do near Hanksville like the colorful Bentonite Hills and Capitol Reef National Park. It also has accommodations, food, and gas.
The closest option to look into is staying in Hanksville, Utah (Agoda | Booking.com). We stayed at Whispering Sands Motel and found it to be clean and a great location. Check pricing and availability on Agoda here.
Whispering Sands is also owned by the same people who own Duke's Slickrock Grill, our favorite place to eat in Hanksville. They also have an RV camp if you need a campground for the night.
If you are staying in Hanksville or driving through this part of Utah, it is worth the trip out to Leprechaun Canyon. This off the beaten path Southern Utah gem is a beautiful slot canyon and a great hike to stretch your legs.
Looking for more Utah travel tips?
How to Get to Bentonite Hills Utah
What Are the Blue Pools Near Moab?
Best Places to Eat in Kanab Utah
How to Visit the Great Chamber Near Kanab
Complete Guide to White Pocket Arizona
Like this post? Pin it for later and share it with others!