Figuring out where to watch sunset in Fort Myers Beach is a nightly dilemma. With so many amazing Fort Myers Beach sunset spots, you can hit a different spot each night.
Watch from the beach as the sun dips into the water or take a sunset cruise to enjoy the dolphins playing around the boat as the sun sinks. You can even enjoy a meal overlooking the water as the sunset paints the sky.
Watching the sunset is one of the best things to do in Fort Myers Beach, and you don't want to miss out. Here are the best Fort Myers Beach sunset spots to enjoy on your Southwest Florida vacation.
You may also enjoy:
Best Things to Do in Fort Myers Beach
Where to Go Glamping in Florida
The Perfect Cocoa Beach Florida Vacation
Best Christmas Lights in Orlando
Best Things to Do in Orlando at Christmas
***Some of the links in this post are affiliate links. We may earn a commission if you purchase or book through these links at no extra cost to you. These links help us continue providing high quality content for you to plan your travels.
Don't have time to read this right now? Pin it for later!
Tips for Visiting the Best Fort Myers Beach Sunset Spots
As a native Floridian, any time you are watching sunset in Florida, especially in the warmer months, you are going to want bug spray. Fort Myers Beach is no different.
Make sure to take a good bug spray or bug repellant and cover yourself in it so you can actually enjoy watching the sunset. Otherwise you'll spend the whole time dancing and swatting bugs instead of enjoying the view.
While Florida is known for hot summer nights, after being in the sun all day, you may want to bring a light jacket or sweater. Being on the water means the cool sea breeze can make the temperature cool off significantly compared to the daytime highs.
If you are not visiting in the warmer months of the year, you'll find it can get cold at the beach once the sun disappears below the horizon.
Keep in mind that sunset is a popular time to be on the beach, so finding parking can be harder than finding a spot to watch the sunset.
Give yourself time to find a parking spot, pay any required parking fees, and walk to where you want to be about 30 minutes to an hour before sunset so you don't miss the variety of colors as the sun sets.
Don't forget to turn around either. Sometimes our afternoon thunderstorms can mean the clouds behind you are lighting up. If you are lucky, you might even get a rainbow.
To make sure you don't miss the sunset, make sure to look up what time the sun sets. For knowing sunset times and where in the sky the sun will set, I use an app called Photo Pills.
Photo Pills lets you use augmented reality to help you see exactly where the sun will set over the water to make sure you are in a good spot. It also lets you know the exact times for sunset, golden hour, blue hour, civil twilight, nautical twilight, astronomical twilight and more.
I love using this app when we travel for both sunrise and sunset as well as getting these times for photos.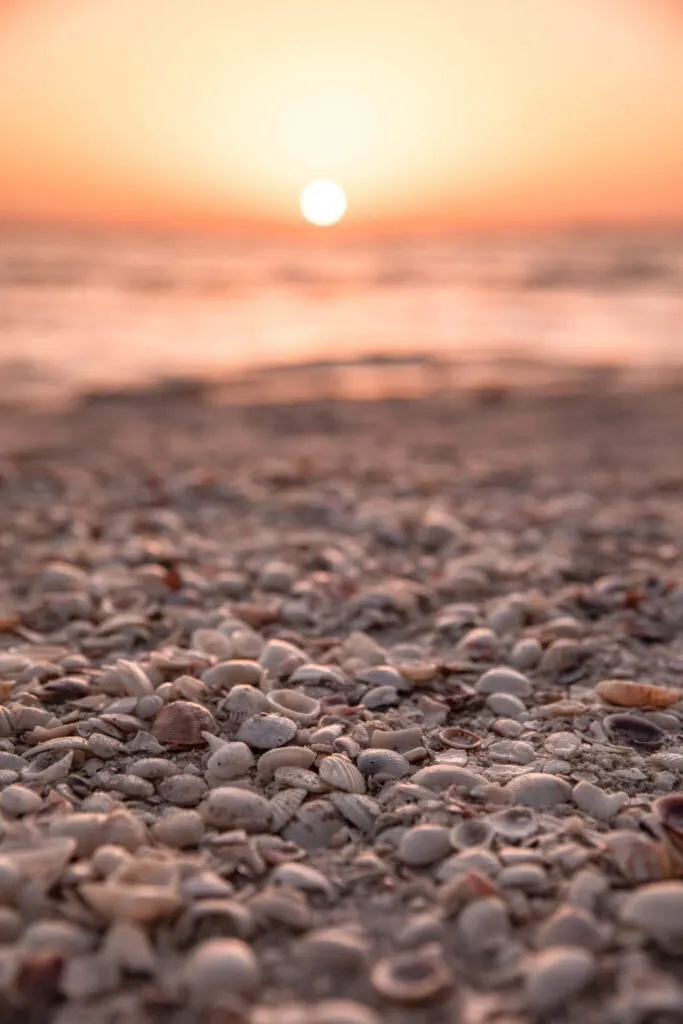 Where to Watch Sunset in Fort Myers Beach
It's harder to find a bad spot to watch the sunset in Fort Myers Beach than it is to find a good one. With so many miles of coastline on the west coast of Florida, you'll have plenty of options to spread out and find a spot to enjoy the view.
Sunset at Fort Myers Beach
While the Fort Myers Beach pier was a popular sunset spot, it was destroyed by Hurricane Ian in 2022. There are plans to rebuild the pier, but there is no timeline for those repairs or it to open.
Thankfully, the beach itself still makes for a great place to watch a Fort Myers sunset. Take a walk along the beach and enjoy looking for the beautiful shells the area is known for as you go. Bring a towel or a chair and find to spot to sit and take it all in.
When you cross over the Matanzas Pass Bridge, stop by Times Square to enjoy a meal and support the local businesses who lost everything in the hurricane and had to rebuild. You can enjoy sunset while eating dinner or grab dinner before heading down to the beach to watch the sky light up.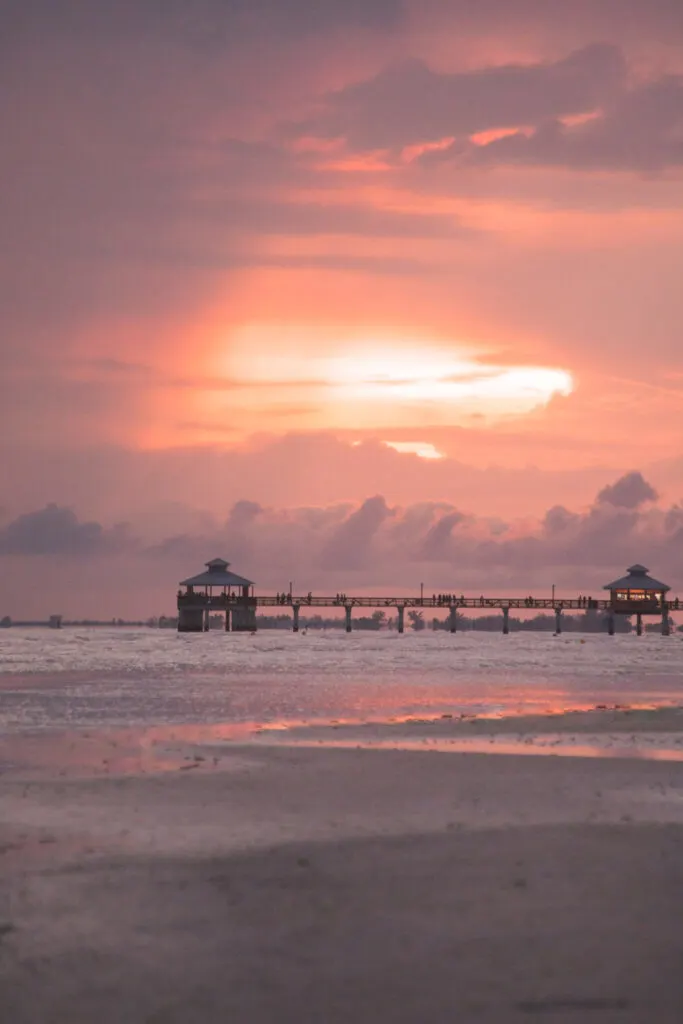 Sanibel Island Sunset
Don't miss a sunset at Sanibel Island. Some of the best sunset memories from my childhood are from Sanibel Island.
Head to Sanibel Lighthouse Beach Park and pay for parking before walking out to the beach. You'll find people of all ages walking along the beach, especially at low tide and when the tide is going out.
That's because Sanibel Island is known for the amazing seashells you can find along the beach. Low tide and when the tide is receding are your best chances to find the good ones before anyone else gets them.
Bowman's Beach is another great spot for sunset on Sanibel Island as it faces more west than Sanibel Lighthouse Beach Park. It's one of the most popular beaches on Sanibel due to the number of beautiful shells.
Because of the curve of Sanibel Island, head to the north end of Bowman's Beach for the most westward facing part of the beach. Thanks to that curve, Sanibel Island is also a great spot for sunrise near the lighthouse.
The Mad Hatter Restaurant made for a great spot to enjoy the sunset nearby, but it was washed away by Hurricane Ian. Keep an eye on their website for rebuilding progress.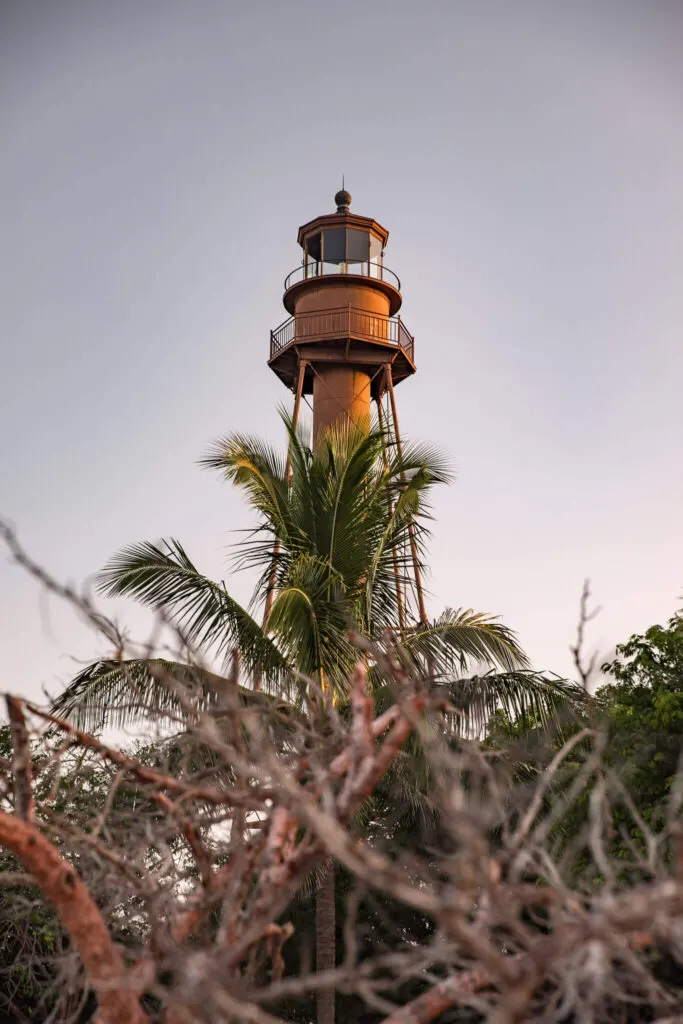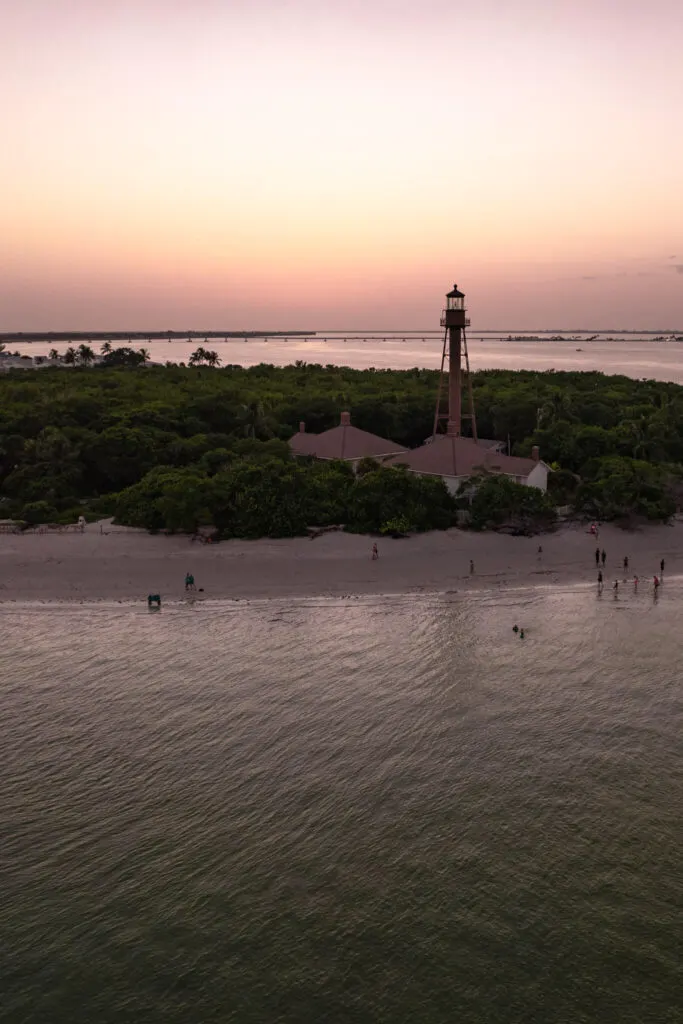 Take a Sunset Cruise
We did our sunset cruise with Adventures in Paradise and loved it. Captain Jim and First Mate Andrew kept everyone entertained while also making sure everyone had a chance to see the dolphins playing around the boat.
While our sunset was not all that colorful that evening thanks to storm clouds blocking it out, we still had a great time. Plus, you get beautiful views of the area even if the sunset isn't great that night.
The boat is set up in a way that everyone has a great view of both the sunset and the dolphins, so you can choose any seat without worrying about it being a good choice.
I love seeing the dolphin when we go out on my dad's boat, so anytime I can see dolphins is a good day. When we saw one before we even left the dock, we knew it was going to be a good night.
Lovers Key State Park
Lovers Key State Park is one of my favorite beaches in Fort Myers. However, the park is only open until sundown with no electricity still as of summer 2023. Their current operating hours can be found on their website.
You can still be there until sunset, but make sure to exit the park before it closes. It is located just a short drive from Fort Myers Beach across the Big Carlos Pass Bridge on Estero Boulevard.
Even if you can't stay after sunset, this is still one of the best things to do in Fort Myers Beach. With two miles of white sand beaches on the Gulf of Mexico, you can find a slice of paradise to have all to yourself. You may just need to walk a little ways away from where the tram drops everyone off.
Bowditch Point Park
Bowditch Point Park at the north end of Estero Island is one of the best sunset spots in Fort Myers Beach. It is 17 acres of undeveloped land overlooking the Gulf of Mexico and San Carlos Bay.
With picnic tables and grills (first come, first serve), walking trails, and more, it's a great spot for families or anyone visiting Fort Myers Beach.
Due to damage sustained in Hurricane Ian, this park is currently closed. No date has been set for reopening. Check the Lee County parks website for current status.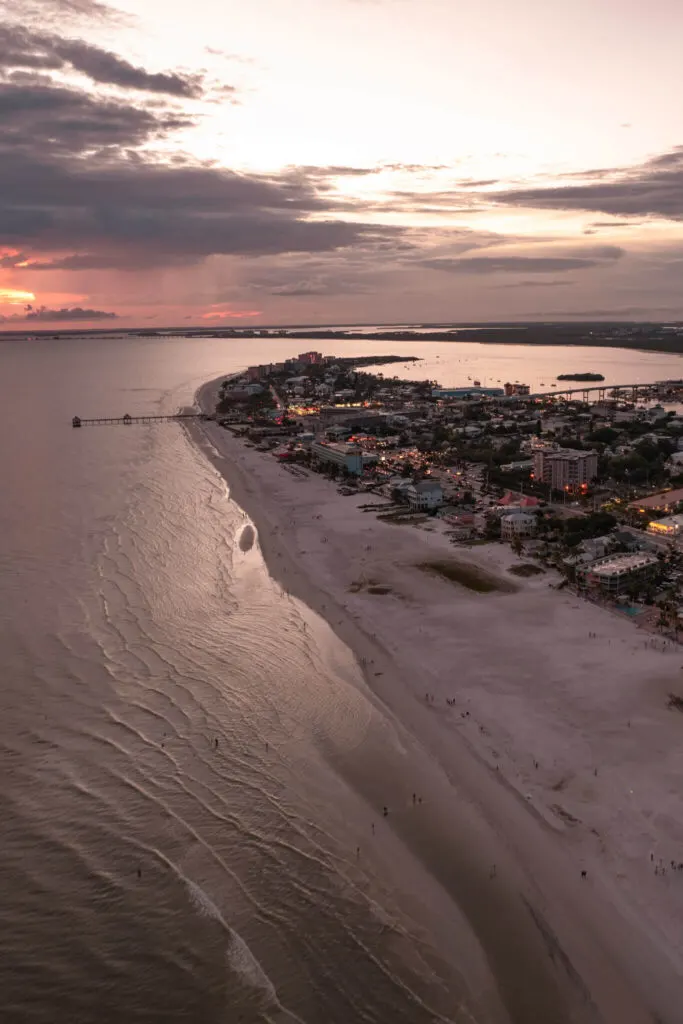 Captiva Island Sunset
Captiva Island is located just north of Sanibel Island, and the sunsets here are just as spectacular. While Sanibel Island curves from facing south to facing west, Captiva faces directly west. This makes it perfect for sunset.
Turner Beach (Captiva Island) and Blind Pass Beach Park (Sanibel Island) are a great spot for sunset closer to Fort Myers Beach. This is where Sanibel and Captiva islands are joined by a bridge you can access by car or on foot.
You really can't go wrong on Captiva Island, so find a spot where you can park and walk out to the beach to watch the sky put on a show with a beautiful sunset.
Sunset on the Sanibel Causeway
While the causeway is still undergoing repairs from Hurricane Ian, it is open for visitors and residents to access Sanibel Island and Captiva Island.
Prior to the storm, the causeway was one of the best places for sunset, especially at Causeway Islands Park. You can drive over to Sanibel and Captiva, but the park itself is still closed due to Hurricane Ian.
Once the park reopens, it will once again be a spot to visit for sunset. You can watch the sunset cruise boats heading out and returning while enjoying the sunset from the side of the road.
Our favorite spot for dinner near the causeway is Bimini Bait Shack just before you pay the toll to cross over to Sanibel. It is open air and has an aquarium for the bar with a fun atmosphere overall.
Where to Stay to See a Fort Myers Beach Sunset
We loved our stay at DiamondHead Beach Resort. It is located right on Fort Myers Beach with rooms overlooking the water.
We walked straight out onto the beach to watch the sunset one night, and it became one of our favorite spots because we didn't have to drive anywhere to enjoy the view.
You also get a free cabana with two chairs and an umbrella on the beach each day of your stay, so we loved hanging out on the beach just steps away from our hotel room and the beachfront restaurant.
Check current rates on Booking.com and Agoda. For pricing and availability at other Fort Myers Beach hotels and resorts, click here for Booking.com and here for Agoda.
When it comes to watching the sunset on the west coast of Florida, a Fort Myers Beach sunset ranks pretty highly. In fact, catching a sunset is one of the top things to do in Fort Myers Beach.
With so many great spots to enjoy sunset, Fort Myers Beach and the surrounding islands, beaches, and neighborhoods are hard to beat.
You may also enjoy:
Best Things to Do in Fort Myers Beach
Where to Go Glamping in Florida
The Perfect Cocoa Beach Florida Vacation
Best Christmas Lights in Orlando
Best Things to Do in Orlando at Christmas
Like this post? Pin it for later and share it with others!