Skylight Cave in Oregon is one of the best things to do near Bend, Oregon. Located in Deschutes County in Central Oregon, this impressive lava tube features three skylights (hence the name).
It was one of our favorite spots on our Oregon road trip (with Olympic National Park added on at the end). If you plan to travel to Oregon in the near future, make sure to stop by this unique Oregon cave and add it to your Oregon bucket list..
Find out everything you need to know to visit Skylight Cave including how to photograph it, the best time to go, what to take with you, and, most importantly, how to get to Skylight Cave.
***Some of the links in this post are affiliate links. Purchasing through them helps us earn a commission at no extra charge to you.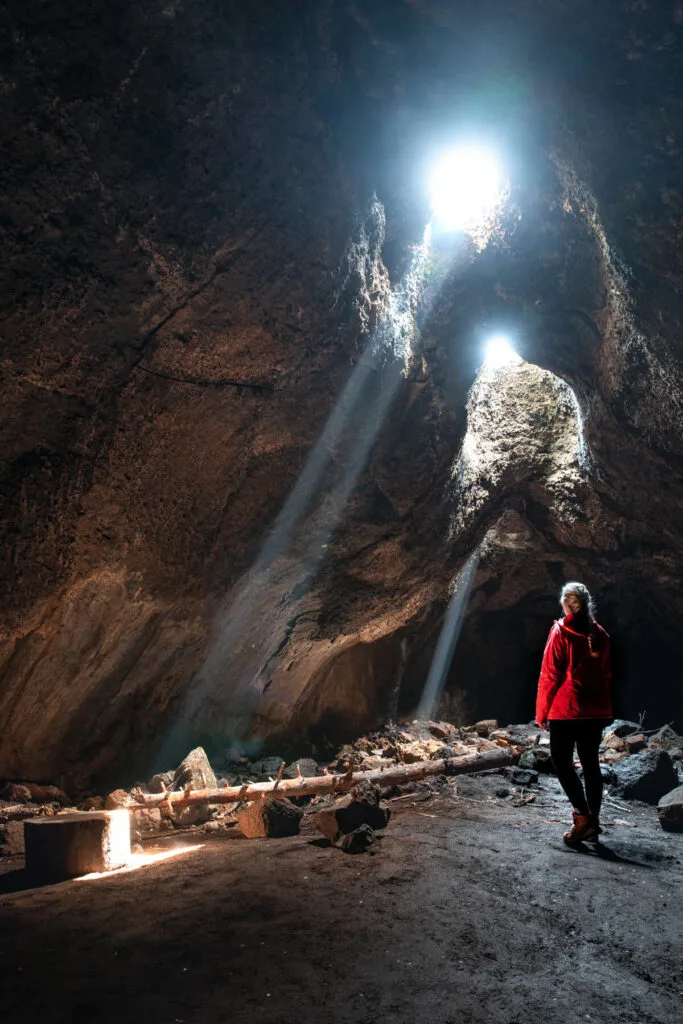 What is Skylight Cave near Sisters Oregon?
Yes, Oregon does have caves – lots of them. Many of them are old lava tubes, and Skylight Cave is just one of the lava tubes we explored on our trip to the Pacific Northwest.
We also visited several caves along the Oregon Coast and even some small caves behind waterfalls. Oregon has a wide variety of caves to explore on an Oregon road trip.
Skylight Cave is famous for the three "skylights" with light rays coming through them when the conditions are right. There is more to the cave than just this area, but this is the main area people visit as the rest is not that exciting compared to this feature.
Skylight Cave formed from a lava flow, but then the outer shell of the lava tube collapsed inward on itself. This caused the three fissures that are now the skylights that make it famous.
When is Skylight Cave Open?
Skylight Cave is only open to the public from May through mid-September each year (check here for current closures). This is because it is a bat habitat, and the bats inhabit it through the winter months.
We visited twice in May in the morning, and we found that to be a good time to visit the caves. The fact that it is open in summer works out well as you have more sunlight hours to see the rays of light.
Rules for Visiting Skylight Cave
The rules for Skylight Cave are in place to protect the bats that call it home. These rules apply to Lava River Cave which is another nearby lava tube as well, so plan ahead if you visit both of them.
Your shoes should never have been worn in another cave – ever. They prefer that your clothes have not been in a cave either. You can spread White-Nose Syndrome, a fungus that can be fatal to bats, without realizing it.
If you visit Skylight Cave and Lava River Cave, save your heavy jacket for Lava River Cave. Wear your more sturdy shoes in Skylight Cave because it has sharper rocks.
When you leave the cave, immediately remove any dirt from your shoes. At Lava River Cave, they have brushes to use, but there is not anything like that at Skylight Cave.
Wash your hands as soon as possible after leaving the cave. We had supplies in our car at the trailhead for this.
Remember to practice Leave No Trace principles. There are no bathrooms or trashcans around, so make sure everything you bring in with you leaves with you as well. It should also go without saying not to write on or otherwise deface the cave.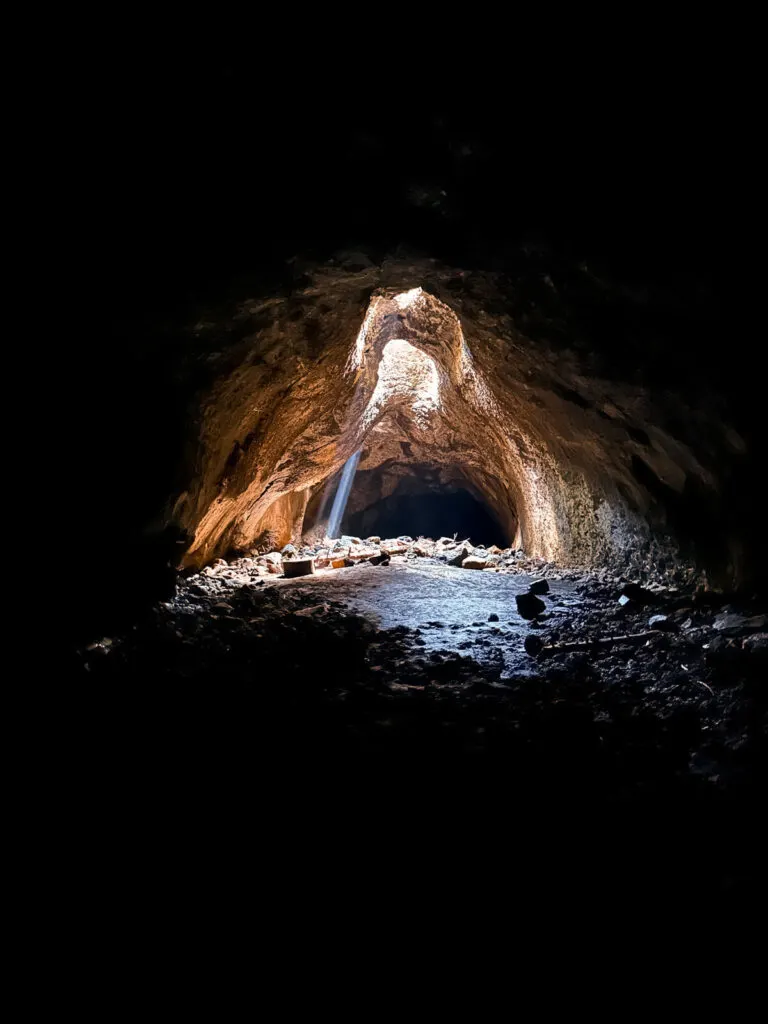 How to Get to Skylight Cave Oregon
Google Maps will take you one of two routes to get to Skylight Cave. I am including the better of the two routes which is the route Google Maps automatically took us.
We found out from a woman we met in the cave that she came from the other side of the cave and had a much harder time making it. The trees and bushes coming in that way get very close to the road and make it much easier to scratch up your car.
I read reviews on All Trails about people getting their cars scratched up, but we never got close enough to them to worry about it. The reviews confused me until we talked to her about which way she came in.
Where is Skylight Cave in Oregon?
Skylight Cave is located 30 minutes northwest of Sisters, Oregon. It is about an hour northwest of Bend, Oregon. It is in Deschutes National Forest.
We stayed in Bend for our trips out to Skylight Cave, but Sisters is another great option. I loved Sisters every time we drove through it. The views are incredible of the Three Sisters and surrounding landscapes.
Find available rooms and rates in Sisters, Oregon, on Booking.com here and on Agoda here.
Bend worked better for us to base out of for a few days to explore more of the area. We stayed in the Holiday Inn Express Bend since we have elite status and got an upgraded room to enjoy our stay.
With included breakfast and a great location, we loved our stay here and would highly recommend it. You can find it on Booking.com here or on Agoda here (or book direct to build status and earn points).
Find available rooms and rates in Bend, Oregon, on Booking.com here and on Agoda here.
Skylight Cave Oregon Directions
From Bend, head north on US-20W (McKenzie Bend Highway). In Sisters (stop here for a bathroom!), make a left on W. Hood Ave. and then a quick right on McKenzie Highway.
Once you turn onto McKenzie Highway in Sisters, continue about 7 miles to NF-1028. This is a forest service road, and it is a dirt road.
Continue about 3.5 miles and then turn right on McAllister Road, another hard packed forest road. This is where Google Maps tried to lead us astray. It showed an earlier turn, but there was no road. It eventually corrected itself to this route as we kept going.
McAllister Road is marked by a sign that says 1029 260 (see photo below). The parking area for Skylight Cave is about .7 miles from that turn.
We were fine in a two wheel drive vehicle and no extra clearance (Ford Escape), but conditions on forest roads may vary. We did have to go slow a few times for ruts and rocks, but overall it was a good drive.
Check All Trails for recent road conditions. Rain will make the road muddy and much harder to drive. Trees may be down at various times and require some extra walking to get here, but we had clear paths with recently cut trees.
This route brings you in on the northwest side of Skylight Cave. The woman we met on our first trip here came in from the southeast side of Skylight Cave. She told us her car was all scratched up from the road being too narrow (and reports on All Trails said the same).
Parking at Skylight Cave
There is no parking at the actual entrance to Skylight Cave although the road does continue right past it. There are also no facilities at Skylight Cave, so Sisters is your best bet for a bathroom with running water.
Look for a sign that says Please Park Here. It is about .15 miles from the cave entrance from here. This parking area has enough spots for a few cars, but we only saw one other car there the second time we went. The first time, we saw one other person in the cave, but she parked on the other side.
This parking area is about .7 miles once you turn on McAllister Road (260) from NF-1028.
How to Get Into Skylight Cave
Once you park, continue walking down the road you came in on in the same direction you were driving (to the right if you walk back to the road from the parking area).
You'll see a sign at the entrance of the cave, so you don't have to worry about looking for it too closely. We were wondering how we would find it, but it was easy and only about a .15 mile walk each way.
There is a sturdy metal ladder installed in Skylight Cave to climb down into the entrance. Be careful getting to the ladder as there is a dropoff, but the ladder itself was very secure.
How Long is Skylight Cave?
Once you are in the cave, you can explore both directions. Go to the left to get to the skylights. You can see them if the sun is bright enough from the entrance. It's about a 300-foot walk to get there.
The cave also extends to the right about 900 feet. We did not explore much of this as it was similar to what we saw minus the skylights.
Tips to Help You Explore Skylight Cave
Skylight Cave near Sisters, Oregon, is a beautiful spot, but there are a few things to know to make sure you have the best experience possible.
The cave does not take long to explore, but watch your head as you walk through it. The ceiling is quite low (and sharp) in some spots.
What to Wear in Skylight Cave
Skylight Cave is much colder than the outside air. Prepare for temperatures in the 40s and wear layers so you can be comfortable at any temperature.
You will also want hiking boots or sturdy shoes. The lava rocks are sharp and would not be comfortable in thin shoes or sandals. They can also get slippery with the dripping water, so be careful walking through.
Remember to wear clothes and shoes that have not been in another cave to protect the bats.
What to Take with You
A flashlight is a must for this cave. An iPhone or other phone flashlight does not do well in this level of darkness, especially coming in from bright sunlight.
We did not have headlights, but it would be a good idea if you have them. It was fine with just flashlights though.
We did bring water with us, but with it being such a short hike, we did not drink much while we were there. Still, I always recommend bringing water on any hike just in case.
If you take photos with a camera, bring a tripod with you. The low shutter speed will require a tripod to get a good shot. If you are using your phone, you will be fine holding it by hand but can bring a tripod if you want.
Best Time to Visit Skylight Cave for Light Beams
Good sunlight is a must for getting photos of the sunbeams in Skylight Cave. Oregon and the Pacific Northwest are known for cloudy skies and rain, but we lucked out with a lot of sunny weather on our trip in May.
The cave is only open from May until mid-September, so make sure to visit during the summer months to see the cave. You can see if it is currently open here.
Both times we visited Skylight Cave in the morning in case it got crowded. We only saw one other person the first time, and there was a large family coming in when we left the second time.
The best sunlight is in the morning for a couple of reasons. Try getting there between 8 a.m. and 11 a.m. to see the light rays.
If the beams of light are not immediately visible, be patient. The difference in the two photos below is just seconds, but the light beams are completely different thanks to a cloud rolling in.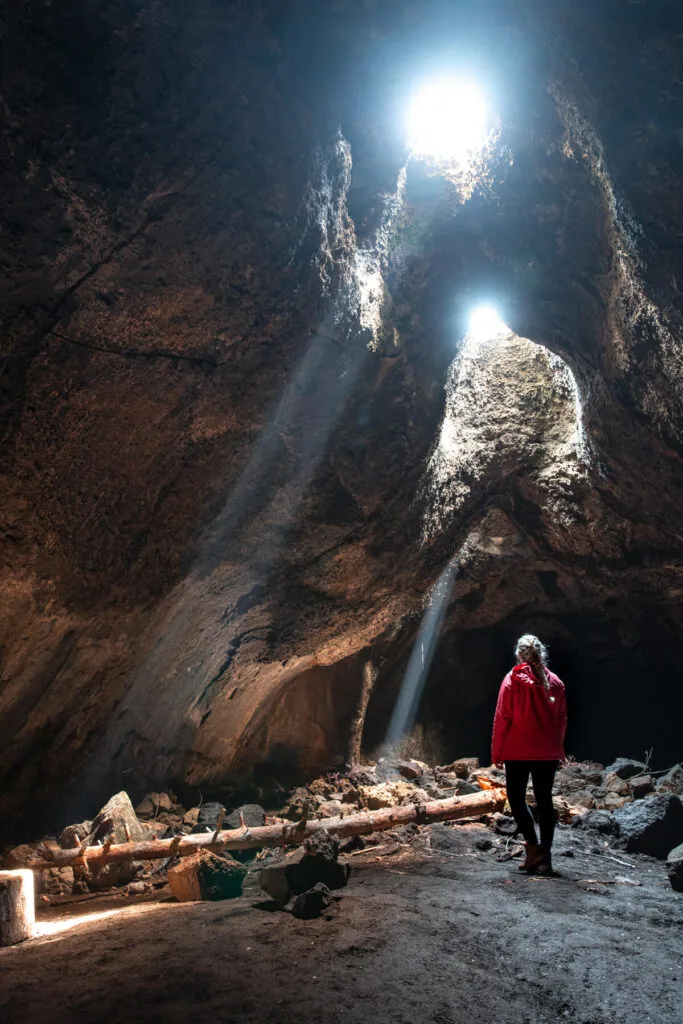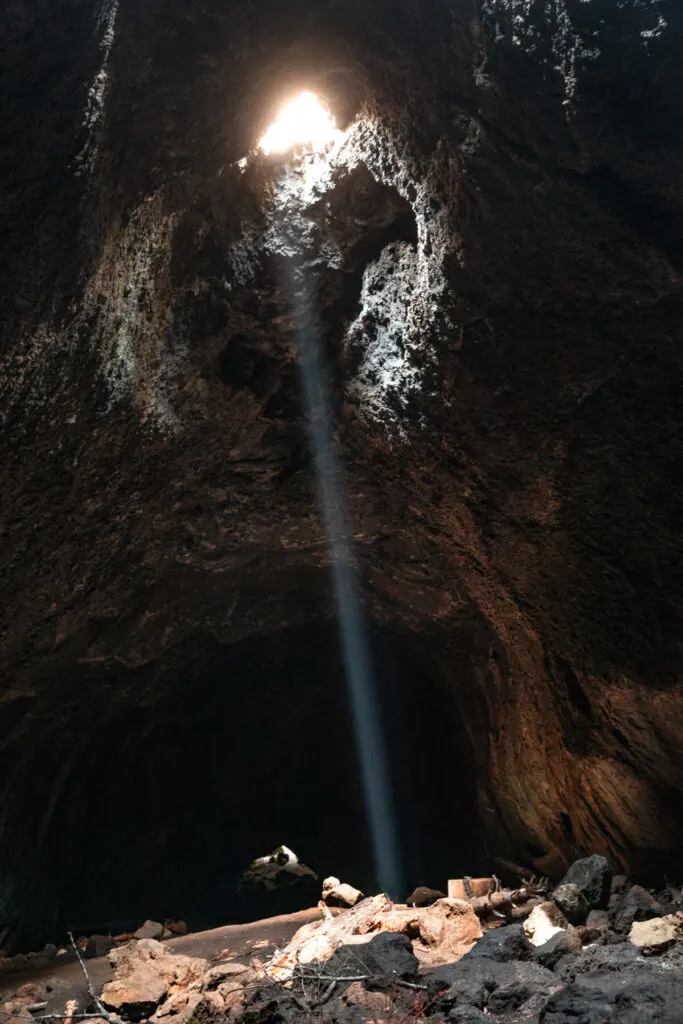 The angle of the sun is better in the morning, but you need the sun to be high enough in the sky to shine into the cave. The trees outside the cave can block the sunlight, and a cloudy day ruins the rays completely.
Visiting in the morning also means you have a better chance of clear skies. As clouds and storms roll in later in the day, your chances of seeing the beams of light decrease.
When we arrived the first time, it was already clouding up. We still saw the rays, but a storm was rolling in and they were not strong for long.
The second time we visited, we had a clearer day with only a few little clouds. While the rays would disappear when the clouds covered the sun, they came back out within a minute or two and were much stronger.
Skylight Cave Photography Tips
A tripod is a must for visiting Skylight Cave. You'll need it to steady your shot with low shutter speeds and large apertures.
Use a remote of some kind so you don't have to touch the camera to take your photos. I shoot with a Canon 5D Mark IV, and I connected it to my phone through the Canon Connect app to take my photos.
You'll also want a lens capable of wider angles, but one with a large aperture. I used my Canon 24 – 70mm f/2.8 lens. Many of my photos were on f/4 or even f/5.6 though. Most of them were taken at 24mm – 35mm for the zoom.
I also used my phone for both photos and videos. I use an iPhone 14 Pro Max, and my husband also used his iPhone 12 Pro Max.
Both phones did really well at adjusting to the conditions and capturing the rays of light. A fancy camera is not needed to get photos here.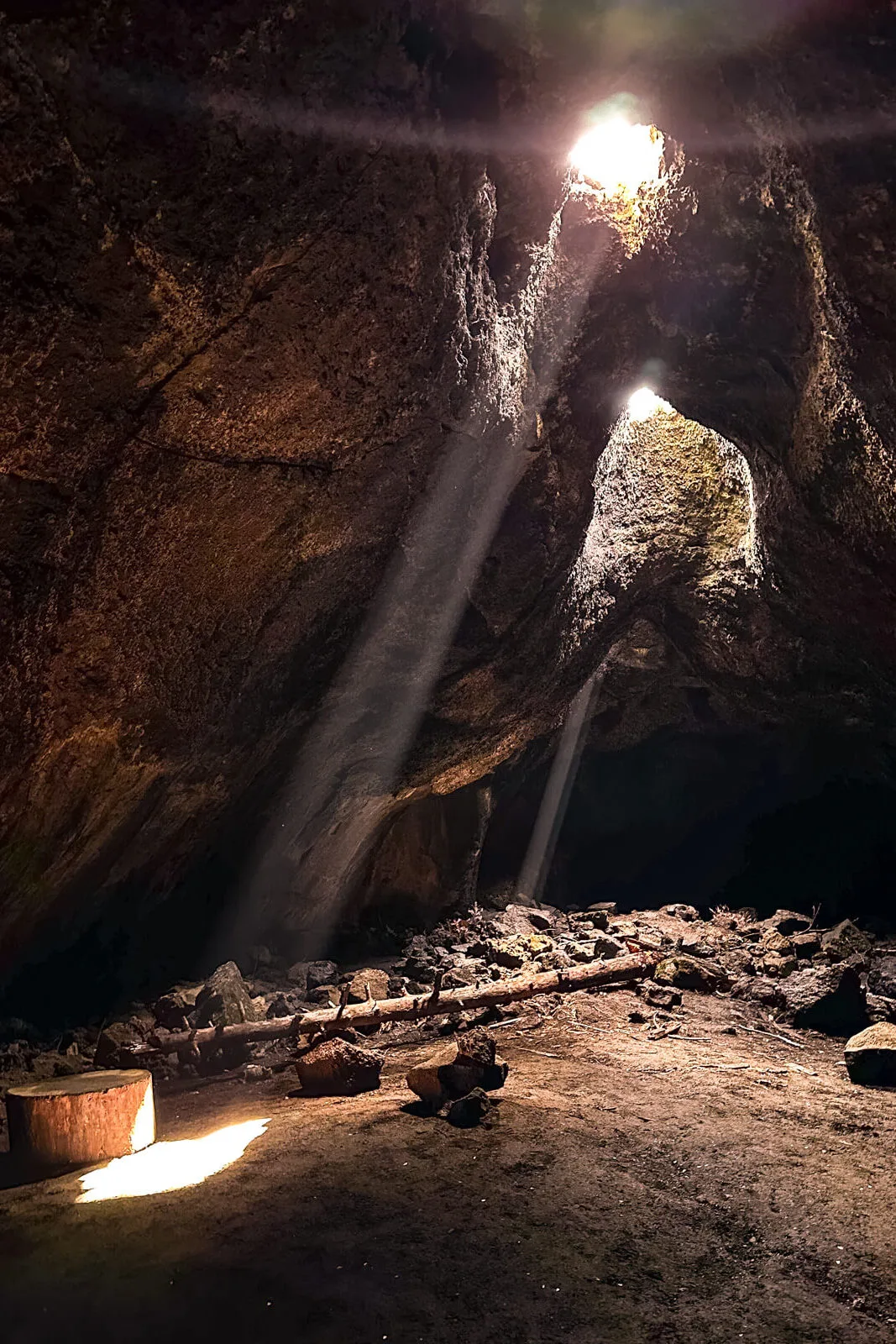 Other Things to Do Near Skylight Cave
Skylight Cave Oregon is one of the best things to do near Bend, Oregon, but there are also other great options near Sisters.
Three Sisters Viewpoint was a great spot for sunset on our way to Bend. We loved Smith Rock State Park which is also nearby.
Just 45 minutes from Sisters, you can find Koosah and Sahalie Falls as well as Tamolitch Blue Pool on your way to Eugene.
If you want to see an even bigger lava tube, check out Lava River Cave just south of Bend. This one goes for a mile and is very dark and very cold, so go prepared.
Bend also has things to do right in the city such as the Last Blockbuster, Mirror Pond, and Drake Park. Take in the view from Pilot Butte too while you are there.
If you stay in Bend, enjoy a meal at Deschutes Brewery Bend Public House. The Mac and Cheese here was the best I've ever had in my life. For dessert, walk down to Bonta Artisan Gelato – you won't regret it.
Skylight Cave in Oregon is an impressive geological formation that showcases the natural beauty of the state. The cave's unique skylights set it apart from others we visited and made it fun to photograph.
Although access to the cave requires a little bit of effort, it is well worth it. Make sure to leave no trace when exploring Skylight Cave and follow all safety measures to preserve this cave for the bats who call it home.
Looking for more off the beaten path adventures? Check these out!
How to Find Secret Beach in Oregon
Sand Cave at Great Chamber near Kanab Utah
Bentonite Hills near Capitol Reef National Park in Utah
White Pocket in Vermilion Cliffs National Monument Arizona
Like this post? Pin it for later and share it with others!