There are plenty of things to do in Fort Myers Beach, Florida, but it is perhaps best known for its beautiful beaches and abundant seashells along the shores. The surrounding islands, beaches, and neighborhoods only add to the possibilities for having good days in Southwest Florida.
Growing up in Florida, my family visited Sanibel Island on the Gulf Coast in the summer and spent time in Fort Myers. I have fond memories of this part of Florida, and I remember clearly the beauty of the sunsets each evening when we were there.
Fort Myers Beach is best known for sparkling white sand beaches, the colorful shells lining the beach, and the clear blue water contrasting against the white shores. But there is more to Fort Myers than just relaxing on the beach.
Here are some of the best things to do in Fort Myers Beach as well as a few things to do near Fort Myers Beach (within a 30-minute drive).
***Our trip to Fort Myers was sponsored by Visit Fort Myers. However, all opinions are our own, and I have visited the area prior to this sponsored trip.
You may also enjoy:
Where to Watch Sunset in Fort Myers Beach
Where to Go Glamping in Florida
The Perfect Cocoa Beach Florida Vacation
Best Christmas Lights in Orlando
Best Things to Do in Orlando at Christmas
Don't have time to read this right now? Pin it to save it for later!
Note about Visiting Fort Myers Beach Right Now
Fort Myers and the surrounding islands, beaches, and neighborhoods were devastated by Hurricane Ian in 2022. Much of Lee County was forever changed by the floodwaters of this storm.
Because of this, some places may not be open, may have moved, or may still be rebuilding. All places mentioned in this post include a direct link to their website with current status.
There was significant damage to the area, so it may not look like pictures from before Hurricane Ian, but it is still beautiful.
Here are a few pictures from our trip just before the hurricane and my husband's trip with his work just two weeks after the hurricane.
Best Time to Visit Fort Myers Beach
Fort Myers Beach is a great vacation destination any time of the year thanks to Southwest Florida enjoying sunshine and warm weather all year.
If you visit in the winter months, you can escape the cold for the sunshine and beach days. Enjoy highs in the 70s and lows in the 50s and 60s for the perfect winter weather. Fort Myers typically gets less rain in the winter other than "cold" fronts coming through.
In the summer, expect hot days and warm nights with some rain mixed in. The rain doesn't last long though, so you should still get plenty of sunshine.
Spring and fall bring slightly cooler temperatures than summer with lower humidity. Fort Myers makes a great spring break destination or a fall weekend getaway.
If you visit in the spring, you can also attend some Boston Red Sox spring training games.
The one thing to be aware of for summer and fall (June 1 through November 30) is hurricane season. This does not mean you should avoid Florida during these months though.
While it is always a good idea to purchase travel insurance, it is an especially good idea to purchase it if you visit Florida during hurricane season. Make sure it covers canceling your trip due to a hurricane so you do not have to worry about losing money on a trip if a storm comes.
Best Beaches near Fort Myers
Fort Myers is famous for the beautiful beaches in the area and for having some of the best beaches in the United States. When you are looking for what to do in Fort Myers Beach, a lazy day on the beach is one of your best options.
From the barrier islands to state parks to Fort Myers Beach itself, there are loads of stunning white sand beaches in the area.
Fort Myers Beach
Fort Myers Beach is a beautiful stretch of white sand featuring the Fort Myers Fishing Pier and lots of beachfront hotels and restaurants. Bowditch Point Park is at the north end of Estero Island and offers views of the Gulf of Mexico and the bay.
Take a walk along the Fort Myers Beach at sunset to watch the sky light up or enjoy an early morning run on the hard-packed sand. Keep an eye out for that perfect seashell to bring home with you as the beach has lots of them.
There are plenty of activities to do at this popular beach including parasailing and jetski rentals for those needing a little more of an adrenaline rush.
Many of the restaurants are right near the Fort Myers Beach pier in the Times Square area (where there is often live music too). However, some are spread further down the beach.
We stayed at the DiamondHead Beach Resort right on Fort Myers Beach and loved our room overlooking the beach. The hotel also features one of several beachfront dining options in the area as well as a beach bar.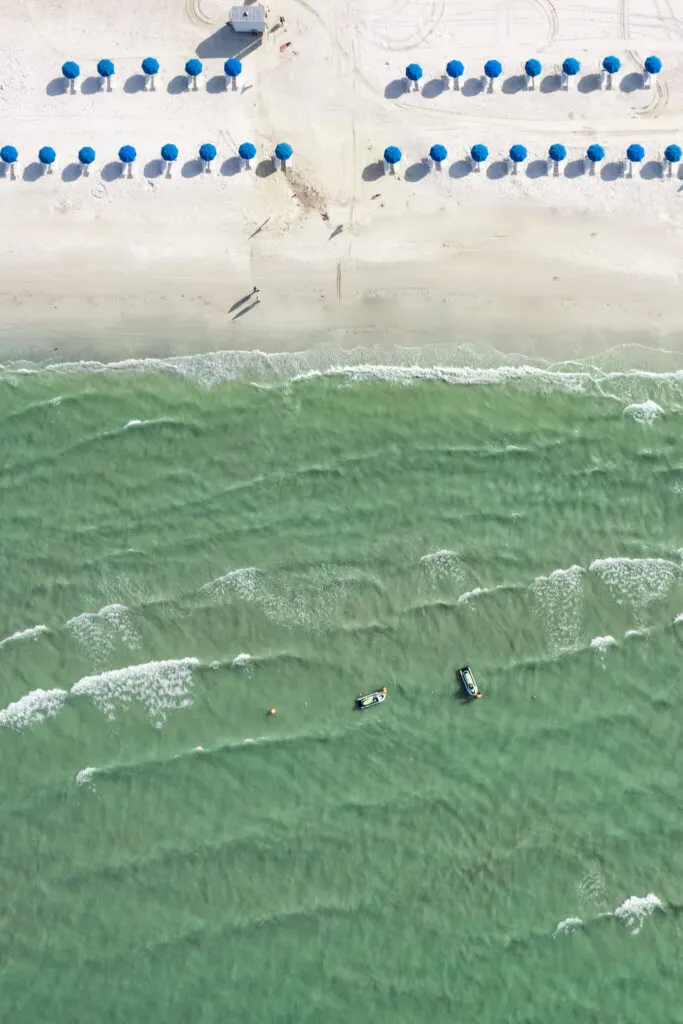 Lovers Key State Park
Another great option for a beach is Lovers Key Beach just south of Estero Island. While there is a fee of $8 per vehicle, it is worth it for one of our favorite Fort Myers beaches.
Open from 8 a.m. until sundown daily, bring your umbrella and set up for the day. The beach is accessible by tram while the mid-beach pedestrian bridge is closed, but you can still walk down the beach away from the area where the tram drops people off.
If you need a break from the beach or need to burn off some of your beach snacks, rent a kayak or paddleboard to explore the lagoons in search of Florida's manatees. There are also hiking trails and bike rentals to see more of the area.
Our favorite area of this beach is at the north end of the beach. We walked up from where the tram dropped us and spent the day with no one around near the old trees lining the beach.
We also found that getting away from the crowds gave us a chance to find more shells no one else had looked through yet, and I found some of my favorite shells here.
There is food available for purchase at the beach where the tram drops you or at Hurricane Charley's Restaurant on the south beach. The beach makes for the perfect spot for a picnic though if you want to bring your own meal.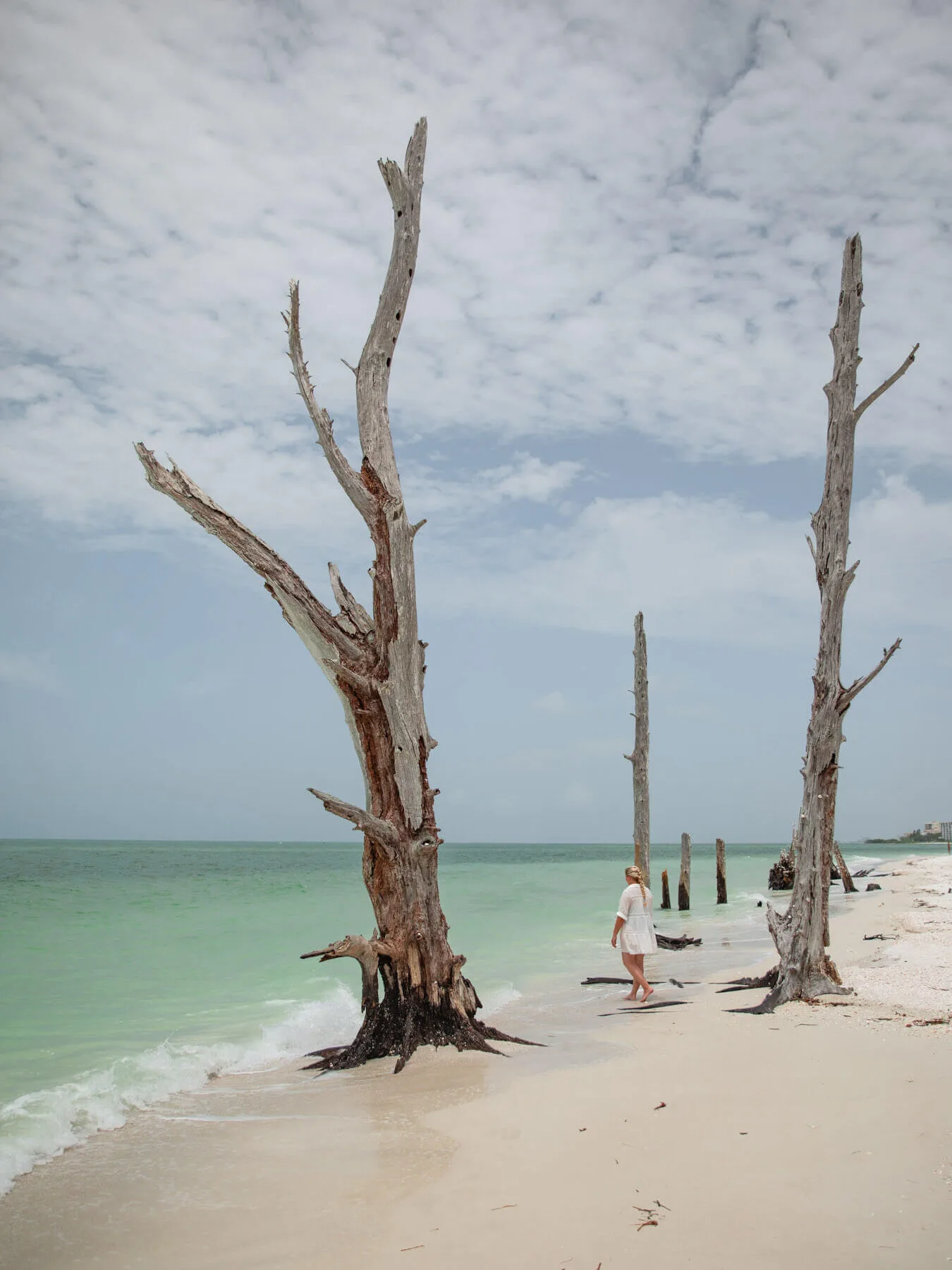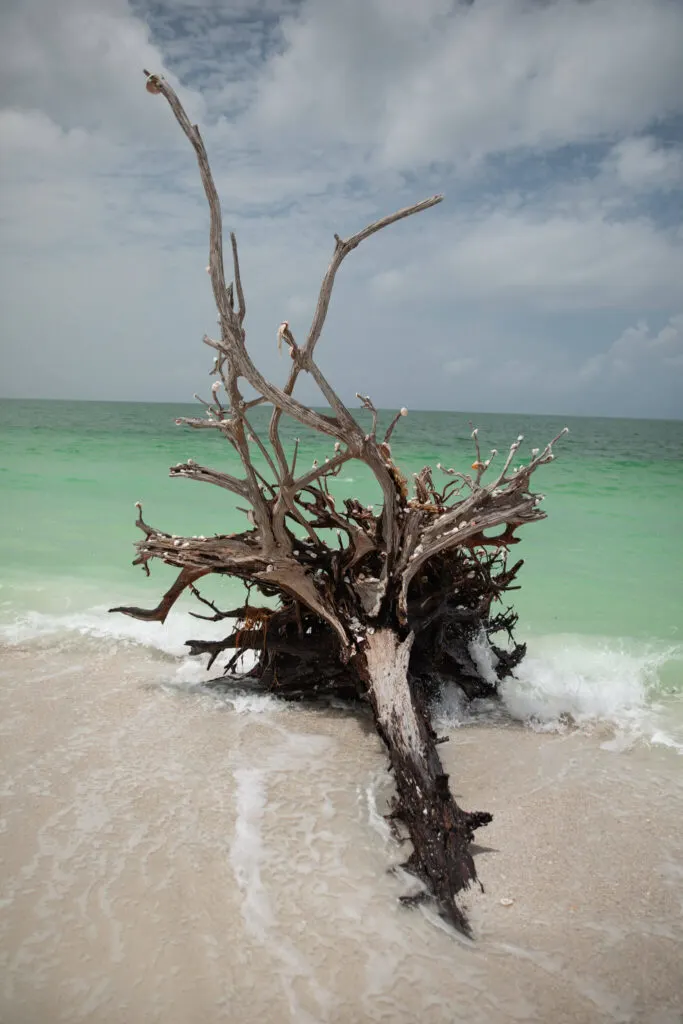 Sanibel Lighthouse Beach Park
If you plan to venture out to Sanibel Island, don't miss Lighthouse Beach Park. You can walk all the way around the end of Sanibel Island taking in the bright blue waters surrounding the park.
There is a fee for parking based on how long you plan to spend at the beach. If the first parking lot is full, there are several others throughout the park.
There are several beach public access points, and once you are on the beach, you can find a spot to relax with the Sanibel Island lighthouse in view. Fishing is popular on the Sanibel City Pier if you want to try your hand at it.
This is one of the best places to collect seashells, especially as the tide goes out and leaves behind new treasures. Walk along the edge of the water or in the shallow water, and keep your eyes peeled for shells you want to add to your collection.
Sanibel Island is also one of the best Fort Myers Beach sunset spots. Because of the curve of the island, it's also beautiful at sunrise. Really, Sanibel Island is beautiful anytime of the day, so you can't go wrong stopping here.
Up for heading a little further out? Captiva Island is worth a drive for even more incredible white sand beaches.
Best Things to Do in the Fort Myers Beach on the Water or Outdoors
If you aren't the type who enjoys relaxing on the beach day after day, you'll find quite a few options for water activities in Fort Myers Beach as well as other outdoor activities in Fort Myers Beach.
Parasailing at Fort Myers Beach
Up for an adventure and want to see the area from above? Head out with Paradise Parasail in Fort Myers Beach.
Choose how high you want to go and how many times you want to be dipped in the water. They also offer GoPro rentals and photography to keep memories of your adventure for later.
Meet them right on Fort Myers Beach before the transfer out to the boat for parasailing. Once you are on the boat, they will get you hooked up and in the sky.
As someone who gets nervous about heights, I loved parasailing in Fort Myers. We got to enjoy the views of the beaches and nearby islands from the sky. Plus, we could keep an eye out for wildlife including dolphins.
The men we worked with at Paradise Parasail were professional and made our trip fun. We had a boy and his mom on the boat with us, and the boy was scared to go up. They helped calm his nerves, and he came back with a big smile on his face.
Fort Myers Beach Sunset Cruise
A sunset cruise in Fort Myers is a must. Book a cruise with Adventures in Paradise for a great sunset view and a good chance of finding dolphins.
We spotted a dolphin before we even left the dock. Once we got underway, we had several dolphins playing near the boat and swimming beside us adding to the fun atmosphere.
Even with the clouds covering the sunset, Captain Jim and First Mate Andrew kept us entertained and helped us learn more about the area while also making sure everyone got a chance to see the dolphins in a responsible way.
It is a smooth ride with plenty of seats along the edge of the boat to enjoy the view. You stay in the intracoastal waterway, so the water stays much calmer than out in the Gulf.
Along with sunset cruises, Adventures in Paradise offers a number of other tours and daytime charters depending on where you want to go and what you want to do. Check out their site for more information.
Don't miss more of the best places to watch sunset in Fort Myers Beach here.
Kayaking with Lovers Key Adventures
Take a guided estuary tour or rent a kayak and head out to explore the canals and lagoons in search of local wildlife like manatees, dolphins, and a variety of bird species to really experience nature in Fort Myers.
We chose to do a guided estuary tour with Karen, and she made it a lot of fun for our group. I would highly recommend trying to get her as your guide if possible.
We kayaked for a little under 3 hours, but it was primarily easy paddling. My arms could feel it a little bit the next day from the muscles I'm not used to using that much.
Your options include a single kayak, a double kayak, or a paddle board. Since we were paddleboarding another day, we opted for single kayaks.
Bring a hat, sunglasses, water, sunscreen, and a waterproof camera or a waterproof case for your phone to get pictures. Karen also took a photo for us that she sent us afterward. We also took a dry bag to put my camera and our keys in, but our guide let everyone lock keys in her car if needed.
Since the kayaking is within Lovers Key State Park, it's a perfect time to head out to the beach afterward.
Stand-Up Paddleboarding in San Carlos Bay
Another spot to try out paddleboarding or kayaking is over in San Carlos Bay in the Bunche Beach Preserve. While we did the tour at Lovers Key State Park, here we explored on our own.
We rented paddleboards from Kayak Excursions for 3 hours. They gave us a route to try on a postcard in a Ziploc baggie in case we fell in (spoiler alert: a wave took me out).
The route started in the calm waters near the rental where a dolphin came speeding by chasing some fish right away. We stayed to watch the dolphin until it left before continuing on our loop.
The loop took us through a mangrove tunnel as well. We had to sit down and sometimes lay down on the paddleboard to make it through the mangrove forest.
It was our favorite part of the loop because it felt like we had been transported back to ancient times before civilization. We could only hear the sounds of the birds and couldn't see another person the whole time.
From there we circled around to paddle across Bunche Beach where we stopped and found some horseshoe crabs. This beach is not busy, so it was easy to find a spot to pull up and relax without many people around.
Make sure to bring sunscreen, plenty of water, a hat, and a waterproof camera. We also took our dry bag again for my camera, our phones, and our keys.
We have paddleboards at home in Orlando that we use since we love water sports, but we still got a workout with our three hours of paddling. I definitely earned my lunch after the workout that day.
If you aren't up for doing the whole loop, you can just paddle out to the beach or just to the mangrove tunnel and back. Make it as easy or as much of a workout as you want it to be.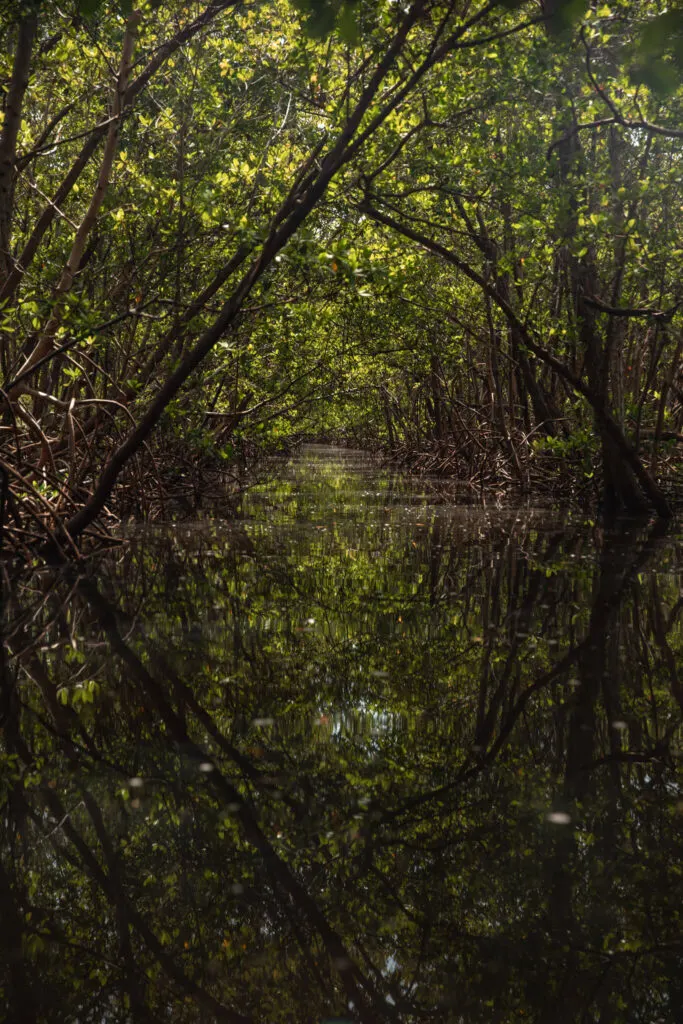 Jet Ski Rentals
Fort Myers Beach also has several places you can rent jet skis. We didn't have time to rent them while we were there, but we've both grown up riding jet skis.
They are a ton of fun to ride, and it's a good way to get out and see the views from the water. You can also look for wildlife while you are out on the water.
Holiday Water Sports is one option for jet ski rentals.
Best Historical Things to Do Near Fort Myers Beach
Fort Myers also has some historical options and indoor options so you still have things to do in Fort Myers on a rainy day or if you want to learn more about the history of the area.
Koreshan State Park
We had no idea this existed despite both of us growing up in Florida. I grew up in Central Florida, and my husband grew up in South Florida, but we had never heard of the Koreshans.
Koreshan State Park was donated to the state after the last Koreshan member passed away. The homes and buildings here were built by the Koreshans, a religious sect founded by Dr. Cyrus R. Teed.
We found this park to be really interesting, especially after talking to a volunteer and getting more of the history that she had learned working there.
You can walk through some of the historic buildings and homes. Others have a glass doorway you can look through with furniture set up as it was during the time the Koreshans lived there.
There is also a video playing in the Founders House where you can learn more about the beliefs and the lives of the people who called Koreshan State Park their home. There are also signs you can read as you walk around.
Make sure to go out to the Large Machine Shop and the surrounding buildings. It was interesting to see the machinery they had to be a self-sufficient town in the late 1800s and early 1900s.
If you have time, take a walk down one of the hiking trails along the river to enjoy nature and the great outdoors. They are easy walks, and we saw some locals walking their dogs on the trails as well.
It is $5 to enter the park, and there is a cafe for food. You can also camp at one of four campsites in the park if you need somewhere to stay in the area.
Rent a kayak and head out to Mound Key in Estero Bay to see what is believed to be a ceremonial center for the Calusa Indians. It is only accessible from Koreshan State Park and Lovers Key State Park.
Edison and Ford Winter Estates
Step back in time again at the Edison and Ford Winter Estates, one of the best indoor attractions Fort Myers has to offer. While you can stroll through the gardens (check out the banyan trees!), Garden Shoppe, and Museum Store for free, to enter the historic homes of Thomas Edison and Henry Ford, you need a ticket.
These waterfront homes near Downtown Fort Myers have been meticulously maintained over the years with stunning grounds surrounding them. Learn the history of the Edison and Ford families as you wander through the estates.
Plan to spend at least 90 minutes here, but you can easily spend longer if you have the time.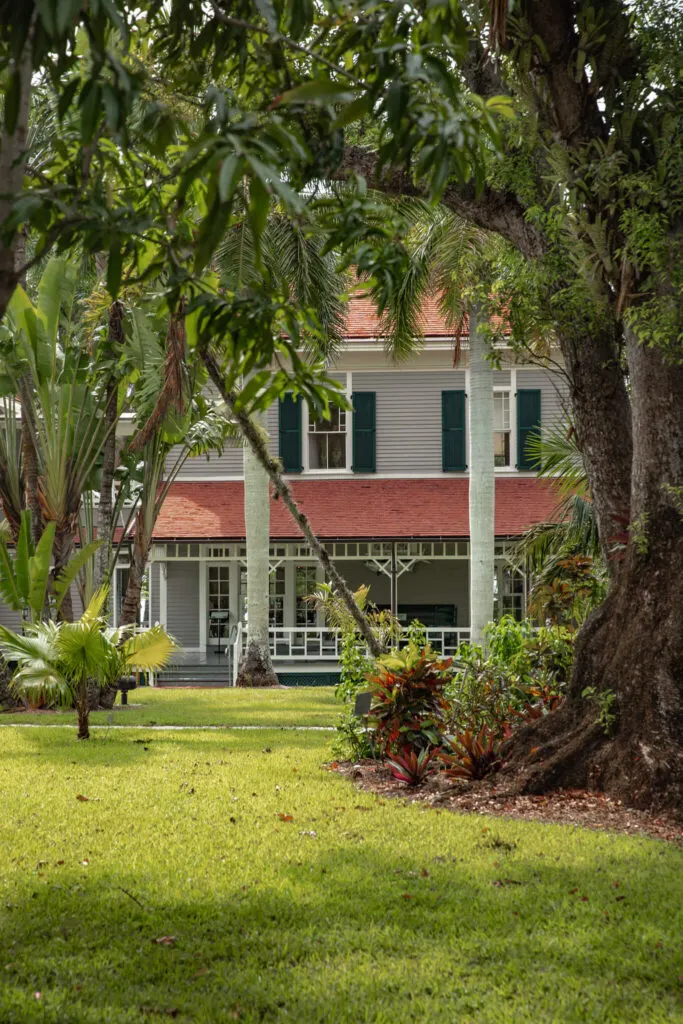 Downtown Fort Myers
First Street in Downtown Fort Myers is a cute street full of restaurants and shops. It is perfect to take a stroll and find a place to eat. We planned to eat at Izzy's, but we ended up heading back to the beach before dinner.
The Edison and Ford Winter Estates are nearby, so it is easy to hop over to downtown and explore before or after you tour the estates.
The Sidney & Berne Davis Art Centre is a beautiful building in downtown. It was closed when we tried to visit, but they have events regularly along with their art exhibits.
More of the Top Things to Do in Fort Myers Beach
A week wasn't enough for us in the beauty of Southwest Florida, so here are some of the fun things to do in Fort Myers Beach or nearby that we missed but are worth checking out:
Six Mile Cypress Slough Preserve: Open from sunrise to sunset, this nature preserve is one of the top things to do in Fort Myers. We did not have time to visit, but this is one of the places I was hoping we would have a chance to go. You can walk the boardwalk and explore on your own or take a guided walk.
Matanzas Pass Preserve: You can explore this area on foot on the hiking trails or on the water thanks to the paddle craft landing.
Mound House: Mound House is the oldest standing structure on Estero Island. It was built back in 1921, and it rests on top of a Calusa Indian shell mound and active archeological dig site.
You can take a tour of the shell mound or set out on a kayaking tour in Estero Bay. Even if you don't go kayaking, you can still walk out to the Observation Pier to look for wildlife.
IMAG History & Science Center: This is the Fort Myers science center and a great indoor place to go in the rain. Kids will love the interactive exhibits, and it is the perfect indoor family spot that includes interactive displays and even aquariums and animal exhibits.
Best Fort Myers Beach Restaurants
All of the beach days and outdoor activities are sure to leave you hungry, and we did not go hungry in Fort Myers Beach. No matter what area of town you are in, there are a wide variety of restaurants, and most have outdoor seating to enjoy the views of the water.
We did not find a bad restaurant while we were there, but we did find some good key lime pie. I love key lime pie, so I decided to find the best key lime pie in Fort Myers while we were there.
The winner: Doc Ford's Rum Bar & Grille. Runners up: Matanzas on the Bay for the Oreo crust they used with it.
Here are some of our favorite places to eat in Fort Myers Beach (or nearby):
Doc Ford's Rum Bar & Grille: Besides winning my contest for the best key lime pie in Fort Myers, Doc Ford's also had great food, a great atmosphere, and a great view of the bay thanks to a prime location. It is located on San Carlos Island near the Matanzas Pass Bridge.
The Doc Ford's location we visited is still closed as of summer 2023 for hurricane damage, but the Sanibel Island location is open. Get current updates here.
Matanzas on the Bay: This was the first place we ate in Fort Myers and is right next to the Matanzas Pass Bridge, but it managed to stay a favorite throughout the trip. We loved the service, the food (the wings were delicious), and the views of the bay. It was the perfect place to watch pelicans fishing and dolphins playing right outside the window.
Nervous Nellie's: While the food was great, the atmosphere gets top marks at Nervous Nellie's. Located right next to where we set out for our sunset sail, we loved the vibe of the outdoor seating here. My husband splurged on the lobster tails and had no regrets. This is a great place for outdoor dining on the water.
Nervous Nellie's is still closed to rebuild from Hurricane Ian as of summer 2023, but they are selling shirts to help raise money for their staff. Their website and Facebook page will stay updated with progress towards reopening.
Bimini Bait Shack: Bimini Bait Shack is on your way onto Sanibel Island, and it's a fun place to relax and enjoy a meal. We loved the atmosphere as well as the food here, and its a great spot to stop before you drive onto Sanibel or when you are coming back to Fort Myers Beach for the night.
Big Hickory Seafood Grille: Another great waterfront restaurant with outdoor dining options is Big Hickory down in Bonita Springs. We again watched dolphins while we ate our lunch and loved the guacamole in a nacho bowl. You can pull your boat right up to dine here too.
The Big Hickory is still closed as of summer 2023 to rebuild from Hurricane Ian. Check their website for current updates.
Don't forget the most important meal of the day too – breakfast. Island Pancake House serves massive pancakes, Heavenly Biscuits serves out of this world cinnamon rolls, and Tuckaway Cafe (on Estero Blvd) serves a variety of breakfast and lunch options.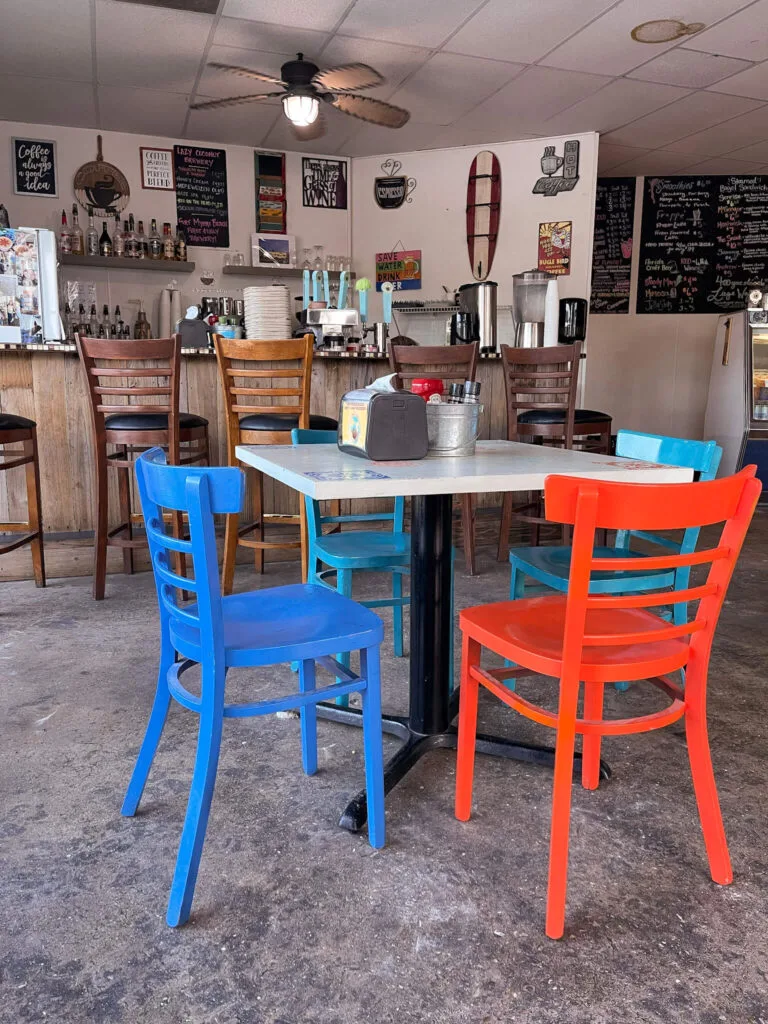 Where to Stay in Fort Myers Beach
When it comes to the best Fort Myers Beach hotels, we loved DiamondHead Beach Resort on Estero Boulevard. Located right on Fort Myers Beach, the rooms are large suites with a bedroom, bathroom, living room, and kitchenette.
We had a massive balcony overlooking the beach and the view south of Naples. With lounge chairs and two regular chairs out on the balcony, we relaxed and enjoyed the view without any bugs thanks to the screen.
The key is a bracelet that is waterproof, so you don't have to worry about losing it or messing it up in the water.
Just for being a guest, you get a free cabana with two chairs on the beach each day of your stay. The hotel also features a nicer restaurant, a beachfront restaurant and bar, a pool, and two hot tubs.
***As of summer 2023, DiamondHead Beach Resort is open but still has some construction from the hurricane damage.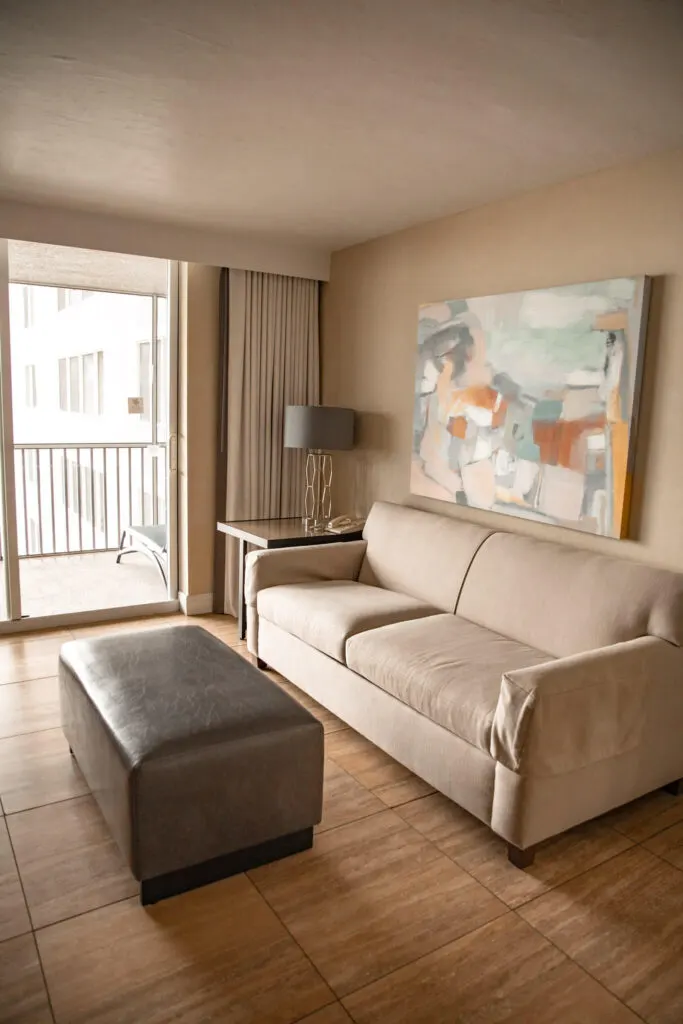 What to Pack for Fort Myers Beach
A few things to make sure you bring with you to Fort Myers Beach include:
Waterproof camera or waterproof case for your phone to capture memories without worrying about the water ruining your shots
Water bottle to refill and stay hydrated while you are on the beach, kayaking, or paddleboarding
Dry bag to keep your valuables dry when you are out on the water
Sunscreen so you don't come home looking like a lobster
Sunglasses to protect your eyes, especially with the glare from the water (polarized lenses are great with the water)
Hat to protect your head and face from the sun
Sandals for the beach
Swimwear, short-sleeved shirts, tank tops, summer dresses, and shorts (most restaurants are casual since they are on or near the beach)
A light jacket for the evening breeze (or a slightly heavier jacket for the winter evenings)
When considering your next Florida beach vacation, don't miss out on Fort Myers Beach. This part of Florida is perfect for couples, families, and even solo travelers looking for the perfect Florida vacation spot.
Fort Myers and the nearby islands, beaches, and neighborhoods are sure to provide you with good days while you are there and good memories you'll cherish long after you leave.
Make sure to add these options to your list of the best things to do in Fort Myers Beach to help you have the best trip possible.
You may also enjoy:
Best Fort Myers Beach Sunset Spots
Where to Go Glamping in Florida
The Perfect Cocoa Beach Florida Vacation
Best Christmas Lights in Orlando
Best Things to Do in Orlando at Christmas
Like this post? Pin it for later and share it with others!