Iceland recently exploded onto the travel scene. Each year, more and more people visit the Land of Fire and Ice. If you haven't been to Iceland yet, a Ring Road road trip in Iceland should be on your bucket list.
Some choose to go in the winter to see the Northern Lights. Others choose to go in the summer and experience the midnight sun. Either way, you can't choose wrong when going to Iceland.
This six day Iceland itinerary can be tweaked if you have more or less time in Iceland. If you only have 3 or 4 days in Iceland, focus on the southern coast of Iceland found in the first 3 days of this itinerary for Iceland. You can fill one week in Iceland with this itinerary or even add a couple of other stops.
I really wish we had 7 days in Iceland as it would have given us just a little more time for a couple of other stops we wanted to make. If you have 10 days in Iceland or more, definitely drive around Ring Road and take time for some additional waterfalls and adventures along the way.
If you are planning a trip to Iceland, start saving now though. Iceland is expensive! From $7 a gallon fuel prices to $30 fast food meals for two, prepare for some outrageous prices on your Ring Road adventure. Prices are included to help you budget for your trip.
Looking for more Iceland tips and tricks? Find our top 5 waterfalls in Iceland (plus a few bonus waterfalls) here and how to get into the Blue Lagoon in Iceland for free (and without the crowds) here.
***Some of the links in this post are affiliate links meaning we earn a small commission at no extra cost to you.
Map For a 6 Day Iceland Itinerary Around Ring Road
This map includes hotels we stayed in along the way and is split up by day. You can view all the layers to see the entire road trip around Iceland at once or view each individual day. Feel free to save it to your Google maps and alter it for your own Iceland road trip adventure.
Best Hotels for 6 Day Ring Road Iceland Road Trip
These hotels are also included below, but our recommendations for hotels on Iceland's Ring Road are:
Day 1: Iceland's Golden Circle in One Day
Our flight from New York City to Reykjavik was scheduled to land at 7 a.m., but a delay meant we landed closer to 9 a.m. We had already rented a car, so we went straight to the bus to go pick up our rental. Thankfully, visiting Iceland in summer meant the midnight sun gave us extra time to explore. We often stayed out most of the night to see places without anyone else around. Arriving late ended up not holding us back at all.
RENTING A CAR AND DRIVING IN ICELAND
We rented from Reykjavik Rental Car and would not recommend them. The customer service from the owner himself was terrible when our car broke down. He planned to leave us stranded all night on the side of the road. Our car would not turn on, so we could not use the heat to stay warm. After a few phone calls, he decided to send a tow truck to take us to a hotel for the night instead.
Once we had the car, we drove towards Reykjavik and stopped at a bakery we found along the way. We purchased some pastries to hold us over until we found some "real" food. Buying a couple of croissants, a sandwich, and a pastry set us back about $15 which wasn't bad. We also stopped at an outdoor store and bought a sleeping bag and pillows. We rented a 4-wheel drive SUV so that we could sleep in the back if needed.
You definitely want to rent a 4-wheel drive vehicle for your Iceland road trip. Several roads we took were 4-wheel drive only roads. Some of the other roads did not require a 4-wheel drive vehicle, but 2-wheel drive vehicles struggled to make the trip.
Make sure to rent WiFi or a GPS as well. We rented WiFi and used the maps on our phones. This option was cheap and also allowed us to look up things as we went. Be aware that even the WiFi will not have service in some places. Make sure your map is loaded before you lose service, especially in the northern parts of the country.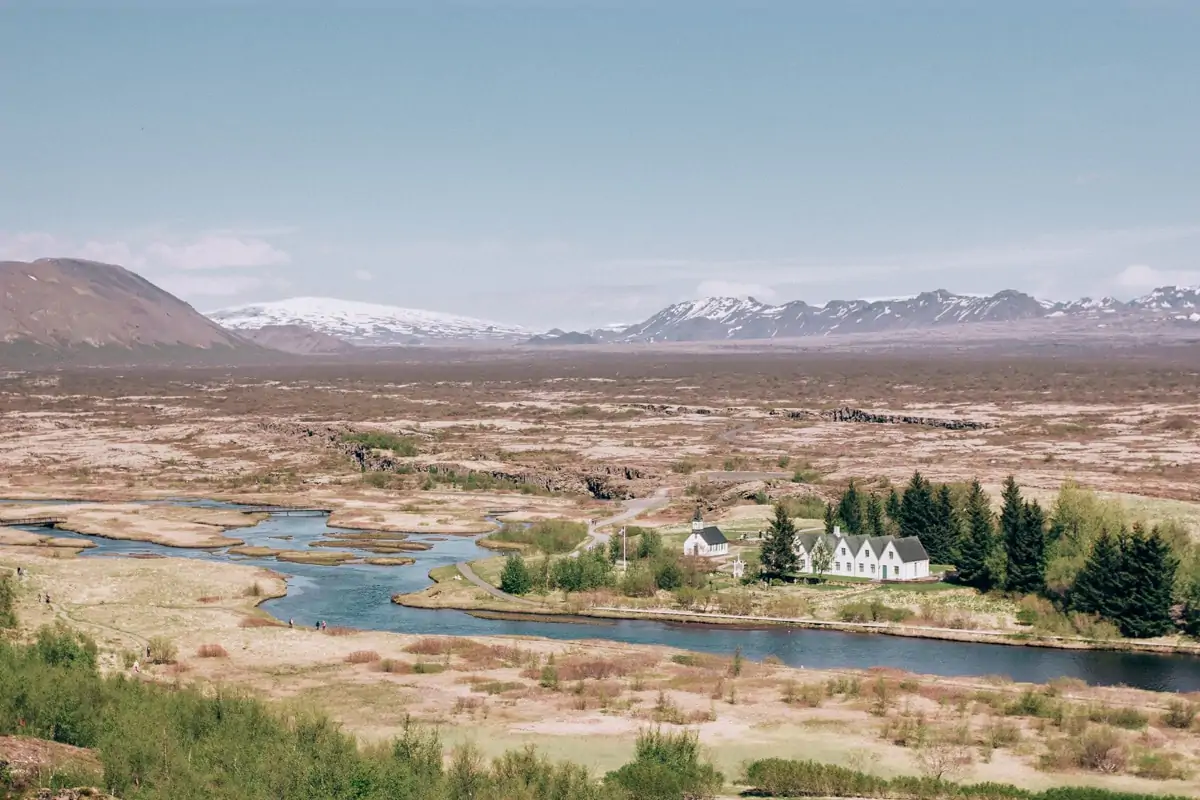 When getting gas in Iceland, you have a few options. If a gas station is open, you can go inside and pay with a credit card or buy a gas card. At the pumps, you must pay with a card with a pin number or a gas station card. If you only have a credit card, call before you leave to get a pin number for your card.
Otherwise, take a debit or bank card with you. We also purchased a gas card. It could only be used at certain gas stations, but it made it easy to pay even when the gas station closed. Gas stations close early and do not stay open 24 hours a day like in some countries, so make sure you are ready.
Make sure to fill up your gas tank often. We tried to keep the gas tank over half full. Sometimes you drive long stretches of Ring Road without seeing any gas stations or other stops. You do not want to run out of gas in the middle of nowhere with no phone service or WiFi. The gas is expensive, but make sure to fill up often!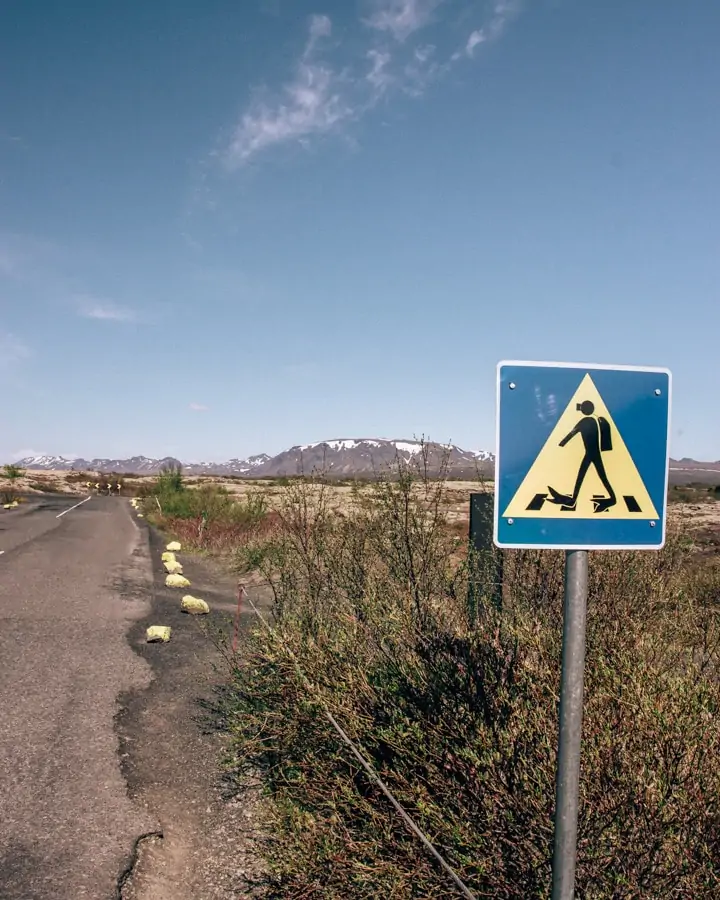 A QUICK STOP IN THINGVELLIR NATIONAL PARK
From there, it was time to head out to the Golden Circle. We didn't make it far before we needed a quick nap though. We found a campground on the side of the road and pulled in. Campgrounds are everywhere in southern Iceland. The owner was very friendly and showed us around before letting us sleep for an hour or two in the car.
It had an indoor bathroom and a covered eating area, but the cooking area was outdoors. It was only $15 for the night, but camping isn't necessarily the cheaper route since camper vans ran about $300 a day when we were there (our rental was about $100 a day). If you want to tent camp, it is much cheaper than a camper van or hotels. It is cold at night even in the summer though.
Awake and refreshed, we headed for Thingvellir to see the continental divide. The drive from the airport to Thingvellir without stopping takes about an hour and 15 minutes. This national park has amazing views, so don't be afraid to use the lookouts to enjoy the views.
We started at the Thingvellir Visitor Center (at the end of Hakid Road) where you can walk between the continents. Being there in the middle of the day in June meant quite a few tour groups in this area with us though.
From this parking lot, you can walk down the path to the other places we saw in Thingvellir. If you have your own car, driving down to the parking lot near Oxararfoss is also an option to see the waterfall that runs down the divide. There is a viewing platform where you can look down the river and across at the waterfall.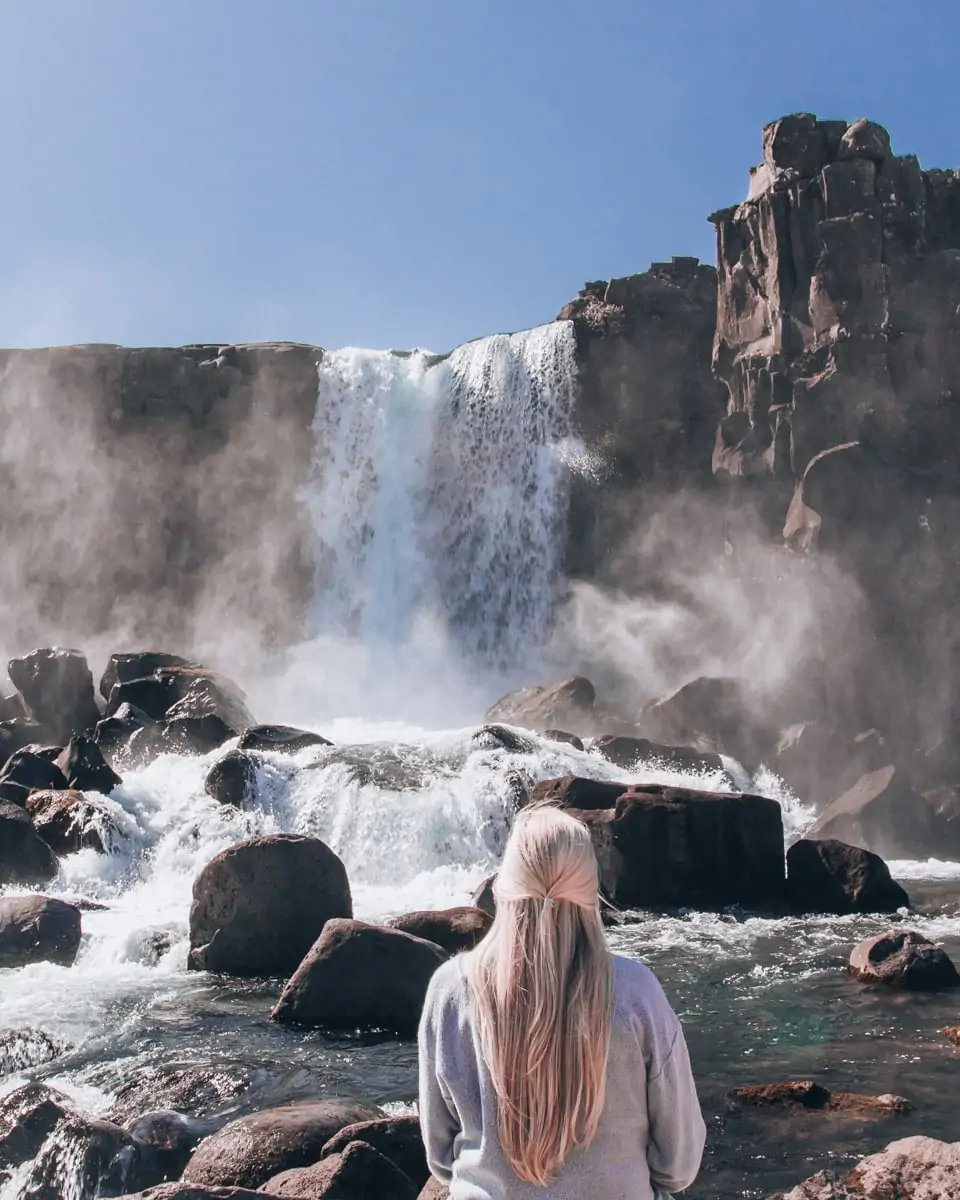 You can walk or drive from Oxararfoss over to see the Silfra dive site. Here you can dive between the two continents in water that is at near freezing temperatures all year. I am a wimp when it comes to the cold and have an autoimmune disorder that makes my hands hurt in the cold, so this was not appealing at all to me!
We did walk over and touch the water. You can see how crystal clear it is from the walkways along the divide. We also sent our drone up to really get a good look at how clear that water was in the area.
While you can spend longer in Thingvellir, we wanted to keep moving due to time and saw what we came to see. The continental divide is the main attraction in Thingvellir. Oxararfoss and Silfra are common stops as well. With only 6 days in Iceland, we needed to keep moving.
THE GOLDEN CIRCLE'S GEYSIR & STROKKUR
After Thingvellir, the next stop on the Golden Circle is Geysir. The drive between the two places takes about 40 minutes. Geysir is the first geyser known to the Europeans and the first one to make it into recorded text.
Geysir is basically inactive right now, but it is affected by earthquakes that sometimes cause it to erupt more frequently. You can still see it and the steam coming from the boiling hot water.
Walk through the geothermal area and over to Geysir (it doesn't take long), but the main attraction at Geysir is Strokkur. Often you will see pictures of Strokkur that are labeled as Geysir. Strokkur erupts about every 6 – 10 minutes although it is not exact. Because it erupts so frequently, take time to watch it from multiple sides.
We visited around 10 p.m., so you could see the colors of sunset in the sky behind it from one of the walkways. From the other side of it though, you can watch the water start bubbling up. A large bubble forms and then bursts as the geyser spews water about 50 – 65 feet (15 – 20 meters) into the air.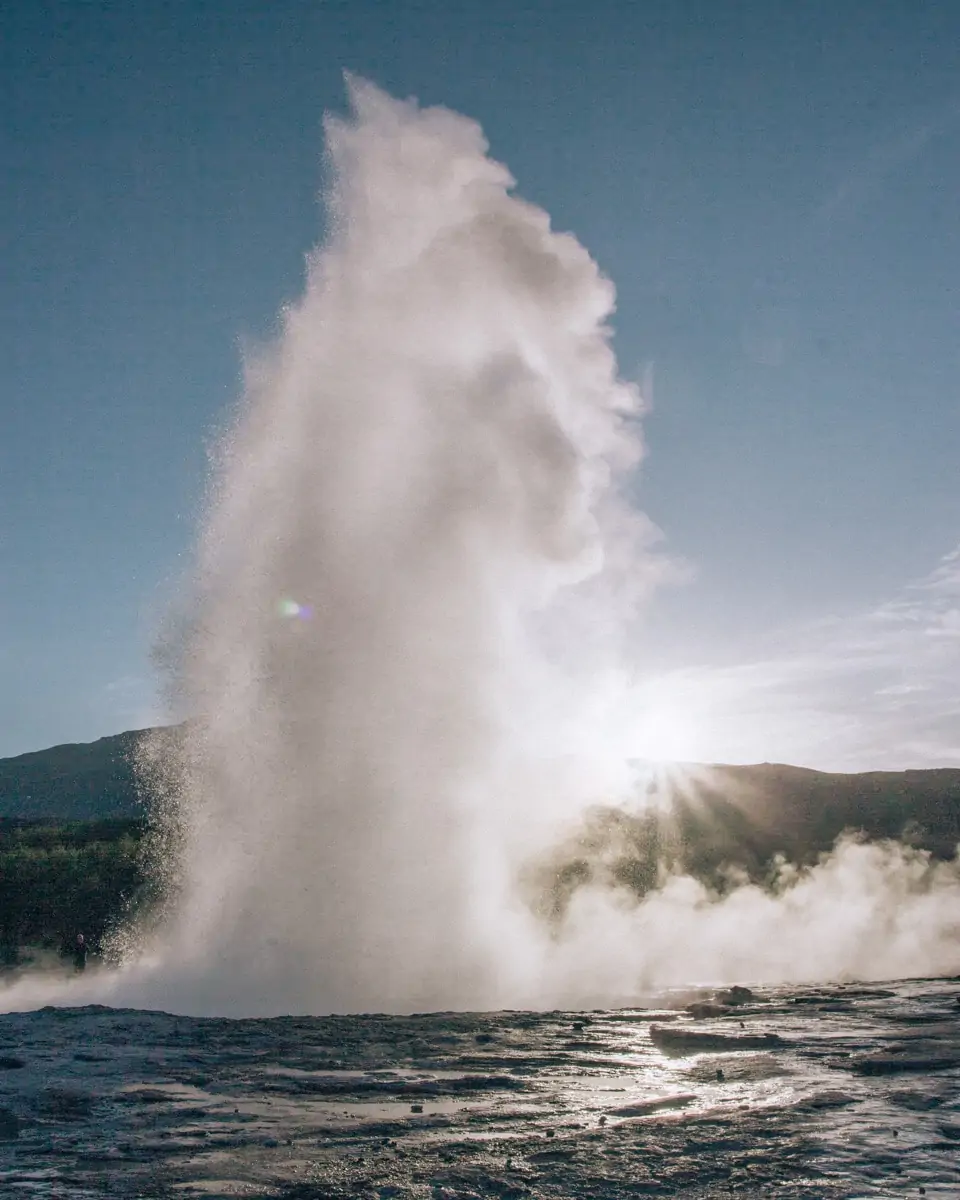 SEEING GULLFOSS IN THE SUMMER
The last stop on a self-tour of the Golden Circle is Gullfoss. By the time we drove there (only about a 10 minute drive), the sunset painted the sky. The waterfall was in the shadows and is down in a gorge a little bit. If you want to see it in the sunlight, make sure to go in the middle of the day.
However, since it is part of the Golden Circle tours, know that it will be busy. We saw less than 10 other people while we visited. There are walkways to take you down to several viewpoints, but the mist was so heavy and we were so cold that we didn't venture too close.
While Gullfoss is worth a stop, we liked many of the other waterfalls more. Because of this, we kept moving to find a hotel for the night.
A HOTEL ON ICELAND'S GOLDEN CIRCLE
We planned to start the drive to our first stop of the next day since it was still daylight, but tiredness forced us to look for nearby accommodations. Even though it was already about 11:30 p.m., we stopped in at Hotel Gullfoss and were able to book a room for $152 (average for Iceland).
I highly recommend this hotel. The staff was kind and welcoming, the breakfast was amazing, and the room was perfect. I loved the breakfast area with the large windows and views over the Icelandic landscape. Located only a few minutes from Gullfoss, the location is perfect if you want to see it in the morning.
Day 2: Chasing the Best Waterfalls on Iceland's South Coast
We spent most of the second day exploring some of the best and most popular waterfalls along the southern coast of Iceland. Thanks to a late night and jet lag, we slept in a little bit. After waking up and getting some breakfast, we headed out to our first waterfall of the day.
SOUTHERN ICELAND'S BEST WATERFALL: HAIFOSS
One of my favorite waterfalls of the trip, Haifoss, required some off-road driving. If you have a 2-wheel drive vehicle, you can still make it to this one. Make sure to take it slow as there are some big rocks and potholes in the road.
Pay attention to the conditions of the road, especially if it is wet. You may not be able to access this waterfall in the winter since some of the roads may close.
The drive from Gullfoss to Haifoss takes about an hour and 15 minutes. There are signs to direct you to Haifoss, and there is a small parking lot once you arrive. Because it is off the beaten path, there are not many people who come to visit Haifoss. There were several other vehicles in the parking lot, but we only saw two other couples while we were there.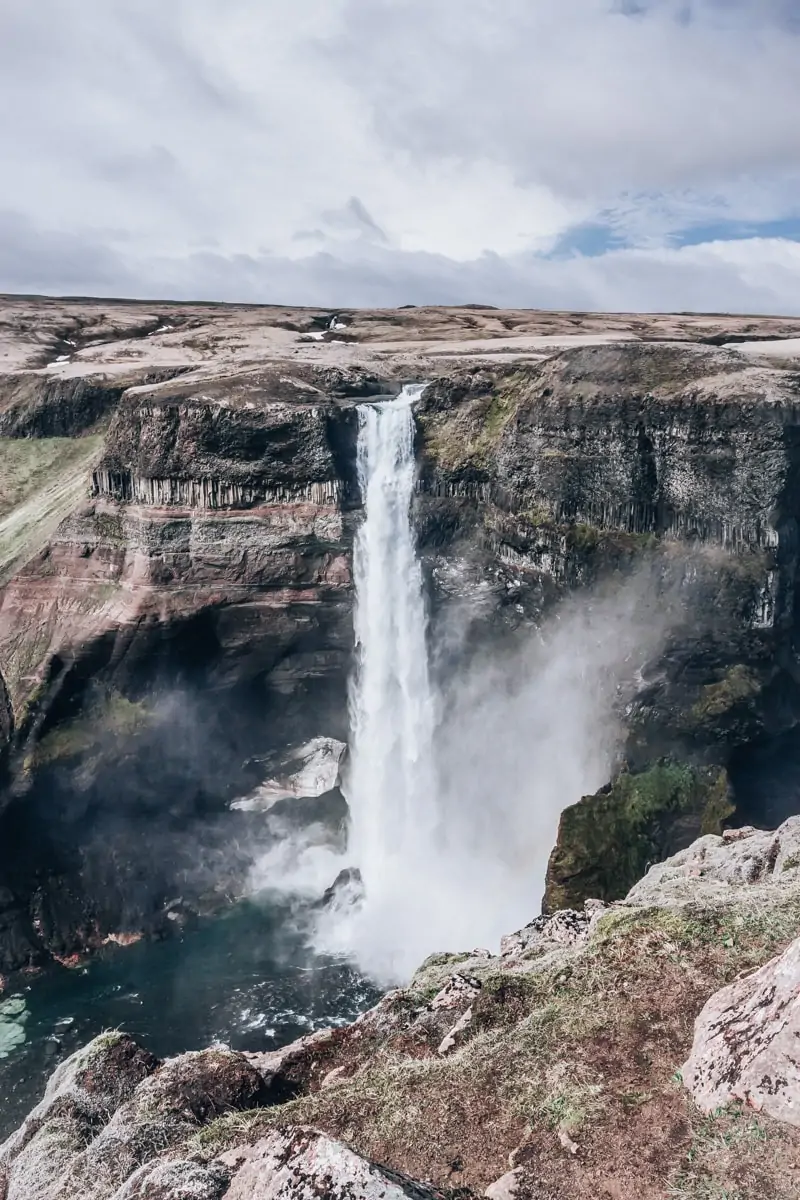 It takes about 5 – 10 minutes to walk from the parking lot to the edge of the gorge. You look across and see Haifoss and Granni (meaning neighbor) as well as some other smaller waterfalls depending on the time of year.
Haifoss is one of the tallest waterfalls we saw, falling 400 feet (122 meters) to the base of the gorge. Arriving in the middle of the day allowed us to see rainbows in the mist of the waterfalls too.
There is a path you can hike down to get to the base of the canyon, but we chose to skip that due to limited time with only 6 days in Iceland. If you are looking to spend a little more money and save time, you can hire a private helicopter to take you here. We only know that because of the one that landed while we were there.
SELJALANDSFOSS: WALKING BEHIND A WATERFALL IN ICELAND
After Haifoss, we drove back to Ring Road to start heading east along the south coast. Seljalandsfoss is about a two hour drive from Haifoss or an hour and a half from Gullfoss if you skip Haifoss. There are bathrooms in the parking lot at Seljalandsfoss that are pretty nice.
Seljalandsfoss is known for the path that goes behind the waterfall. It is a popular waterfall since you can see it from the road and easily access it from the parking lot. The path is paved and smooth other than the section that goes behind the waterfall making it easier to access for those who need a smooth walkway.
We went in the early evening (around 5:30 p.m.), but a few tour buses still lined the parking lot. Even with the tour buses, the waterfall felt fairly empty.
If you plan to take the path behind the waterfall (and you should!), bring a waterproof jacket. If you have waterproof pants and shoes, wear them as well.
The mist soaked my camera by the end, so I tried to dry the lens as much as possible immediately. Our GoPro was the go to camera for this one as it was the only truly waterproof camera we had with us.
GLJUFRABUI: A HIDDEN WATERFALL IN A CANYON
I have no idea how to pronounce this one, but it was another of our favorites. From Seljalandsfoss, either walk about 10 minutes down the path or drive down closer to it. There is no parking lot, so park on the side of the road if you drive down.
We left before we realized it was right next to Seljalandsfoss (to the left if you are facing the waterfall). We came back after visiting Skogafoss when we realized it.
Between Seljalandsfoss and Gljufrabui, there is a campground. It has indoor bathrooms and showers and an area inside to eat. We did not go inside the building to check it out since we did not plan to stay. There is a grill outside to cook up any food you need and tables and chairs inside. I'm not sure if there are more cooking appliances inside or not.
Gljufrabui isn't visible until you are right in front of it because it is set back in a canyon. There used to be a path to the top to look down into it. However, that area had a rope across it when we were there. The path is no longer stable, so we did not chance it.
If you are up for an adventure, hike into the canyon up the stream of water. It is a short distance to the base of the waterfall, and there is a large rock inside the canyon. If you do this, wear waterproof everything. We only had waterproof shoes and jackets.
I went a few steps in and was soaking wet from the mist tunneling out of the canyon. You hike through the water, but it wasn't very deep at that point. You can walk on the rocks to stay in shallow water or out of the water sometimes. Another couple came prepared and hiked all the way in, but we were cold and wet enough already just from the mist.
SKOGAFOSS: ONE OF ICELAND'S MOST VISITED WATERFALLS
Skogafoss is one of the most well-known and most popular waterfalls in Iceland, but it actually wasn't one of my favorite waterfalls. It probably did not help that I was freezing cold and soaked from Seljalandsfoss. It was after Skogafoss that we realized that Gljufrabui was right next to Seljalandsfoss – oops!
Even though we went around 7 p.m., there were still quite a few people here. It is only a 30 minute drive from Seljalandsfoss and Gljufrabui to get to Skogafoss.
A trail allows you to hike up to the top of the waterfall for what looks like an amazing view, but we really just wanted to get warm at the time! We ended up deciding to go back to Gljufrabui instead of hiking to the top. We do not regret our decision but hope to go back and hike up one day. If you plan to walk up anywhere near the base of Skogafoss, wear waterproof clothing again. The mist blows everywhere!
Day 3: Iceland's Plane Wrecks, Puffins, and Precious Jewels
After our day of waterfalls, we spent the night near the Solheimasandur Plane Wreck to get an early start. This area is only about 30 minutes from Skogafoss.
We stayed at the Solheimahjaleiga Guesthouse for about $130. It is so close to the start of the hike that it was perfect for us. We had our own room, but we shared bathrooms and showers. Each bathroom and shower is in a separate room and completely private.
The breakfast was included and had a wide variety of foods in a room full of windows to enjoy the surrounding views. If you have some extra time, there are plenty of other things to do in Vik and the surrounding areas.
HIKING TO THE SOLHEIMASANDUR PLANE WRECK
Get our full guide with everything you need to know about hiking to the Sólheimasandur plane wreck here.
The hike to the Solheimsandur plane wreck is not a difficult hike, but it feels longer than it is. We started our hike around 6:00 a.m. The hike is a total of 4 miles (7 km) and takes about an hour each way.
The walk was easy but the area is very desolate. You can see the black rock arch off to the left for some of the hike if the weather is clear enough.
Be aware that the weather can change suddenly. On our hike out and back, we had sun, clouds, heavy fog, and rain – all in the course of about two and half hours. Bring clothes that are versatile and prepare for different conditions and temperatures.
Once we got to the plane, it was harder than I thought to climb on top of the plane, and I ripped my pants wide open climbing back down. I found out afterwards that you are not supposed to climb up on the plane. I saw pictures of people on top of it and watched others climb up, so I did too. If you do so, you climb at your own risk. The top does not feel stable at all.
On our hike back around 8 a.m., we saw a lot of groups headed out to the wreck. If you want it to yourself in the days of long sunlight, start your hike before 8 a.m. when it gets busier. The plane wreck ended up being one of our favorite stops in Iceland because of how unique it is.
For more information about what to wear, what to expect, and when to go, check out our full Sólheimasandur plane crash hiking guide here.
DYRHOLAEY: WHERE TO FIND PUFFINS IN ICELAND IN THE SUMMER
If you want to see puffins in Iceland, go to Dyrholaey in the summer. This is your best chance to see puffins in Iceland without a tour.
The puffins are out of their nests from mid-morning to early evening, so plan around that. Even when they are out, you can still see them out in the water and going back and forth to the nests.
Your best chance of seeing puffins at Dyrholaey is early in the morning from what a guide told us. We saw a few when they came back to the nests for a few minutes.
To get here, turn south on Dyrholavegur/218 and drive until it ends in a parking lot. Don't turn off for Black Rock Arch unless you have a four-wheel drive vehicle. The views from there are good, but there aren't many puffins in that area.
Once you park, take the trails all the way to the left. Puffin houses cover the tops of the cliffs there. Be patient as it takes time to spot them nearby. Keep your eyes on the water and the birds flying over the beach to spot them out of the nests.
The drive to Dyrholaey takes about 15 minutes from the plane wreck parking lot or about two and half hours from Reykjavik.
Whatever you do, don't climb over the chains along the cliffs at Dyrholaey. There are a lot of places in Iceland where the chains and ropes are to protect you. If you decide to climb over them, you only put yourself at risk.
The chains here are to protect the puffins' houses. We watched one girl climb right over and walk all over them for her perfect shot. One of the guides who happened to be there started yelling at her, but she did not seem to care at all about protecting the puffins.
Besides seeing the puffins at Dyrholaey, take time to walk or drive up to the Dyrholaey lighthouse. It is a good idea to have four-wheel drive to get to the lighthouse if you drive. There are some amazing views of the rocky coastline and black sand beaches along the paths between where the puffins are and where the lighthouse is if you walk.
REYNISFJARA BEACH: BASALT COLUMNS & SNEAKY WAVES
Reynifsjara Beach is a popular stop in Iceland. The beach at Reynifsjara is much more crowded than it appears in pictures. The basalt columns are popular for photos, but if you wait your turn, you can get an area to yourself.
People were nice about trying to stay out of each other's photos for the most part. Even with a full parking lot and people using overflow parking, we still managed to get photos alone on the basalt columns.
Be aware of "sneaky waves" on the beach as the signs warn tourists. People get close to the water, turn their backs, and then get swept away by the large waves that sneak up on them. There are a few huge but shallow caves along the beach and the Reynisdrangar rock formations just off the beach, but keep your eyes on the waves.
Be aware of how close you get to the water even as a strong swimmer. Several people die here each year, swept away by the waves.
There is an overpriced (even for Iceland) restaurant at Reynifsjara Beach if you need food. There are bathrooms, but you have to purchase something to use them. Everything is overpriced, but there are some cheaper items if you need to use the bathroom.
The parking lot was almost full when we arrived and overflowing when we left about 30 minutes later. It takes about 30 minutes to get here from the Dyrholaey lighthouse area. Even though you look over Reynifsjara Beach from Dyrholaey, you have to drive around the inlet to get between the two.
VISITING JOKULSARLON GLACIER LAGOON
From Reynisfjara to Jokulsarlon, the drive takes about two and a half hours. Iceland is full of beautiful views on this drive. We stopped a few times which made our drive longer than expected.
You can enjoy views of different waterfalls and glaciers along the side of the road. No matter what the map says, plan some extra time to stop for the views on your Ring Road road trip around Iceland.
There are a couple of parking lots you can choose from for a visit to the Jokulsarlon Glacier Lagoon. We pulled into the first parking lot first. The icy wind hit us in the face immediately.
We experienced our coldest weather in Iceland at Jokulsarlon. It seemed fitting with the cold air to take a five minute walk and be looking out over floating icebergs. However, unless you want a hike and a view from above, skip the first parking lot and continue to the bridge.
Back in the car, we warmed up and drove down to the next parking lot just past the bridge. This is the main parking lot and where the tours leave from. You have options like kayaking or taking a duck boat tour, but we arrived soon after everything closed.
With the sun lower in the sky and no tour buses around, we enjoyed the sun glistening off of the icebergs in peace and quiet. Well, it was not quite quiet. We enjoyed the sounds of nature – the howling wind and the iceberg that cracked apart in front of us. If you are lucky, you may spot some seals or other wildlife here as well.
Be prepared to need every layer you brought here! The wind did not let up, and it was freezing cold (literally!) even on a sunny day in mid-June. We did not stay out as long as we might have if it wasn't so cold. The views are beautiful, and the area may be warmer earlier in the day when the sun is higher in the sky.
ICELAND'S DIAMOND BEACH IN THE SUMMER
To get to Diamond Beach, you can either walk across the street and bridge or drive across to the parking lot. You want to be on the east side of the bridge for Glacier Lagoon and on the west side for Diamond Beach.
If you have extra time, visit both sides for both Diamond Beach and Jokulsarlon Glacier Lagoon. We opted to drive over thanks to the cold temperatures and wind (also, we are wimps with the cold since we are from Florida!).
This beach looks completely different from pictures I have seen of it in the winter. In the winter, large chunks of icebergs have washed out of the lagoon and back up on the shore. In the summer, they have melted down and are much smaller.
Still, walking down to the water's edge, you see the chunks of ice sparkling in the sunlight and know exactly why it is called Diamond Beach. The contrast of the glistening chunks of ice on the black sand beach makes for one of the most unique and beautiful beaches I have ever visited.
BEAUTIFUL DRIVE FROM HOFN TO DJUPIVOGUR
The drive on Ring Road in Iceland is prettiest from Jokulsarlon Glacier Lagoon and Diamond Beach to Akureyri. Factor in plenty of extra time for stops if you drive this stretch of the road. This area is not a place you will see listed on other itineraries for Iceland or lists of things to do or places to see in Iceland.
If you are driving Ring Road, plan some extra time here. This was my absolute favorite part of the drive for views. I did not enjoy the dramatic cliff drops with no barrier between the car and death though.
The area near Hofn gives you beautiful mountain views as you follow the curve of the rocky coastline. Enjoy fields of lupine in front of snow-capped mountains and lakes and rivers that reflect the beauty of the mountains. Driving this part of the road later in the evening gave us sunset views for hours thanks to visiting Iceland in the summer.
Because we took so long with picture stops, we ended up stopping in this area for the night. We stayed at Berunes HI Hostel & Camp in the cutest little cabin. They also have hostel rooms available, but we loved our little cabin even if it cost a little more ($130 versus $110). If we return to Iceland in the summer sometime, I want to stay longer and explore this area more.
Day 4: The Best Waterfalls in Iceland – An All-Star Lineup
If we hadn't already fallen in love, the waterfalls we saw on our fourth day in Iceland would have changed that! Of our 6 days in Iceland, this is one of the days we spent the most time in the car. It was worth it to get to some waterfalls that are more off of the beaten track.
EUROPE'S MOST POWERFUL WATERFALL: DETTIFOSS
Dettifoss is the most powerful waterfall in all of Europe according to many sources. That alone should convince you to take the long drive to get there.
From Jokulsarlon, it is about a six hour drive. For a couple of hours, we had no radio, no WiFi, and saw no one on the road. The last part of the drive is on a dirt road that was under construction, so that slowed us down a little bit too.
When visiting Dettifoss, you want to make sure you visit the east side of Dettifoss. You can visit both the east and west sides, but it takes about an hour and a half to drive between them.
The west side of Dettifoss has paved roads and a paved parking lot with space for tour buses. If you take a tour to Dettifoss, you will go to the west side. The east side is only for cars.
From the west side, you face directly across at the waterfall. That may sound good, but the mist from the waterfall is in the way. The people we could see on the viewing platform were mostly wearing ponchos thanks to the mist.
On the east side of Dettifoss, you can walk right up to the edge of the waterfall and feel its power. You can walk along the edge of the gorge to get a variety of views of the waterfall. Because it is only cars on this side, there are not many people. The parking lot was full, but the area still felt empty. There are bathrooms, but they were locked.
HIKING TO A LESSER KNOWN WATERFALL IN ICELAND: SELFOSS
Whatever you do, don't go from Dettifoss back to your car. You will see a sign along the trail that points up the river to Selfoss. It is less than 3/4 of a mile (1 km) to get to Selfoss from Dettifoss. You have to climb over a few rocks, but the trail is pretty easy. The first part of it is the worst part (and not that bad), and the last part is flat and hard-packed sand.
When we got back to Selfoss, there was only one other person there. Along the walk, you start to see a ton of small waterfalls pouring over the edge into the river to head down to Dettifoss.
If you parked on the east side of Dettifoss, you have the view from across the gorge of all of these waterfalls. From the west side, the trail stops early because of all of these waterfalls but lets you look straight down at the main waterfall at Selfoss from a distance. The main fall for Selfoss is still visible from the east side though.
You can get closer to it if you are willing to get your feet a little wet. There are some shallow pools at the top where the rain and mist have gathered, but you aren't walking through rushing water or anything like that.
THE WATERFALL WITH THE LITTLE POOL: ALDEYJARFOSS
Aldeyjarfoss is the hardest waterfall to access but our favorite waterfall we saw in Iceland. You need to have a four-wheel drive vehicle to get to this one since it is on an F-road.
F-roads require 4-wheel drive. If the weather has been good and the road is dry, you might make it in a two-wheel drive. Make sure you know if your rental company is okay with you taking your car on F-roads.
The drive from Dettifoss to Aldeyjarfoss took about two and a half hours. If you are coming from Akureyri to Aldeyjarfoss, it will take you about an hour and a half.
When you get to a fence following the directions, you may think you made a wrong turn. You did not. You have to get out and open the fence to drive through it. Once you are through, make sure to close the fence to keep the sheep in! After the fence, you are only about 10 – 15 minutes from the waterfall.
There is a parking lot and two primitive bathrooms at Aldeyjarfoss. The parking lot was empty when we arrived, and we only saw two other couples about an hour after we arrived. We went at 8:30 p.m. or so though. From the parking lot, it takes about five minutes to walk down the trail along the gorge to Aldeyjarfoss.
Take time to enjoy the views of the gorge on your way down. One thing that sets Aldeyjarfoss apart from other waterfalls is the basalt columns lining the gorge and surrounding the waterfall. As it pours over the edge, it falls into a large pool area before making its way down the river. This pool area stayed covered in white foam from the power of the waterfall.
The sun shone down on the waterfall and columns when we first arrived, but by about 9 p.m. in June, the waterfall and many of the columns were in the shadows. When the sun shone down on the waterfall, it created a rainbow in the mist.
At Aldeyjarfoss, if you are up for an adventure, hike down to the base across from the waterfall to get to a little natural pool across from Aldeyjarfoss. This pool at Aldeyjarfoss is one of the pictures that regularly appears on social media. I have seen pictures of people in the natural pool across from Aldeyjarfoss, but it is not what it seems.
The pool is only about a foot deep at the deepest spot and the bottom is covered in algae. Even full it would not be all that deep. The water in the natural pool is cold but may warm up some in the direct sunlight. It is not all that enticing to climb into it, even for a picture.
NORTHERN ICELAND'S MOST POPULAR WATERFALL: GODAFOSS
About 45 minutes up the road towards Akureyri from Aldeyjarfoss, you will find Godafoss along the side of the road. If you're coming from Akureyri to Godafoss, the drive takes about 45 minutes. Because Godafoss is so easily accessible, it can get busy during the daytime.
We ended up at Godafoss close to 11 p.m. There were still a few other people around at that time and the summer sun hung low in the sky. From the parking lot, it only takes about 2 minutes to walk to the viewpoint. You can also walk over to the other side of the waterfall to see it from a different angle.
Godafoss is known as the Waterfall of the Gods because they threw the pagan gods in when Iceland became a Christian country to avoid an invasion. It is not just one waterfall but about five waterfalls together. Because of how large the waterfalls are, it makes for a beautiful view.
I read later that you can hike down to the base of this waterfall, but we did not know about it at the time. From the east side (by the cafe), you can follow a small trail to the bottom. It is not a long trail, but it does require some climbing over rocks.
Day 5: Driving from Akureyri to Reykjavik
As we left Godafoss and continued driving to Akureyri, we started looking for places to stay or even camp for the night. We looked for campgrounds in this area but had no luck finding one. We stopped at a few hotels, but this is a more expensive area of Iceland.
After realizing that, we decided to keep driving and get out of town to look for campgrounds. Around 2 a.m., our car broke down. We ended up being towed back to Akureyri and had to stay there for the night after all. It took until around noon for the rental company to find us a rental with a different company, so we had to shorten our itinerary for this day a little bit.
AKUREYRI: NORTHERN ICELAND'S BIGGEST CITY
Akureyri is the second largest city in Iceland. Known as the capital of the north, there is a port, airport, rental companies, etc. There are a ton of hotel options but not many camping options (at least not on Ring Road).
Most hotels in Akureyri started around $200 a night. This was more expensive than most other areas of Iceland. We stayed at the Icelandair Hotel Akureyri. The hotel was the nicest one we stayed in on the trip, but it was also the most expensive one we stayed in on the trip. We did not have breakfast here since breakfast cost $30 or so a person. Instead, the woman at the front desk gave us directions to her favorite local bakery.
Akureyri makes a great base for exploring northern Iceland. If you like city living and having more options around for food and hotels, set up base here for a few days and do day trips throughout northern Iceland. It is a cute town, and I would have liked to explore it more. Since we were on day 5 out of our 6 days in Iceland, we took off as soon as we had a rental car to make up for lost time.
VISITING THE SNAEFELLSNES PENINSULA IN A DAY
We planned to spend more time here and in the Westfjords area, but our broken down car delay took some time out of our six days in Iceland. We still drove through the Snaefellsnes Peninsula to see one of the waterfalls, and it felt like we landed on another planet. Similar to the rest of Iceland, the views are beautiful. The lava fields combined with the clouds to give it an otherworldly feeling.
Snaefellsnes is an easy two hour drive from Reykjavik. Coming from Akureyri though, it took over four and a half hours to get to this area. If you come to this area, know there is more to see including glaciers and ice caves. We ended up only stopping at Kirkjufellsfoss for the waterfall due to time.
KIRKJUFELLSFOSS & MOUNT KIRKJUFELL: WESTERN ICELAND'S MOST POPULAR WATERFALL
The parking lot for this waterfall is relatively small, so we parked across the street. Despite the full lot, there were no buses when we visited in the middle of the afternoon.
From the parking lot, there is a mostly paved walkway that goes up to the waterfall, across the top of the waterfall, and back down the other side. The path does not make a full circle, so you have to go back up and over to return to your car.
The view of Kirkjufell mountain in the background is the famous shot at this waterfall. Hike up and across the top of the other side of the waterfall to get the mountain in the background. It makes for great long exposure photos if you have the right filter with you (I did not).
While Kirkjufellsfoss is a beautiful waterfall, we needed more time on the Snaefellsnes peninsula. The waterfall alone is not worth the 4 hours round trip from Reykjavik. However, it is worth it if you are already in the area.
If you are a Game of Thrones fan, it makes an appearance in a few episodes apparently. If you are coming to Snaefellsnes, make sure to schedule in more than just this waterfall while you are there to really make it worth it.
From Kirkjufellsfoss, we drove back to Iceland to catch our flight to Paris and then Turkey that night before returning a week later to finish out day 6. Most people don't take a week vacation in the middle of their 6 days in Iceland, so you may have more time to spend in the Snaefellsnes peninsula or in Reykjavik than this 6 day Iceland itinerary includes.
Day 6: One Day in Reykjavik and Visiting the Blue Lagoon
Our sixth day in Iceland was actually a week later than the first 5 days in Iceland. We had a day layover at the end of our trip that ended up being more of a night layover.
Our plane landed late, and by the time we got our rental car, we left the airport around 1 a.m. We had to be back at the airport at around 9 a.m. the same morning.
We booked a room at Hotel Lotus and loved it for the few hours we were there. The breakfast included a large selection and the room felt larger than it was. The only negative was that the price was a little higher than we would have liked. The breakfast and location made the price more worth it though.
If you have extra time to spend in Reykjavik, there are plenty of other things to do in the area. Many people choose to make Reykjavik their base and take day trips from Reykjavik to explore Iceland.
However, that limits how far around Ring Road you can go. Reykjavik is the biggest city in Iceland, so if you plan on buying any souvenirs in Iceland, Reykjavik is the best place to find them.
BLUE LAGOON: SEE IT FOR FREE
Instead of going straight to the hotel and crashing, we decided to take advantage of the midnight sun. We drove straight to the Blue Lagoon. If you want to swim in the Blue Lagoon, tickets are about $90 a person.
Because of timing and not really wanting to pay that much for a man-made thermal bath, we chose to see the Blue Lagoon for free. Swimming in the Blue Lagoon is still on the bucket list for now.
There are some parts of the Blue Lagoon that are open 24 hours a day. This area is also free and easy to access. We ended up being there at the right time to watch the sunrise over the Blue Lagoon at around 3:00 a.m. in June. No one else happened to visit in the middle of the night with us. Click here for our full guide to seeing the Blue Lagoon for free any time of the day or night.
HALLGRIMSKIRKJA: ICELAND'S MOST FAMOUS CHURCH
Hallgrimskirkja is the most famous church in all of Iceland. During normal hours, go inside and up to the top to enjoy the view. Considering it was 4 a.m., that was not an option for us.
It did mean no one else was around for pictures though. The streets of Reykjavik were pretty empty at that hour of the morning. From Hallgrimskirkja, we headed straight to the hotel to sleep for a few hours before catching our flight home.
*****
Iceland is an amazing country. Visiting Iceland for 6 days in the summer allowed us time to go around Ring Road but not enough time to see it all. I'd love to go back in the winter to see the Northern Lights and compare the summer and winter landscapes.
Have you been to Iceland or is it still on your bucket list? Is there anything we missed that we need to make sure to see next time?
Looking for more Iceland tips and tricks? Find our top 5 waterfalls in Iceland (plus a few bonus waterfalls) here, our guide to hiking to the Sólheimasandur plane wreck here, and how to get into the Blue Lagoon in Iceland for free (and without the crowds) here. All photos in this post were edited with presets you can purchase here.
Love this post? Pin it or share it!