When you think about glamping locations, Florida may not be the first place that comes to mind. However, there are a few places for glamping in Florida, and the best one is Westgate River Ranch in Central Florida. Plus, if you are a Florida resident, you can find special discounts for a Florida staycation. Want to visit the theme parks in addition to a real Florida dude ranch? Westgate River Ranch is only about an hour away from Orlando's theme parks if you want a fun and unique experience to add to your Florida vacation.
With so many options from teepees to glamping tents to cabins to rooms in the lodge to actual campsites for your own tent or RV, Westgate River Ranch is perfect for families, couples, or large events. Furry friends are allowed as this is a place to go glamping in Florida that is pet friendly. Spend your days enjoying skeet shooting, airboat rides, horseback riding, archery, hayrides and more. Make sure to be there on Saturday night for the famous Westgate River Ranch Rodeo where cowboys and cowgirls compete for prize money each week. Below you can find a full review of Westgate River Ranch, the options for accommodations and the various activities offered that make for a fun Florida getaway.
***Our stay at Westgate River Ranch was sponsored, but all thoughts and opinions are my own.
ACCOMMODATIONS AT WESTGATE RIVER RANCH
Westgate River Ranch has plenty of options in all price ranges starting with campsites for your own tent or RV all the way up to luxury teepees. They have glamping tents, lodge rooms, and small and large cabins as well for parties of all sizes. Whether you are looking for a couples weekend getaway, a place for the kids to play at a Florida dude ranch, a place for a family reunion or a fun business retreat, Westgate River Ranch has an option that will work for you.
LUXURY TEEPEES AT WESTGATE RIVER RANCH
At the top of the line is the teepee hotel at the front of the property. The Westgate River Ranch teepees are the most expensive of the lodging options, but they may not be as expensive as they look. When you stay in a teepee, your breakfast and all of your activities are included for your stay. If you have a family with a couple of kids especially, the activities add up fast. It may end up costing the same amount as some of the other lodging options by the time you add up the activity costs. Plus, with the teepees, you get your own matching golf cart to explore the property.
From the outside, the teepees are impressive, but inside they are even bigger than they look. The decor has been meticulously chosen to fit the dude ranch and Western themes of the resort. At the end of the weekend at Westgate River Ranch, we did not want to leave the teepee behind!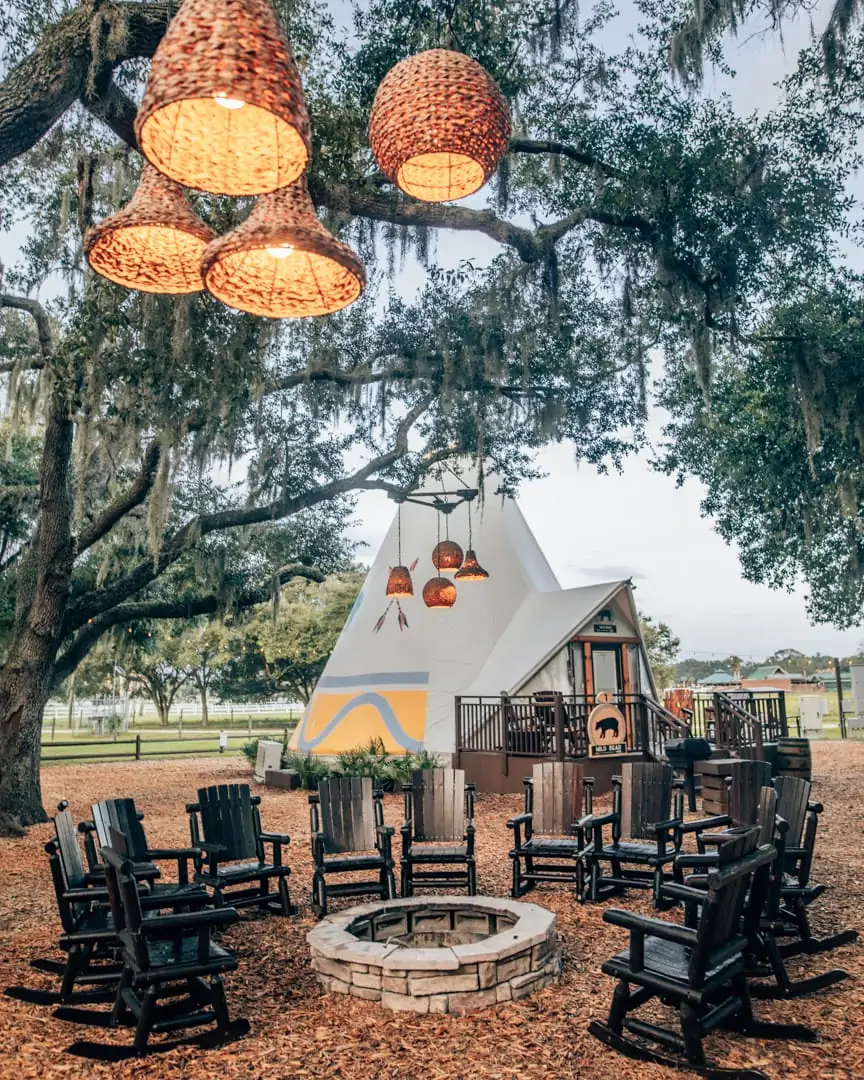 Each Westgate River Ranch teepee has a king bed and full size sleeper sofa. The teepees have their own bathrooms inside instead of separate bathrooms like the glamping tents. The inside of the teepee opens to a sitting area with a sofa and two chairs. A half wall splits the interior and makes the bedroom area more private. There is also a table and four chairs and a fireplace that can be used for lights or for emitting heat. The indoor bathroom includes vanity and sink, a bathtub/shower combo, and a top-of-the-line toilet with its own remote.
All of the entrances to the luxury teepee area have locked gates. Only the teepee residents have the code to open the gates. There is also a covered sitting area inside the teepee village and shared fire pits, but each teepee has its own picnic table, grill, and hammock. The front porch of the teepee has four rocking chairs, an ice chest, and a barrel for the team to drop off your breakfast each morning and keep it safe from animals.
Staying in a teepee also means you get access to the amazing concierge team at Westgate River Ranch. The concierge team is always available to make sure you have everything you need. They keep your ice chest filled with ice, drop off and pick up your breakfast each day, and check in on you to see if you need help with anything or have any questions.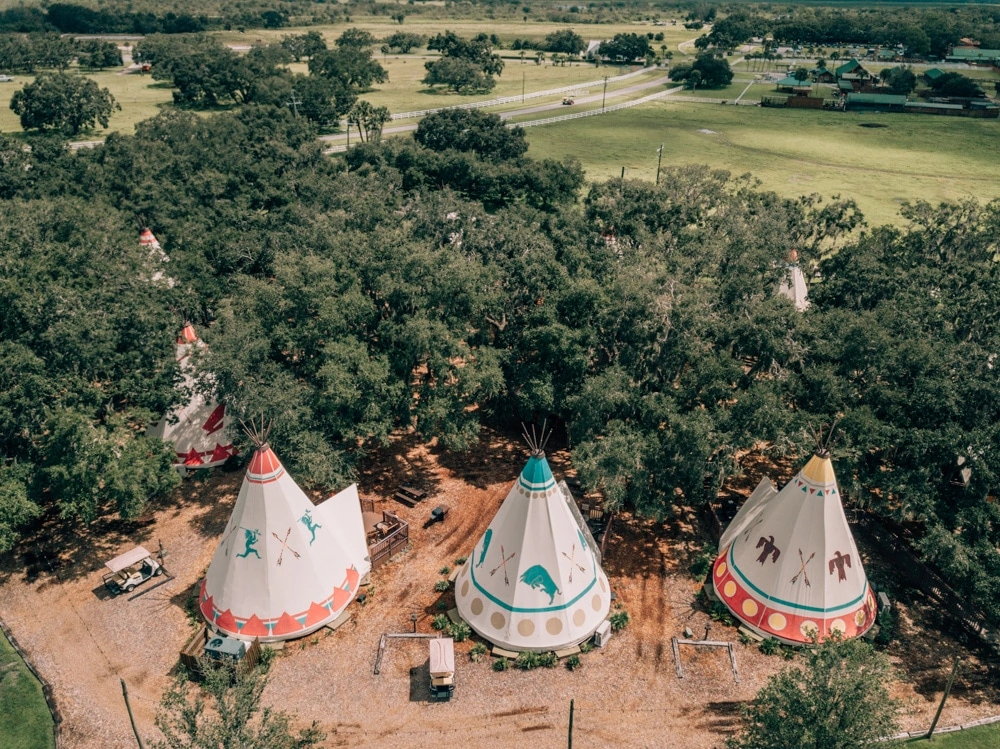 WESTGATE RIVER RANCH GLAMPING TENTS
We stayed in the glamping tents at Westgate River Ranch on our first stay and cannot say enough good things about them. After staying in the teepees, the teepees are the more luxurious option. However, the glamping tents are a great option for glamping in Florida and for a family getaway.
When we first arrived, we were ushered into our tent and shown where everything was. The room had a comfortable king bed and two twin beds in it. Even with the three beds, it still felt spacious inside. There was plenty of drawer space to store belongings, a stack of board games to play and a safe in the room. The rooms do not lock, but only others staying in the glamping tents can get in to the area. There is a locked gate with a code that stayed closed for our entire stay.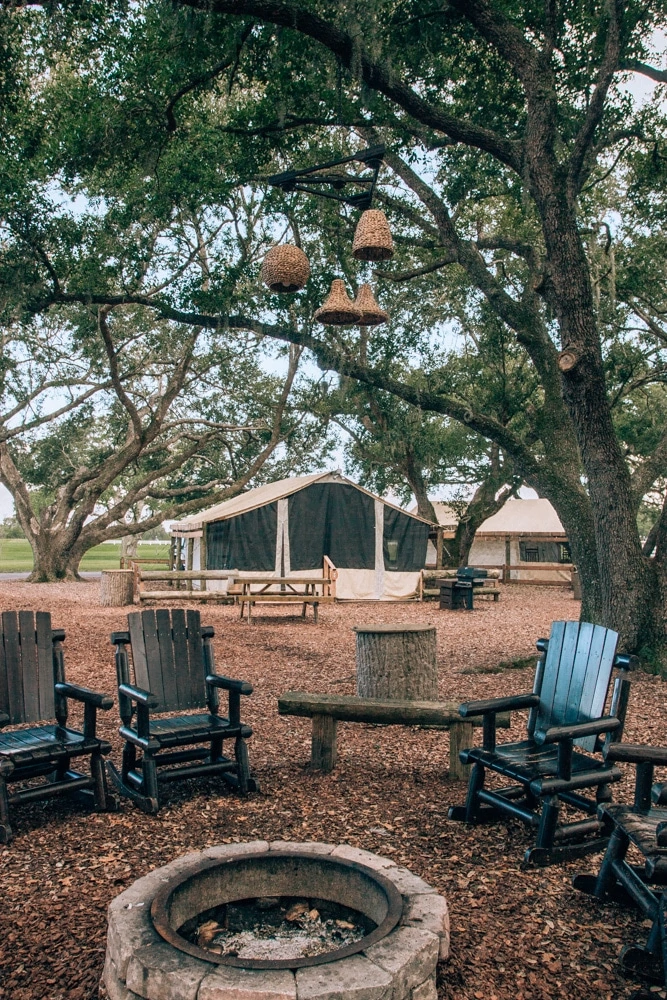 There is no table inside the glamping tent, but each tent has a porch with a table and chairs that is screened in. Although I am usually a magnet for bugs, I never got a single bite while we stayed there. The netting helped keep any bugs away (if there were any) and also kept the porch cooler. Even in the mid afternoon, the porch was significantly cooler and a comfortable place to sit and relax.
On Sunday morning, we enjoyed a breakfast of cinnamon buns and fruit on the porch at our table. They were delivered while we were out exploring that morning, and we were able to enjoy them in the peace and quiet and coolness of our porch.
The tent itself did not have bathrooms, but they were nearby. Each tent gets a key to an individual bathroom when you check in. The bathrooms are near the tents, so they are easy to access. Our tent was right next to the bathrooms, but we didn't even notice since our tent did not face the bathrooms.
Once you go in the building, there is a line of doors. The numbers match your tent number. The bathrooms are like a regular hotel bathroom with a sink, toilet, shower, towels, toiletries and a hair dryer. I grew up camping, so I am used to having to walk to the bathroom, but I've never seen a bathroom like this for camping!
Outside of the Westgate River Ranch glamping tents, there is an individual picnic table and grill. There are also a few shared fire pits that the Ranch lights each evening. If you want the fire going outside of those hours, you can bring or buy wood for the fire. We were able to meet some other glampers around the fire at night and enjoy the conversation.
LODGE & CABIN ACCOMMODATIONS AT WESTGATE RIVER RANCH
If you like the idea of Westgate River Ranch but aren't a fan of glamping, there are plenty of rooms that are more like real hotel rooms. The lodge options include regular rooms and suites. These are like normal hotels rooms with a Western feel to them.
There are also cabin options that sleep anywhere from 4 – 8 people and cottages for 4 – 6 people. These give you all of the amenities and comforts of home with the rustic feel and outdoor activities provided at the ranch. They have recently added the Saddle Club Rail Cars which offer a unique cabin style with a queen bed and bunk bed for the kids. They are long and narrow like the cars of a train but still have room for four people inside.
CAMPING INSTEAD OF GLAMPING AT WESTGATE RIVER RANCH
If you have your own RV or tent, you can also just rent a space for them. The campsites fill up fast on weekends especially in the winter months. Each campsite has water and many of the sites have electricity. Soon, all of the sites will have both power and water available. People staying at the campsites share nearby bathrooms. The campsites are the cheapest way to stay at Westgate River Ranch if you are wanting to visit on a budget.
THINGS TO DO AT WESTGATE RIVER RANCH
While you are visiting Westgate River Ranch, glamping or not, there are plenty of things to do. There is the rodeo every Saturday night, but there are lots of activities every day of the week. Enjoy activities for the whole family like the petting zoo, pony rides, mini golf, rock climbing, horseshoes, bounce houses on Saturdays, and a zip line. There is a catch and release pond or nearby fishing spots if you enjoy fishing and a full-service marina. They also offer airboat rides, horseback riding, skeet shooting, archery, hayrides, line dancing, and more. Fees for many of these activities can be found here.
THE WESTGATE RIVER RANCH RODEO
The Westgate River Ranch Rodeo surprised me. I first heard of the ranch and the rodeo in their radio advertisements. You can attend the rodeo without staying at the ranch. The rodeo takes place every Saturday night at 7:30 p.m. Tickets are about $20 for adults but included if you stay in the teepees. In September, first responders, their spouses, and their children get in free with valid ID.
I did not expect much when we first arrived and did not see many people. It turns out that the ranch is much bigger than we realized. The rodeo was nearly full with 1,200 seats. The events include bull riding, barrel racing, and trick riding. Kids can also enter the calf scramble for free.
I grew up going to rodeos, and the Westgate River Ranch rodeo impressed me. We met one of the barrel racers there, and she told us that the rodeo is a cheaper entry fee than most. That means they can come practice with the horses they ride competitively and also break in new horses. They still win prize money, so it's a nice way for them to get in some extra rides.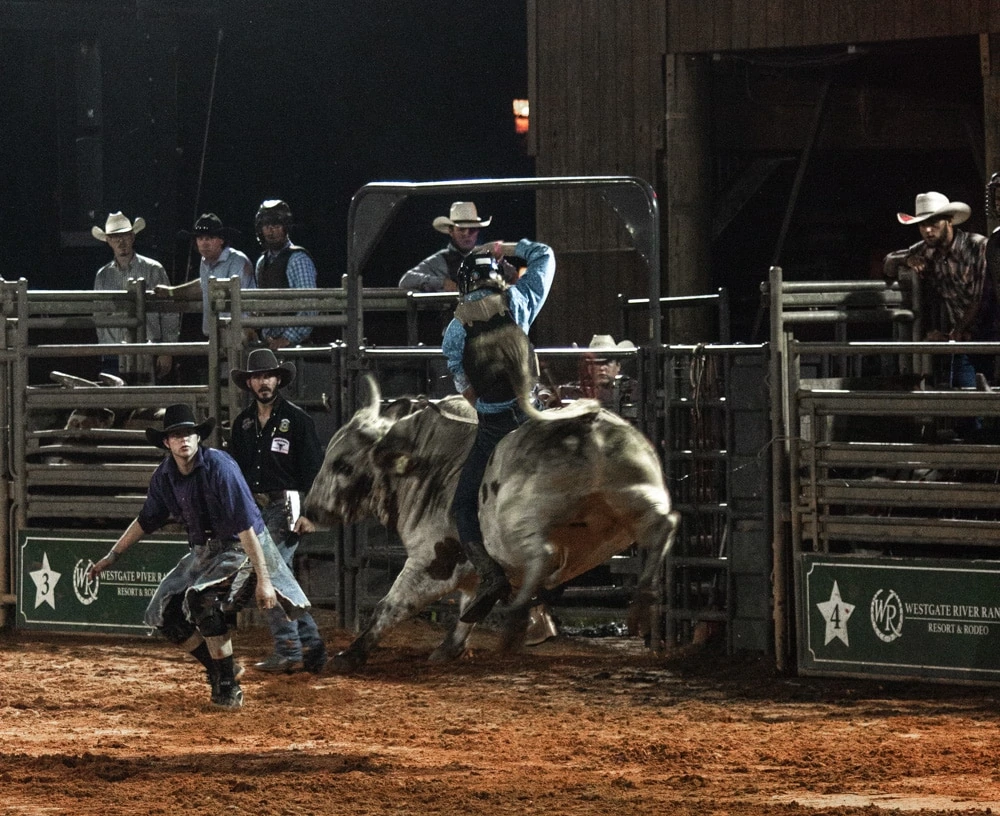 She also told us about a special treat if you enjoy the rodeo. You can stick around after the rodeo ends and everyone leaves to have a private show for the rest of the barrel racing. Because there are too many entries for the rodeo time frame some weeks, the rest ride after the rodeo ends. That is when the prize money is determined since there are more riders left at the end of the rodeo sometimes.
LINE DANCING AT THE SALOON & THE RODEO AFTER PARTY
After the rodeo, there is a dance party outside of the saloon. There is a DJ and a dance floor for a few hours after the rodeo ends. You can also test your skills on the mechanical bull, cook s'mores around the campfires right outside the stadium, or try one of the other games and activities that are set up. This is free to everyone, so it is worth it to stop by before heading back to your accommodations.
The Westgate River Ranch Saloon opens on Friday and Saturday nights with line dancing and a full bar. On Friday nights at 7 p.m., there are free line dancing lessons. Then stick around when the music starts to try out your new line dancing skills. On Saturday nights, there is also live music at the saloon. You must be 21 and up to enter the saloon on Saturday nights. The outdoor dance floor is for all ages.
WESTGATE RIVER RANCH SKEET SHOOTING & ARCHERY
Want to try your shooting skills while living in the Wild West world at a dude ranch? Try out skeet shooting or archery. Rent a bow and arrows to try your aim at the targets painted on hay bales. If you have never tried archery, they do have someone on hand to teach you the correct way to hold the bow and shoot the arrow.
They also have a skeet shooting range that used to host a skeet shooting championship. They offer two sizes of guns, a 12 gauge and a 20 gauge. Safety is a huge priority at the skeet shooting range, and no phones or cameras are allowed as your full focus needs to be on shooting. Ear plugs are provided, and they go over gun safety and how to hold the gun correctly. You must be at least 13 to try your hand at skeet shooting. Yell "Pull" and see how you do when the clay flies!
SWAMP BUGGY RIDES AT WESTGATE RIVER RANCH
The swamp buggy rides take you through the back of the Westgate River Ranch property, allowing you to experience natural Florida. Keep an eye out for Florida wildlife while enjoying the ride. Each ride takes about 45 minutes. The swamp buggy holds about 10 people, and they have two swamp buggies available for rides.
AIRBOAT RIDES AT WESTGATE RIVER RANCH
The airboat rides leave from the marina at Westgate River Ranch and take you down the Kissimmee River. Keep your eyes open for alligators, turtles and more on the 40 minute guided tour. Airboats can travel through marshes and grass, and you experience both water and marshlands on this tour. Tickets for adults are $30 and for kids ages 2 – 11 are $20. If you want to ride the airboat for longer, you can arrange for an extended airboat ride for an additional fee.
HAY RIDES & HORSEBACK RIDES AT WESTGATE RIVER RANCH
While pony rides are available for younger kids, guided horseback rides are available for older kids (8 and up) and adults. The horses are well-trained and helmets are available if you are worried about falling off. The horses mostly follow the horse in front of them, requiring very little direction from the rider. Take a one- or two-hour guided tour or try out beginner lessons. The 45-minute trail ride costs $48.15 per person but are included if you are glamping in the Westgate River Ranch teepees.
FREE ACTIVITIES AT WESTGATE RIVER RANCH
The free activities include a petting zoo with a ride range of animals, tennis and basketball courts, swimming pools, and fishing. You can also bike around or take your own personal golf cart and ride around the ranch (the resort also rents out golf carts). There are pastures for horses and other animals including some longhorns.
If you are at Westgate River Ranch on a Sunday morning, you can also attend church at the River Ranch Chapel at 10:00 a.m. Dress is casual for the service, so no pressure to bring your Sunday best. Ray Duncan, the manager of the ranch and emcee of the rodeo, is the pastor of the church.
DINING AND SHOPPING OPTIONS AT WESTGATE RIVER RANCH
You can bring your own food to cook for yourself and bring all of your supplies with you at Westgate River Ranch depending on where you stay. Many of the lodge rooms and cabins have kitchen options to cook your own food. The glamping tent and teepees do not have an option to cook your own food other than at the shared fire pits. If you are camping, you can cook your food over your own fire pit.
You can also purchase supplies or eat out at the ranch. If you do not want to haul all of your supplies with you, the General Store sells most supplies you would need as well as specialty gifts. In this area, you can also find the Post Office, Village Laundry, and Kids Corral.
As far as dining options, there is the Smokehouse Grill or the deli at the General Store. The General Store also serves Starbucks if you need your coffee to start the morning. The saloon has a full bar but does not offer meals. We ate at the Smokehouse Grill and found the meals were large enough to share with an appetizer. There is also a full buffet and buffet breakfast if you are really hungry!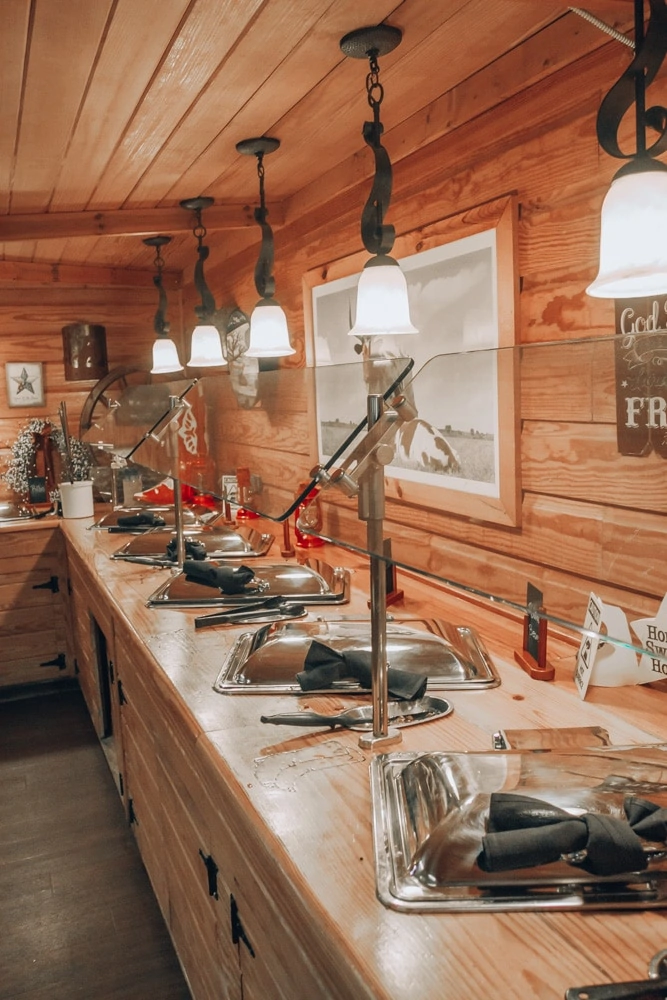 THE BEST TIME TO GO GLAMPING IN FLORIDA
The best time for glamping in Florida is during the winter months. The weather cools off and the humidity is lower from mid-November until early March. There may still be some hot days mixed in, but the accommodations at Westgate River Ranch are air-conditioned. There is also a pool for the warmer days and summer months.
Because the weather cools off in the winter, camping and glamping in Florida gets more popular. Make sure to book in advance, especially if you plan to stay for a weekend in the glamping tents or teepees. Even in the summer months, holidays are popular at Westgate River Ranch.
Overall, we enjoyed our stay at Westgate River Ranch and plan to go back in the future. We visited in the fall both times and found it enjoyable even on hot days. It is the perfect staycation for Florida residents and a fun getaway for visitors coming to Disney and the other theme parks.
Looking for a Florida beach vacation instead? Check out our full review of Westgate Cocoa Beach Resort & Westgate Cocoa Beach Pier. If you'll be in Orlando for the holidays, check out our full list of Christmas activities in Orlando here. And if you want to add a southwest Florida beach to your itinerary, don't miss the best things to do in Fort Myers Beach.
Like this post? Pin it to share with others and easily find it later!