If you are like me, your travel bucket list is always growing. If you are looking for new places to add to your travel bucket list for 2023, these are some places you don't want to miss.
Since we have visited 45 countries, one of the most common questions we get is, "What is your favorite place you have been?" That is an impossible question to answer. We have fallen in love with so many places along the way.
Instead of picking just one, we have picked our top 20 travel destinations. Some of them are entire countries, some are specific cities, and others are our favorite states in the US.
In addition to helping you add new places to your travel bucket list, we are including when to go, what to do there, and what type of traveler is best suited for that location.
Is the location best for adventure travelers? Is it best for families? Should you plan to spend all of your money or is it a budget travel destination? No matter what kind of traveler you are, there is somewhere for you on this list.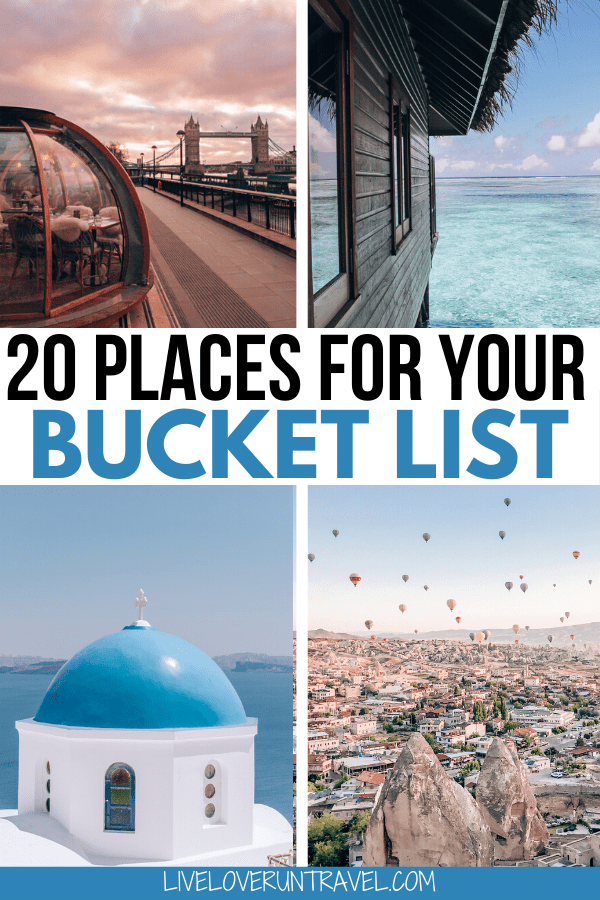 BEST STATES TO VISIT IN THE USA
Since we are both born and raised and still live in the US, it makes sense to start with our favorite travel destinations in the USA. If you haven't been to these US states yet, add them to your 2023 travel bucket list now.
FLORIDA: MORE THAN JUST THEME PARKS
Best Time to Visit: October – March (or summer for a beach vacation but it is hot otherwise)
Types of Travelers: Families, couples, friends & solo travelers
Perfect For: Beaches, the outdoors, and theme parks
Can't Miss Stops: Orlando, Cocoa Beach, the Keys, St. Augustine, Miami, Clearwater Beach
I have to start with the state I have called home my entire life. My family moved to Florida in the 1920s, so Florida runs in my blood. While I was born and raised in Orlando, my husband was born and raised in south Florida.
Because of the heat and humidity most of the year, the best time to visit is between October and March. Our best weather is from December to February when a series of cold fronts temporarily cool off the weather and drive the humidity away.
If you come in the summer months (or really anytime from April to September), plan to spend time indoors or in the water. Hurricane season runs from June 1 to November 30. If you plan to visit during those months, have a back-up plan just in case.
Florida has so much to offer, from theme parks to freshwater springs to white sand beaches. The most popular stops in Florida are Orlando and Miami, but there are lesser known places that deserve a visit as well.
Florida is also a great starting point for a cruise with multiple ports around the state. If you enjoy cruising or want to go on your first cruise, consider using the casino status match merry go round to get free cruises (no gambling needed!).
VISITING FLORIDA'S BEST THEME PARKS
The top thing that brings people to Florida is our theme parks. Disney World, SeaWorld, and Universal Studios are all located fairly close to each other in Orlando. Each of them also have accompanying water parks. Throughout the year, they put on special events for different holidays like Christmas. These theme parks alone make it easy to fill an entire vacation.
Located just an hour an a half away from Orlando is Busch Gardens Tampa Bay. Busch Gardens is known for attracting thrill-seekers for the roller coasters filling the park. Halfway between Orlando and Tampa is Legoland Florida, a more popular stop for families traveling to Florida.
THE BEST BEACHES IN FLORIDA
Florida is also known for our white sand beaches. It is hard to go wrong with beaches in Florida, and there are plenty to choose from. Our favorite beaches to visit from Orlando are Cocoa Beach on the east coast and Clearwater Beach or Pass-A-Grille on the west coast.
Miami and south Florida are also known for having some of the best beaches in Florida. Check out well known spots like South Beach and West Palm Beach or discover lesser known parts of the coast like Blowing Rocks Beach (not a sandy beach!).
Near Orlando, the more popular beaches are Daytona Beach and New Smyrna Beach. If you go to New Smyrna Beach, make sure to stop at Frozen Gold for the best ice cream after a day at the beach. Both of these are popular tourist destinations, but we prefer to escape to Cocoa Beach where it is more locals than tourists. All three of these beaches make for an easy day trip from Orlando.
Other popular beach destinations in Florida include Sarasota, Jacksonville, Destin, Panama City Beach, Fort Walton Beach, and Pensacola. We also love camping on the beach at St. Joseph Peninsula State Park.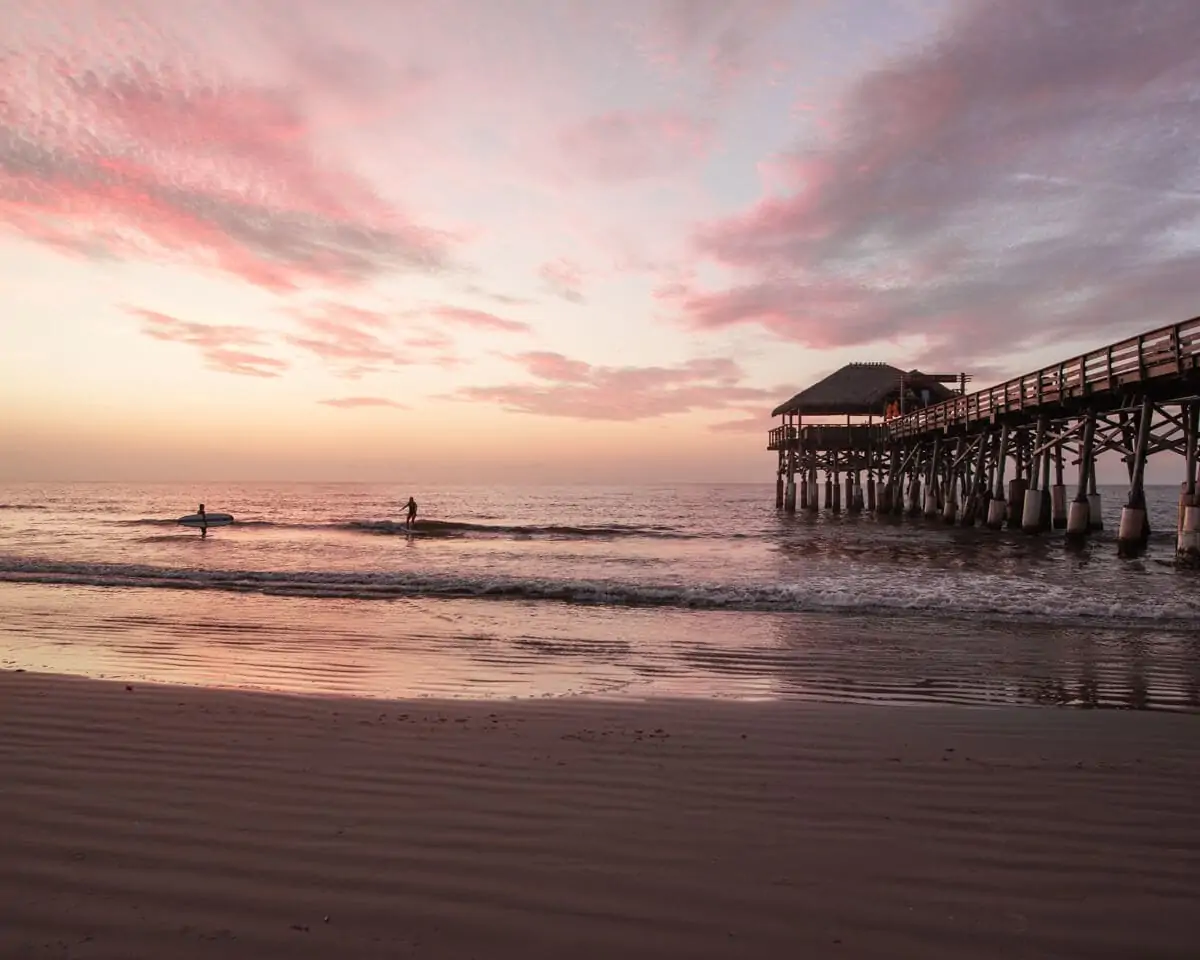 THE BEST FRESHWATER SPRINGS IN FLORIDA
Besides the beaches or water parks, the other way to stay cool in the summer is our fresh water springs. The springs in Florida stay around 72°F all year long. In the summer, this feels cold but refreshing. Since they stay the same temperature year round, they also make for popular spots in the winter.
Most of the springs have swimming as well as kayaking or paddle boarding. At some springs, you can swim with the manatees. Others offer glass-bottom boat tours if you don't want to risk getting wet.
Our favorite springs in Florida include DeLeon Springs where you have to eat pancakes at the Old Spanish Sugar Mill, Ginnie Springs, Rainbow Springs, Wekiwa Springs, Rock Springs (Kelly Park), Devil's Den and Weeki Wachee Springs where they have a live mermaid show.
VISITING MIAMI AND THE FLORIDA KEYS
Miami is a popular spot for the beaches and city life, but drive a little further south and check out Coral Castle. This entire structure was made by one man and sits on the land edge of the Bermuda Triangle. The story of this place fascinates me, and people still can't figure out how the place was built. While you are there, don't miss the milkshakes at Robert is Here.
The Florida Keys is another popular spot in south Florida and for good reason. It takes about four hours to drive from Miami to Key West, but Key Largo is also great for snorkeling and a Keys retreat without the long drive.
If you do make the drive to the southernmost point in the continental US, enjoy the views along the way. Don't be afraid to stop on different keys as you go. Make sure to eat some key lime pie while you are there too!
STEP BACK IN TIME IN ST. AUGUSTINE
One last stop in Florida is the city that claims to be the oldest city in the US. Check out the fort, Castillo de San Marcos, and visit the oldest school house. Eat at Columbia Restaurant or Harry's Seafood Bar & Grille where they have deep fried Oreos. Then stop by Savannah Sweets for some dessert to go. Take a sunset sail on the Schooner Freedom.
While you are in St. Augustine, check out the lesser known Fort Matanzas. It is only about 30 minutes south of St. Augustine. The fort was built to protect St. Augustine and warn them of attacks from the south.
UTAH: NATIONAL PARKS AND SNOW SKIING
Best Time to Visit: Fall or spring for best hiking weather, winter for skiing
Types of Travelers: Families, couples, friends & solo travelers
Perfect For: Adventure and the outdoors
Can't Miss Stops: Arches National Park, Moab, Park City, Zion National Park, Bryce Canyon National Park, Bonneville Salt Flats
The second state on our list is Utah. We love Utah. I have been to Utah in the summer, spring, and winter so far. If you are skiing, go in the winter. Otherwise, spring and fall give you cooler temperatures that make it perfect for hiking. If you go in the summer, take plenty of water as the temperature can reach over 100 F.
UTAH'S NATIONAL PARKS
Utah is best known for it's five national parks: Arches, Bryce Canyon, Zion, Canyonlands, and Capitol Reef. These parks make for a great road trip and are easy to see in a week if needed.
While we have been to all but Canyonlands, Arches is our favorite overall. Our favorite hikes there are Delicate Arch and Devil's Garden. We also loved Sand Dune Arch for the shade in the afternoon heat. The views just driving through the park are amazing too. If you are spending time in Moab, you can also visit the bright blue potash ponds in the middle of the desert for a unique view.
We also love Zion National Park and Bryce Canyon. Try out the hike to Angel's Landing in Zion, but it is not great for the faint of heart or those with a fear of heights. We did not get a chance to hike the Narros as it was not available when we went.
In Bryce Canyon, we hiked in at Sunset Point and back out at Sunrise Point. We were happy to be hiking in at Sunset Point and not out as it seemed to be the steeper of the two paths. There are longer trails available, but we were happy with this trail and exploring the area between the two.
We did not spend much time in Capitol Reef. We did enjoy the Hickman Natural Bridge and Cohab Canyon while we were there. You can also check out the nearby Bentonite Hills for a more unique place to visit in Utah.
SNOW SKIING AND THE SUNDANCE FILM FESTIVAL IN PARK CITY
Park City is beautiful in the summer and great for outdoor activities all year. However, it is also perfect for snow skiing in the winter.
We went years ago to go snow skiing, but I broke my ankle a few weeks before the trip. Thankfully the Sundance Film Festival was in town the same week. Instead of spending my week on the slopes, I watched movies at Sundance and ran into different celebrities as I hobbled around town.
From Park City, you can also take day trips to Salt Lake City or ride the Heber Valley Railroad for scenic views. The Bonneville Salt Flats are also worth a stop in Utah.
CALIFORNIA – ROAD TRIP THROUGH A STATE THAT HAS IT ALL
Best Time to Visit: Any time of the year for most of the state
Types of Travelers: Families, couples, friends & solo travelers
Perfect For: City life, beaches, road trips and the outdoors
Can't Miss Stops: Los Angeles & nearby beach towns, Laguna Beach, Joshua Tree National Park, Death Valley National Park, Yosemite National Park, San Francisco, Lake Tahoe, Big Sur, Sequoia National Park
California has so much to see and something for everyone. There are the big cities like Los Angeles and San Francisco, but there are also deserts, mountains, beaches, and everything in between.
California makes for a great road trip destination, and we have taken a few road trips through California. Taking a road trip gives you the freedom to stop and see anything you want along the way, and in California, there is plenty to stop and see.
If you're looking for a way to get away from it all in California, consider staying at a Getaway House. My friend Michelle of Live Like It's the Weekend stayed there, and it looks amazing. Get the full Getaway House review in Big Bear, California to see if it fits your travel style.
BIG CITIES TO VISIT IN CALIFORNIA
Los Angeles is one of the most popular stops in California and for good reason. You can search for stars or spend your day checking out the variety of beach towns nearby, each with its own vibe. Make sure to hike up to the Hollywood sign and watch a sunset at the Santa Monica Pier. See the stars on Hollywood Boulevard and check out the famous Chinese Theater.
If you love movies and TV shows, you can watch live recordings of several shows or drive around to check out famous filming spots. Take a tour with TMZ for all the inside scoop. Don't be surprised if you run into a film set somewhere in town.
San Francisco is another popular city to visit in California. You can see it in a day or explore the city in more depth. No matter how much time you have, be sure to see the Golden Gate Bridge (it is hard to miss). You can take a trip out to Alcatraz or check out the Painted Ladies while you are there too.
CALIFORNIA'S NATIONAL PARKS
California has several National Parks, and each one has something different to offer. Yosemite is located east of San Francisco and is great for hiking. Make sure to see Half Dome and El Capitan and take the quick hikes to Lower Yosemite Falls and to Bridalveil Falls. If you have longer to spend in the park or want more challenging hikes, the park has plenty to offer.
Joshua Tree National Park is perfect for a quick trip, and you can see most of what the park has to offer in a day. The park is known for the tree it is named after, and you see plenty of them as you drive through the park. Make sure to check out Arch Rock and the Cholla Cactus Garden as well. For more information, check out our guide to one day in Joshua Tree National Park.
Death Valley National Park is another unique park in California. If you plan to visit Death Valley, try to go anytime but summer. I visited Death Valley the first time in the summer and mostly drove through the park thanks to temperatures that hit 121°F (49°C).
The second time, we visited in March. The temperatures made it nice for hiking out to the Mesquite Sand Dunes and Badwater Basin. Take time to drive through Artist's Pallette and maybe even hike out at the stops. For more information, check out our top things to do in Death Valley and where to stay in Death Valley or nearby.
ARIZONA AND THE GRAND CANYON
Best Time to Visit: Spring or Fall
Types of Travelers: Families with older children, couples, friends, & solo travelers
Perfect For: Hiking, the outdoors
Can't Miss Stops: Desert Tower Watchtower, Rim Trail
Since I went with states for the US, Arizona makes the list for the Grand Canyon. Everyone needs to see the Grand Canyon at some point.
You can see the Grand Canyon in a couple of hours or spend a few days and hike down into the canyon. No matter what, try to see a sunrise and/or a sunset at the Grand Canyon. I loved watching the sunset at the Desert View Watchtower. When the sun is low in the sky, you really see the colors that make up the Grand Canyon and watch them change.
If you are not up for hiking, there are walkways along the rim of the Grand Canyon that make it more accessible. If you are up for more of an adventure, hike down into the canyon part of the way. You can hike all the way to the bottom or do a rim to rim hike, but those require some supplies and planning in advance.
BEST PLACES TO VISIT IN EUROPE
Europe has so many amazing places to visit. You can find beautiful castles, gorgeous views, delicious food, and modern architecture sometimes all in one place. It can be overwhelming to plan a trip to Europe because of all the options, so hopefully this list helps narrow it down some. This list includes countries as well as specific destinations or cities.
SANTORINI, GREECE: THE BEST SUNSETS
Best Time to Visit: Late spring or early fall
Types of Travelers: Couples, friends & solo travelers
Perfect For: Relaxing, hiking
Can't Miss Stops: Oia, black sand beach, Skaros Rock
Most of the time, if I have to pick one place to say as my favorite, I say Santorini. We visited Santorini on our first trip to Europe together back in 2011 after one year of marriage. We decided then that we would return for our 10th wedding anniversary but then the world shut down just as we were getting ready to leave.
Santorini is tough to beat with the beautiful views of the city of Oia with the blue water and white washed buildings. A sunset in Oia is a must and one of the top things to do in Santorini, but be ready for the crowds. Santorini has only grown in popularity over the last few years, so visiting in the high season means lots of crowds all day, especially at sunset.
The best way to see the island is to rent a 4-wheeler. Check out the black sand beach and red sand beach. Hike out to Skaros Rock if you are up for a little bit of adventure.
If you are up for a bigger adventure and longer hike, you can hike all the way from Fira to Oia. The hike is 6.5 miles (10.5 km) one way and takes anywhere from 2 to 5 hours or longer with a stop at Skaros Rock.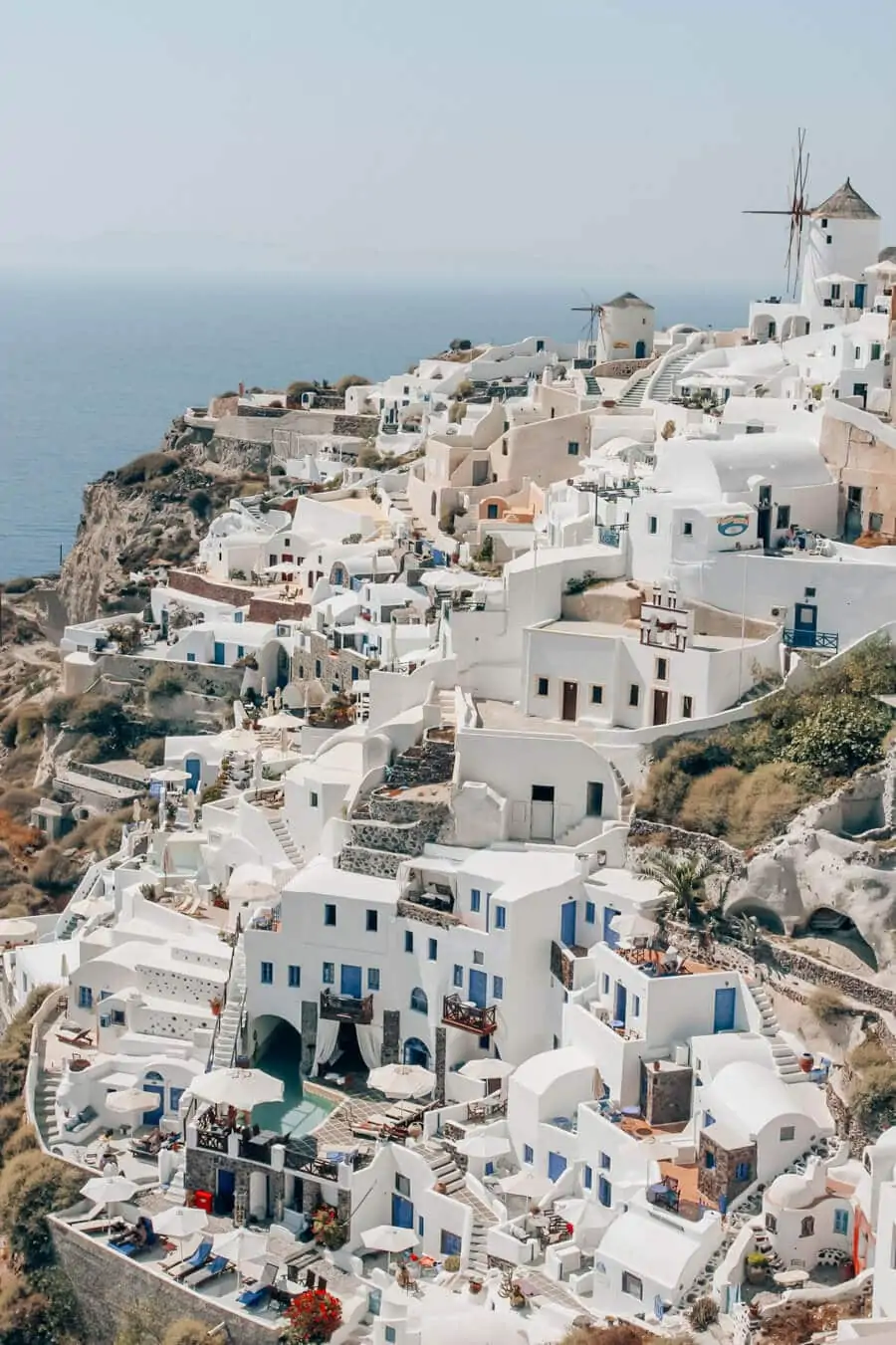 LONDON: PERFECT FOR FIRST TIMERS
Best Time to Visit: Anytime but especially Christmas
Types of Travelers: Families, couples, friends & solo travelers
Perfect For: City life, history, architecture
Can't Miss Stops: Tower Bridge, St. Paul's Cathedral, Westminster Abbey, Buckingham Palace, Tower of London
London was my first international travel destination. For Americans especially, it is a great place for your first international trip. It is fairly easy to navigate and you know the language despite some differences in the two versions of English.
There are perks to visiting London in each season. In the spring, London is covered in blossoming flowers, Many storefronts are covered in beautiful floral designs. Other than heat waves, the summer makes for a great time to explore London as the city bustles. In the fall, London is again washed in colors.
In the winter though, London does Christmas like no other. If you have a chance to visit London during December, go check out the city when it is covered in Christmas lights. Check out our guide to the best Christmas lights in London to see when the lights start and end as well.
Climb to the top of St. Paul's Cathedral for the best view of London. See the crown jewels at the Tower of London and check out the famous Tower Bridge too. While you are in that area, dine in an igloo at Coppa Club Tower Bridge for a unique experience.
For a full guide to the top spots in London and how to see them in just a few days, check out our 3 day London itinerary.
PARIS: EIFFEL TOWER + BEAUTIFUL ARCHITECTURE
Best Time to Visit: Anytime but especially New Year's
Types of Travelers: Families, couples, friends & solo travelers
Perfect For: City life, history, architecture, food
Can't Miss Stops: Eiffel Tower, Trocadero, Arc de Triomphe, Notre Dame, Louvre Museum, day trip to Versailles
Paris one of my favorite cities thanks to the beautiful architecture. Even if you don't go to any of the main tourist spots, Paris is still beautiful. I could get lost for hours just walking around looking at the buildings.
The best part about walking around is how the Eiffel Tower randomly pops up between buildings or above them. It is worth the money to take a trip to the top of the Eiffel Tower too. Get tickets early and go to the top to enjoy the view of the city.
Sunset is a beautiful time to be at the top of the Eiffel Tower if possible. Plus, you get to see the city in the day time and when the lights come on at night.
Make sure to see the views from Trocadero and the top of the Arc de Triomphe too. The Arc de Triomphe is also the best spot in Paris for New Year's. The Louvre is worth a visit as well. If you have time, take a day trip out to visit Versailles while you are there.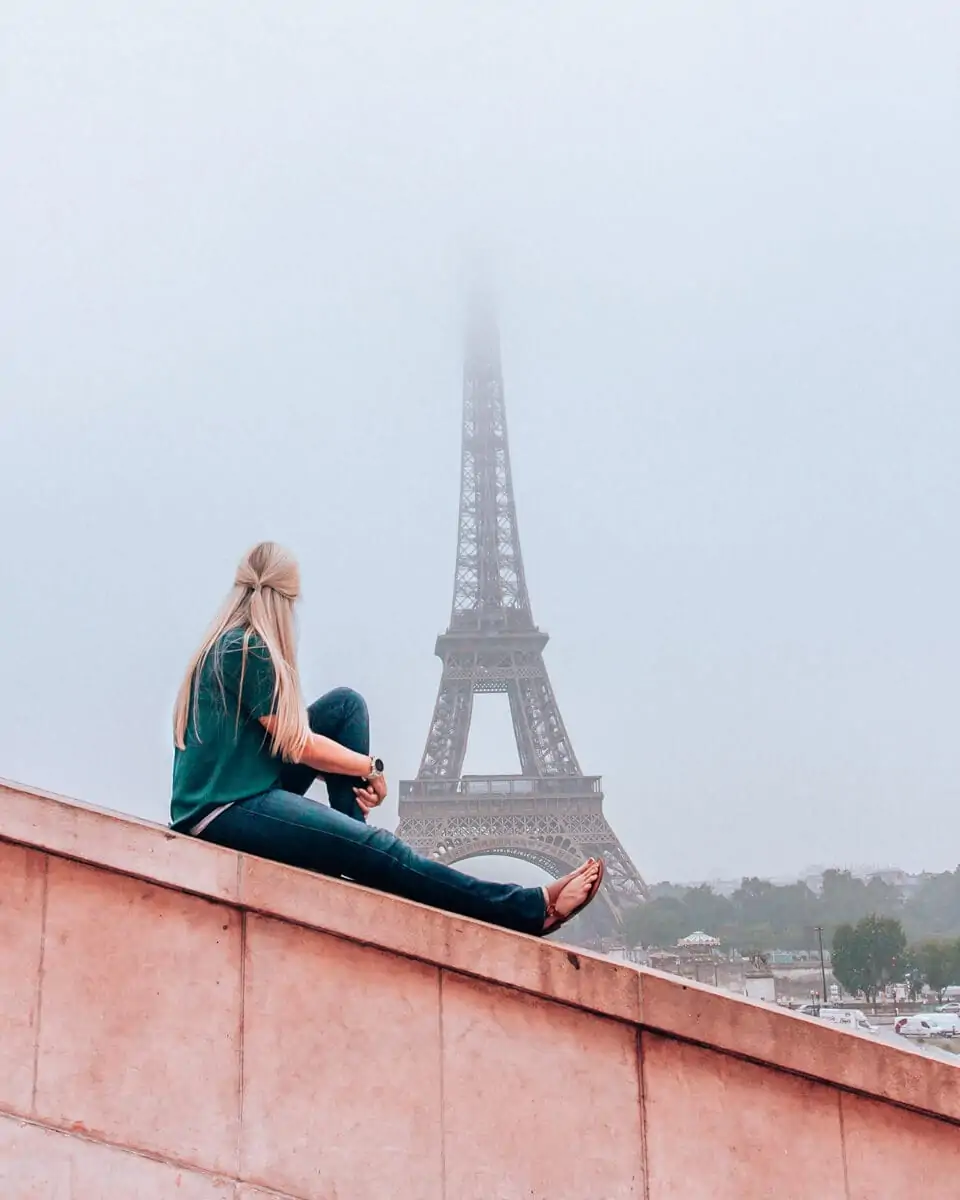 ICELAND: WATERFALLS AND RING ROAD
Best Time to Visit: Summer or Winter
Types of Travelers: Families, couples, friends & solo travelers
Perfect For: Outdoors, hiking, road trips, northern lights
Can't Miss Stops: Golden Circle, Aldeyjarfoss, Haifoss, Seljalandsfoss, Jokulsarlon Glacier Lagoon
We visited Iceland in the summer which meant we had the midnight sun on our side. This made it easy to visit places when no one else was around as it never really got dark. The downside was no northern lights. Visiting in the winter means colder temperatures and less sunlight but a chance to see the magic of the Aurora Borealis.
When in Iceland, rent a vehicle and take a road trip around Ring Road. Try to get a 4-wheel drive vehicle as some roads only allow them and they make other roads easier. We ended up doing Ring Road in 6 days, and our full Ring Road itinerary is here.
For more information on Iceland, check out our top waterfalls in Iceland, our full guide with everything you need to know about hiking to the Sólheimasandur plane wreck, and how to see the Blue Lagoon for free (you can't swim in this part though!).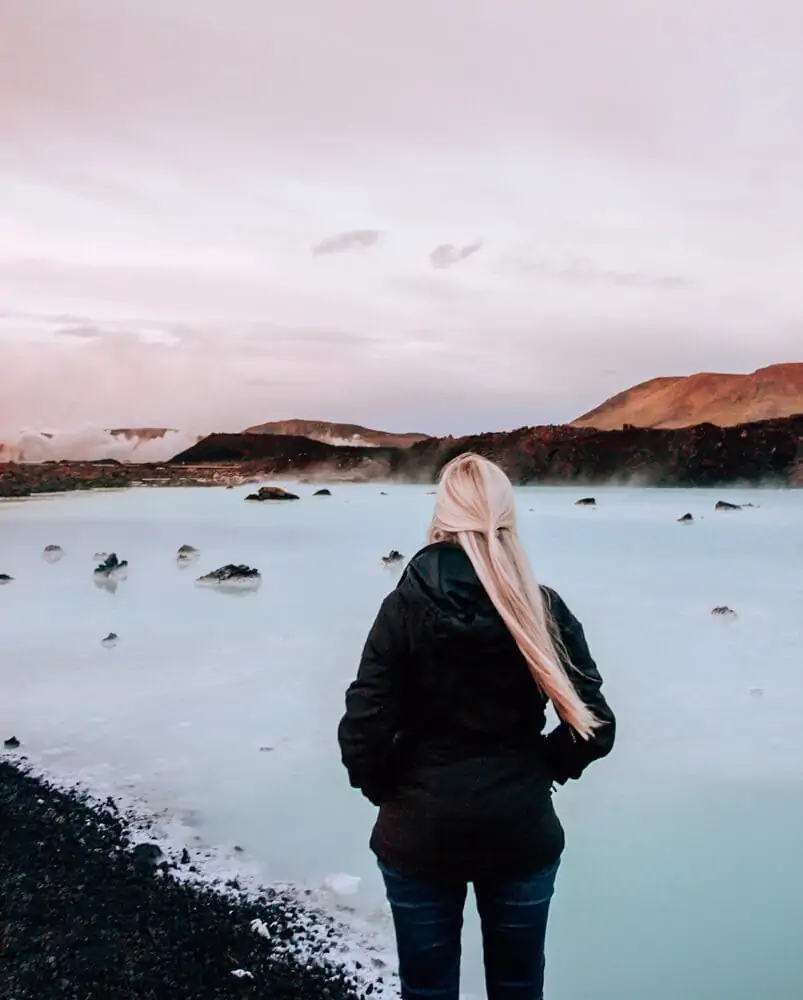 AUSTRIA: GORGEOUS LANDSCAPES & SOUND OF MUSIC
Best Time to Visit: Any time of year
Types of Travelers: Families, couples, friends & solo travelers
Perfect For: Outdoors, hiking, history, architecture
Can't Miss Stops: Salzburg, Hohensalzburg Fortress, Vienna, Schonbrunn Palace
Austria is still on my bucket list even after visiting. I'd love to go back and do some hiking and see Hallstatt next time. Austria is just gorgeous in every direction. No matter where you look, there is a beautiful view.
Since my mom raised me on The Sound of Music, I had to visit Salzburg. Believe it or not, the movie isn't so popular there, but you can walk to most of the movie sites in a day. My favorite spot was the view from across the lake of Schloss Leopoldskron which served as the Von Trapp house. Here is a full guide to the Sound of Music sites from Helene in Between.
I saw a lot of Vienna on foot since I had to do a 14 mile training run along an island in the middle of the Danube. Afterwards, we checked out Schonbrunn Palace on the outskirts of Vienna. The grounds alone are impressive there, and the palace is huge. Take time to wander the gardens whether or not you decide to tour the inside.
BELGIUM: CHOCOLATES, FRITES, AND WAFFLES
Best Time to Visit: Any time of year
Types of Travelers: Families, couples, friends & solo travelers
Perfect For: Food, history, architecture
Can't Miss Stops: Brussels, Brugge, Bastonge War Museum
Apparently my eating habits come from the Belgian side of the family. Every day in Belgium, I made a point to eat a waffle, chocolate, and frites (fries). It wasn't hard to do as they are sold everywhere.
Besides the food, I also love Belgium for the history. My grandfather fought in the Battle of the Bulge in World War II and was injured there. The Bastogne War Museum does an incredible job of weaving together stories and artifacts to tell the story of the Battle of the Bulge and World War II. There are also foxholes from the 101st Easy Company nearby.
Brugge deserves at least a day trip to wander around the streets. Check out the Rozenhoedkaai view and Markt for views that make for good photos. We only had a half of a day there, but it was enough to make me want to go back one day to see more.
Brussels has plenty to do, but the top spots include Grand Place (go at night too), Atomium, and Manneken Pis (yes, a peeing statue who wears different clothes throughout the year). My personal favorite is the Neuhaus factory where you get all-you-can-eat chocolate samples. I ended up buying a ton of the discounted chocolate to bring home.
PORTUGAL: COASTLINES & CASTLES
Best Time to Visit: Fall or Spring to avoid high season; summer for the beaches
Types of Travelers: Families, couples, friends & solo travelers
Perfect For: Beaches, city life, history, architecture
Can't Miss Stops: Lisbon, Belem, Sintra, Algarve coastline
Renting a car in Portugal was one of our best decisions. We made Lisbon our base and explored around Portugal from there. When we went in late November, the weather was perfect other than some rain. We also benefited from low-season crowds.
Explore the best spots in the city of Lisbon and nearby Belem, but also take a day trip to Sintra to see the beautiful castles and palaces. The southern coastline is also worth a trip even during the off season with cooler weather. The waves were huge when we went, and the beaches were empty.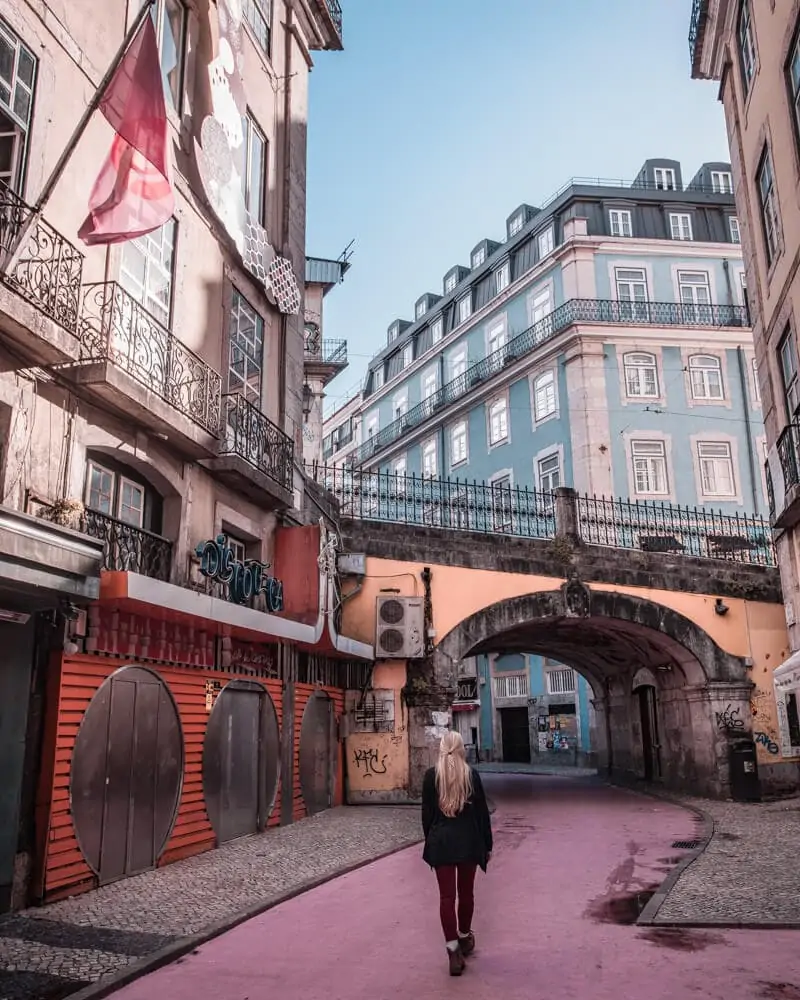 AMSTERDAM: GET LOST IN THE CANALS
Best Time to Visit: Summer or shoulder season
Types of Travelers: Families, couples, friends & solo travelers
Perfect For: Architecture, city life, history
Can't Miss Stops: Walk along the canals, Anne Frank house, canal boat tour, day trip to Haarlem
Amsterdam is a beautiful city to see on foot. I ran a 16 mile training run there, and I loved running by the canals. I may have even stopped a few times to take pictures on the run.
While it is beautiful on foot, we really enjoyed a boat tour through the canals as well. The guide gave information about the buildings and city, and going near sunset was the perfect time of day to be on the water.
If you enjoy history, make sure to get tickets at least a couple of days in advance for the Anne Frank House to avoid the long line to get in otherwise. Take a day trip to Haarlem and visit Corrie Ten Boom's house as well for more World War II history.
ITALY: EAT YOUR WAY THROUGH THE COUNTRY
Best Time to Visit: Spring or Fall to avoid the summer crowds
Types of Travelers: Families, couples, friends & solo travelers
Perfect For: Food, history, architecture
Can't Miss Stops: Rome, Venice, Verona, Pompeii, Amalfi Coast
There are quite a few more places we want to see in Italy, but we have loved everywhere we have been so far. The only problem (if you can call it that) is that I eat my way through Italy with the pasta, the pizza, and, of course, the gelato.
Thankfully most of the cities are walkable, so see them on foot to burn off the calories. Enjoy the popular spots in Rome, but keep an eye out for pickpockets (see travel safety tips from a cop here). Stop by Venice and take in the beauty even if everyone says it is overrated. While you are there, make a side trip over to Verona if you enjoy literature or Shakespeare.
Pompeii is well worth a day trip to see the city preserved in time by ashes. Then relax for a few days on the Amalfi Coast or on the isle of Capri after all of your hard work walking around Italy.
TURKEY: ROAD TRIP THROUGH HISTORY
Best Time to Visit: Summer
Types of Travelers: Families, couples, friends
Perfect For: History, the outdoors, road trips, and varied landscapes
Can't Miss Stops: Istanbul, Cappadocia, Ephesus, Pamukkale
Turkey technically is in both Europe and Asia, but I am including it here. We were nervous about taking a road trip in Turkey at first, but it is one of my favorite places to drive now. The country is fairly spread out in terms of the popular stops, but there are buses or flights between cities as well.
Make sure to spend at least a day or two in Istanbul at the start or end of your trip to see the Hagia Sophia and the Blue Mosque. Stop in Ephesus to take in the Biblical city's well-preserved ruins – we were impressed! Then head to the thermal pools in Pamukkale, but be prepared for some Instagram vs. reality moments.
Finally, make time for a stop in Cappadocia. Cappadocia has become one of the more popular spots in Turkey thanks to the hot air balloon sunrises and unique formations that make up the landscape. The cave hotels make for an added bonus. See the best hotels in Cappadocia with our 3 day itinerary.
See our full six day Turkey itinerary here. It also includes tips on driving in Turkey and what happened when we got stopped at a security checkpoint.
BEST PLACES TO VISIT IN ASIA
We have been a few places in Asia, but traveling to Asia from home in Florida makes it a long journey and often an expensive one. Every once in a while we find a deal that is too good to pass up and get to go check out more of Asia.
MALDIVES: PARADISE ON EARTH
Best Time to Visit: Any time of year
Types of Travelers: Families, couples
Perfect For: Beaches, luxury travel, honeymoons, relaxing, water sports, the outdoors
Can't Miss Stops: You can't go wrong with any of the islands in the Maldives
If I don't say Santorini when asked about my favorite place, the Maldives is often my answer. We thought the Maldives would be out of our price range, but when we found cheap flights to Bangkok, we realized it wasn't that much more to get to the Maldives.
There are a ton of resorts on their own private islands, and the Maldives is synonymous with luxury travel. However, you can find reasonable priced resorts as well like Meeru Island (where we stayed). There are also guesthouses on inhabited islands not owned by resorts for much cheaper.
Watch out for transfer fees when booking a resort or hotel – some we saw were $400 per person each way. Look for hotels that offer all-inclusive food and drink plans since you don't have any options with the private island resorts.
If you have a chance to visit the Maldives, it is one of the most beautiful places on earth. Most of the resorts provide lots of activities, but we really enjoyed just relaxing on the beach or our balcony and snorkeling around the island. Splurge and get an over water bungalow if possible – it is worth it!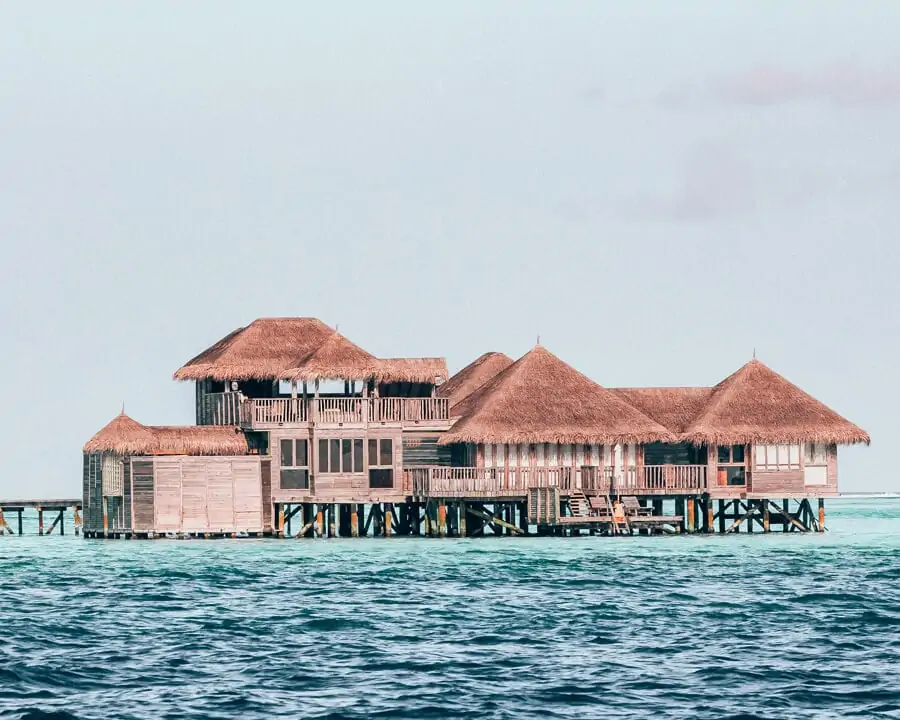 SIEM REAP: TEMPLES & TOMB RAIDER
Best Time to Visit: November to April
Types of Travelers: Couples, friends, solo travelers
Perfect For: History, budget travel, the outdoors
Can't Miss Stops: Angkor Wat, Ta Prohm, Preah Khan, Angkor Thom, Baphuon, Banteay Srei
Siem Reap is the perfect place to stay in luxury at closer to budget prices. Plus, the food and drinks are much cheaper than many destinations on our list. We stayed at Metta Residence & Spa for about $50 a night, and it included breakfast, dinner, happy hour drinks, and a massage in the price.
Hire a tuk tuk driver to take you around to the temples or rent a bike. If you hire a tuk tuk driver, be clear on the temples you want to see and the price you will pay. The first one we hired suddenly doubled the price as we were about to leave the hotel. Luckily the hotel dealt with him for us, and we used their tuk tuk driver for less money for two days (and gave a nice tip thanks to how wonderful he was!).
Make sure to get to Angkor Wat early in the morning to get in right as it opens. The spots near the pond for sunrise fill up quickly. We tried both mornings, but we ended up with cloudy skies blocking the sunrise. Go in the dry season from November to April for a better chance at a good sunrise.
Our other favorite temples were Ta Prohm and Preah Khan. We visited about 10 temples, but these stood out from the rest. Ta Prohm is known for being one of the film locations for Lara Croft: Tomb Raider, and people line up for a photo at the famous spot there. We loved the trees growing throughout both of these temples and loved exploring them.
AYATTHAYA: THE PERFECT DAY TRIP FROM BANGKOK
Best Time to Visit: November to April
Types of Travelers: Couples, friends, solo travelers
Perfect For: History, budget travel, the outdoors
Can't Miss Stops: Wat Mahathat, Wat Phra Si Sanphet, Wat Chaiwatthanaram, Wat Yai Chaimongkol
When we stayed in Bangkok, some friends told us to take a day trip to Ayatthaya, and we are glad we did. While some of the temples are similar to those in Siem Reap, the temples at Ayatthaya are different enough to warrant a trip even if you've already been to Angkor Wat.
Hire a driver to take you around to the temples for the day. Wat Mahathat has the famous Buddha embedded in the banyan tree. You have to kneel to take a picture with it as you cannot stand taller than Buddha. Someone is sitting nearby to make sure you follow the rule.
Wat Yai Chaimongkol is known for the massive reclining Buddha. My favorite was Wat Phra Si Sanphet with the three bell-shaped stupas. Our last stop was Wat Chaiwatthanaram which was perfect since it emptied out and we had the place mostly to ourselves.
BEST PLACES TO VISIT IN AFRICA
Unfortunately, we haven't been able to see much of Africa yet. Airfare to Africa tends to be extremely expensive, and it has been harder to find good deals. We still have so much of this continent on our travel bucket list and hope to visit again in the near future.
KENYA: SAFARIS AND LION KING
Best Time to Visit: July and August
Types of Travelers: Families, couples, friends
Perfect For: Wildlife, the outdoors, hiking, luxury travel
Can't Miss Stops: Maasai Mara, Amboseli, Samburu, Hell's Gate Gorge, Kitengela Glass
A safari in Africa was on my bucket list for years, but having friends living in Nairobi helped motivate us to check this one off of the travel bucket list. Thanks to our friends, we got to see places like Hell's Gate Gorge and Kitengela Glass, places we would not have known to go otherwise.
Hell's Gate Gorge served as the inspiration for the setting of The Lion King with the gorge being represented in the scene with the wildebeest stampede. It also is a second filming location for Lara Croft: Tomb Raider on this list (I haven't even seen the movie). The gorge makes for a great day trip from Nairobi if you enjoy hiking and a little bit of rock climbing.
Kitengela Glass is a glass-blowing factory but also so much more. Lots of their work is on display around the property, making it more of an indoor/outdoor museum. There is also a restaurant and multiple buildings to walk through. You can watch the glassblowers work as well and purchase products to take home with you.
Of course, most people go to Kenya for a safari, and it is worth the hype. Going in July or August gives you the best chance to see the Great Migration and Mara River crossing in the Maasai Mara. We were blessed to get to see the crossing even though it had not happened for a few days before we got there.
Make sure to check out the unique animals only found in Samburu and the view of Mount Kilimanjaro with the elephants in front of it at Amboseli too. A range of accommodations are available from hotel rooms to luxury tented camps in or near each park.
TANZANIA: THE SERENGETI & NGORONGORO CRATER
Best Time to Visit: December to April
Types of Travelers: Families, couples, friends
Perfect For: Wildlife, the outdoors, hiking, luxury travel
Can't Miss Stops: Serengeti and Ngorongoro Crater
Tanzania and Kenya pair together really well for a safari trip in Africa. The Great Migration runs through both countries in the Serengeti and Maasai Mara. The two actually connect, and the name changes at the border. There is a rock at one point on the border pained with a T on one side and a K on the other.
The Great Migration typically stays in the Serengeti from December to April. If you visit during this time of year, the wildebeest and zebra population tends to bring out more of the predators for meals.
In addition to the Serengeti, make sure to visit Ngorongoro Crater. This was one of our favorite safari stops. The caldera is the largest unfilled, inactive, and intact caldera in the world. It acts as somewhat of a natural perimeter, keeping the animals who live there inside for life. For more information about what to expect and where to stay, check out our guide to Ngorongoro Crater.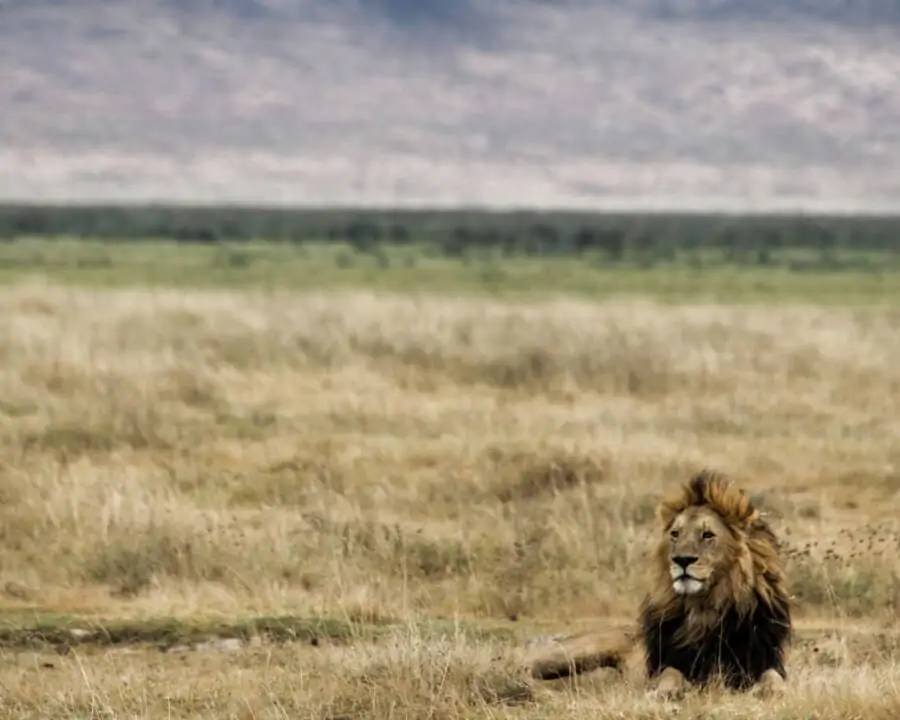 BEST PLACES TO VISIT IN OCEANIA
This is another region we have not traveled through as much so far again due to the cost to get to this part of the world from Florida. We did take a trip a few years ago to Fiji and New Zealand through Groupon Getaways, and we fell in love with both.
NEW ZEALAND: ADVENTURE & THE GREAT OUTDOORS
Best Time to Visit: September to May
Types of Travelers: Families, couples, friends, solo travelers
Perfect For: The outdoors, hiking, adventure travel, road trips
Can't Miss Stops: Kaikoura and the South Island eastern coastline, Waitomo glowworm caves, Rotorua, Queenstown
New Zealand is one of my favorite road trips of all time. The country is gorgeous, and we found ourselves constantly stopping for different views. We went in the winter (our summer) and had some crazy weather including a blizzard, rock slides, mud slides, flooding, and a volcano erupting near our hotel one night.
Take a drive down the eastern coast of the southern island for dramatic views of snow-capped mountains and black sand beaches. The area around Kaikoura was my favorite part of the drive. We also spotted a ton of seals playing along the rocky coastline in the area.
If you enjoy adventure travel, Queenstown is your place to go. Bungee jump where it all started at the Kawarau Bridge with A.J. Hackett. A.J. Hackett also has multiple other adventure options throughout New Zealand for thrill seekers.
My husband was the first to jump the day we went. I kept my feet firmly planted on the ground. They let you choose if you want to not touch the water, barely touch the water or get dunked in the water. He asked to touch the water, but he did not quite make it that far.
Check out the thermal activity in Rotorua where our hotel room had a hot tub that pumped water straight from a thermal spring. There are geysers and lots of thermal activity on display at Te Puia. You can also learn about the Maori culture while you are there.
Finally, don't miss the glowworm caves in Waitomo. There are different options for touring the caves. You can take a tour in a small boat or even inner tube through the caves with a wet suit and a headlamp.
WHY ADD THESE PLACES TO YOUR TRAVEL BUCKET LIST FOR 2023?
After visiting 45 countries (several multiple times) on 6 continents, it is too hard to pick just one favorite. However, you can't go wrong with the places on this list.
Whether you love adventure and road trips or city life and luxury hotels, this list has something for everyone and every type of traveler.
There are still plenty more places on our travel bucket list for 2023, so we will continue to update this list as we go. In the meantime, feel free to leave some future travel destination ideas for us in the comments below!
Like this post? Save it for later or share it with others!