If you are planning to visit Orlando at Christmas, you don't want to miss some of the best Orlando Christmas lights on display this holiday season.
You can check out drive thru Christmas lights in Orlando or take a walk through some of the displays to take time to enjoy the details. Some of them even come with "snow"!
Seeing the best Christmas lights in Orlando doesn't mean you have to pay for a trip to Disney either. There are plenty of free spots to see Christmas lights in Orlando from homes to city events to, yes, theme park displays. You'll really feel like it is the holiday season despite the warmth with these Christmas lights.
I grew up in Orlando going with my grandparents each year to look at Christmas lights. Once I started driving, I drove them around to see the lights. My mom and I took my grandma each year to enjoy the lights until she passed away at 97.
Even if you are local to Orlando, these spots are great for you to take the kids or to enjoy yourself. I still go out to at least a few of these every year with my family, and we've created some wonderful memories this way.
Whether you are a local or just visiting the area, I hope these Orlando Christmas lights bring you and your family some holiday cheer!
I'll be updating this post throughout the season and each year, so bookmark it or save it to refer back to in the future!
For a complete guide to Christmas in Orlando, don't miss our guide to the best things to do in Orlando at Christmas!
Don't have time to read this now? Pin it for later!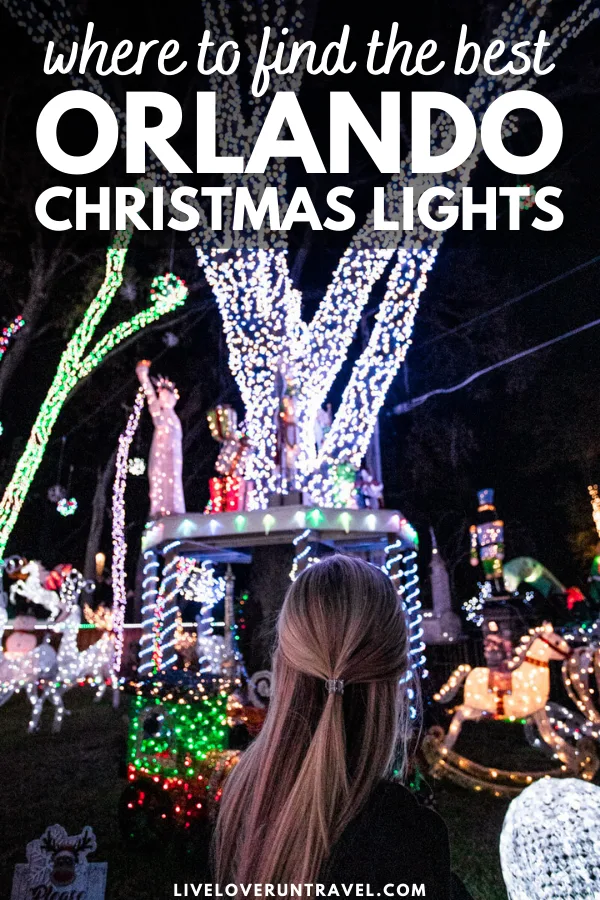 MAP OF THE BEST ORLANDO CHRISTMAS LIGHTS
If it is easier to see on a map where all of these Christmas lights are located to plan your trip, here is a map of everything included here. There are also a couple of maps for specific areas with even more options for Conway Christmas lights in the Conway lights section.
BEST NEIGHBORHOODS FOR CHRISTMAS LIGHTS IN ORLANDO AND CENTRAL FLORIDA
If you want to avoid the big city events and displays, Orlando has some homes and neighborhoods that go all out for Christmas. They start decorating months before Christmas. Then it takes a long time to take everything down at the end of the season.
Some neighborhoods work together to put on a coordinated display while others have friendly competitions between neighbors. Still others are on their own to light up their neighborhoods each season. Here are some of the best Christmas lights Orlando has to offer. Trust me, you don't want to miss them!
JEATER BEND DRIVE CHRISTMAS LIGHTS
Dates & Times: Thanksgiving through New Year's Eve from 6:00 – 9:30 p.m.
Address: 1027-1036 Jeater Bend Drive, Celebration, Florida 34747
You can't have a list of the best Orlando Christmas lights and not include Jeater Bend Drive. This neighborhood goes all out and puts most of the other displays to shame with their coordinated efforts.
Each year the residents of the street work together to create a display encompassing about a dozen homes with synchronized music and lights. Some of the homes have projectors that project movie clips or other holiday displays and it even "snows" in the form of fog-filled bubbles.
The light show goes from 6:00 – 9:30 p.m. You can listen to it from 88.1FM inside your car (or just roll down your windows). At 9:30, the light show ends and the dancing lights shut off. Some of the other decorations are still on in the yards, but most of the lights go off along this stretch.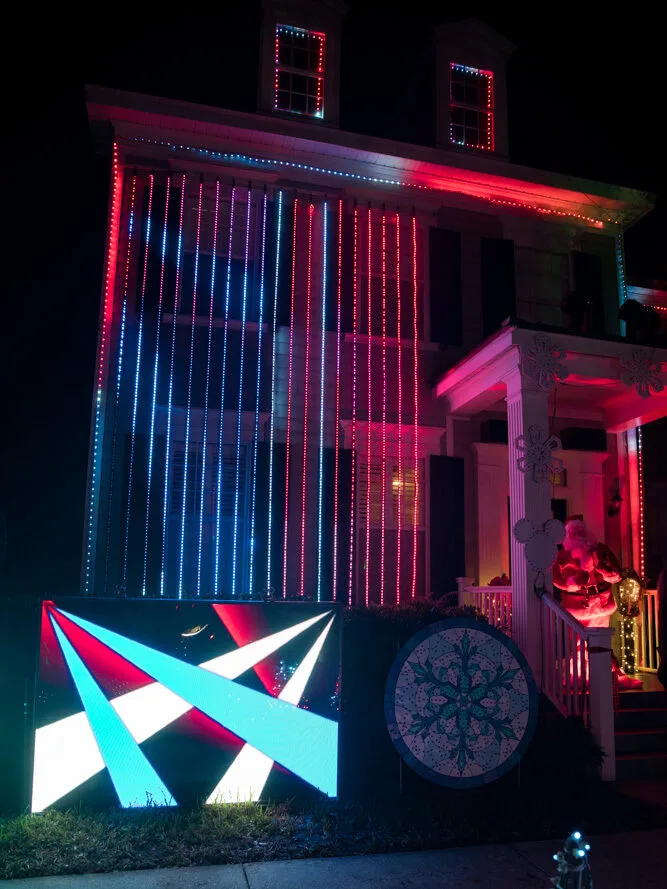 If you get there closer to the end, make sure to go straight to Jeater Bend. You can come back to look at other lights later in the evening. Most of the Christmas lights in the neighborhood are on until after 10:00, but Jeater Bend's Christmas light show goes dark at 9:30 on the dot.
You can drive through the street, but it is best to take this one in on foot. You can park on Celebration Avenue and walk down Jeater Bend Drive. This lets you take your time enjoying each house individually as well as the combined effects.
If you drive down the road, go very slow and keep your eyes on the road when moving. People are walking down the street and darting back and forth. There are also lots of young children enjoying the displays. You don't want to injure someone because you were not looking.
On top of the lights, music, and snow, Santa also usually stops by before delivering presents on Christmas Eve. He usually visits between 7 p.m. and 9 p.m. on Christmas Eve. This means it is even busier than usual that evening.
After you see the Jeater Bend Christmas light show, make sure to take time to explore other parts of Celebration. There are so many beautiful Christmas decorations to view. They have a lot of categories for competitions in the neighborhoods, so you can find something for everyone.
Some of our favorite Celebration Christmas lights besides Jeater Bend included:
1026 Maiden Terrace – If you have any Frozen fans in the house, they will love the projected image of Anna and Elsa on the side of this two story home.
1104 Celebration Avenue – This one also has a Christmas light show set to music (also on 88.1FM). You can pull off into the parallel parking spots to enjoy it. It went until at least 10 p.m. While it is just a single house, it is still beautiful. There are several other great holiday lights on Celebration Avenue on the way to Jeater Bend, so take your time enjoying them all.
Spring Park Loop – The entire loop is worth a drive because there are so many pretty homes all done up for Christmas. The first house is beautiful, but there are lots of fun displays in this neighborhood.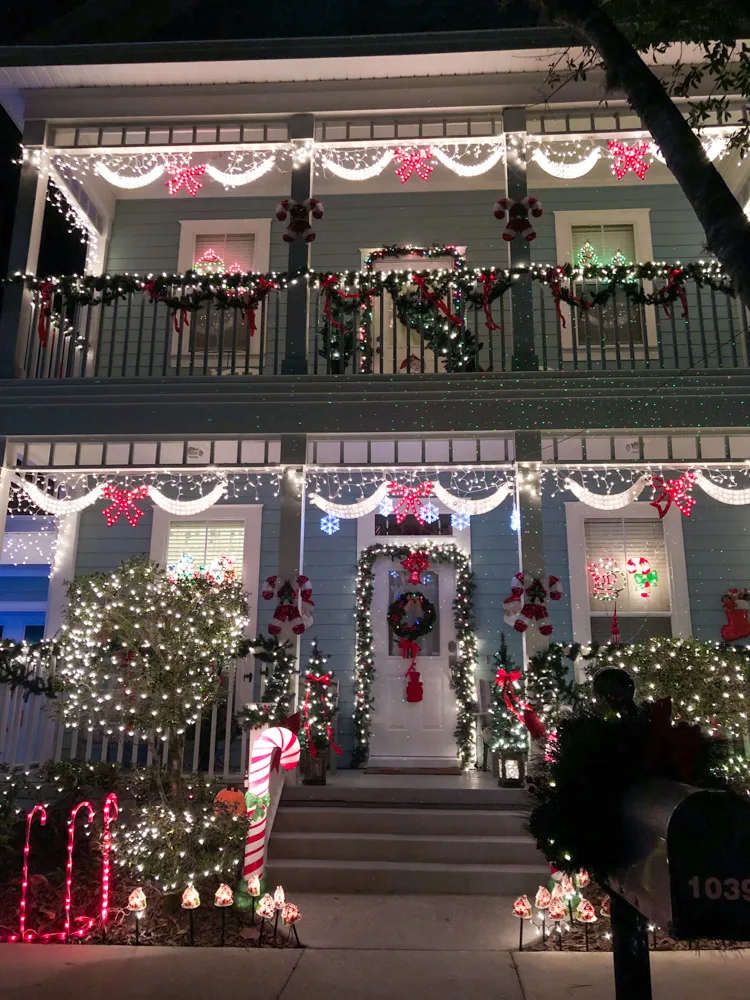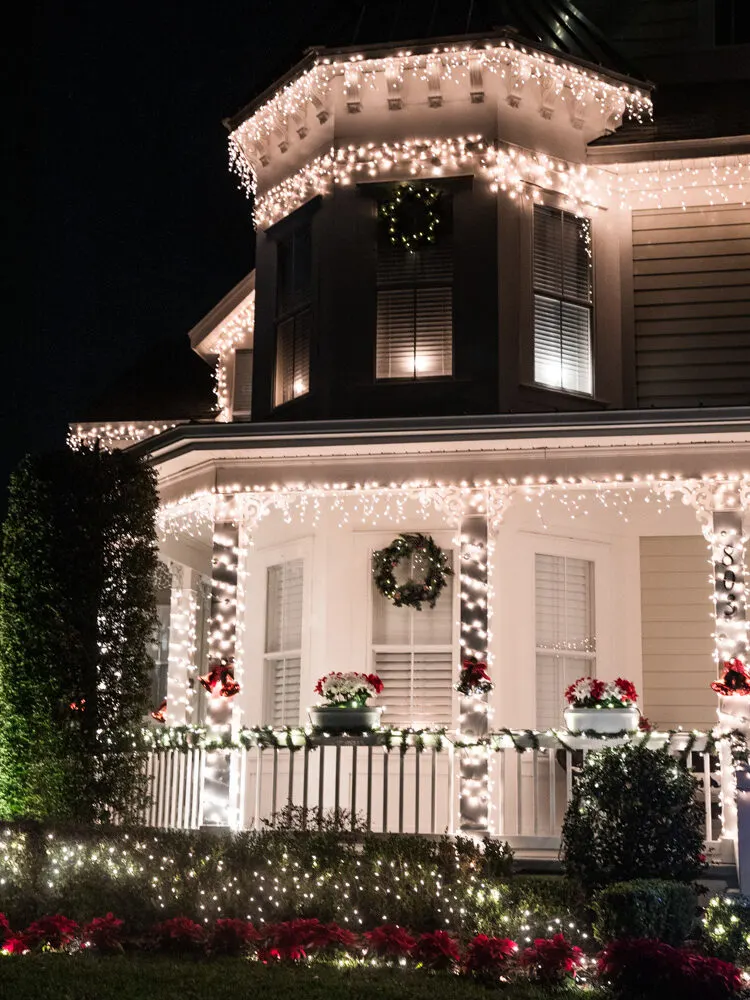 ORLANDO GREAT CHRISTMAS LIGHT FIGHT HOUSE
Dates & Times: Open December 1 to December 31 from 6 p.m. to 9 p.m. nightly; back yard closes at 8:00 p.m.
Cost: $10 for the backyard
Address: 7849 Georgeann St., Winter Park, Florida
Also known as the Johanessen Lights, this crazy Christmas house first became famous outside of locals when it was on the TV show, "The Great Christmas Light Fight." The family spends months each year decorating and then putting everything back away including half a million Christmas lights.
While the backyard has been closed the last two years, the front yard is still open and fully decorated. There are also "snow" flurries regularly thanks to a bubble machine. While the event is free, they put a donation box out each year. This helps with the electricity costs and costs of materials to decorate.
The hardest part of visiting this house is finding parking. Especially if you visit near Christmas, parking is extremely limited. Be prepared to walk, and please be respectful of the neighborhood. Do not park in yards and only park in designated spots.
Be very careful coming and going. Watch for cars when you are on foot and watch for people when you are driving. It gets very dark in some parts of the road making it hard to see pedestrians.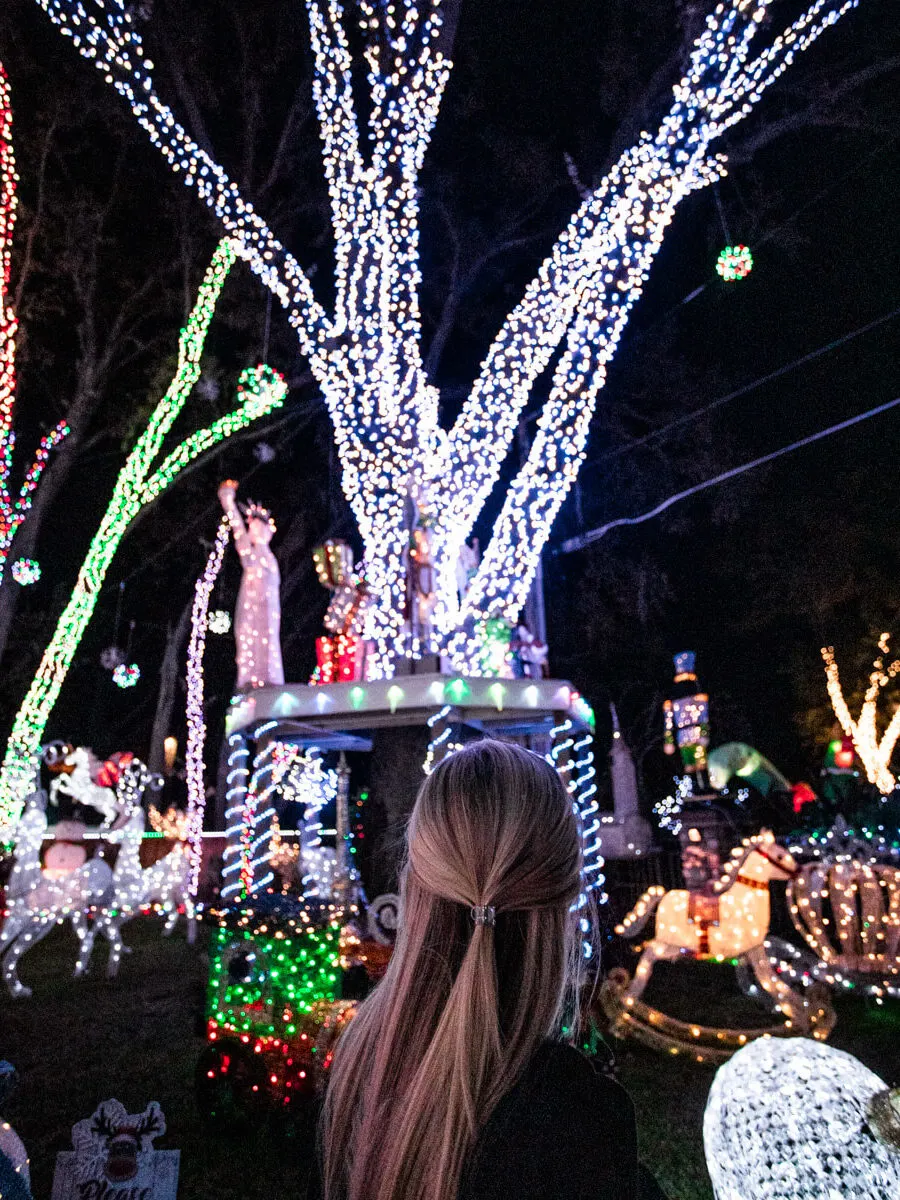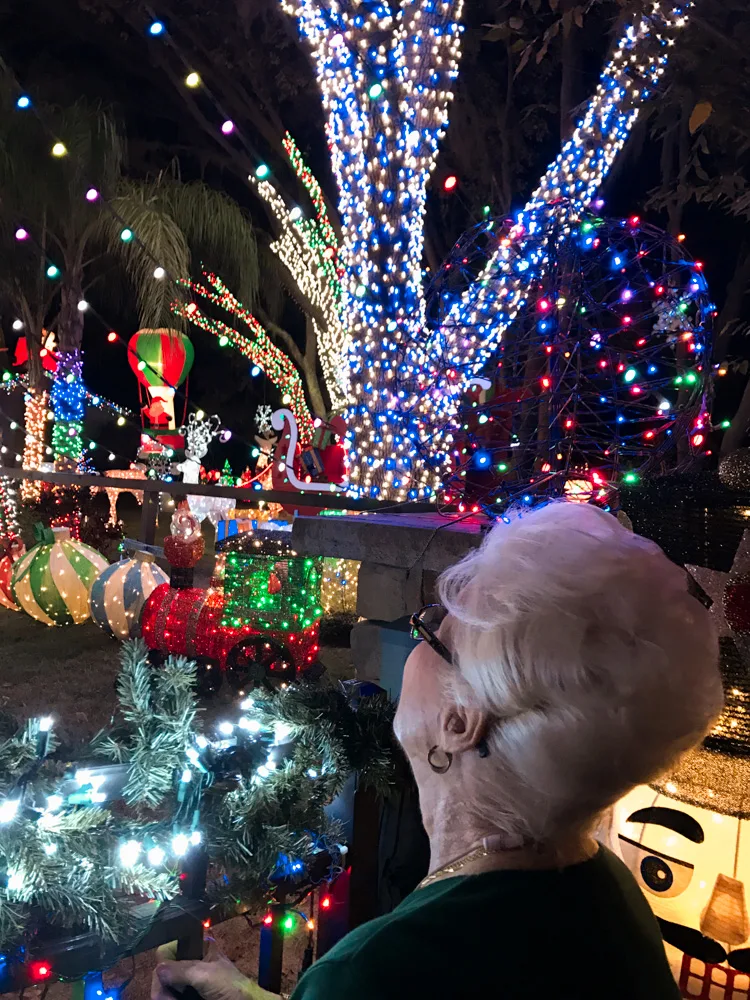 GARDEN GROVE CHRISTMAS LIGHTS
Dates & Times: Evenings in December
Address: Garden Grove Circle, Winter Park, Florida
I first started visiting the Graden Grove Christmas lights each year before I could even drive. It is only a few minutes from where I grew up, so I went first with friends and later introduced my family to the display.
While it started out as just one or two houses going all out for Christmas, now many more homes on the short loop neighborhood take part. It is one of the more popular displays each year, so expect a crowd.
Parking is limited and often law enforcement is out to make sure the residents can get home without the roads being completely blocked and to keep traffic flowing. It is worth it to park if you can find a spot to walk around the neighborhood.
Even if you cannot park, you can enjoy most of the displays while driving. People are all wanting to view the lights, so they understand the slow pace of cars going through the loop.
The most popular house (and one of the ones who has been involved the longest) is one of the first ones in the neighborhood. It is completely covered in lights and has a display in the garage as well. The windows are also part of the show, so it is okay to stop and look at the window displays too. They have a donation box if you want to help offset their costs, but it is free otherwise.
Even though that one is usually the best house, there are some other homes that are trying to keep up with them. If you enjoy trains, a few neighbors usually have impressive Christmas train sets on display and many have light displays as well.
Again, this is a private neighborhood and not everyone is involved. Please be respectful of the property and make sure to park legally.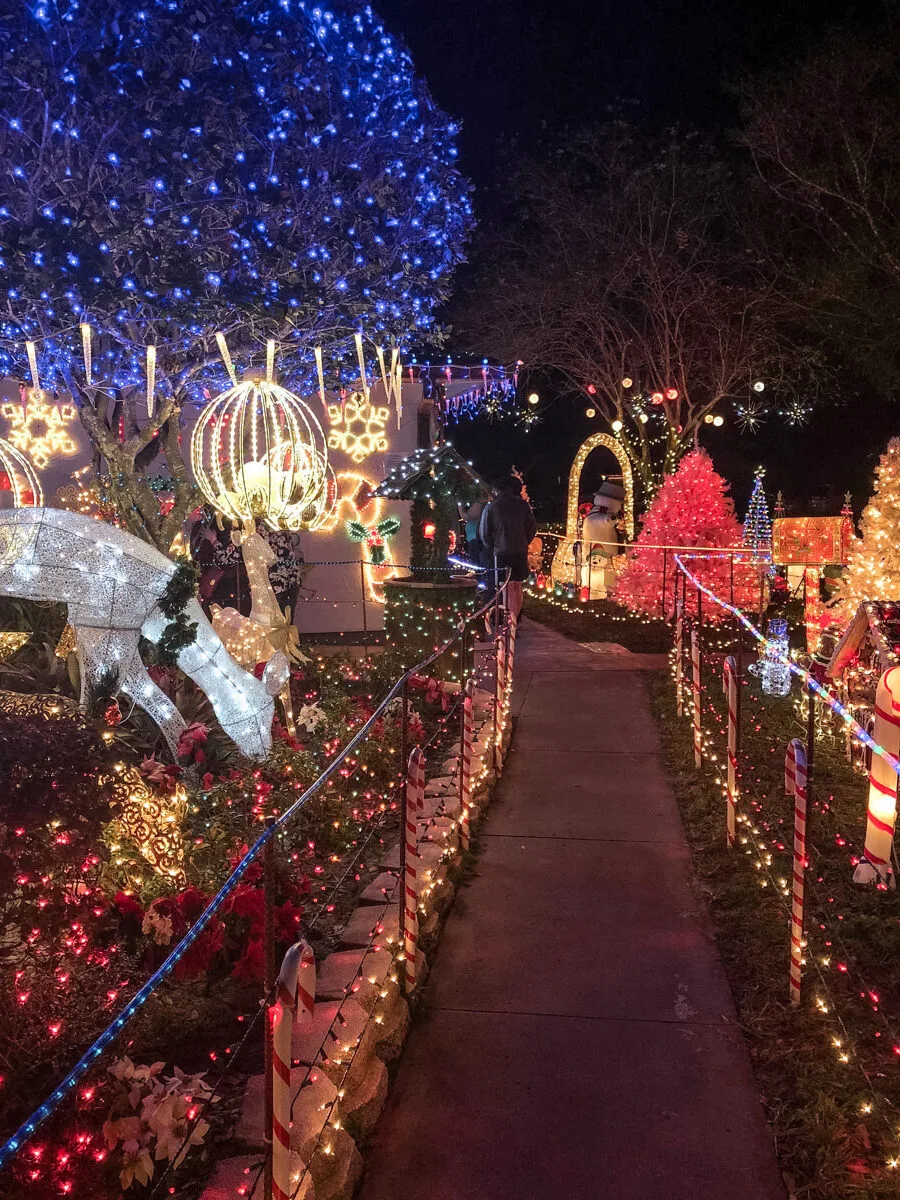 CHRISTMAS WONDERS HOUSE IN KISSIMMEE
Dates & Times: Evenings in December (6:30 – 9:30 p.m. on Sundays – Thursdays and 6:30 – 11:00 p.m. on Fridays & Saturdays)
Address: 1642 Sunburst Way, Kissimmee, Florida
This house in Kissimmee earned a spot on the 2009 national top five list of holiday light displays from Reader's Digest. Christmas music plays as you take in the thousands and thousands of lights covering the home.
The lights stay up through New Year's Day, and they have a massive Christmas tree made of Christmas lights as part of the display. Make sure to roll your windows down to hear the music that goes with the light show.
This one is lesser known and not as popular. It's also easy to view from your car without having to get out. We simply pulled over to the side of the road and enjoyed the show before continuing on in our Christmas light hunt.
BIVONA CHRISTMAS LIGHT SHOW
Dates & Times: All December long from 6:30 p.m. – 10:45 p.m.
Address: 1601 N Wind Ct, Winter Springs, Florida
There are Christmas lights, and then there are Christmas light installations that have coordinated music. For a truly impressive show put on each year, head to the Bivona Christmas light show in Winter Springs.
Kids especially will love this one as the lights dance to the music. Tune in to 91.3FM to hear the music that goes with the lights and plan to stay for at least a few songs. As with all of the personal homes, please be respectful of the home, the neighbors, and others enjoying the show.
CLEMWOOD STREET
Dates & Times: Evenings in December
Address: 2811 Clemwood Street
This one technically could go under the next section for Conway Christmas lights, but it is so good that it deserves it's own section. In 2020, this house had 220,000+ lights covering the house and the front yard. Each light represented a life lost in the US that year to the pandemic.
This year they have even more to represent the over 700,000 lives lost. It's a truly impressive Christmas light display for the sheer number of lights they have covering every inch of the home.
This one is quite popular, so prepare for a crowd. Even early in December, there were already crowds coming to see this one. You may also need to park further away and walk. You can drive by slowly, but do not block the road and keep an eye out for pedestrians in the dark.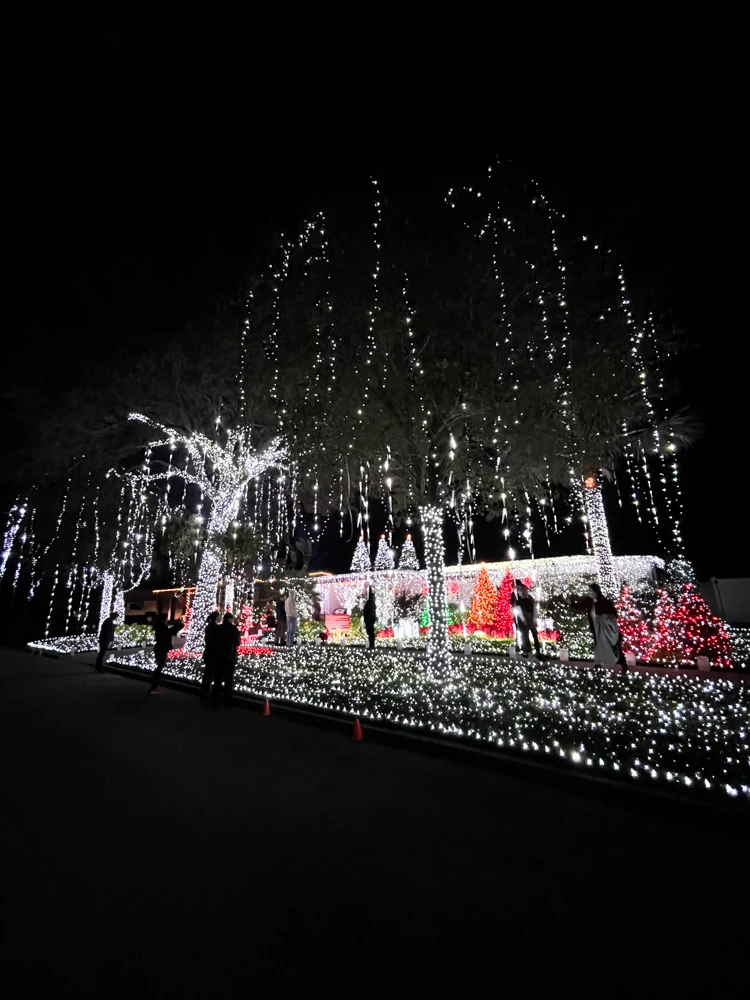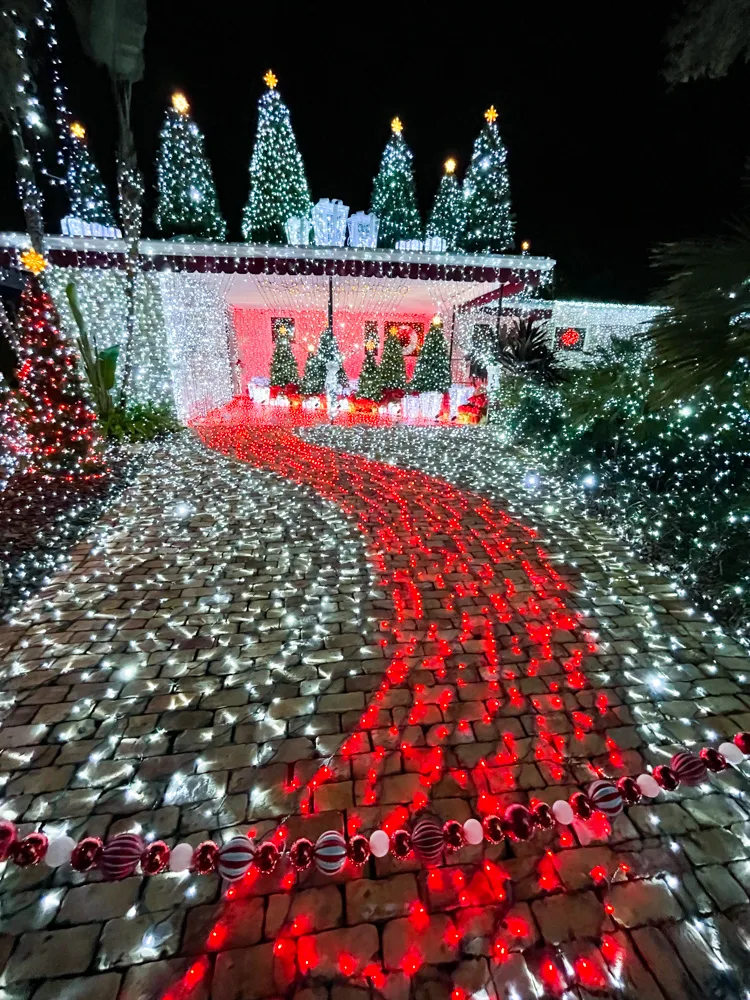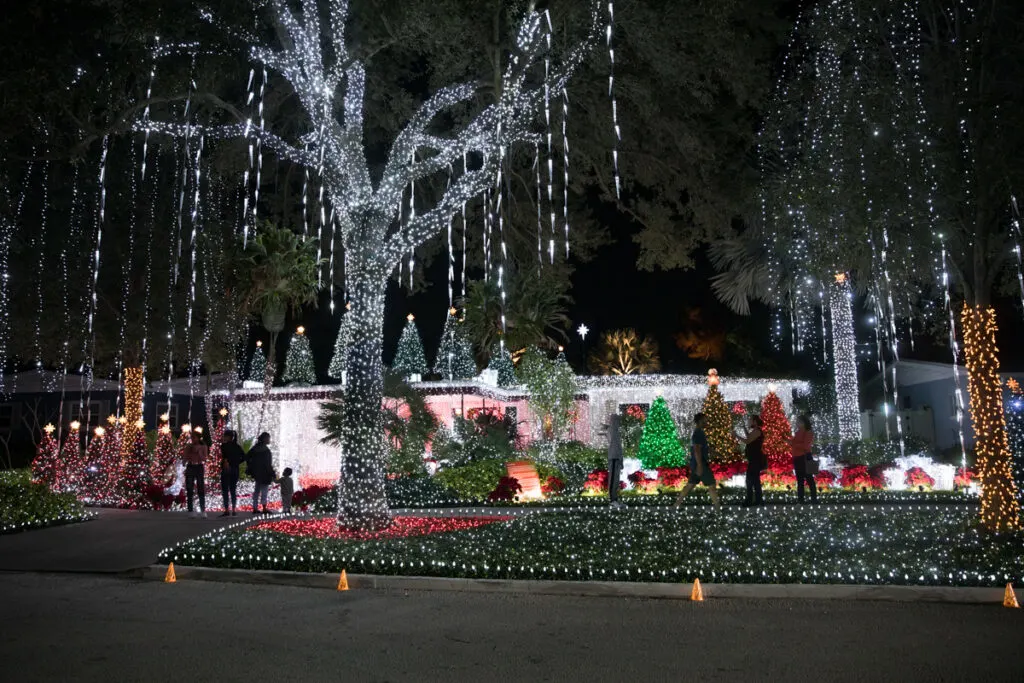 BELLE ISLE & CONWAY CHRISTMAS LIGHTS
Since my grandparents have lived in Belle Isle since the mid-1900s, Conway was the first area I explored for Christmas lights as a kid. As this Central Florida neighborhood has grown, the Christmas Lights have become even more impressive.
Some of my favorites are on Cullen Lake Shore Drive (near Gramont Ave especially) and on Oak Island Road. Here are the addresses from some of our favorite finds so that you can enjoy them too:
Hoffner Avenue from Conway to Hansel – There are a few houses along this drive that have lots of holiday lights starting at the end of November and all throughout December. Just be careful as it is a main road through Belle Isle, so make sure you are not impeding the flow of traffic.
3100 Cullen Lake Shore Drive – This is one of my favorites each year because of the sheer number of lights used to decorate the property. Just when you think it stops, you turn the corner and there are even more lights around the side of the property. You can even see their boat covered in Christmas lights for the lighted boat parade through the Conway Chain of Lakes.
2643 Vine Street – I don't think I've ever seen so many Christmas inflatables in one place in my life. Every inch of their yard is completely covered right up to the property lines. Kids will love this one! It's only a few minutes from Clemwood, so they are easily combined.
4101 Summerwood Avenue – The tunnel of lights over the driveway sets this house apart from others nearby, but the two houses next to this one also are in on the holiday cheer with great displays of their own.
713 Adirondack Avenue – With fun patterns of lights covering the yard and trees, this brightly colored yard is another great one to drive through when visiting Clemwood.
5003 St. Marie Avenue – This one is located near the one on Cullen Lake Shore Drive. It may not have as many lights as some of these, but their neighbor across the street got in on the fun with the Grinch trying to steal the lights from their house.
3727 Sarasota Court – Kids will especially love the Christmas decorations in the garage, complete with Rudolph and a screen showing Christmas movie clips.
Lake Conway Estates – If you will be in the area on Christmas Eve or Christmas night, it is always beautiful to drive through Conway Estates where most of the neighbors put out luminaries. It's just a little something extra to enjoy along with the many homes decked out for Christmas.
For a fully interactive map to plan your drive through the area, the map below has the best lights of 2022. Click on the address to see if pictures have been added of that house to decide which ones you want to visit (some of the ones above have not been added yet this year):
And the 2021 map for more addresses (although they may or may not decorate their homes this year):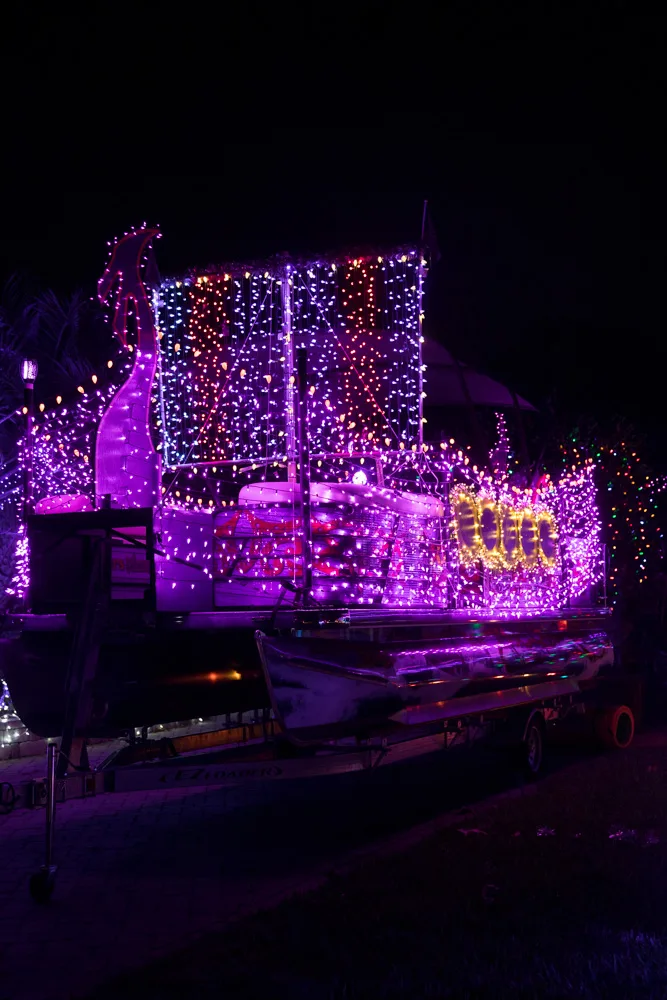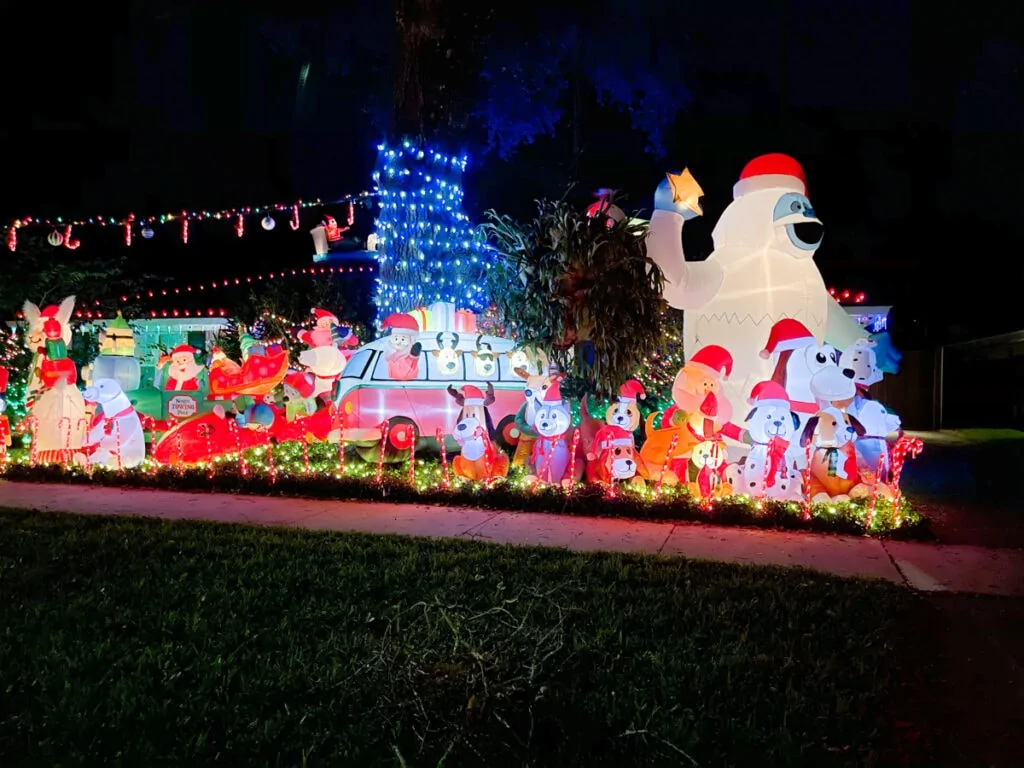 BEST ORLANDO CHRISTMAS LIGHTS HOSTED BY CITIES & TOWNS IN CENTRAL FLORIDA
While Orlando is certainly the most well-known of the Central Florida cities, there are lots of other cities and towns that make up the Greater Orlando area. Many of these cities and towns host their own Christmas events featured in our blog about the top things to do in Orlando at Christmas. A few of them have amazing Christmas lights that make them worth including here too.
CITY OF ORLANDO LIGHT SHOW
Dates & Times: December 2, 2022, until early January, with synchronized music and light shows hourly starting at 5:45 and running until 9:45 p.m. each evening
Location: Lake Eola Park, 512 East Washington Street, Orlando, FL 32801
Starting with the Christmas Tree Lighting ceremony on December 3, the Lake Eola Christmas lights in Downtown Orlando come on. Every night, there is an hourly light show with synchronized music starting at 5:45 p.m. and ending at 9:45 p.m.
Take the time to walk around Lake Eola and see the other Christmas decorations and not just the massive Christmas tree. The nearly one mile path (.9 mi/1.4 km) around the lake takes you through a light tunnel and through the best Downtown Orlando Christmas lights with beautiful views of the city and Lake Eola.
There are also several Christmas events at the Walt Disney Amphitheater you can find in our Orlando Christmas events post.
OH, WHAT FUN IN LAKE NONA
Dates & Times: December 4 – December 24, 2022 (check calendar for times)
Cost: FREE but bring money for ice skating, food, and drinks
Location: Lake Nona Town Center
Each Christmas, the Lake Nona Town Center transforms into a Christmas village complete with photo ops, Christmas light installation, and fun for the whole family. You can also enjoy free movies on select nights each year.
Lake Nona understands the power of an Insta worthy photo. They not only have Christmas lights and Christmas decorations, but they have photo spots set up to capture your Christmas Instagram posts and TikToks.
Leave some time to drive through the nearby neighborhoods to see what homeowners have done to decorate each year either before or after you stop by the event.
LIGHT UP WINDERMERE ON MAIN STREET
Date & Time: November 18 through December
Cost: FREE
Location: Windermere Town Hall, 520 Main Street
Held annually on the last Friday before Thanksgiving, Light Up Windermere takes place during the monthly Windermere food truck event. Live entertainment and over 100,000 white lights add to the holiday feel while dining on local food truck cuisine.
If you miss the kick off event, that's okay. You can still visit Windermere to check out the holiday decor throughout the rest of November and December.
LIGHT UP MOUNT DORA & MOUNT DORA CHRISTMAS EVENTS
Dates & Times: November 26 through end of December
Location: Downtown Mount Dora at Donnelly Park
Mount Dora makes the list for best things to do in Orlando at Christmas even though it is located about 45 minutes outside the city. Covered in over two million twinkling lights and known for its Polar Express train (canceled for 2022), Mount Dora knows how to do Christmas right.
Christmas gets into full swing on November 26 with the lighting of the Main Street Christmas tree. Light Up Mount Dora takes place from 3:30 to 9 p.m. with a firework display after dark and Santa arriving by boat.
The two million Christmas lights in Mount Dora will still be on for all to enjoy throughout the rest of November and all of December.
You can get the full lineup of events here for Mount Dora and Tavares.
LIGHT UP THE HOLIDAYS AT CRANES ROOST PARK IN ALTAMONTE SPRINGS
Date & Time: December 3 – first weekend in January starting at dusk
Location: Cranes Roost Park in Altamonte Springs
Celebrate the season with the City of Altamonte Springs at the annual Light Up the Holidays event at Cranes Roost Park. Take a walk around the lake so you don't miss out on the 200,000 Christmas lights and the 60-foot Christmas tree that remain on display throughout the season.
The Holiday Fountain Show happens hourly from 6 p.m. to 9 p.m. each night with the water and lights synchronized with holiday music. Food and drink vendors serve a holiday menu at the initial lighting event in December. More details on the events are here.
LIGHT UP WINTER GARDEN
Date & Time: December 2, 2022 from 6 – 9 p.m. (lighting at 6:15 p.m.)
Location: 300 W. Plant Street, Winter Garden
Winter Garden sets up a beautiful display each year along W. Plant Street. There are lots of great photo spots including in front of City Hall where we took our family Christmas photo the last two years.
You can visit anytime to see the decorations and lights, but on certain nights they do a Christmas light show set to music projected onto the City Hall. Find parking along or just off of Plant Street and take time to walk through and enjoy the lights all along the road before stopping by City Hall.
You can find lots of great options for food in the area too. One of our favorites is The Whole Enchilada with rooftop seating and delicious Mexican food. You can also grab an ice cream one of my favorite Orlando dessert spots, Kelly's Homemade Ice Cream.
BEST THEME PARK AND HOTEL CHRISTMAS LIGHTS IN ORLANDO
While you can easily enjoy Christmas lights in Orlando without ever taking a trip to the touristy side of town, there are some displays that are worth the trip. From theme parks to popular resorts, you can find some of the best Christmas lights in Orlando near the theme parks.
Universal Studios Orlando, Walt Disney World, and SeaWorld also have Christmas events throughout November and December. However, this list is focusing on events featuring Christmas lights and not on other events. Get the full breakdown of theme park Christmas events here.
CHRISTMAS AT THE GAYLORD PALMS
Dates: November 18, 2022 – January 1, 2023
Cost: Varies per activity (discounts for Florida residents and others; bundled tickets also available)
Location: Gaylord Palms Resort & Convention Center, 6000 West Osceola Parkway, Kissimmee
Each year, Gaylord Palms hosts more and more Christmas events. From events for couples to activities for kids, Gaylord Palms could easily be a hub for you to enjoy the best Orlando Christmas activities.
Make sure to walk through the St. Augustine atrium to take in the 60-foot Christmas tree. The Shine Christmas light show features over 2 million choreographed lights that make the tree and atrium even more beautiful at 9:15 p.m. each evening. Check out the Christmas Tree Trail too for eight more Christmas trees, each with a different theme.
Get updated details on all of the events at Christmas at Gaylord Palms here.
CHRISTMAS TREE STROLL AT DISNEY SPRINGS
Dates & Times: November 11 – December 30, 2022
Location: Disney Springs
Formerly the Christmas Tree Trail at Disney Springs, Disney changed it to a "stroll" in 2020 to allow for more social distancing. The stroll returns in 2022 with a new set of trees decked out in a variety of themes. If you plan to visit the Walt Disney World Resort when you are in Orlando, this is a fun, free activity even the kids will enjoy.
The Christmas Tree Stroll is one of the few free holiday theme park activities in Orlando. The trail features 20 Christmas trees, each with its own theme. While some feature a character, others feature an entire movie. Take a walk through and see what themes were chosen for 2022.
While you're here, get a spot in line for Gideon's Bakehouse. You can thank me after you've tried their cookies and cakes!
OTHER AMAZING ORLANDO CHRISTMAS LIGHTS
Besides homeowners, city events, and theme parks and resorts, there are also several other noteworthy Christmas light displays in Central Florida. Some of these events do have an entry fee, but they are worth it.
DAZZLING NIGHTS AT HARRY P. LEU GARDENS
Dates & Times: November 25, 2022 – January 1, 2023 (Closed on Christmas)
Cost: $12 – $200
Location: Harry P. Leu Gardens
Located in Winter Park, Harry P. Leu Gardens transforms into a winter wonderland each year. With a million lights and a path that takes you on a three-quarter mile walk, this is a truly interactive holiday experience and one of the best holiday events Orlando has to offer.
Start with a photo opportunity in front of a 30 foot tall Christmas tree. Then take a stroll through a forest of lights and fog. The entire event has been remade this year to feature new surprises. Enjoy an 8,000 square foot light maze and 185 candlelit hanging Moroccan lanterns as part of the new features.
Parking is available at Harry P. Leu Gardens for a fee. Otherwise, you can park at Blue Jacket Park (2501 General Rees Avenue) and take a free shuttle to Leu Gardens.
GIVE KIDS THE WORLD VILLAGE: NIGHT OF A MILLION LIGHTS
Dates & Times: November 12, 2022 – January 1, 2023
Cost: Varies ($30 – $40 for adults and $15 – $20 for kids)
Location: Give Kids the World Village
Give Kids the World Village returns with a walk-through, fully immersive Christmas light event including a dancing lights show. See what it looks like to have the Avenue of Angels lit up with over 3 million lights and enjoy holiday treats and accessible rides. These rides and attractions have brought joy to critically ill children for 35 years and the entry fee benefits Give Kids the World.
There are three types of tickets available depending on when you visit and a limited number of tickets available. Standard dates are $30 for adults and $15 for kids. Peak dates are $35 for adults and $18 for kids. Holiday dates are $40 for adults and $20 for kids. You'll also need to choose a 2-hour window to visit when booking.
ASIAN LANTERN FESTIVAL AT THE CENTRAL FLORIDA ZOO & BOTANICAL GARDENS
Dates & Times: Select nights from November 18, 2022 – January 15, 2023, from 6 p.m. to 10 p.m.
Cost: Tickets start at $21.99 (kids 2 and under are free)
Location: Central Florida Zoo & Botanical Gardens
This event is a little different from your typical Orlando Christmas event. The Asian Lantern Festival: Into the Wild features over 30 different hand-made lantern displays. Follow a 3/4 mile path to take in the illuminated sculptures of animals, plants, and other elements of Chinese culture.
This event is outside of Zoo hours, so you are not purchasing a ticket to the Zoo for this event. You will need a ticket for entry, and tickets for adults are $21.99. Bring some extra money if you want to enjoy the food and drinks available or to purchase any of the artisan crafts for sale.
Find out more and buy tickets here.
THE SANTA WORKSHOP EXPERIENCE AT ICON PARK
Dates & Times: November 1 – December 26
Cost: $20 – $60
Location: ICON Park
Stop in to visit Santa at ICON Park in Orlando where he will even give your child a personalized gift if you plan ahead.
You'll also get to take a ride on The Wheel (formerly The Orlando Eye) decorated and lit up for Christmas. Kids ride free with a Santa photo package and get a discount for additional riders.
LIGHT UP UCF (CANCELLED FOR 2022)
Dates & Times: Cancelled for 2022
Cost: FREE entry but prices vary by activity (full list of prices here)
Location: Addition Financial Arena at the University of Central Florida
Light Up UCF features a free holiday light show with over 200,000 lights. It also hosts Orlando's largest outdoor skating rink in the middle of Orlando's largest college campus (and my alma mater). Enjoy the free Holiday Film Festival on Fridays and Saturdays at 7 and 9:30 p.m. too.
Santa makes an appearance on the weekends, and you can find rare Florida snow here as well on select nights. Rides include a Ferris wheel, the Light Up Express, the Arctic Glide Ice Slide, and the Winter Whirl. Prices for activities range from $2 – $12 (photo packages with Santa cost more) and discounts are available for UCF students, military, and groups. For more information on the event including a calendar of events, check out the official site here.
CHRISTMAS IN COLOR DRIVE THRU LIGHT SHOW (CANCELED)
Dates & Times: Not coming to Orlando in 2022
Cost: $35 – $45 per vehicle (USE CODE LIVELOVE15 FOR 15% OFF)
Location: Island H20 Water Park
You don't even have to get out of your car at this one. Enjoy the views from your car at this drive through Christmas lights Orlando event that is also available in several other locations around the country. Located at Island H20 Water Park, drive a mile to see over a million lights synchronized to music with your family or friends.
Tickets are $35 for regular entry at a specified time or $45 for priority entry. Each ticket is good for the entire vehicle, so load up your family and friends and head to one of the best Orlando Christmas lights displays. Purchase tickets and see other locations here. Christmas in Color discount code for 15% off: LIVELOVE15.
WHEN TO SEE THE ORLANDO CHRISTMAS LIGHT DISPLAYS
While the Christmas lights in Orlando start turning on in November, your safest bet is to visit Orlando in December. A few of the displays continue until the first weekend in January if you are visiting for New Year's.
Christmas Eve and Christmas night are usually the busiest nights, especially for the neighborhoods with beautiful displays. Plan in some extra time to your itinerary if you go those evenings.
We usually go either earlier in December or the week after Christmas and have not had issues. You can easily spread out a few spots each night to keep the kids busy over Christmas break or pick out a few new ones to try each year for a special evening out.
If you are looking for more of the best things to do in Orlando at Christmas, get our complete guide here.
Looking for more Florida travel tips? Don't miss out on our review of Westgate River Ranch and our favorite place to stay for a Cocoa Beach vacation.
LIKE THIS POST? PIN IT FOR LATER OR SHARE IT WITH OTHERS!