In the last few years, the trend to grow on Instagram has been to use methods like pods, bots, or loop giveaways. You don't have to use these methods to grow your Instagram account. In fact, sometimes using these Instagram growth hacks hurt your growth instead of helping it.
I realize that there are people who have found success using these methods, but I personally don't use pods, bots or the big loop giveaways. You can make your own decision, and I am not judging anyone who uses these methods to grow. I understand the thought process behind using them and know people who use them and love them.
You can do what you feel is best for you, and I will not judge you for it either way. I just wanted to share my experiences and the drawbacks I have seen from these growth hacks. I also want to let you know that there are alternatives if this is not the route you want to go.
Don't have time to read this post now or want to remember it for later? Pin it to save it for later!
WHY I DON'T USE PODS ON INSTAGRAM
I get DMs regularly asking me to join a pod or asking to join the pods I am in. I don't use pods. I tried them for a short time a couple of years ago, but it actually hurt my engagement and growth.
WHAT IS A POD?
Pods on Instagram are run different ways depending on the one you join. The idea is that you are in a group with others in your niche. When you post a new photo, you send it out to your pod, and they all come engage with your new post. In theory, this moves your photo up in Instagram's algorithm because of the increased engagement right after you post, helping more people see your photo and decide to follow you.
Some pods are run through Instagram. Other (typically larger) groups are run through Telegram or other apps because of Instagram's limits on how many people can be in a group message.
The most common types of pods include like pods, like and comment pods, or LCS (like, comment, save) pods. Some require you to engage with all of the posts, but others only require you to engage with posts from the last 24 hours (or other time frame).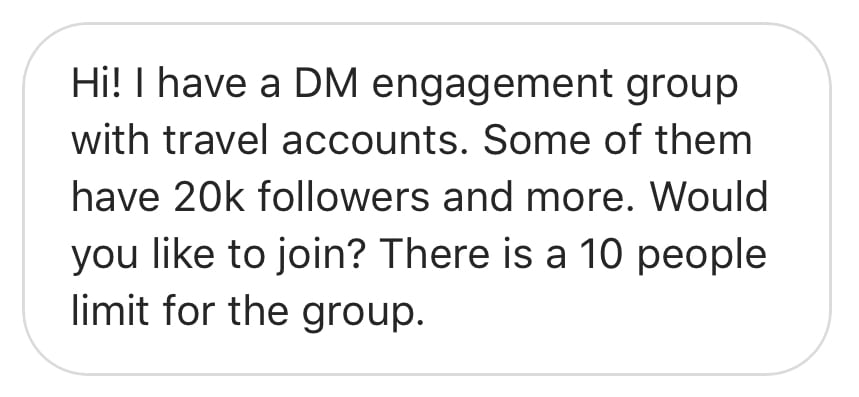 MY EXPERIENCE WITH PODS
I tried two pods back at the start of 2018. Both of the pods I tried were on Instagram. I kept getting invited to join them, so I decided to give it a try. Both required a like and four word or more comment on each post. One was with all female travel accounts and the other was with a mix of travel accounts. If I remember correctly, each had about 10 members.
The general travel one was the one I left first. Two or three of the accounts were posting 3 – 4 times a day. They wanted you to comment in the first hour. Being a teacher full-time, I couldn't stop what I was doing and comment. That meant that at the end of the day, I had about 20 photos to comment on before I could post my own photo. The photos and captions I had to comment on gave me very little to work with in terms of what to say. I struggled to come up with authentic comments that weren't generic. The comments I got from others in the group showed that the members did not read my captions. I got fed up and left after about two weeks.
The girl travel one went better, but it still was a struggle to keep up. I enjoyed the conversations, but I decided to leave because the girls I was enjoying engaging with I already followed. I could continue to engage with them without be held to any kind of rules or time frames.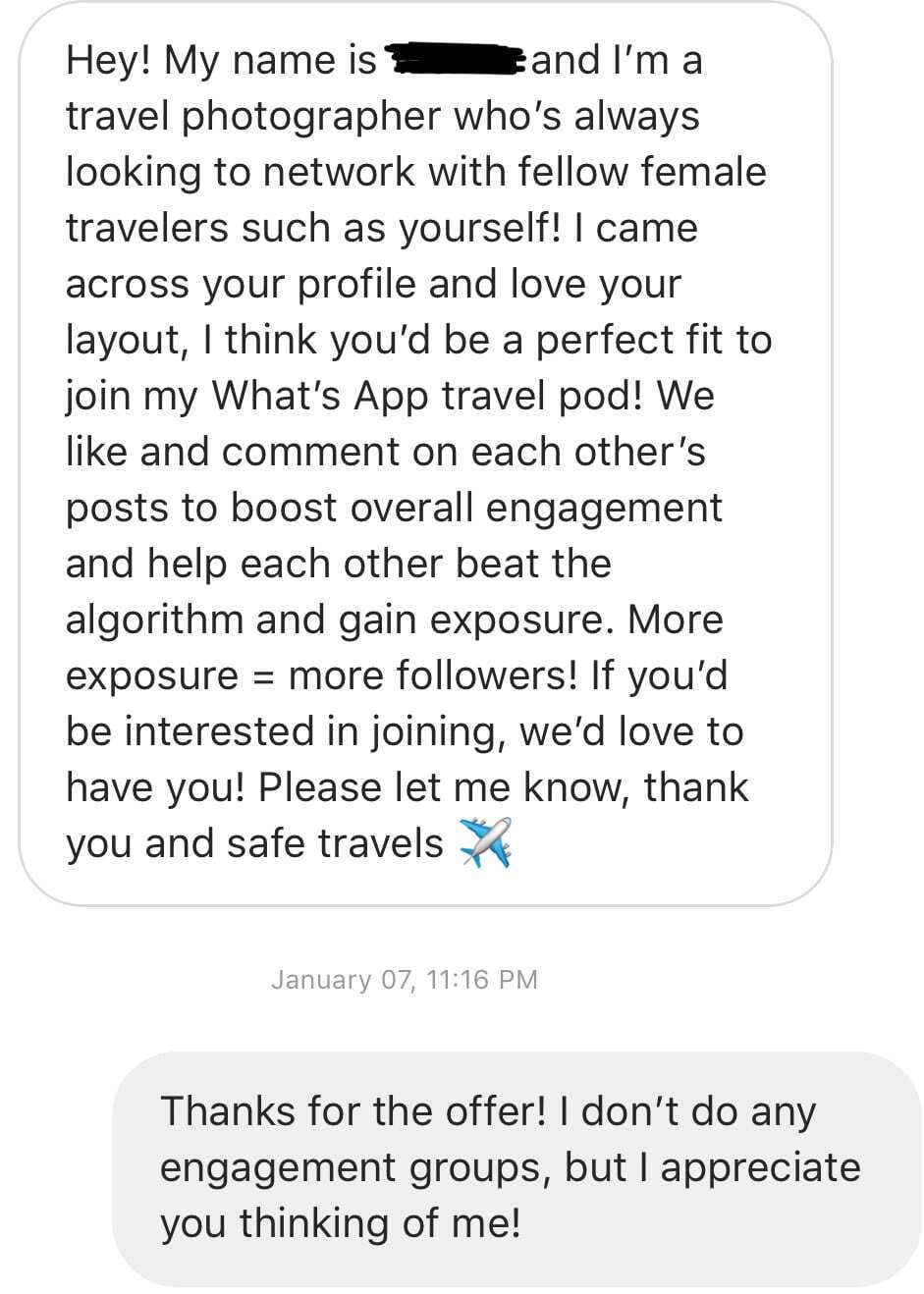 THE DOWNSIDE OF PODS
I don't use pods because it takes away time from being able to respond to comments on my posts and from being able to engage with new accounts. My engagement did not increase while I was in the pods. My growth did not increase while I was in the pods. In fact, both stayed the same or decreased.
It was scary to leave. What if my engagement tanked? What if I lost a bunch of followers? I did some research and found articles by others who had struggled with the same thing. They also experienced the inauthentic comments, the frustrations with how much time it took, and the lack of growth from using the pods. They quit and saw positive results.
That helped me decide to stop and not to join a pod again. When I stopped, my engagement again grew and has continued to grow with my account. I don't use pods, and that gives me time to engage with new accounts which helps my account grow. I know it can be scary to walk away, but for me I only had positive results when I left.
Instagram is also cracking down on pods. There are certain rules that some pods use to try to get around these, but last year Instagram shut down several large pod groups on Facebook. There are some reports that shadow bans (which Instagram says do not exist) are sometimes a punishment for using a pod. I personally do not want to take the risk.
THE ALTERNATIVE TO PODS
Instead of dealing with requirements to engage, if you don't use pods, you have complete freedom. I learned quickly that if people commented on my photo and I replied and returned the comment, they were likely to come back and comment on my next photo. This is the same idea as a pod, but it puts you in charge of your time.
I try to reply to every comment and return each comment on my posts. I write captions that encourage engagement, so that helps me get comments to reply to. Sometimes I still run out of time, but I do my best even if it takes a few days. When I post a photo, I go through my previous post and go interact with the people who commented on the earlier post. I know those people are the ones who often comment back on my photos from our past interactions. Instead of using a pod, I have a community I can engage with freely. It makes it more meaningful when I know they don't have to come leave a comment and still choose to do so.
WHY I DON'T USE INSTAGRAM BOTS
Bots are becoming more and more common it seems. In a world where time is limited and we are all busy, bots seem to be a good alternative. There are some downsides to consider though.
WHAT ARE BOTS?
There are quite a few bot services out there. I get DMs and emails advertising services of different companies to automate likes and comments. You can choose the services you would like including having the bot do follow/unfollow for you, like pictures for you, and/or comment on photos for you. The theory is that the bots can do this faster than you can and free up your time for other things. They can work while you work or sleep or travel. You pay for the services and they do the rest for you.
HOW COULD THAT BE BAD?
This all sounds great, but as with anything, if it sounds too good to be true, it probably is. First, you have to pay for the services. I have not looked into these or ever used them, so I have no idea how much it costs.
Another problem is the follow/unfollow method. No one likes the follow/unfollow method. I don't think the people who do follow/unfollow like it either (I'll admit that I did it by hand when I first started until I realized how frustrating it was to be losing followers all the time). It is frustrating to wake up and have lost followers or to be working hard and lose followers. You think you are growing and things are going well and then your numbers drop. It is also easy to see who is using follow/unfollow as a method of growth using sites like Social Blade.
The last thing to consider is the automated likes and comments. The likes probably aren't such a big deal, but I did read about one girl who did not realize the bot she was using was liking images that were pretty racy. A family member saw it and asked her about it. That was how she found out. If you have certain beliefs or certain types of photos you would personally be opposed to liking, it is hard to make sure the bot will not like them. They usually act based on hashtags, and people use hashtags incorrectly all the time.
The comments are a bigger problem. They are usually extremely generic and almost always the same few phrases. Many ask you to go check out their feed or latest post – those are just annoying. The worst situations I have seen with them deal with sad posts. A person opens up about their struggles or a hard time they are going through, and the bot comes and comments something like, "That's amazing!" One was on a post where the person talked about recently losing a close family member. The bot comments on that post included, "Great post! Come check out my latest one," "Love it!", and lots of thumbs up or top post emojis.
Instagram is constantly making changes to try to battle bot usage. They can and sometimes do crack down on these, and I think this will continue. Recently, Instagram issued a statement about the steps they are taking to get rid of inauthentic engagement by bots. If you are using them, you may receive a message from Instagram to change your password and revoke access to your account to any third-party apps.
THE ALTERNATIVE TO BOTS
You are only human, but you are a human. That means you will probably have limited time, but at least you can leave comments that are authentic. Use the time you have to engage as much as possible. Try to use your time wisely and engage with accounts who are likely to be interested in your content. One way to do this is to engage with those who already engage with similar content by following similar accounts or liking and commenting on similar posts.
I know this might seem like a letdown that there isn't some big secret to use instead of bots. For this one, you have to decide if you want to pay to use bots and are okay with using follow/unfollow and having companies you might want to partner with see that. You also have to decide if you are willing to take the risk with the likes and comments that the bot leaves.
WHY I DON'T USE BIG LOOP GIVEAWAYS
I'm not going to lie. Loop giveaways are tempting. I have seen some massive growth with them. If it works to help you grow, how could it possibly be bad?
WHAT IS A LOOP GIVEAWAY?
Loop giveaways used to loop you around through several accounts. You would click to go to the next account, follow and like their giveaway post (or whatever the rules were for the giveaway) and then keep going until you got back to where you started. Now most big giveaways use the same idea but have one main account that follows all the giveaway accounts. You go to that account, follow everyone that account follows, like the post, and comment several friends to enter the giveaway.
The giveaways could be anything. Most people join a giveaway related to their niche. For example, travel accounts give away hotel stays or airline credits. Beauty and fashion accounts give away gift cards, beauty products or clothing/accessories.
The giveaways range in price depending on a few things. Some charge more because the expected number of followers you stand to gain is higher. Most charge more if you want a "secret" spot in the giveaway. This means you do not have to post about it. People will only know you did a giveaway if they see your name on the giveaway page (or they may guess it if you have a sudden spike overnight in followers).
WHAT ARE THE REAL COSTS?
Giveaways typically cost anywhere from $80 – $150. The real cost of a loop giveaway is that once you start doing them, you may become entrapped in a loop yourself – that is the real loop in loop giveaways. You might grow by 2,000 – 4,000 followers from a single giveaway. That can be addicting on its own.
The real cost of a loop giveaway is that once you start doing them, you may become entrapped in a loop yourself – that is the real loop in loop giveaways.
After the giveaway is over, you tend to lose a bunch of the followers. There may be a day or two where you drop large numbers of followers. Then it will probably decrease to where you are not losing as many followers each day. After seeing how much you grew and then watching it continue to slip away, you think, "Maybe I should do another one? That will get my account going in the right direction again."
If you just do one, your account will probably be okay. I reached out to quite a few people who used the big giveaways when I thought about doing them. Then I watched what happened with they did the giveaways. I asked about the different options. I wanted to know what I was getting into.
It seems like those who just did one or maybe two were okay. They lost followers for a while and their engagement dropped, but then it slowly came back over the next few weeks. The ones who kept doing them over and over kept growing when they would do the giveaway. Many of them do not grow between giveaways because they are still losing from the previous giveaway – you get sucked into a loop of doing a giveaway, growing, losing followers, and then doing another giveaway to start the cycle over. One large account I reached out to said they were not going to do another giveaway because they kept losing followers and it had been months since their last giveaway. It gets very expensive to pay up to $150 and then lose most of the followers over time.
Besides losing followers when you aren't doing a giveaway, a lot of accounts that do the giveaways tend to see a drop in engagement. Because the algorithm looks at percentages with engagement and not strictly the number of likes or comments, when you grow quickly, your engagement usually can't keep up. Then because your initial engagement is lower, Instagram stops showing your posts to people. Instagram also tends to show your new followers your post, and those people are just following you to win a giveaway, not because they care about your content. Then when you lose followers, that can also negatively impact your ranking in the algorithm. This is part of the reason why some people with large numbers of followers may have unusually low engagement rates.
In a couple of worst case scenarios, I heard from at least a couple of people that the company running the giveaway did not see the expected results. The company decided to buy followers so that they could deliver what they promised. Those followers are not real people and will not help your engagement levels. Eventually Instagram cleans out these fake accounts, so you lose these followers in the long run.
THE ALTERNATIVE TO LOOP GIVEAWAYS
While I do not do the big giveaways, I do still do giveaways. I do many of them on my own, but sometimes I also partner up with others to do a bigger giveaway. I will say that I do not usually see much growth from doing my own giveaways. That is not why I do them though – I do them to give back to my followers and to support other content creators.
I did one giveaway in partnership with @travelgirlsgo. I did see some growth from that giveaway since our followers had to follow the other person to win. It was not a huge increase like the big giveaways, but there was not a huge drop afterwards either. Because our audiences follow similar accounts, this meant that most of the people stuck around after the giveaway ended.
I did another giveaway with a small group of other female travel accounts. We gave away a DJI Spark to one of our followers. I gained a few hundred followers from that giveaway (from my best guess – it is hard to test exactly which followers found me through the giveaway) and once again did not lose many because all of our accounts are similar.
If you want to do a small group giveaway, reach out to those with similar accounts. That seems to help with retaining the followers you gain. It also helps with people who may already follow most of the accounts. If you only have to follow one or two new accounts to enter, people might be more willing to try. When it comes to figuring out what to give away, think of something related to your niche that your followers would want to win. Set up the rules and run your own giveaway alone or with a small group.
HOW THIS IMPACTS COLLABORATIONS & BRAND WORK
More and more brands are wising up to these methods of growth. Many are starting to look more at engagement and authentic growth methods instead of just follower count. They want to pay to get their information in front of people. If your engagement rate is dropping or stays low from giveaways, they may chose to work with someone with a smaller but more engaged following or with someone with a similar following that is more engaged. However, looking at engagement rates means pods and bots could still help you.
Keep in mind when working with brands that you want to be able to provide them with a benefit so they will work with you again in the future. If your engagement is coming from pods or bots, the company may not get much in return for working with you. They may also see the signs and choose to work with someone else (it is best practice to disclose if you are using these methods).
Several female travel feature pages that I spoke with said they try to focus on pages that are growing authentically which is another way these Instagram growth might hacks hurt you. I reached out to @travelgirlsgo and asked for a statement about why she chose to go this route. Here is what she had to say:
"When we started Instagram, we knew we wanted to do something different. It was at first a personal account. After major lack of engagement on Instagram, we decided to share others who inspired us.
One thing we wanted to really stress was NOTHING SPAMMY. We ensured that everyone we shared was genuine and helpful. We try and share a variety of things but that is top priority for the @travelgirlsgo brand.
"You might be wondering why this is so important. I work at a company as an assistant. I work with the social media team from time to time. One of the staff members decided to get involved with comment pods. What we noticed was a severe decline in referrals from Instagram from then on.
Sure, the account had more likes and comments, but other than that it was all fake. I started really looking at this on Instagram, and I noticed that those who are in comment pods tend to get a lot of 'interaction'.
However, whenever they get real or do a giveaway, it's all the same. This is a huge problem for brands or those who want to work with them. That is our take, and we hope to showcase more travel girls in the future!"
Keep in mind that while these methods may work in the short term, they may hurt your chances of working with brands or feature pages in the long term.
****
There are some benefits to using pods, bots, and loop giveaways, but there are some drawbacks as well. Ultimately, each person has to decide on his or her own what path to take.
I am not here to judge you for your decisions, but I do want you to make informed decisions so you know the risks and rewards of each method. As I mentioned before, I know people who have used these methods successfully. For me, they did not work or were methods that I did not want to try because of the risks involved.
What are your thoughts on these methods of growth? Do you have any positive or negative experiences with these methods?
Looking for individual feedback on your account and to meet with someone about your Instagram goals and how to reach them? Set up an Instagram consultation here.
Like this post? Pin it for later and share it with others!