Growing on Instagram isn't easy in 2019 unless you are willing to pay for giveaways or use bots or buy followers. It doesn't have to be that way. There are still organic ways to grow your account, and features and shout-outs on Instagram can help you put your name in front of more people.
IMPORTANCE OF CONTENT ON INSTAGRAM
Before I talk about shout-outs or features, it is important to know how your content will play a role in this. Your content must be good to get features or shout-outs on Instagram. People do not want to feature content that they do not like or that does not fit with their page. If you want to be featured on a page, make sure your content is the type they are looking for on their page and is of a high enough quality for them to want to use it. For example, if the page only features landscape photos and you tag them in a photo of you in front of a famous building in Europe, that feature probably won't happen.
WHAT IS A SHOUT-OUT ON INSTAGRAM?
Since shout-outs are a little easier to explain, I'll start with them. Shout-outs on Instagram are given from one page to another. It can be done a few ways. The most common form of shout-outs is when one account features another in their stories, tagging that account and sharing their content. Viewers of that story can then click on the username and visit that page. If they like the content, they are more likely to visit the page and give the person a follow.
Another type of shout-out is when a person does a story takeover for a feature page. It might be a page related to the place you are visiting, a brand you are wearing, or a niche you are in (female travel for example). These are typically set up ahead of time. The page may have you send them the content to post or may have you tag them in your stories to repost in their own.
DO SHOUT-OUTS ON INSTAGRAM HELP YOU GROW?
Shout-outs have been one of the ways I have gained the most followers. However, it depends on who is giving the shout-out. Just because a page has a huge following does not mean that their shout-out will be seen by a lot of people. For example, I have had a few accounts with close to or over a million followers shout me out. From one, I received 400 – 500 followers in the 24 hours the story was up. From another, I received the same amount of followers as I typically was gaining at that time (30 – 50).
Why such a big difference? You need accounts with active followers to shout you out. In my shout-outs on my page, I typically see anywhere from 100 – 300 clicks on a page. The most clicks I ever had on a shout-out was 650 or so. That does NOT mean that every one of those people will follow the person. This is where the content comes in. If they like what they see in the photos and captions, they are more likely to follow.
With story takeovers, I have only done two so far, one for @nextvacay (find out why I love them here) and one for @girlslovetravel. I do know I gained some followers from each through comments or DMs. I did not see a huge increase, but I did notice that my profile views were higher on those days.
HOW DO I GET A SHOUT-OUT ON INSTAGRAM?
Shout-outs are a bit trickier to get than features. There is not clear cut way to guarantee a shout-out. For story takeovers, find a page that would fit with the stories you want to post. Reach out through DM or email to see if you could work together in this way. If you are collaborating with a brand, see if you can do a story takeover as part of the collaboration.
For shout-outs of your page/content, the best ways I have found is to watch stories and do to shout-outs yourself. Some accounts (@travel_inhershoes is the one I have gained the most followers from) will post in stories to comment a certain emoji and then shout out some of those who comment that emoji. I also do this sometimes as a way to get interaction on my post and find new accounts to shout out.
Another way to gain shout-outs is to give shout-outs yourself. If you shout someone out, I have found they are more likely to shout you out in return. You can also reach out through DM to ask someone if they want to exchange shout-outs, but this is usually a better idea if you can both gain about the same amount from the shout-out. I personally don't DM to ask for shout-outs. I prefer to just shout out accounts I like or accounts that support me without asking for something in return.
There are also shout-out loops. I have never found one to join, but you can always organize one yourself. You would need to get a group of people with similar pages to agree to shout each other out within a designated time frame. You can create a schedule or just give a deadline.
Some accounts also shout out people who use their hashtag. Two that come to mind immediately for this are @heleneinbetween with her #teamhelene or #helenemademedoit hashtags and @travelgirlsgo with the hashtag #travelgirlsgo. This is a way for feature pages to feature more photos than they could ever include on their feed. By doing this, TravelGirlsGo can show off more accounts of female travelers to their audience.
I have received more than a few DMs about how I choose my shout-outs, so I'm going to go ahead and include that here too. I typically choose mine from people who regularly comment on my posts. Sometimes it is an emoji that I asked people to comment, but it is usually the names I see over and over again as I respond to comments. Since I make it a goal to return all comments, I end up seeing the pages of those who comments on my posts. If what I see stands out and I see it regularly, I tend to add it to a list on my phone for when I want to do shout-outs. I also add names of those who have shouted me out to that list to try to return as many as I can.
WHAT IS A FEATURE PAGE ON INSTAGRAM?
Time to move on to features. There are quite a few feature pages out there that post your photo and tag you in the picture and/or caption (ideally both). Some are quite small still and will not bring you much exposure. Others are huge and can send lots of new accounts to your page. Each one will have different rules for being featured on their page, so it is important to pay attention to the content the page posts and to the rules they have for being featured (more on that later).
DOES GETTING FEATURED ON INSTAGRAM HELP YOU GROW?
Just like with shout-outs, features on Instagram can bring in a lot of exposure or not much at all. When choosing pages to tag in my hashtags and photos, I look for pages with a large and engaged following. If the account has 200,000 followers and the photos only get 500 likes, I'm probably not going to tag them because my photo is not likely to be seen by many people. I typically see increased page views after a feature, and sometimes an increase in the number of followers gained that day or the next day. I have never experienced crazy growth from a feature, but I know some people have depending on the account and the photo.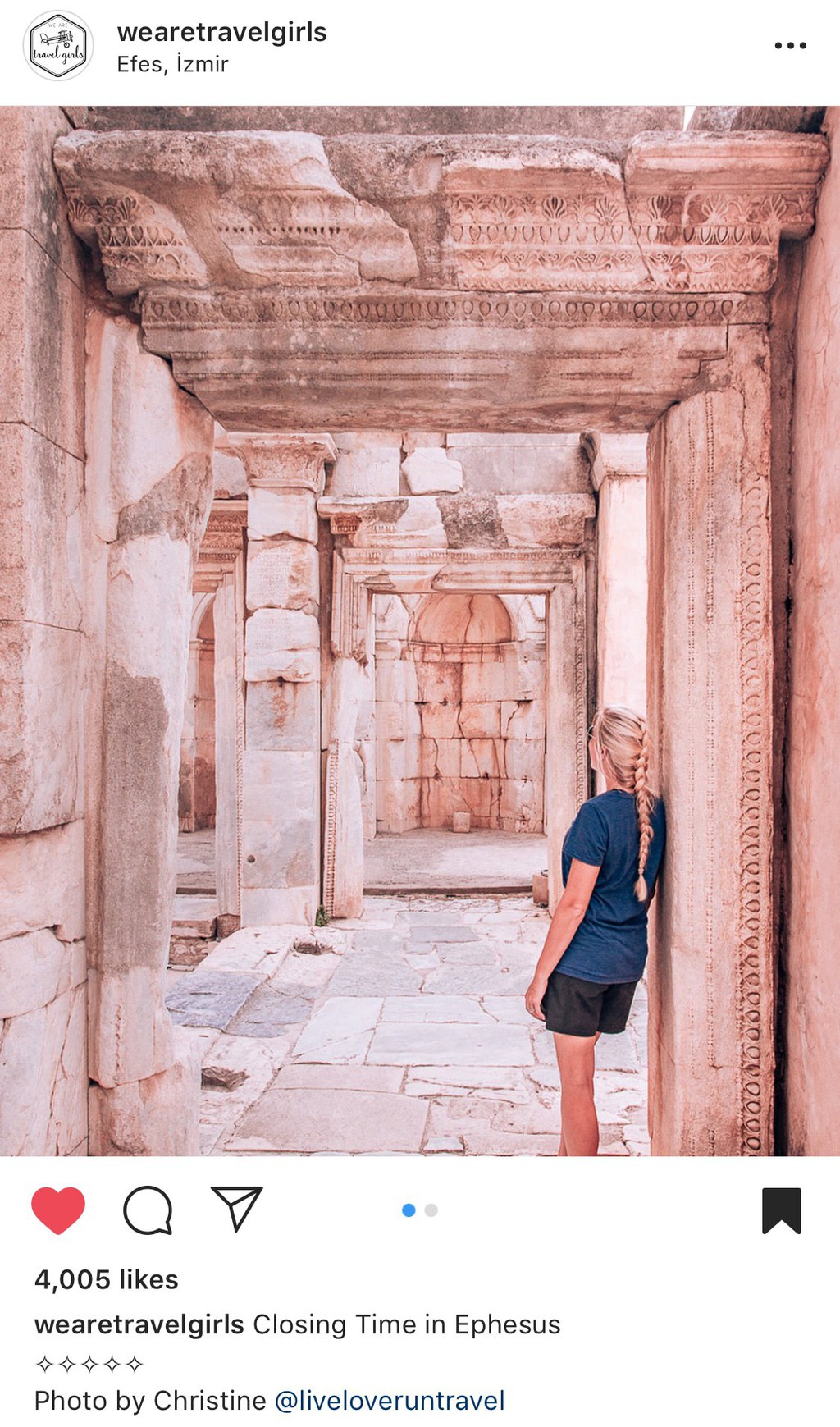 SHOULD I PAY FOR A FEATURE ON INSTAGRAM?
My answer is no. My reason is this: I have not seen a feature bring growth worth paying for. If I gained hundreds of followers from a single feature, then I might be able to say it is a good idea. However, I usually don't see enough of an increase in my growth to consider paying for a feature.
There are some pages that offer paid features. You pay them for one or a few features (usually for a reduced rate). Typically you pay more to get featured faster. In DMs from these pages, the going rates seem to be anywhere from $20 a post to $50 a post. Obviously the prices range depending on the page.
HOW DO I GET FEATURED ON INSTAGRAM?
Each page has rules for how to be featured. Most require that you follow the page (which makes sense). Many use a hashtag to find content for their page. Some require you tag them in the photo. While it is not as common, some have a submission page to submit photos you want featured.
To find pages, look around on Instagram. Look at photos that are similar to yours and check the hashtags on that photo. It is usually hard to see which accounts are tagged in the photo as people tend to pile them on top of each other. You can use 30 hashtags and tag 20 accounts, so I use them all.
I typically do not use many huge accounts or hashtags (close to or over a million). I use a few just in case, but I know my photo will probably get lost in the larger hashtags. For my hashtags, I usually use a few that are destination specific (maybe 5 – 10) and then the rest from the female travel niche. Since you can use 30 hashtags but only tag 20 accounts, I usually tag the bigger accounts or accounts that have featured me before first.
THE BEST FEATURE TRAVEL FEATURE PAGES ON INSTAGRAM
@Travelgirlsgo
TravelGirlsGo features female travel photos on their feed and in their stories. For a feature, you must follow them and use their hashtag (#travelgirlsgo). This page uses photos only with female travelers in them and does not support pages that use bots or pods.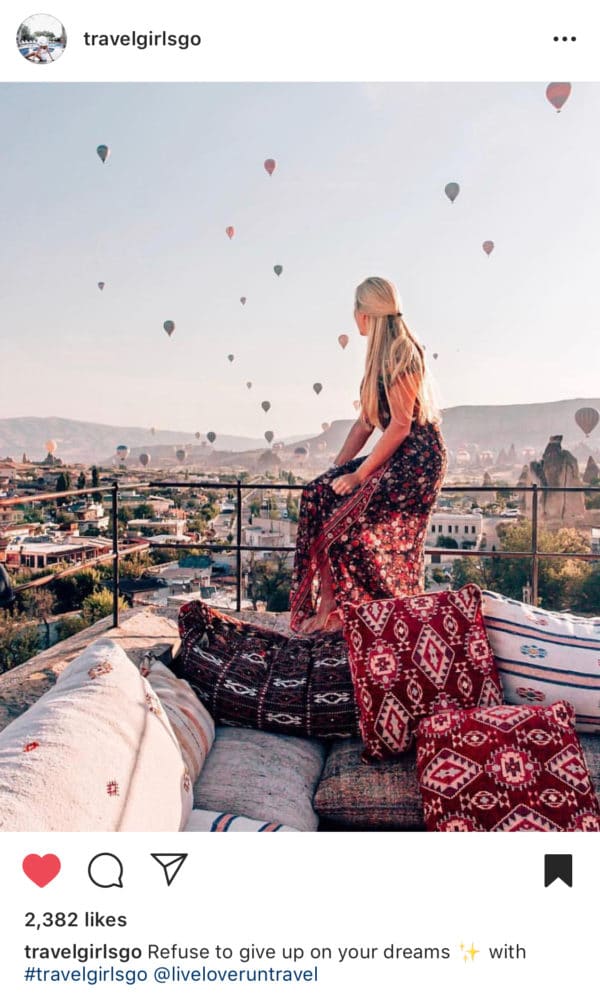 @Wearetravelgirls
WeAreTravelGirls features female travel photos on their feed. They choose features a few ways for their feed or their stories. My first WATG feature came from writing a post for their blog. From that point on, they started following my page and featured a few photos. Each time I write for their blog, they typically feature the article in their stories and tag me.
For photo features, you can use the hashtag #wearetravelgirls and tag them in your photos. They also have a submission page on their website. It allows you to submit photos and travel tips for their Instagram too.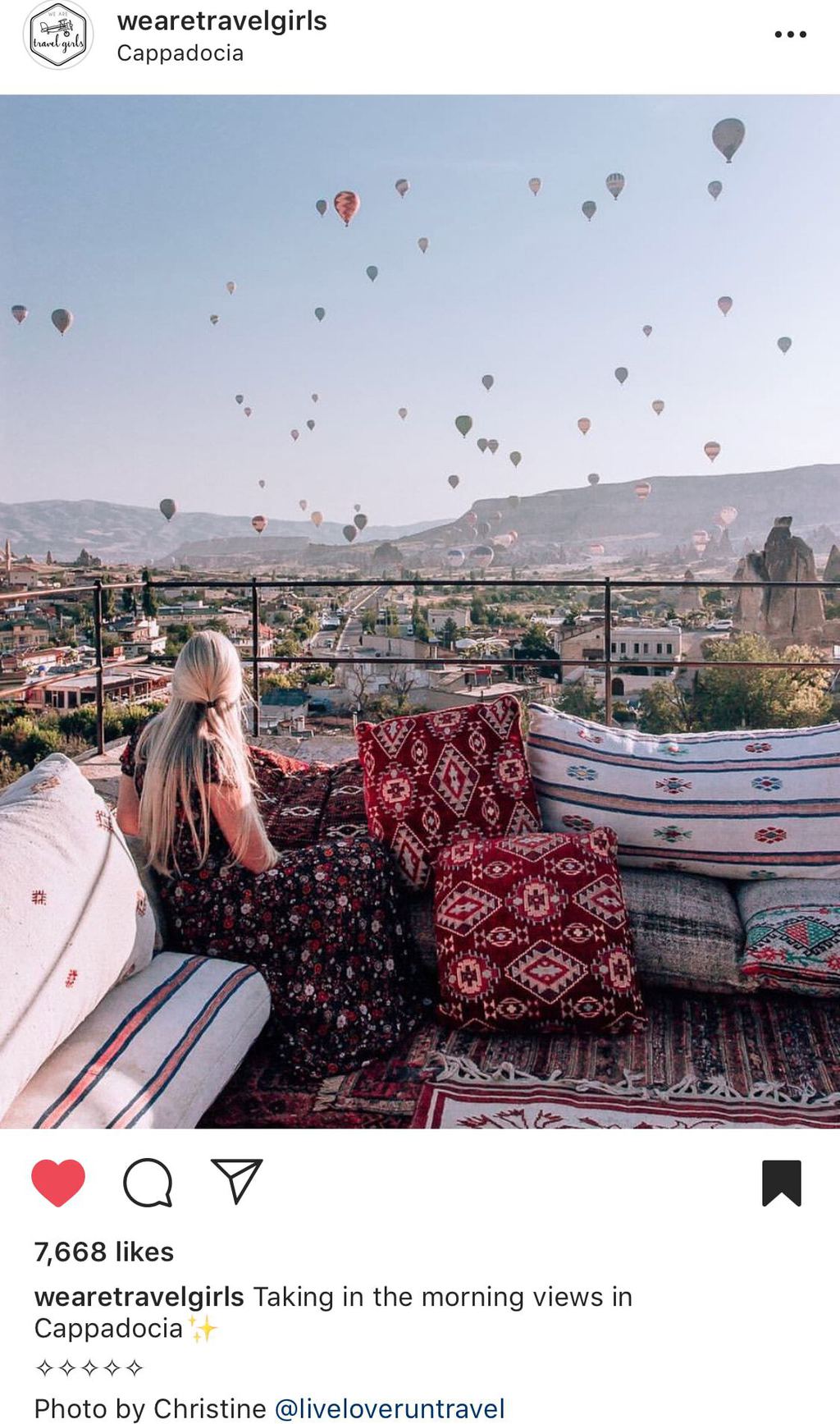 @Dametraveler
DameTraveler is another female travel page. While I have yet to be featured on this page, they do offer tips for how to be featured. You can also write for their blog for increased exposure. Use #dametraveler for features. Along with the main account, they also have other feature pages such as @dametravelerfoodie, @dametravelerhotels and @lovelettertoeurope.
@Thetraveltag
The Travel Tag has a hashtag (#traveltagged), but they also have a link for submissions to be posted on their Instagram page. The first time I used that link, I got my first feature from the account within a few days. I just submitted a second time, so we will see what happens. It doesn't hurt to submit photos here every once in a while since you just have to link to your Instagram post.
@Teamkaptainkenny
If you aren't using #teamkaptainkenny, you are missing out on some free engagement and an awesome community. I have never seen such an engaged community as the community that @kaptain.kenny built. In fact, she now has subcategories by location with #tkk at the front (for example, #tkklondon). She started a feature page called @teamkaptainkenny that features members of the community. She also allows stories takeovers if that is something you are interested in.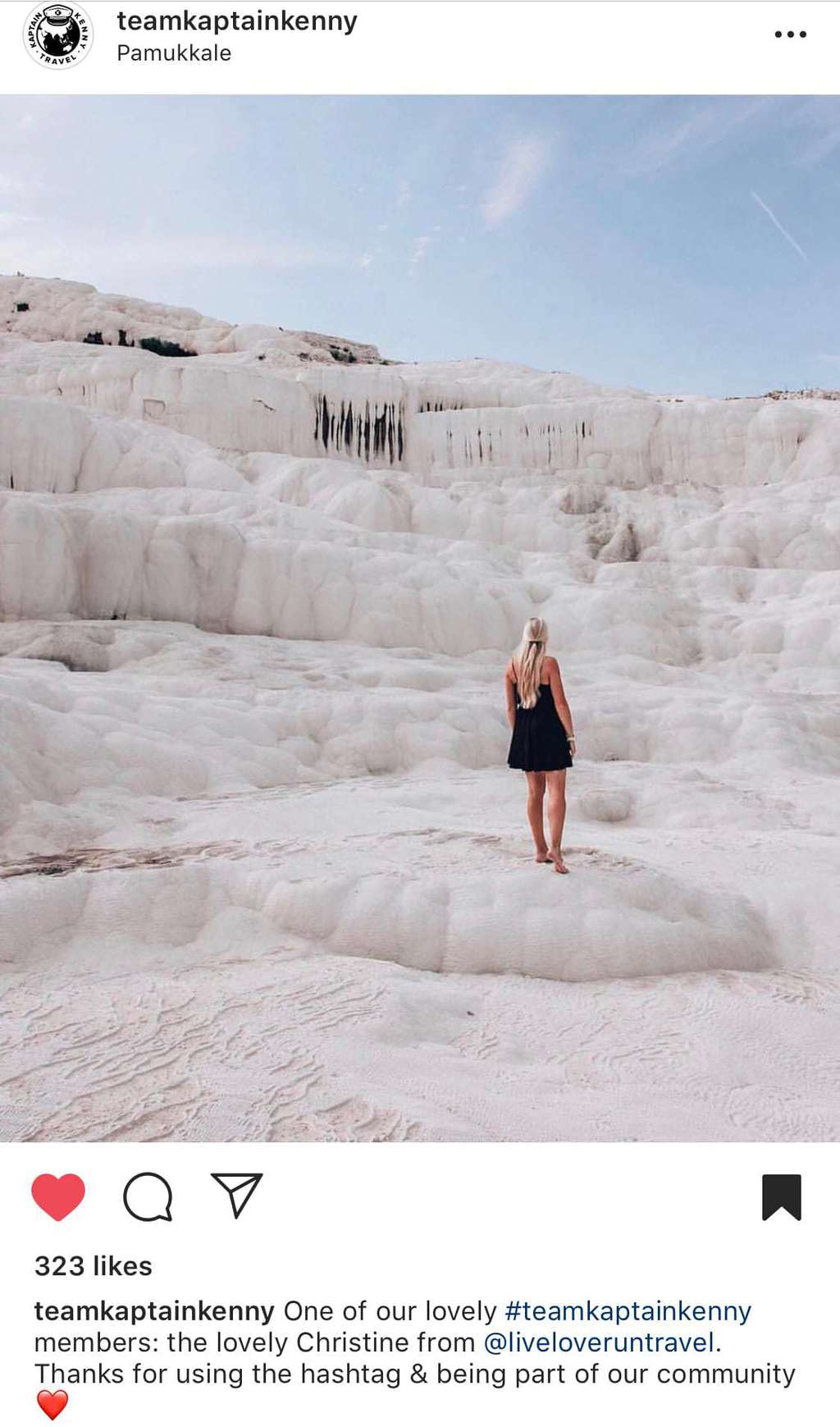 @Girlslovetravel
Girls Love Travel is more than just an Instagram page. I love being a part of their Facebook community as well. On the Facebook page, you can ask and answer travel questions from other female travelers. On the Instagram page, they feature photos from female travelers and allow stories takeovers by tagging them in your travel stories. For features, use #gltlove or #girlslovetravel.
@Darlingescapes
Darling Escapes posts dreamy photos of female travelers and offers tips to be featured on their page. Use #darlingescapes for features. They also allow submissions for their blog that may be featured on their Instagram feed and will be featured on their Instagram Stories. My first feature on their page was only after writing a blog post for them. Doing guest writing helps with the links back to your blog and makes that page more likely to feature you.
@Top________photo
If you are a traveler, always look for destination specific hashtags with feature pages. For starters, there is probably a @top_______photo for the location you are posting. These pages feature location specific photos of destinations all over the world. For example, @topamsterdamphoto features photos of Amsterdam.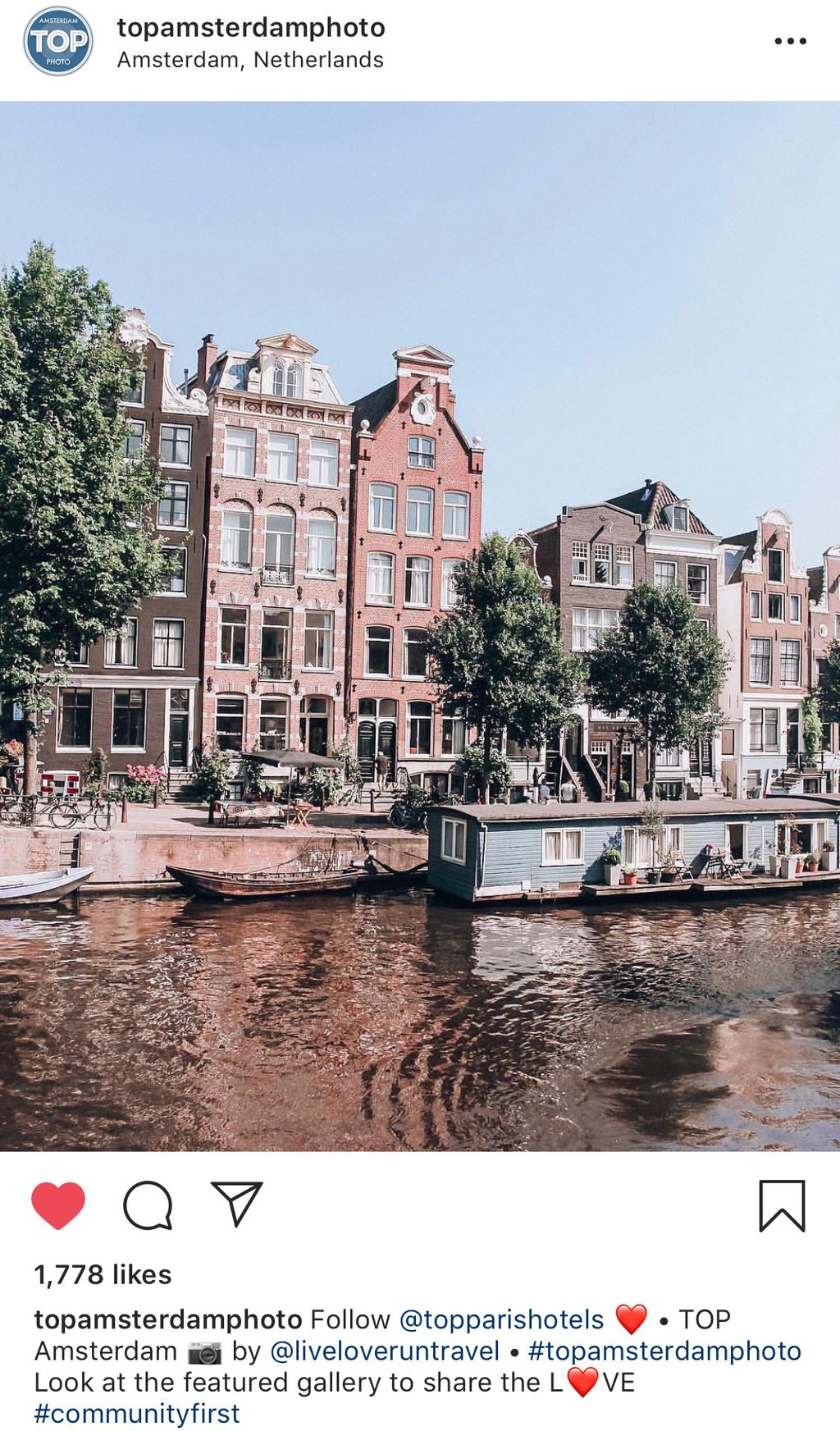 @Visit________
Always look for a tourism board page for places you visit. Many times the hashtag is #visit________, but you definitely want to look and see. For example, for our recent trip to Portugal, I have been using #visitPortugal for the @visitPortugal page. When we went to Scotland last year, @VisitScotland posted one of my photos. It is my most liked photo ever with over 25,000 likes.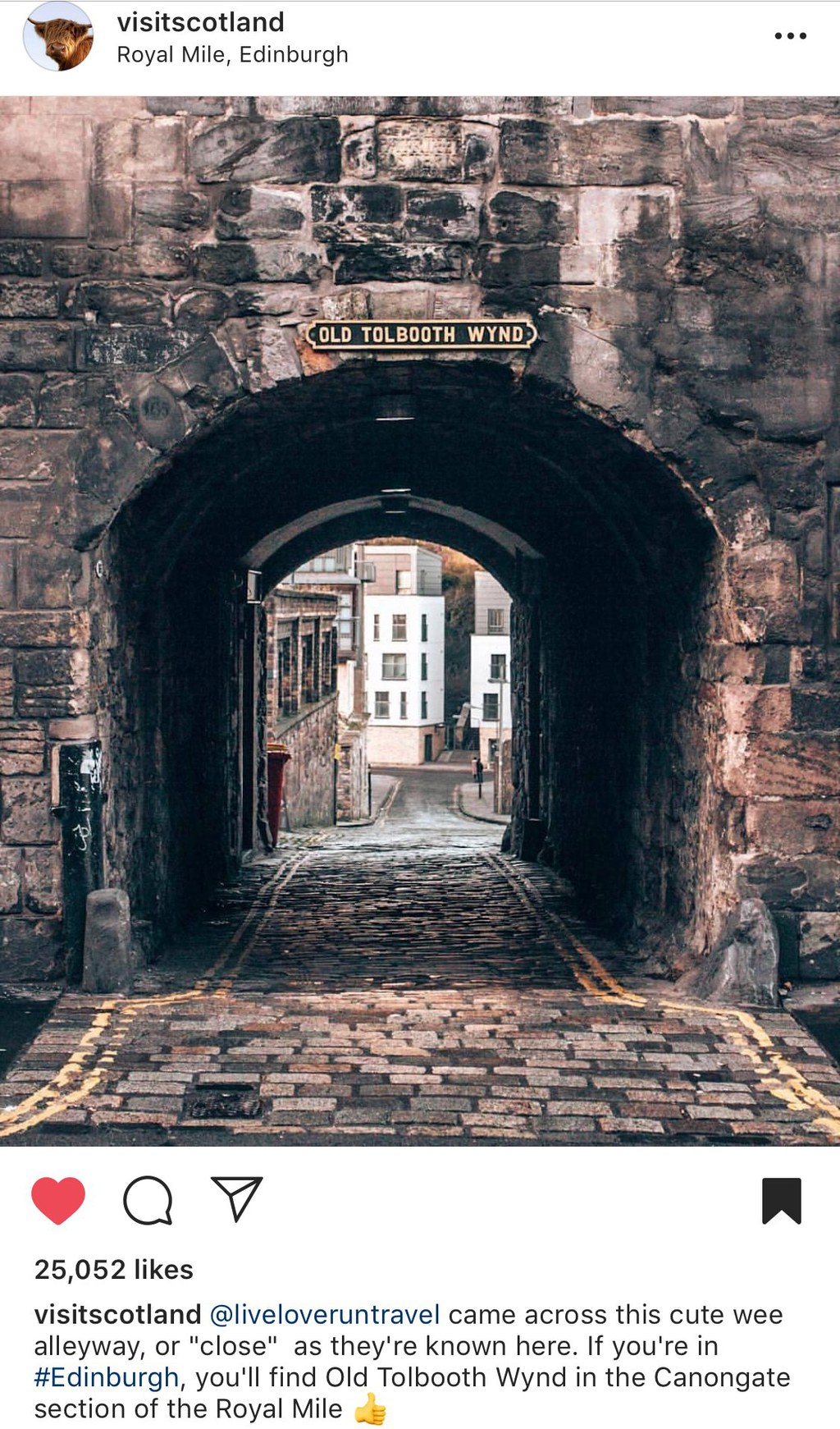 @The_Travel_Hub
The Travel Hub is a community travel page as well, featuring photos and tips for destinations all over the world. They also allow guest posts on their blog. They were one of the first feature pages I found and the first to feature my photos when I first started and had less than 1,000 followers. I will always be thankful to them as they supported me from the start.
*****
There are many more feature pages out there than I can cover in one blog post. What are some of your favorite feature pages? Have features and/or shout outs been helpful for you?
Looking for more Instagram tips and advice? Find all my Instagram related posts here.
Looking for individual feedback and advice to grow your Instagram account and reach your goals? Set up an Instagram consultation here.
Like this post? Save it for later and share it with others!