Eating in an igloo might be something on your bucket list. I didn't know it was on mine until we booked cheap flights to London as a way to get to Belgium to see family last year.
I knew the Coppa Club igloos existed from seeing them on Instagram, but assumed they were too expensive. When we happened to walk by them our first night in London, we decided to ask about eating there only to find out they book months in advance.
Unfortunately, we did not book the igloos before the trip. Fortunately, we found a way to eat in the Coppa Club Tower Bridge igloos without a reservation. If you are planning to eat in the Coppa Club igloos in 2020, book it as soon as they open the reservations. Otherwise, use our little trick to eat in the igloos without booking in advance.
We had one night in London at the start of our trip and spent three days in London at the end of our trip two weeks later. Thanks to a helpful waiter that first night, we were able to dine in an igloo just by walking in.
Even if you don't want to eat in the igloos, they are still worth a quick stop to see them or take some pictures. The photos of the igloos are some of my most liked photos on Instagram (see my top Instagram tips here).
Chances are, if you go to London, you'll want to see the nearby Tower Bridge and Tower of London anyways. If you visit London at Christmas, you can add Coppa Club to your list of places to see Christmas lights.
The Coppa Club igloos are available all year except the few days between seasons when they change the theme. The 2019-2020 winter Coppa Club igloos have a woodlands theme featuring candles, blankets, cruelty-free sheepskin rugs, and evergreen trees.
In the summer, the igloos transform into a summer theme with a fun vibe. For 2019, the theme was Coppa Club Surf Shacks, and 2018's theme was Tulum Paradise Pods.
In October of 2019, Coppa Club Brighton opened their own igloos making them available for the first time ever at a second Coppa Club location. Bookings for the Coppa Club igloos in Brighton and at the Tower Bridge are now open through January 31, 2020.
Find everything you need to know about dining in the igloos at the Coppa Club Tower Bridge location including how to eat there without a reservation, when to make reservations if you can plan ahead, what the prices and food are like, and when to go for the best pictures.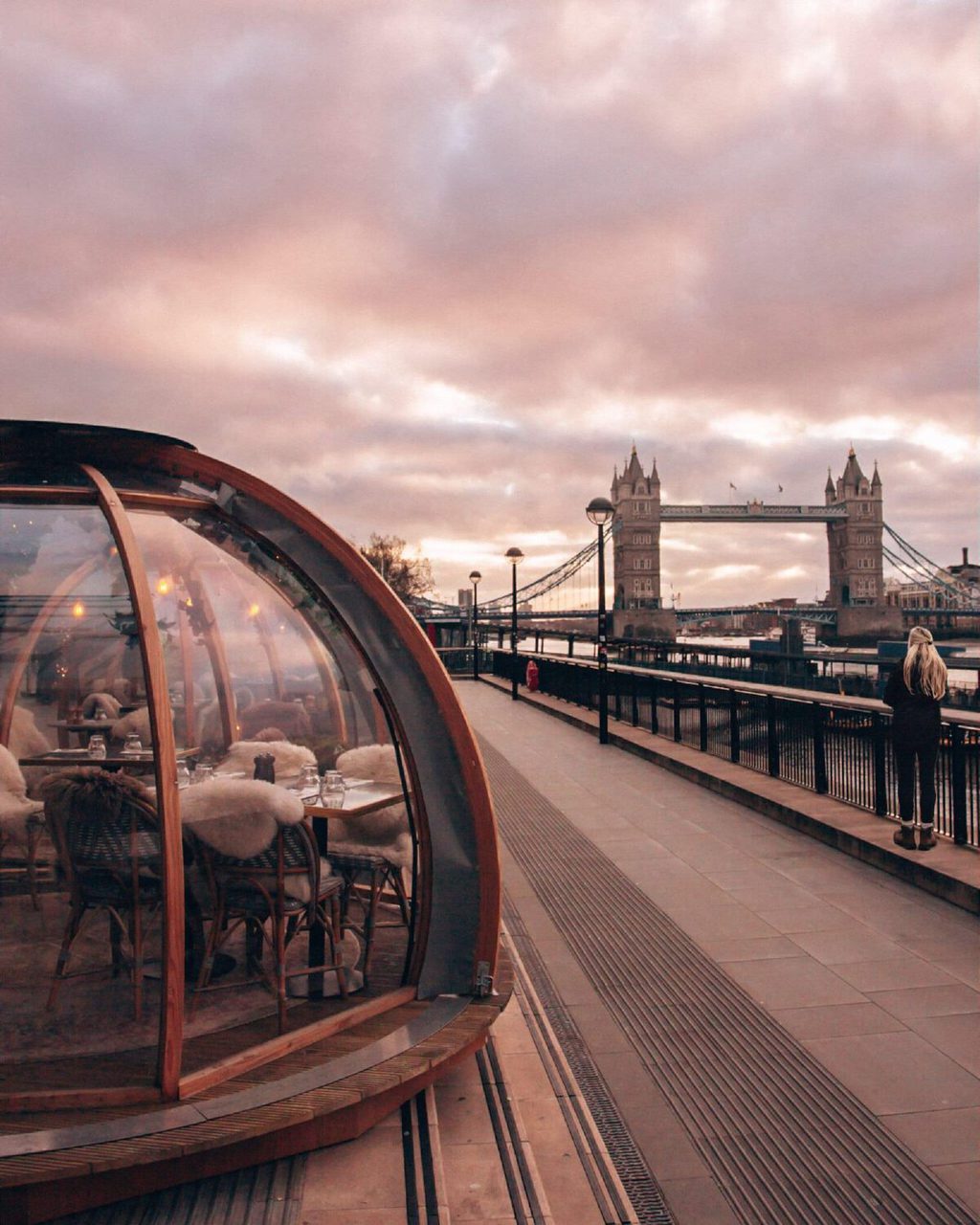 HOW MUCH DOES IT COST TO EAT IN THE COPPA CLUB IGLOOS?
There is no extra fee or charge to eat in the igloos; you just pay for the food and drinks you order. When I first saw the Coppa Club igloos online, I wanted to eat in one. However, I assumed it would be out of our price range. We are not foodies, and we tend to try to eat cheap in favor of spending the money on other travel expenses. I thought the prices would be outrageous given that it was a special dining experience and in London.
It turns out I was wrong. The menu is the same as eating inside Coppa Club. There is no upcharge or extra fee for eating in the igloo.
We ate brunch in the igloo and spent about £20 for both of us. The price would go up with drinks included, but we just had water and I drank a hot chocolate (£3.25). Since we went early, we both enjoyed a short stack of pancakes (£6.95).
You can view all of the menu options for any time of day here. They do have vegan/vegetarian options available.
You can eat inside the restaurant instead of in an igloo, but then you can eat in any Coppa Club London location since the menu options are the same. Coppa Club is a chain restaurant with locations throughout London. You don't usually need reservations to eat inside although it may be a good idea at the Coppa Club Tower Bridge location, especially if you plan to eat dinner there.
PLANNING AHEAD: BOOKING A COPPA CLUB BRIGHTON OR LONDON IGLOO
One way to guarantee you can eat in the Coppa Club London igloos is to plan ahead. Reservations for the Coppa Club Tower Bridge pods fill up quickly, so book as early as possible. When we went in January, they were booked for the next two months.
The best way to get in, especially if you want to enjoy dinner, is to plan way in advance and get a reservation. If you live in London or can go anytime, book an igloo to guarantee it.
If you don't live in London or have set dates, try to get a booking when they release them. Book a Coppa Club igloo on their website or by calling as soon as you know you are going.
Now that the Coppa Club Brighton igloos are open, reservations are filling up fast for the new igloos. They may not be as popular as the London igloos yet, but they are sure to fill up in advance just like the London location soon. To book a Coppa Club Brighton igloo, click here.
They tend to release reservations a few months in advance and in batches. If your dates are not available on the website yet, keep checking back. Reservations are currently open through January 31, 2020, but the bookings fill up fast.
WALKING IN: EATING IN THE COPPA CLUB LONDON IGLOOS WITHOUT A RESERVATION
Since I thought it would be expensive and didn't think about needing reservations, we did not have reservations. We were going to London twice – for one day and then for a couple of days two weeks later at the end of the trip.
When we walked by that first night, we stopped to look at the menu. Once we realized the prices were normal London prices, we asked a waiter about eating there. He told us there were no reservations available until the end of February (this was at the end of December).
Luckily, he didn't stop there. He told us that we could still manage to eat there. We were all ears. He told us that they keep one of the Coppa Club igloos reserved for walk-ins. This is not ideal if you are a large party, but it works great if you have 2 – 4 in your group.
Even with that one igloo saved for walk-ins, it only seats 8 people at once. It had two tables for two people and one table for four people in it. That means that later in the day and especially near dinner, you may end up waiting an hour or two for a table to clear out.
If you wait and go for dinner, they may close before you are seated. The waiter warned us that the wait time can be 3+ hours for a busy night near dinner.
Thankfully, the waiter told us the secret: get there right at opening. On the weekends, they opened at 9 a.m. We were only there for breakfast on a Saturday and Sunday, so we decided to go for Sunday brunch. We arrived a few minutes before they opened and were seated right near 9 a.m. without a wait.
GETTING THE BEST PICTURES OF THE COPPA CLUB TOWER BRIDGE IGLOOS
The best time to photograph the igloos is before they open at 9 a.m. The sunrise in winter is closer to 8 a.m., and it is actually a perfect place to watch the sunrise.
We watched the sunrise from London Bridge with Tower Bridge in view. Then we slowly walked down to the Coppa Club igloos. By the time we got down there around 8:30, we were still the only ones there other than another photographer.
The sun comes up behind Tower Bridge, and we enjoyed a beautiful sunrise with the igloos and Tower Bridge in view. From the igloos, you can continue over to Tower Bridge and the Tower of London from here. They are both within a few minutes of the Coppa Club igloos. Even if you don't eat in the pods, you can still check them out on your way to other popular London locations on your itinerary.
The Coppa Club igloos are a popular spot for Instagram photos. Once they open, there will always be people inside the pods. If you want photos of them empty or without others around, make sure to go before they open.
You can still get Instagram-worthy photos after they open too though. You can capture the energy of the London pods with people enjoying dinners and celebrations. Because there are so few of the pods and people stay inside them, the area is not really crowded.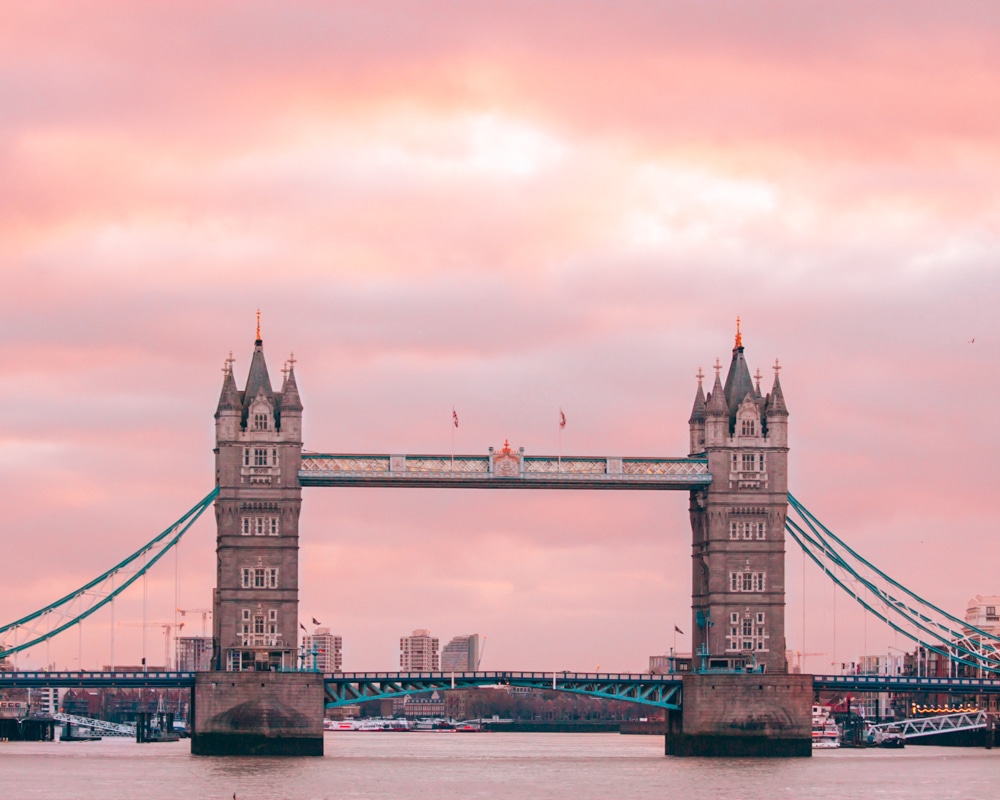 EATING IN THE COPPA CLUB IGLOOS AT TOWER BRIDGE
If you are walking in, you want to get there early. We went over to the door around 8:50 – 8:55. They put us on the list for the igloo and told us to give them a few minutes. Sure enough, they came and got us at 9 a.m. and led us to the igloo.
The walk in igloo is the one furthest from Tower Bridge, but you still have a good view of it from inside. We had the igloo to ourselves for about 15 – 20 minutes before a mother and daughter joined us. We only stayed in the igloo for about 30 – 45 minutes, and another couple joined right before we left.
No one used the other igloos during our visit in the morning, but they keep them open for when those with reservations arrive. I am not sure what time people start coming in for reservations.
Thanks to the early arrival, we looked over our menus and placed our orders for pancakes and hot chocolate (for me). Granted, we did not order anything that requires a long time to prepare. However, our food did arrive quickly to the table. The food tasted delicious, and I had to stop myself from ordering more and more of the hot chocolate.
The waitress was very nice and attentive. One of my pancakes was slightly burned, but I didn't finish my meal anyways. The pancakes were filling, and I knew I would not eat all three of them when they arrived.
I did not say anything because getting a new pancake just meant more food would go to waste. She noticed it and took them off the bill when I did not want a new plate or a drink. That actually made our meal even cheaper, but I would not count on that happening.
Overall, the experience of dining in the igloos was pleasant. In the cold January morning, it was nice to enjoy the view from inside the warmth of the igloo. It was not warm enough for me to take my jacket off (I am a wimp in the cold though!), but it was much better than outside with the bitter wind blowing.
You also have a wonderful view of the Thames River and Tower Bridge from Coppa Club's igloos. Between the unique experience of eating in an igloo (or surfer shack), the amazing view, the delicious and reasonably priced food, the high quality service, and the perfect location, the Coppa Club igloos deserve a spot on your London bucket list.
FINAL THOUGHTS ON EATING IN LONDON'S COPPA CLUB IGLOOS
Overall, eating in the Coppa Club igloos was one of the highlights of London. The pictures we got there are some of my favorite photos from the trip. The view alone is worth the dining experience. No matter when you visit London, try to eat in the igloos (winter) or Surf Shacks (summer). If you have any questions I missed, let me know in the comments!
Looking for more of our London recommendations? Check out our full 3 day itinerary for London (including Instagrammable spots) here and our full guide to finding the best Christmas lights in London here.
***This post is not sponsored and is based on our experience eating in the Coppa Club igloos without a reservation. All photos are edited with presets you can purchase here (I earn a small commission from purchases at this link at no extra cost to you).
Like this post? Save it for later and share it with friends!