Joshua Tree National Park in California is similar to Death Valley National Park – you can visit in one day and see most of the main attractions. We visited Joshua Tree in March on our California road trip before moving on to spend a day in Death Valley (about 4 hours away). Joshua Tree makes for a perfect day trip or stop on a road trip, and one day in Joshua Tree gives you plenty of time to explore the main areas. We really only spent half a day in the park itself, making it a possibility to drive in from a nearby city, see the park, and drive back all in one day.
PLANNING A DAY TRIP TO JOSHUA TREE
DRIVING OPTIONS
Located in Southern California, Joshua Tree is accessible for a day trip from several major cities. From Los Angeles, it takes a little over 2 hours to drive the 150 miles (depending on traffic of course). San Diego is only slightly further away, but it will take closer to 3 hours to get there. Las Vegas is a little further away with the 200 mile drive taking a little over 3 hours. Phoenix takes about the same amount of time but is 225 miles away. You can choose to visit it individually or as part of a road trip.
The closest stop is Palm Springs, located about 40 miles away. Palm Springs is a popular base for your visit to Joshua Tree as you can enjoy both together.
We stopped in Palm Springs after Joshua Tree to check it out as well. There are plenty of things to do in Palm Springs if you want to extend your trip. Another popular stop in the area is Salvation Mountain, located about 60 miles from Joshua Tree or 80 miles from Palm Springs.
Depending on how far you drive to get there, you may want to plan to spend the night nearby. You can use Palm Springs as a base for exploring the area or stay a little closer to the park. Since we wanted to be up and at the park for sunrise, we chose to stay closer to the park.
We spent the night at Best Western Joshua Tree Hotel and Suites. Located in nearby Yucca Valley, it gave us the perfect start to our day in Joshua Tree. Yucca Valley is a small town located just 20 minutes from the entrance with several restaurant and hotel options.
From Joshua Tree, we headed to Death Valley National Park where we also spent just one day. The two parks are only four hours away from each other, so you can see Death Valley and then make it to the Joshua Tree area to spend the night. You could also do this route in reverse, seeing Joshua Tree and then spending the night near or in Death Valley.
WEATHER & BEST TIME TO VISIT
Joshua Tree, like many National Parks, is more crowded in the summer and near holidays. The summer also brings warmer weather with temperatures hovering in the upper 90s (32C+) for much of June – September. However, in the mornings and evenings, it will still be cool during the summer months.
The rest of the year, temperatures stay between 60 and 80 (15C – 27C). At night, temperatures drop much lower. In fact, in the winter, they average near freezing.
When visiting Joshua Tree, you may want to wear layers. In the summer, you may be okay with a light jacket or without wearing layers depending on what you wear to hike. For our visit in March, we started in jackets and pants and then shifted to shorts and t-shirts later in the day.
BEST STOPS FOR YOUR DAY TRIP TO JOSHUA TREE
If you have more than a day in Joshua Tree, you can enjoy more of the hikes the park has to offer. As we had limited time, we only had about half a day to spend in the park. We still found that we were able to see pretty much everything we wanted to see.
SUNRISE & THE CHOLLA CACTUS GARDEN
The best place to watch the sunrise in Joshua Tree National Park is the Cholla Cactus Garden in my opinion. I love how the sun lights up the Cholla when it is low in the sky. The best time to visit for this is near sunrise and sunset. Honestly though, it is beautiful at any time of the day, especially on a sunny day.
Located deep in Joshua Tree National Park, it look us about an hour to get from our hotel to the garden. Since this was the furthest we were going in the park, it made sense to start there and work our way back out of the park. It is tempting to stop along the way, but we knew we would be retracing our steps later in the day.
There is a small parking lot next to the walkway through the garden. We parked and put on our jackets (it was pretty cold that morning for our Florida blood!). The walkway leads into the garden and loops back around to the parking lot. The pathway is short and an easy walk. It is only 1/4 mile (or 400 meters), but take your time and enjoy the sights and sounds of nature.
If you walk the edges of the path and aren't in closed shoes, keep an eye out. Sometimes pieces of the cactus or the barbs from the cactus are on the ground.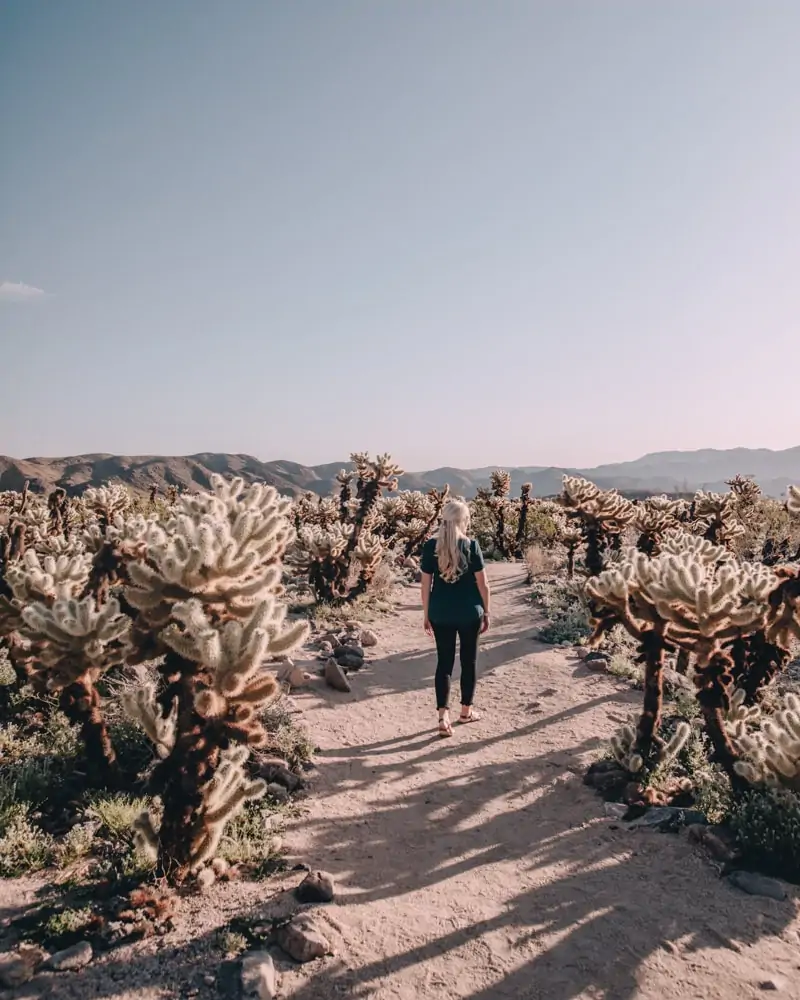 ARCH ROCK & WHITE TANK CAMPGROUND
There are some neat rock formations across the street from the White Tank Campground, the starting point for a hike to Arch Rock. You can choose to hike from other spots to get to Arch Rock as well, but the White Tank Campground is the closest. Since we did not camp in Joshua Tree, we parked outside of the campground in a little parking area along the side of the road. Because it was so early still (around 9 AM) and in the middle of March, all the spots were available. In the summer, finding a parking spot here may be harder, but there are designated parking lots with more spaces a little further away.
The hike to Arch Rock is another quick and short hike, but you can choose to explore the area more if you have time. The hike is a .3 mile (500 meter) walk. The ground is hard packed and easy to walk on, but it is not flat at parts (nothing too steep though).
We walked around for a while looking for the trail head, but it was not clearly marked. The trail starts opposite of site 9 in the campground. We wandered around through the trails, finding Arch Rock but also exploring more of the rock formations in the area. You can climb up to Arch Rock and enjoy the views.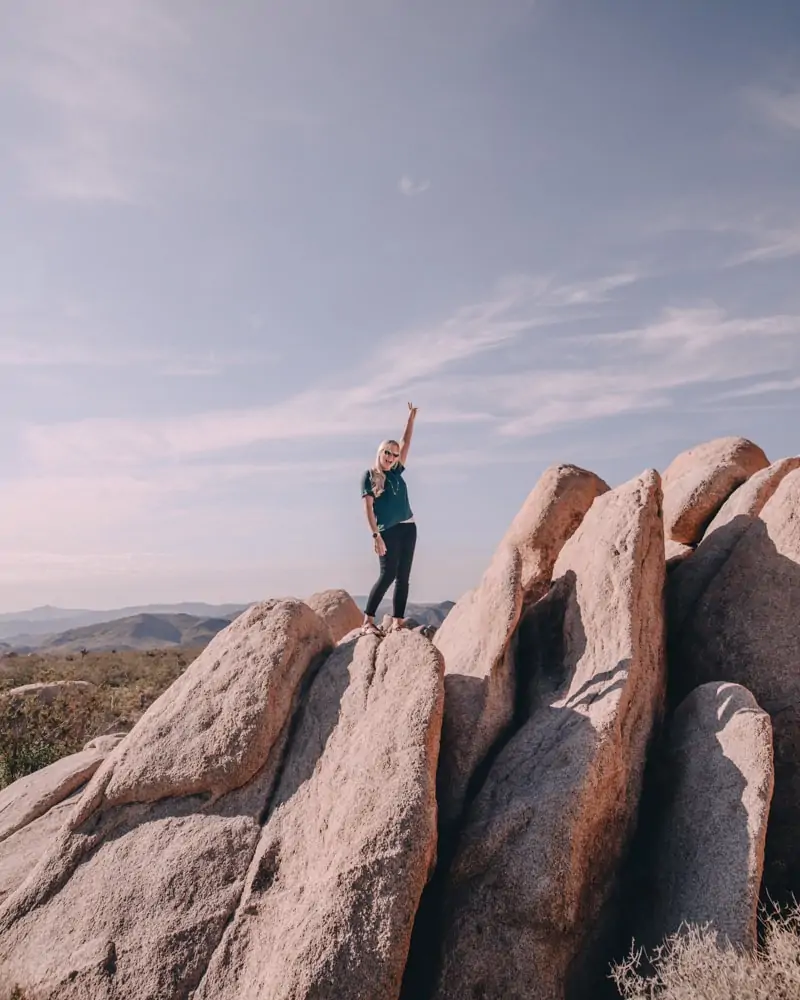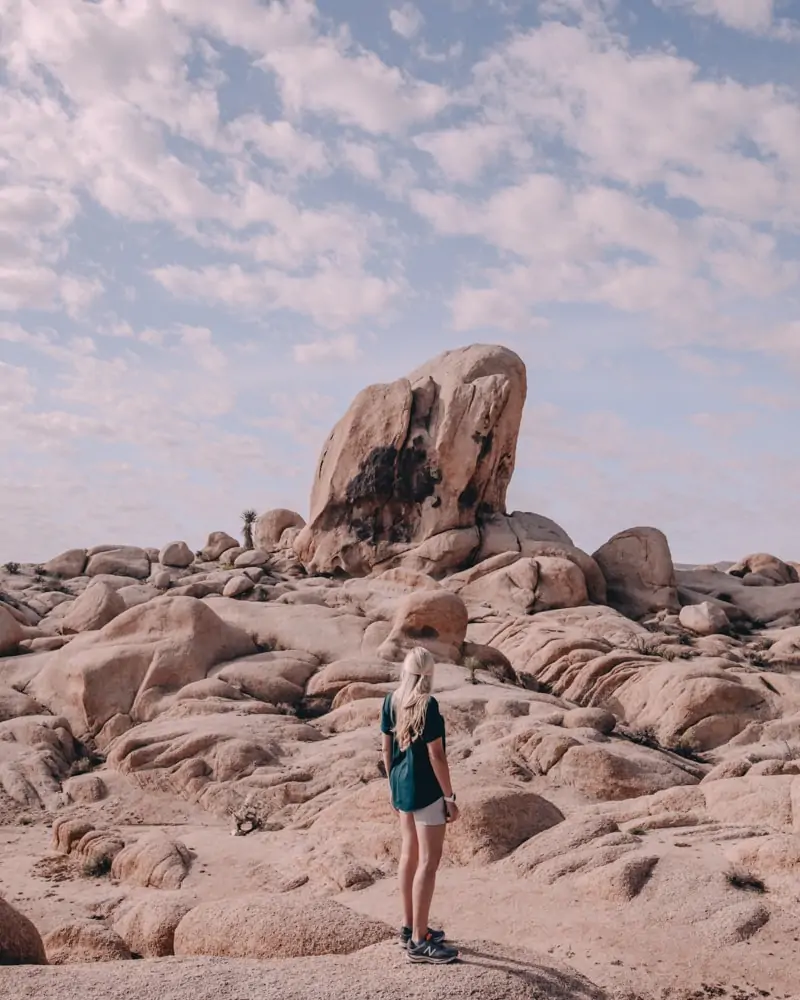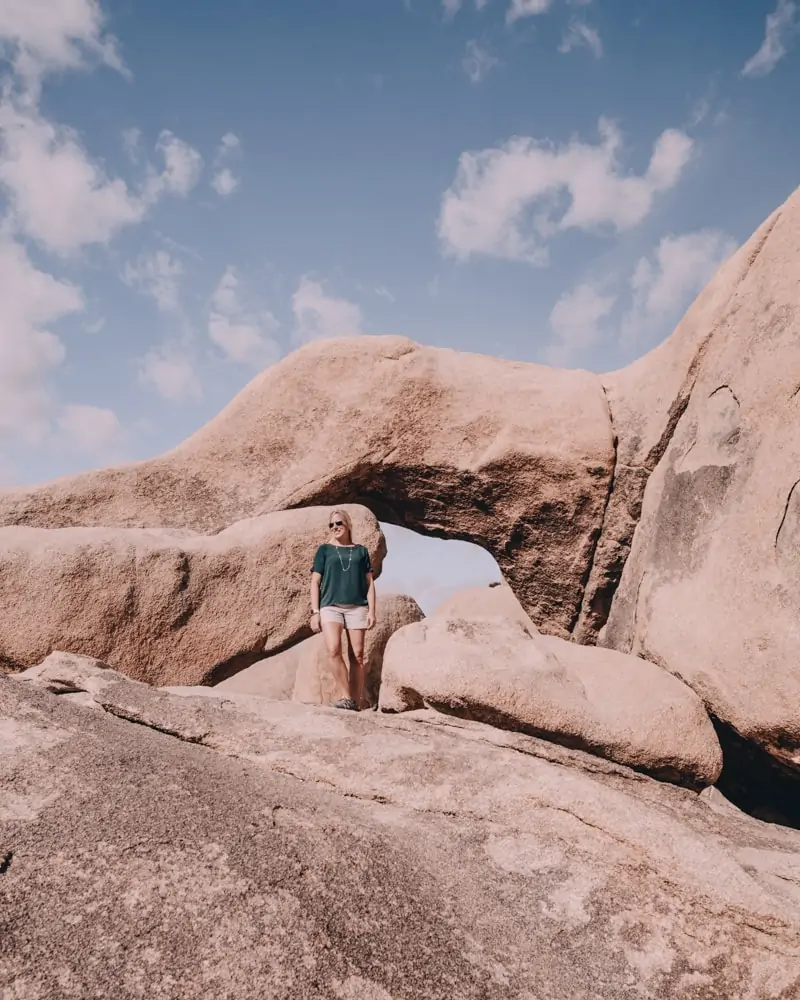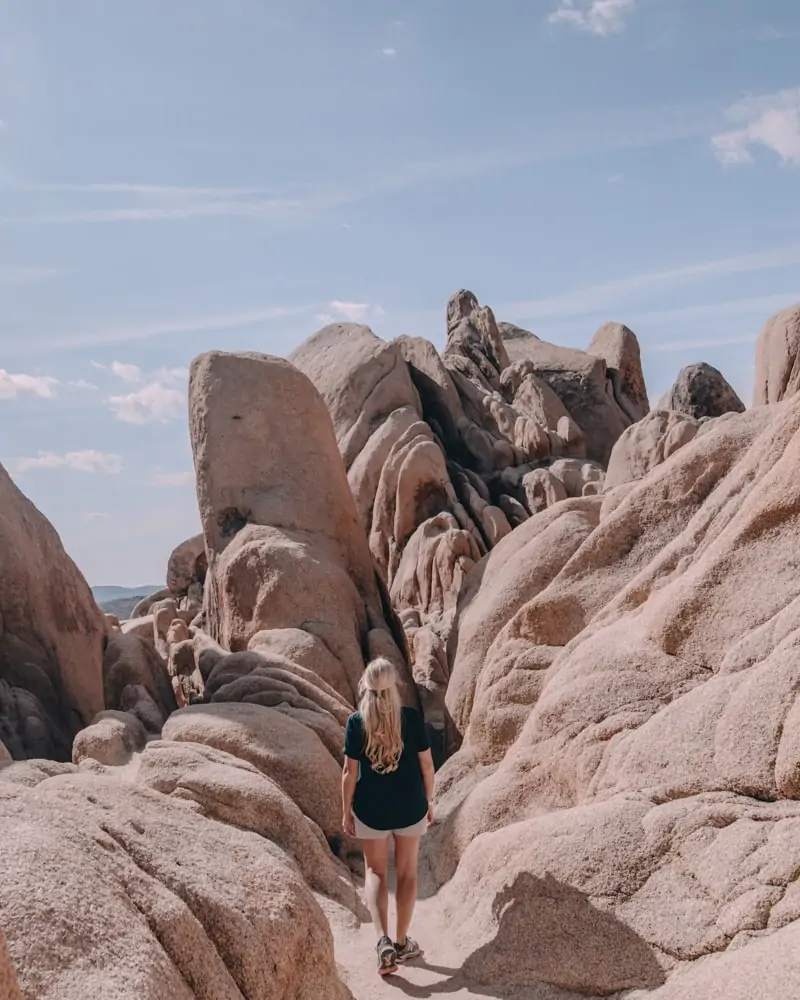 QUEEN VALLEY ROAD AREA
If you are looking to get off the beaten path, check out the dirt roads including Queen Valley Road. Not many cars explore this area, but we had a Jeep and wanted to take it off road. You could get away with 2-wheel drive if it is dry, but it will be a bumpy ride!
I liked this area of the park. There are Joshua Trees as far as the eye can see. There are also less people in this area. You can bike along these roads too or you can take a hike from these roads as well.
Before heading onto Queen Valley Road, we did stop to admire the Jumbo Rocks area. Many people were hiking and climbing the rocks here, but we kept moving. This is where the trail starts to Skull Rock which you can see from the road as well. It is a popular photo spot in Joshua Tree, but we opted to skip the line of people waiting when we saw it from the road.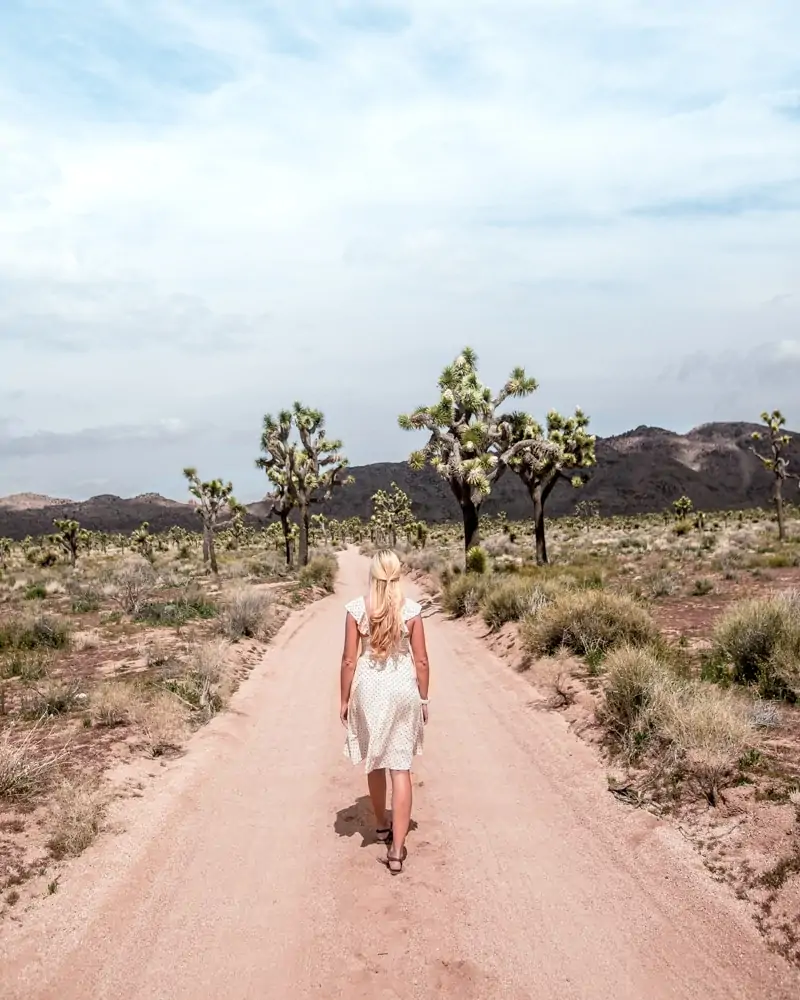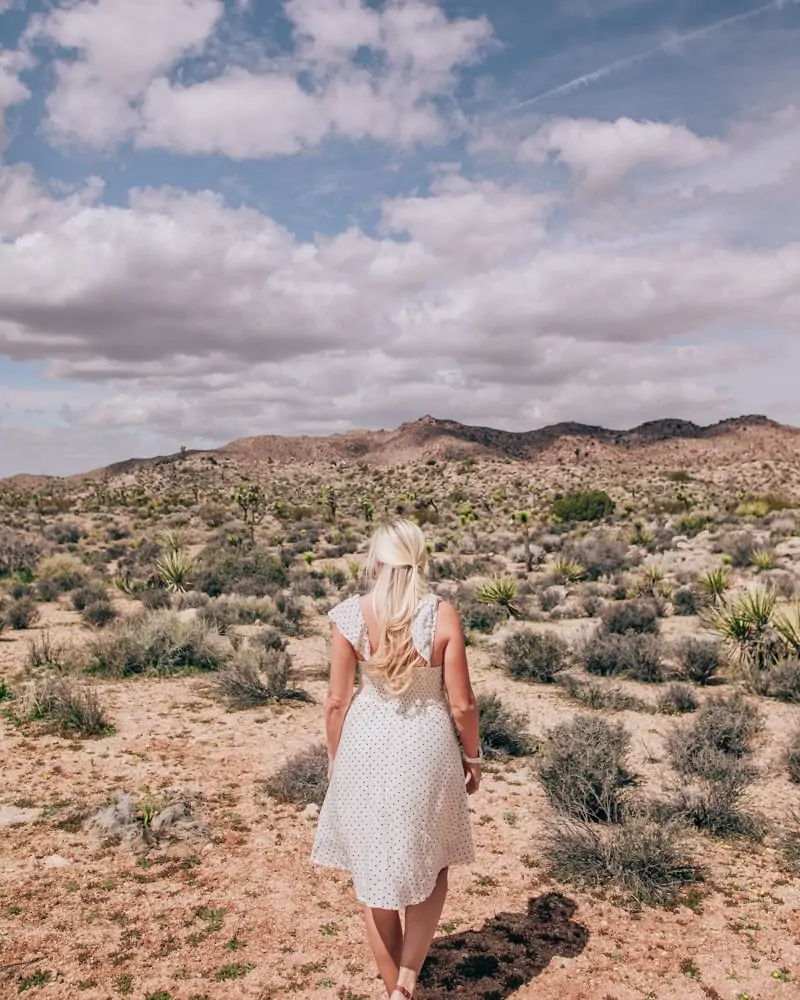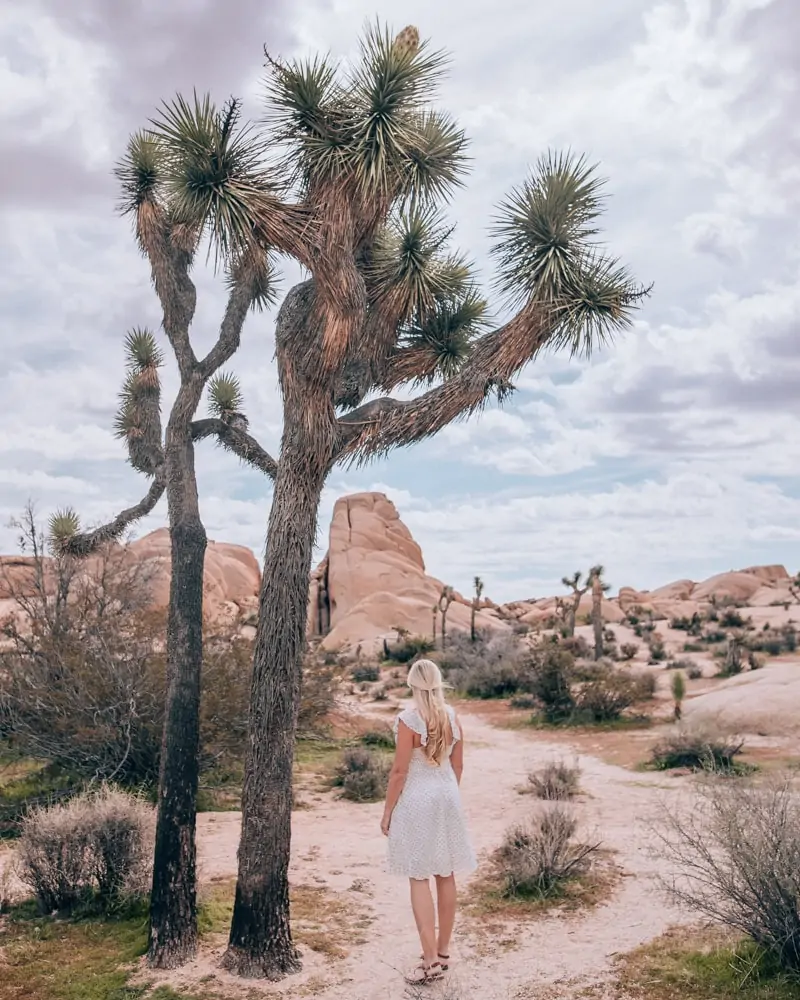 BARKER DAM
This 1.1 mile (1.8 km) loop hike is another popular hike in Joshua Tree. We ended up skipping this one because of the crowds. By noon, the park filled up compared to that morning. The parking area for Barker Dam was full as were surrounding areas. We needed to keep moving to get to Death Valley by the evening, so we decided it wasn't worth a 3-mile hike by the time we found parking.
The hike takes you back to a reservoir and an old dam built by ranchers in the area. The water sometimes dries up in the summer months, so visit during the spring or winter for the best chance of seeing it full. Make sure you get an early start to find nearby parking. It may also clear out in the late afternoon, but we did not stick around to see.
KEYS VIEW
Keys View is another popular stop but we did not stop here. It was not on the way to our other stops, and we needed to keep moving. You can find lots of pictures of the view online to see if it is worth the extra 20 minute drive each way. On clear days, you can supposedly see all the way to Mexico.
PARK BOULEVARD TO THE WEST ENTRANCE STATION
In the morning, we entered the park from the North Entrance Station. I had been disappointed as I remembered more Joshua Trees when I had been years before with my family. As we left the park later that day and took Park Boulevard to the West Entrance Station, I realized I had come this way last time.
This area of the park has a high concentration of Joshua Trees. The park is the meeting point of the Mojave and Colorado deserts. Joshua Trees only grow in the Mojave, so the closer you get to the Colorado, the fewer trees you will see. The Cholla Cactus Garden is in the Colorado, which explains why we had not seen as many trees that morning.
Along the road between the West Entrance and the turnoff for Barker Dam, there are lots of spots to stop and see the Joshua Trees or hike out among them. There are also rocks that are popular for rock climbing, an activity I enjoy watching. Joshua Tree is an extremely popular place for rock climbing. If you are interested, there are many companies offering lessons or guides to accompany you.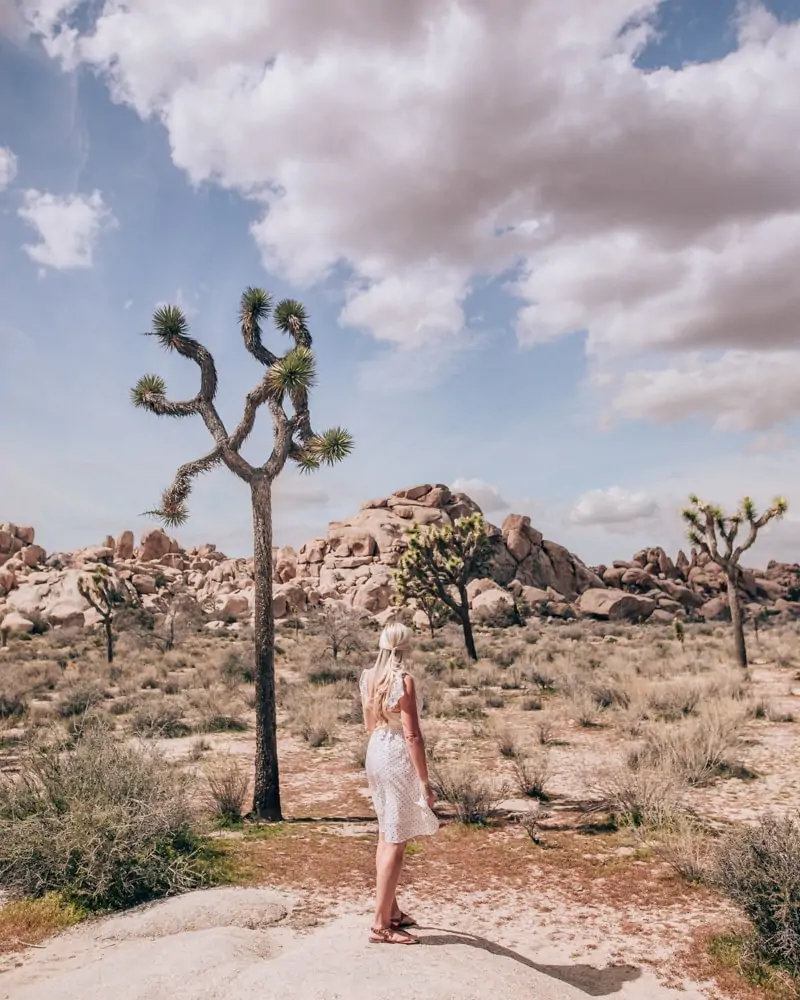 *****
Joshua Tree makes for a great stop on any California road trip or even a day trip adventure from nearby cities. You don't need long to explore the park, but you can choose to stay nearby and explore more of the area.
For more of our California road trip series, check out our one day itinerary for Death Valley National Park. For more destinations besides California to add to your bucket list, check out our top bucket list destinations you don't want to miss!
Like this post? Pin it!