When planning a California or Western U.S. road trip, Death Valley National Park needs to be one of your stops. You can choose to spend a few days there, but really, you can see most of the top sites in Death Valley in one day.
Accommodations for Death Valley make planning a trip even trickier depending on your budget, so you may even just want to drive through and see everything as you go. No matter how much time you have, Death Valley is worth the stop!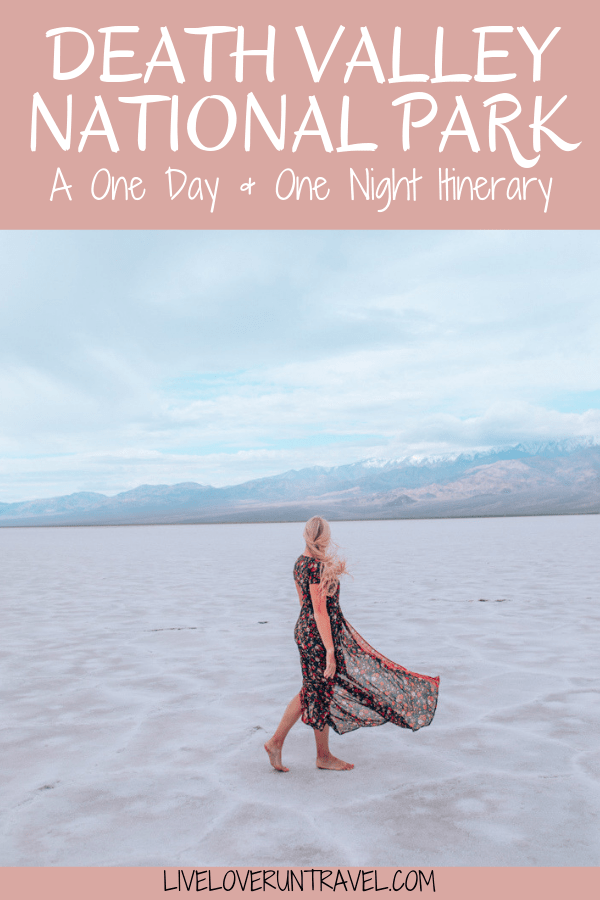 WHAT TO SEE & DO IN DEATH VALLEY
Death Valley National Park has so many unique hikes and landscapes, but many of them are fairly easy to access. This makes it possible to see Death Valley in a day. We arrived in the evening, spent the night, and explored the next morning and early afternoon. In that time, we had plenty of time to see what we came to see. I am also including a few other spots we considered seeing, but we had to hit the road to our next stop – San Francisco.
MESQUITE SAND DUNES
If you've seen pictures of rolling sand dunes stretching high into the sky and wanted to take one yourself, you don't have to travel to Dubai or Morocco. Death Valley National Park is home to the Mesquite Sand Dunes. These sand dunes make for an impressive sight and beautiful pictures. If you are staying on a clear night, it also makes for a good spot for night photography. The night we were there was too cloudy and rainy to see anything, so we did not even try.
You can see the dunes from miles away as you drive through the valley. The parking lot for them is right next to them. From there, you can decide how far into the dunes you want to hike. Make sure to take water with you, especially if it is a warm day.
The hike to the top of the tallest dune is 1 mile from the parking lot, making it a 2 mile round trip hike (3.2 km). You can easily make this hike longer or shorter depending on your time and fitness level. Plan to spend about an hour or two hiking out and back and exploring the sand dunes if you have the time. If you have less time, take 15 – 20 minutes to hike out to the dunes past the desert plants. In about 30 – 40 minutes round trip you can get out to some of the main dunes and past most of the people.
I wore sandals on this hike and did not regret it. However, I did have to be careful of sharp sticks sometimes hidden under the sand. My husband wore hiking shoes, and they were filled with sand by the end. I hate the feeling of sand in my shoes, so I was glad to have sandals. As the hike is all on soft sand, you can get away with various types of footwear.
We chose to visit the Mesquite Sand Dunes for sunrise in hopes of catching the early morning light and shadows playing on the dunes. However, we awoke to cloudy skies. The clouds did not clear out, but the early morning meant we had the dunes mostly to ourselves. Keep an eye along dune ridges though as some photographers have set up to capture them. We kept moving if someone had already claimed the top of that dune – there are plenty to choose from!
If you are not a morning person, sunset and the full moon also make for perfect times to photograph the dunes. I would avoid this hike in the middle of the day if possible as there is no shade. Even in the cooler months, you will get a workout climbing the soft sand, but the warmer months would make this hike miserable in the mid-day heat.
BADWATER BASIN SALT FLATS
This is probably the most visited spot in the park. Known for being the lowest point in North America at 282 ft (86 m) below sea level, it is worth at least a quick stop if not a little hike. From the parking lot, you can look up and see the sign that shows you where sea level is. It really gives you a better idea of how far down you are from sea level.
You can choose to just step out onto the viewing platform that looks over the salt flats or to walk out to them. The week before we were there, they had an unusual amount of rain (still not much for most places). This actually caused a shallow lake to form on the salt flats as the water ran down to the lowest point. While we missed the rare Death Valley lake, we did notice the salt was still very wet. In some spots where there was a hole, you could see an inch or so of water underneath the salt flats.
If you have the time, take the hike out to the salt flats. The area right around viewing platform is mostly salt and dirt mixed together. As you hike out, the dirt fades and you find yourself surrounded by salt. Because of the recent rain, the salt had lots of lines and formations that I don't remember seeing when I went years ago in the middle of summer.
We continued hiking for a while once we reached the salt flats stretching far in either direction. For some reason, we kept thinking it looked different (more flat with less lines) further out. Apparently it was just a mirage as the salt flats continued to look the same. The hike is extremely flat and it is less than a mile (1.6 km) round trip to get to the salt flats. We hiked 2 miles (3.2 km) by the time we returned to the car because of our extra exploring.
You could spend much longer here and hike much further on the flats, but it all starts to look the same after a while. Unless you really have a lot of time to commit to being out there, walk out to the edge of the Badwater salt flats or maybe a little further, see them, and walk back. This is a popular hike, so you may have to continue a little further to get past everyone if you don't want anyone in your shots. Most people don't go very far though, so you can probably just shoot in a different direction to avoid them.
There are bathrooms available at this parking lot. Since the bathrooms were few and far between as we explored, I used them every chance I got. There was toilet paper available when we went, but I always take some with me just in case.
ARTIST'S DRIVE
Artist's Drive is just what it sounds like – a scenic drive through part of Death Valley. The soil is colored thanks to being rich in metals and minerals. This gives the hills a variety of colors all mixed together.
Artist's Drive is a 9 mile drive that loops back to the road. The road is one way for the entire drive. There are some spots to pull over and enjoy a view, but the speed is slow enough to take in most of it as you drive.
If you want to see more, there are two spots to jump out of the car and take a quick hike. The first spot is near the beginning of the drive. This is a quick uphill climb to look out over a valley colored by God. It takes 5 – 10 minutes to climb up and see the view depending on how far up you want to hike. The second spot is near the end of the drive. This one is a little bit longer walk but is also more flat. It is probably a 20 minute round-trip hike out to another view of the painted hills that make up Artist's Drive.
The entire drive takes about 20 – 30 minutes, but it will take longer if you stop to hike at either spot. This is the perfect activity for a visit in the warmer months or for the middle of the day as you are mostly staying in your air conditioned vehicle. You can avoid hiking all together on this route if you choose or take a few quick walks for more views of the colorful hills and mountainsides.
Along Badwater Road, between the entrance and exit to Artist's Drive, you can find a dried up creek that left behind cracked soil. I was hoping to see something like this as I like how it looks in pictures. It is on the same side of the road as Artist's Drive just past the exit. It made for a good stop to get pictures since we did not make it to the Racetrack.
THE RACETRACK AND GRANDSTAND
If you have some extra time in Death Valley, the Racetrack (sometimes called Racetrack Playa) is one spot I wanted to see. We did not have time, but I plan to go back. The problem is that it is a 3.5 to 4 hour drive from the main attractions in Death Valley. We did not have the 8 – 10 hours to dedicate to a trip there, but if you do, go check it out for me.
This area is known for the famous sliding rocks. The dirt is hardened and has dried like the area I found on Badwater Road. However, as ice forms and melts in the winter months, the wind sometimes carries this rocks along the surface of the sand. As it dries out, the path of the rock is left in the surface as it settles into a new resting place. For years, the sliding rock paths were a mystery. Recently it was solved as a team was able to observe it happening.
If you plan to visit, the road is rough and requires good tires and a 4×4 vehicle. It is remote, so if your car breaks down, you are stuck and may not have phone service. Make sure to take snacks and water and to gas up your car before you go. You can find directions on the Death Valley website. Stop at the Grandstand for a view of the Racetrack from above. Then continue driving another 2 miles down to the Racetrack to see the rocks up close.
Walk the last half mile to the southeast corner to see the rocks and their sliding trails. This area has the highest concentration of them. Make sure not to move the rocks and try not to step on wet sand as it leaves footprints for years afterwards. Please do not drive off of the provided roadways or onto the Racetrack as it also causes damage to the area.
ZABRISKIE POINT
Zabriskie Point is another popular stop for day-trippers, but we skipped this one as well. This viewpoint looks out over the badlands that are colored. Because we had seen the colorful area along Artist's Drive and needed to keep moving, we did not stop.
If you do stop, it is a short 1/4 mile (400 m) walk to the viewpoint. The best time to go is supposed to be sunrise as the light plays on the colorful hills. We opted for the Mesquite Sand Dunes for sunrise, and I do not regret that decision at all.
NATURAL BRIDGE
This is another common stop near Badwater Basin and Artist's Drive. We also skipped this one due to time and hunger. After a few shorter hikes and not much to eat, we decided to hit the road and find some food instead of adding more hikes. We already had a long drive ahead of us, so we opted to skip this one.
If you decide to see it, it makes sense to go between visiting Artist's Drive and Badwater Basin as it is located between the two. The hike is 1 mile round trip (1.6 km) and considered an easy hike. The parking lot was full when we stopped in the early afternoon, and the people we asked were not so impressed. You can Google to look at images to decide for yourself or look at the pictures on the signs in the parking lot.

DEATH VALLEY HOTELS & ACCOMMODATIONS
Death Valley National Park is fairly remote and also a large park. There are several hotels and accommodations options within the park, but they are expensive other than camping. We chose the cheapest option, but it was still more than we would usually pay, especially for what we got. You can also opt to stay outside of the park to have a wider variety of options.
HOTELS & LODGING INSIDE OF DEATH VALLEY
The hotel options within Death Valley are few and far between. There are four lodging options within the park. There is one in Stovepipe Wells, two in Furnace Creek, and one in Panamint Springs. Here they are in order from most expensive to cheapest:
The Inn at Death Valley: The Inn at Death Valley is the nicest of the accommodation options within the park. However, it comes with the price tag to match. Prices start at $300 a night and go up to more than $400 a night (mainly for the New Inn Casitas). To book or check availability and current prices, click here.
The Ranch at Death Valley: The Ranch at Death Valley is a part of the same Oasis as the Inn at Death Valley. However, the prices are slightly lower. Prices start at $161 a night and range upwards of $300 per night. You can book it or look into prices and availability here.
Stovepipe Wells Village: This was the hotel we stayed in as it was the cheapest option within the park for the night we stayed there. We booked it an hour or so before arriving. Stovepipe Wells was nice and clean, but you only pay this price because it is inside the park. It is an older hotel but has been maintained over the years. It was also a short drive to the dunes which worked well for our sunrise mission. The prices range from $144 to $226. To book or find out more, click here.
When we arrived, they did not have a room for us at first. Luckily I had screenshots of the booking confirmation as well as the emails confirming our stay. After about 15 minutes, they managed to find a room for us. I thought we would be sleeping in the car for a while and just wanted a room and a shower. Luckily they worked it out and we had no other problems.
There is a restaurant on the property, and we ate dinner and breakfast there. Both meals were good and filling. Breakfast is a buffet only, so come hungry!
Panamint Springs: Panamint Springs is next to the west entrance to the park. If you are driving in from Los Angeles, this might be your best option. Rooms here range from $134 to $159. This one was not an option at all for us as it was sold out, so you may need to book it early (or at least not the day of the stay). To look at prices and availability, click here.
CAMPING IN DEATH VALLEY
If you are camping, there are campgrounds available. Tent camping is not so popular in the summer as temperatures may still be over 100F (37C) in the middle of the night. These campgrounds often fill up in the summer with the summer crowds though. Reservations are not available in the summer, so you risk not finding a spot. This is especially true near holidays.
Furnace Creek Campground does allow reservations in other seasons, but the rest are still first come, first serve. During the winter, the campgrounds often do not fill up. This allows you more chances to camp where you want without having to worry about not finding a spot.
STAYING NEAR DEATH VALLEY
There are a few towns on the outskirts of the park, but we entered from the south. The towns are to the east and west of the park near the center of the park. We were too tired to continue driving in the dark to get to the towns. They do have more hotel options though. If you plan ahead and plan to enter Death Valley from one of these entrances, definitely look into the options for staying in one of the nearby towns.
Some of the popular options for staying outside the park include Beatty Junction (45 minutes to Furnace Creek Visitor Center), Lone Pine (less than 2 hours to Furnace Creek), and Ridgecrest (2.5 hours to Furnace Creek). I have stayed in Lone Pine before a couple of times on various road trips. It is a cute town full of Western movie history. The hotel I stayed at both times was the Dow Villa Motel. We ate at the Mt. Whitney Restaurant which is what reminded me that I had stayed there many years before.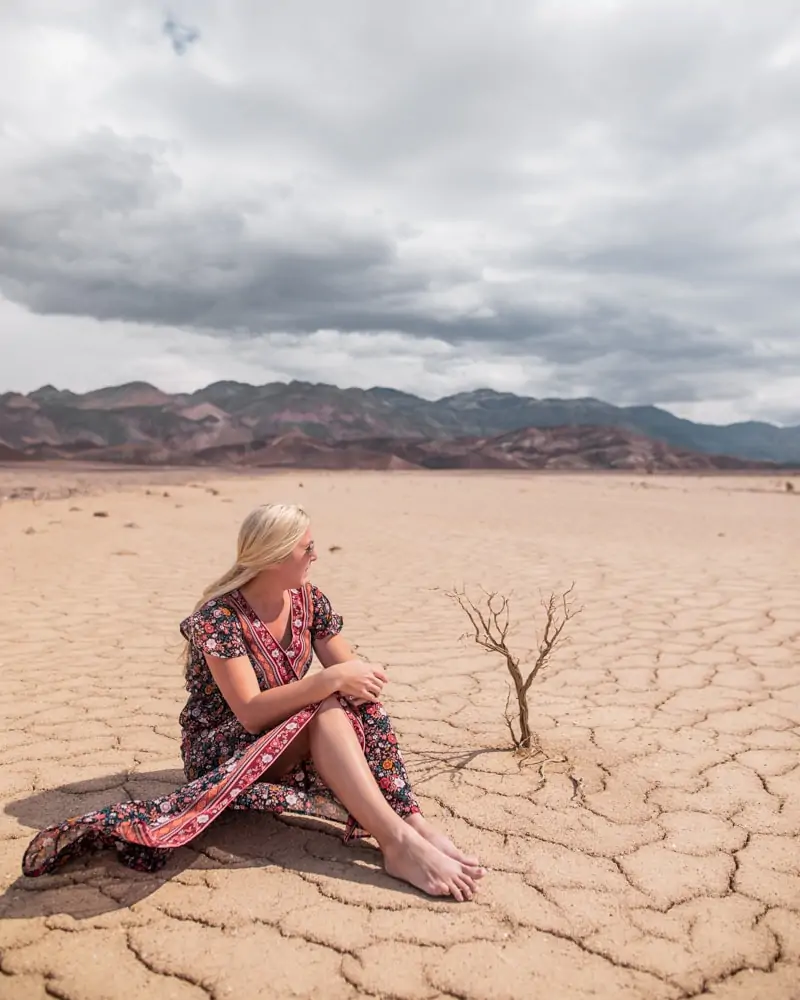 WHEN TO VISIT DEATH VALLEY
Death Valley gets miserably hot in the summer. The first time I visited Death Valley was with my family in the middle of July. The temperature hit 121F (44C) which made being outside not so fun. Thankfully, the heat is a dry heat and we live in Florida where we are more used to the heat. We were still able to get out and hike around some, but we mostly saw things quickly and got right back in the car with the air conditioning running at full blast.
If you go during the summer months, make sure you take plenty of water and stay hydrated. With the dry heat, you sometimes don't sweat like you normally would. The sweat evaporates right off of you, so you may not realize how much water you have lost. Make sure to keep water with you at all times. There are not many buildings throughout Death Valley, so stopping for water is not always an option depending on where you are driving or hiking.
This time we went in March. The weather was much cooler. The high the day we went was in the low 70s (about 21C). The weather was cloudy and windy. The wind was pretty brutal at some points, leaving my hair a knotted mess. However, I was thankful for the cooler weather for our hikes. It even rained a little while we were there, but the rain did not last long.
Death Valley is one of the best national parks to visit in the winter thanks to the cooler weather making it more enjoyable. The best time to visit Death Valley is between November and March when the temperatures range from the 60s to the 80s (15 – 27C). October and April are not bad either if you are looking for cooler temperatures, but the weather will be warmer as summer begins and ends. Try to avoid May to September as the temperature typically stays above 100F (38C) then.
GETTING TO DEATH VALLEY
The best way to get to Death Valley is by car. You will need to rent a car or drive from your starting location. Death Valley is a huge park, so you may drive hours within the park depending on what all you want to see. The entrance fee is $30 for one car, but it covers the entrances for that vehicle for 7 days. We opted for the $80 America the Beautiful Pass that is good for all the National Parks for a year. You can check out all of the entrance fees and annual pass options here.
Gas stations are few and far between in and around Death Valley. We made sure to fill up as often as we could and tried to never let the tank get below half full. There are gas stations inside of Death Valley near the hotels. Prepare to pay a little more inside the park, but it is worth it for the peace of mind to know you will not be stranded, especially if you visit in the heat of summer.
Death Valley is a quick two hour road trip from Las Vegas, making Vegas a popular spot to fly into to get to Death Valley. Las Vegas usually has cheap flights, so you can fly in, check out Las Vegas, and then hit the road.
We opted to add Death Valley to our California road trip that started and ended in Los Angeles. To drive directly from Los Angeles to Death Valley, plan on the trip taking 3.5 to 4 hours. It really all depends on Los Angeles traffic as you never know how long it will take to get out of the city. Once you are outside of the city, it should be smooth sailing.
From Death Valley, we headed on to Joshua Tree National Park. The two parks are only four hours apart. This means you can see Death Valley and then make it to Joshua Tree by nightfall.
*****
If you haven't been to Death Valley National Park yet, set aside some time to go! It is a unique and diverse park, but try not to go in the middle of the summer heat like I did the first time. Have you been to Death Valley or is it still on your list?
For more of our California road trip series, check out our one day itinerary for Joshua Tree National Park. More of this series is coming soon! If you are looking for other travel destinations in California and around the world to add to your bucket list, check out our top travel destinations here.
Like this post? Pin it for later or share it with others!