Driving from Lisbon to Sintra takes less than an hour, making it a perfect day trip from Lisbon. Spend a day exploring the fairytale castles of Portugal before heading back to Lisbon that evening.
We only had one day in Sintra, and we were able to see most of what we came to see. If you have an additional day to spare, consider staying overnight in Sintra. I wish we had a little bit more time at this Unesco World Heritage Site as there is so much to see and do.
In this guide, you can find everything you need to know about taking a Sintra day trip. Get help deciding which things to do in Sintra and which things to skip (plus a map and opening hours) for your perfect Sintra day trip itinerary. Find out the best way to get from Lisbon to Sintra and how to deal with driving in Sintra if you rent a car in Portugal.
***Some of the links in this post are affiliate links. If you purchase or book through these links, we earn a small commission at no extra cost to you.
MAP OF THE BEST THINGS TO DO IN SINTRA
This map shows the locations of the most popular things to do in Sintra. Use this map to decide what order to see the places you want to see, especially if you only have one day in Sintra.
HOW TO GET FROM LISBON TO SINTRA
We rented a car for our time in Portugal. Since we were taking a road trip around Portugal, we drove from Lisbon to Sintra. The drive took less than an hour. Parking on a busy summer day will be more difficult at Sintra, so make sure to get there early to find a spot.
We ended up parking right next to the entrance to the gardens that lead up to Pena Palace. That meant we had a decent walk up to the top (and did not beat the crowds of tours who went straight to the top).
We found out as we were leaving that we could have parked much closer to the actual palace. The only problem is that if you keep going to the top and there isn't a spot, you will have to repeat the loop as much of the road was one way.
If you don't have a rental car, you can also take a train from Lisbon to the Sintra train station. You have two options – Rossio Station to Sintra in 40 minutes or Oriente station to Sintra via Areeiro, Entrecampos, and Sete Rios in 47 minutes.
The Rossio-Sintra trip is the one that is more popular because it departs from the center of Lisbon and near the Baixa and Alfama districts. The Oriente-Sintra route is usually used by those leaving from the airport, Sete Rios bus station, or Oriente station.
There are many departures for both of these routes daily. Tickets are €2.25 on the way out and €4.50 on the way back. Lines can get long for tickets later in the day, so depart as early as possible.
You can also take a bus or a tour from Lisbon to Sintra for a day trip. There is public transportation in Sintra including the 434 bus so that you don't have to walk everywhere once you get there. You could also hire a driver to take you to Sintra and drive you around once you get to Sintra.
WHEN TO VISIT SINTRA
No matter the time of year, go as early as you can. Pena Palace especially gets crowded within an hour of opening, so you want to get there right when it opens (unless you don't mind crowds).
You can also visit near closing in hopes of it clearing out. Plan to start your day in Sintra right as everything opens and to stay all day. You can find hours and ticket prices here or listed below with individual stops.
We visited in November, and it surprised me how many people were around still. In the summer, the crowds are the worst. If you go during summer, plan to deal with crowds everywhere. If you can go during fall, winter, or spring, the crowds are not as bad but rainy weather is more common.
We only had one day in the five days we were in Lisbon that was supposed to be sunny in Sintra, so we made sure to go that day. It felt like everyone else made the same decision.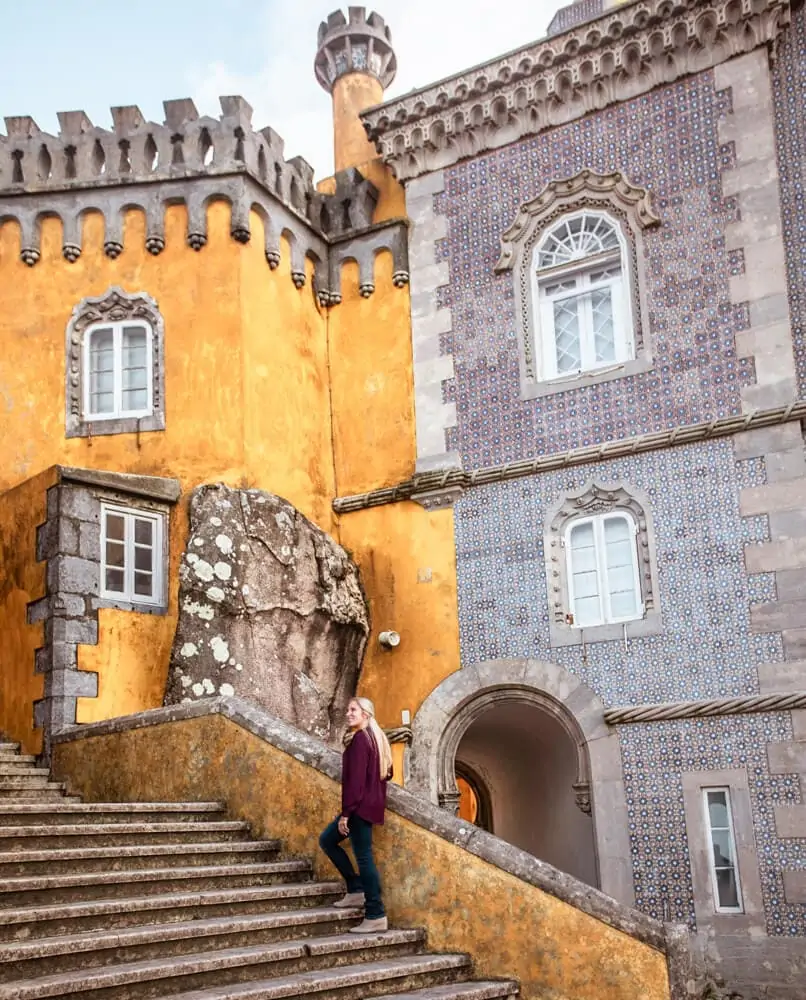 THINGS TO DO IN SINTRA IN ONE DAY
If you only have one day, you won't be able to see everything, but here are the things you won't want to miss. If you have extra time or want to consider other options, the other things to do in Sintra are listed in the next section as well to help you plan your trip.
Ticket prices listed here are for adults. There are discounted tickets available for kids ages 6 – 17 and for seniors (65+). There are also family tickets for 2 adults and 2 children.
Depending on how many places you stop in Sintra, buying a combination ticket may be a good idea for you. Discounts range from 5% off for 2 sites to 10% off for 6 sites. The palaces, parks, and gardens in Sintra are closed on December 25 and January 1. Check all ticket prices here.
PENA PALACE: THE MOST INSTAGRAMMABLE PLACE IN SINTRA
Open Hours: 9:30 a.m. – 7:00 p.m. for the Palace (last admission 6:30 p.m.) and 9:30 a.m. – 8:00 p.m. for the Park (last admission 7:00)
Cost: €14 for Palace and Park or €7.50 for Park for adults
Pena Palace is the most popular thing to do in Sintra, and it is worth the visit. It is a beautiful palace full of colors and unique architecture. It looks like a castle from a fairy tale but with more colors. As another group put it, "This place is an Instagrammer's heaven."
See Pena Palace as your first or last stop on your day in Sintra. We went first to avoid the crowds, but it was actually still very crowded. This is the one stop everyone makes.
Either get there right when it opens or come late and stay until it closes in hopes that it clears out. Even with crowds around, you can get pictures in Pena Palace by yourself if you are patient.
If you choose to go inside the palace (we did not), get in line early. When we got up there around 10:20 or so, the wait was already over an hour and getting longer. When we left around 12:30, the line was shorter but still long.
We decided it wasn't worth it even though we had the ticket because we only had one day in Sintra. When you purchase the ticket, you only need the ticket to go inside if you plan to actually go inside. I thought it meant on the grounds of the palace, so we bought the ticket.
Make sure to walk all the way around the exterior and follow all of the little paths off of the main course at Pena Palace. Unless you get up there right when it opens, plan to be patient if you don't want people in your pictures. There are so many great spots for pictures that you will find a spot to yourself somewhere.
Make sure to take in the views of the Moorish Castle and the surrounding areas. Take time to take in all of the colors and textiles used to build the palace too. There is a restaurant if you get hungry, but we brought our own snacks and water.
QUINTA DE REGALEIRA & THE FAMOUS WELL
Open Hours: Opens at 10:00 a.m. all year; closes at 5:30 in January, November, & December, at 6:30 p.m. in February, March, and October, and at 8:00 from April to September; last entry is 30 minutes before closing from October to March and 1 hour before closing from April to September
Cost: €8 for adults
Take a map (or use this one) when you get your tickets to easily find your way around. I actually liked this stop more than Pena Palace. The architecture here is beautiful and ornate. The area is spread out, so make sure to see it all. It took us about 1.5 to 2 hours to walk around the area.
The highlight of Quinta de Regaleira is the initiation well (Initiatic Well on the map). If at all possible, visit when the sun is high in the sky.
We went here last on our one day in Sintra in hopes of avoiding the crowds. The well stays pretty crowded as it is a smaller area and the main attraction no matter when you go.
When the sun is low in the sky, the well is dimly lit. If the sun is high in the sky, it lights up the well. As it was only an hour or so before sunset when we went, the well was dimly lit which made it harder to get good pictures.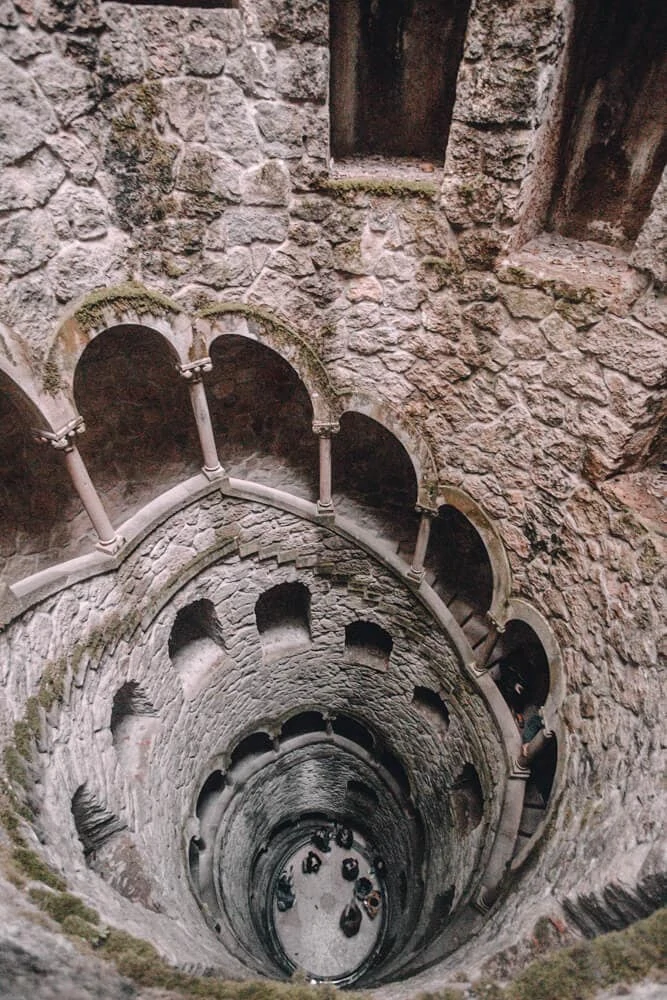 Climb down the stairs in the well – don't worry, you don't have to climb back up them. There is an unfinished well you can see at the bottom. It looks similar to the main well but is incomplete.
This one is even darker than the main one, so take a flashlight or use the light on your phone to see it if the sun isn't high in the sky. It is too dark to see otherwise.
When you exit the well, you end up at the Lake of the Waterfall which is a little oasis area. From there we slowly wandered down to the main house near the entrance.
Make sure to go inside if it is open and walk around. There are some beautiful spots for photos in this area, and near closing it emptied out for us.
A few things we saw twice because we did not realize how small the area was when looking at the map. When returning to see something we thought we missed, we realized we saw it earlier in our visit without realizing it.
MOORISH CASTLE: GOOD VIEWS FROM CASTLE RUINS
Open Hours: 9:30 a.m. – 8 p.m. (last entry at 7:00 p.m.)
Cost: €8 for adults
Our other stop when visiting Sintra for one day was the Moorish Castle. the Moorish Castle is one of the things Portugal is famous for.
We did not originally plan to go, but it was right across from where we parked at Pena Palace. We decided we might as well check it out. Looking back, I wish we had skipped this one in favor of Monserrate Palace though.
It took about 15 – 20 minutes to hike up to the Moorish Castle without taking any breaks from the parking lot across from the gardens at Pena Palace. We hurried to make sure we had time for Quinta de Regaleira.
The Moorish Castle is in ruins. You can still climb some of the towers and enjoy the views of the surrounding areas, but other than that, there was not much to see.
You may enjoy it, but it was not worth the time for me. If you stay in Sintra for two days, see the Moorish Castle. If you just do a Sintra day trip, my advice is to skip the Moorish Castle unless it really looks like something you would love.
Take time to look at pictures online first before spending time on the hike up and back. There is a parking lot closer to the main entrance that shaves about 5 minutes off of the hike.
OTHER THINGS TO DO IN SINTRA
There are quite a few other options for places to see in Sintra. If you have more than one day in Sintra, take time to see some of these. If you are like us and do the Lisbon to Sintra day trip, you may want to trade out our stops for some of the options below. Depending on how long you spend in each spot, you may have time to fit in a few extra stops as well.
MONSERRATE PALACE
The main one that we did not see that I would love to go back and see is Monserrate Palace. It looks beautiful with the ornate architecture and would make for beautiful pictures.
The cost to enter the gardens and palace at Monserrate is €8. The park is open from 9:30 a.m. until 8 p.m. with last admission at 7:00 p.m. The palace is open from 9:30 a.m. until 7:00 p.m. The last ticket gets sold at 6:15 p.m., and last entry is at 6:30 p.m.
NATIONAL PALACE OF QUELUZ
Another one that looks like a beautiful place to walk around is the National Palace of Queluz. This one is located a little further away from the rest of the attractions in Sintra.
The best time to stop here would be as your first or last stop on your way to or from Lisbon to Sintra. The cost for the National Palace of Queluz and the gardens combined is €10. If you only visit the gardens, the ticket price is €5. The palace and gardens are open from 9:00 a.m. until 7:00 p.m. Last entry is at 6:00.
NATIONAL PALACE OF SINTRA & OTHER OPTIONS
If you have additional time or want more options, other options include the National Palace of Sintra, the Convent of the Capuchos, the Chalet and the Gardens of the Countess of Edla, the Farmyard of Monserrate, and the Pena farm and stables.
The National Palace of Sintra is open from 9:00 a.m. until 7:00 p.m. with last entry at 6:30 p.m. Tickets cost €10.
The Convent of the Capuchos costs €7. It is open from 9:30 a.m. until 8:00 p.m. Last entry is at 7:00 p.m.
The Chalet and the Gardens of the Countess of Edla is actually included in the ticket for Pena Palace. It is open from 9:30 a.m. until 7:00 p.m. Last admission is at 6:30 p.m.
The Farmyard at Monserrate is only open on request. If you plan to stop here, make sure to get a reservation ahead of time. For reservations, email [email protected] or call +351 21 923 73 00.
The Pena Farm and Stables generally shares the same hours as the Park of Pena (9:30 a.m. – 8 p.m. with last admission at 7:00 p.m.). However, there are horse rides, pony rides, and carriage tours available from 10 a.m. until 4:30 p.m.
Horse rides start at €15 for 30 minutes up to €100 for 6 hours. Pony rides last for 15 minutes and cost €7. Carriage tours are on request and fees are not listed on the website.
FLYING A DRONE IN SINTRA
It has been a few years since we did the whole process to get approval to fly in Sintra. You'll want to make sure rules have not changed since then before flying your drone there.
If you plan to fly your drone in Sintra, make sure to plan ahead. To fly a drone in Portugal, you almost always need permission from someone. To fly a drone in Sintra, you need permission from a few sources. It is a military and historic site, so you need permission from both of those groups to just fly your drone.
If you plan to take pictures or videos though, you have to get a permit from AAN. Make sure to submit your application at least 10 days in advance.
You have to include your flight plan with coordinates of where you plan to fly and what time you will be flying. The first one I submitted was blank on accident. I got an email back within a day or so letting me know I needed to submit it 10 days in advance.
I realized it was blank, so I sent in the correct one the second time. After submitting the correct one, I got approval within a few days.
I only requested about 20 minutes of flying time and only asked to fly around Pena Palace, not above it to avoid the rules about flying over crowds of 12 or more people.
I wanted to be conservative to make sure I got approval since we did not have much wiggle room to submit again. We got the shots we wanted within the time we requested, so it worked out perfectly.
CONCLUSION: INCLUDE A SINTRA DAY TRIP IN YOUR PORTUGAL ITINERARY
Whether you only have one or two days, Sintra is worth the trip. We found it to be one of the highlights of our trip. Being only an hour away makes it an easy day trip from Lisbon, but you can also extend your time to have more time to take in all that Sintra has to offer.
Looking for more Portugal travel tips? Check out our guide to Lisbon here. For more Europe travel tips, click here. Need more travel destinations for your bucket list? Get our top 20 travel destinations here.
Like this post? Pin it for later and share it with others!