Lisbon is a beautiful city full of picture perfect backdrops. When we found a flight for $550 round trip from Florida to Barcelona through Next Vacay (find out why we love using them so much here), we booked it and planned a trip to visit family for Thanksgiving.
With a few days before we met up with family, we added on a five day road trip through Portugal, taking time to find the most Instagrammable places in Lisbon. By the end of the trip, Portugal became one of our favorite travel destinations.
Lisbon has enough to see that we could have spent all five days there. However, with rainy weather a few of the days, we decided to escape the rain for sunny skies in northern and southern Portugal a couple of the days. That left us with two full days in Lisbon and one day in Sintra, an easy day trip that is worth every minute.
Because many of the most Instagrammable spots in Lisbon are close to each other, we had no problem fitting all these places into the time we had in Lisbon. In this guide, you can find the best photo spots in Lisbon, a map to plan the route that works best for you, suggestions on when to visit each place for the best pictures, and where to stay while you explore Lisbon. As a bonus for those of you looking for a cheaper European destination, Lisbon is one of the cities in Europe you can visit for less than $50 a day.
***Some of the links in this post are affiliate links. If you purchase through them, we earn a small commission at no extra charge to you.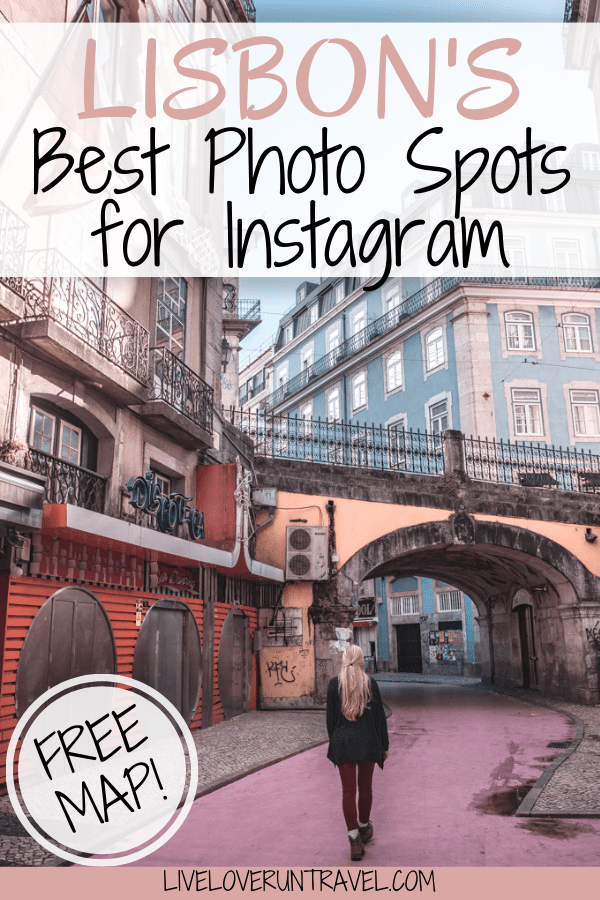 MAP OF THE MOST INSTAGRAMMABLE PLACES IN LISBON
Use this map of the most Instagrammable spots in Lisbon to help plan your trip. This map includes the exact locations for the most popular photo spots in Lisbon. Feel free to save it to your own maps to use for your trip to Lisbon.
WHERE TO STAY IN LISBON & HOW TO GET AROUND LISBON
We stayed at the Czar Lisbon Hotel. We like to find hotels with free breakfast and not too far from the main sites. This hotel included both. It was about a 10 – 15 minute drive to most of the Instagrammable places in Lisbon or about a 1.5 mile (2.4 km) walk to most places. For other hotel options in Lisbon, click here for Agoda's best Lisbon hotel deals and here to find the best deals on Booking.com.
Because we wanted to see more than just Lisbon, we rented a car at the airport from Goldcar. Our hotel included parking for a fee, but you can park on most streets overnight for free on weekends. Having a car made it easy to get around Lisbon's main areas. Figuring out parking was not always easy though. Thankfully the locals were helpful (usually homeless men who helped you find a spot for a small tip).
We mostly drove to an area and then parked and walked everywhere from there. When we wanted to get to areas where parking would be a problem, we used Uber and then walked. During high traffic times, we had trouble with Uber. We ordered an Uber that said it would arrive in 5 minutes. About 10 minutes later, it continued driving further away from us. We eventually cancelled it and tried nearby public transportation. However, the station near us was shut down as well. We ended up getting another Uber, but that Uber also took much longer than the app said to arrive.
There is public transportation in Lisbon. We typically use public transportation but did not in Lisbon. It was not available when we needed it. The rest of the time we had our car or chose Uber. For example, to get to Belem Tower from our hotel took an hour and a half by public transportation. By car or Uber, it only took 30 minutes. With that much of a time difference, it made more sense to use Uber or our rental car to see everything we wanted to see.
15+ OF THE MOST INSTAGRAMMABLE PLACES IN LISBON
We visited Lisbon in November. The weather was perfect and the crowds were light. If you visit in the summer, realize that the city will be more crowded in general. If you want to find some of these places quiet in the summer to get pictures of it empty, make sure to wake up very early. Visiting in November made it easier with a later sunrise, cooler weather, and lower numbers of visitors in the area.
Be aware that some of these places are busy on weekday mornings. As people rush to make it to work on time, some areas get crowded until everyone finds his or her way. On weekend mornings, it is quieter as people sleep in instead of rushing off to work. If you can use a weekend morning for pictures at some of the more crowded spots, it makes it easier get get your Instagram shots without having to wait for the area to clear out.
MIRADOURO DE SANTA LUZIA & PORTAS DO SOL
Best time to visit: Sunrise
Nearby Instagrammable Places: Alfama District, Lisbon Cathedral
If you are looking for a sunrise view overlooking Lisbon and the water, you can't go wrong with either of these options. When we arrived for sunrise, they were both pretty empty. A few other people stopped by during the sunrise, but no more than 5 people were in the area at once.
Be prepared to walk uphill if you aren't staying in Alfama (and maybe even then). You can also take a streetcar or Uber if you want an easier option or get a late start. Both of these lookouts are right next to each other, so you can easily check out both at once. If one is crowded, simply head over to the other. It takes about 2 – 3 minutes to walk between them.
Portas do Sol is a deck to look out, but it does have a better city view. Miradouro de Santa Luzia has a view of one section of the city but also is a prettier area. It is worth it to check out both to see which one you prefer. Even if you don't go at sunrise, both are worth a quick stop for the views they offer.
LISBON CATHEDRAL
Best time to visit: Morning
Nearby Instagrammable Places: Alfama District, Arco da Rua Augusta, Praca do Comerio
The Lisbon Cathedral is the oldest church in Lisbon. Located between the Alfama district and the viewpoints there and the Arco da Rua Augusta, it makes for a quick stop if you walk between the two. Enjoy the views of the Alfama district on the way or head back later to wander the streets.
We only stopped to take pictures and did not plan to stop here at all. As we walked from watching the sunrise to the Arco da Rua Augusta, we passed the church and stopped. You can go inside during opening hours and look around as well. The exterior is beautiful though and makes for a great backdrop.
ARCO DA RUA AUGUSTA & PRACA DO COMERCIO
Best time to visit: Morning, especially on weekends
Nearby Instagrammable Places: Lisbon Cathedral, Praca do Comerio, Rua Augusta, Amorino Baixa, Pink Street
The Arco da Rua Augusta is one of the famous popular Instagram photo locations in Lisbon. When we visited, there was scaffolding up on the side of the arch facing the Praca do Comercio. The side facing the plaza is more popular because you can get the picture with the statue through the arch.
From the Miradouro de Santa Luzia and Portas do Sol, it is only a 15 minute walk (0.6 miles or a little less than a kilometer) to the Arco da Rua Augusta. The route crosses in front of the Lisbon Cathedral, making it an easy stop along the way.
This arch and plaza can be crowded on weekday mornings in winter. Thanks to the later sunrise time coinciding with the morning commute to work in winter, you are less likely to find it completely empty on weekday mornings. Be patient or visit on a weekend morning to find less crowds. In summer, this is less likely to be a problem if you are willing to get up and be there just after sunrise. Either way, you want to be here early if you want photos without many people in them. It only gets busier as the day goes on.
While the photos you see on Instagram are usually taken facing the plaza, make sure to walk through the arch to the Praca do Comercio to enjoy the view from this side as well. In the morning, the sunlight lights up this side of the arch. The plaza also is pretty for pictures, so don't just see the arch and leave.
LISBON'S FAMOUS PINK STREET
Best time to visit: Later in the morning (around 10 a.m. – 11 a.m.)
Nearby Instagrammable Places: Arco da Rua Augusta, Praca do Comerio, Elevador da Bica
From the arch, it is only a 10 minute (0.4 mile or .6 kilometer) walk to one of Lisbon's most popular Instagram photo locations, Pink Street. How can a street pained pink and surrounded by colorful buildings not be one of the most Instagrammable spots in Lisbon?
If you can manage it later in the day, skip Pink Street in the morning. In the morning, it is covered with trash from partying the night before. If you want nightlife, Pink Street is a popular place to be. That leads to trash and a not so pretty smell the next morning. If you come back later in the day, in the early afternoon or late morning, it is cleaned up and smells much better.
We visited Pink Street twice, once in the morning after the Arco da Rua Augusta around 8:45 a.m. and a second time around 10:30 a.m. The first time it was littered with trash and dirty water from rain the day before. The owners of the stores and bars started coming out to sweep the street when we visited earlier in the morning. When we went back a second time around 10:30 a.m., it was all cleaned up and smelled much better.
Both times it was pretty empty. A few locals walked through and a couple of other people stopped to take pictures and kept moving. Despite the popularity of this spot on Instagram, it is not crowded or difficult to get pictures of the street empty. In the summer time, this area may be a little more popular. However, you can still get pictures of it empty in the morning.
Pink Street is also a lot shorter than you may expect. It is basically just a block on either side of the bridge that appears in the photos. I'm not sure why I expected it to be a bigger street, but it is hidden among the buildings and you kind of just stumble upon it.
ELEVADOR DA BICA
Best time to visit: Morning
Nearby Instagrammable Places: Pink Street, Arco da Rua Augusta
This is one of the most famous funiculars in Lisbon and only a few minutes from Pink Street or about 15 minutes walking from the Arco da Rua Augusta (0.7 miles or about a kilometer). When looking for the Elevador da Bica, the address on the map is likely to take you to the bottom of the hill. You won't see the funicular right away since it is inside a building. There is a sign on the front of the building, so keep your eyes open for it.
We decided to ride it, but you can also just walk along the sidewalk that goes next to it. If you have a Lisbon card, transportation including the streetcars and funiculars is free. If not, you can pay about €5 for a round trip ride. Supposedly you can ride in one direction for free on some of the funiculars, but we did not find that to be true here.
We got there around 9:30 a.m. and found that not many people were riding the funicular or in the area. The people who were walking alongside the track seemed to mostly be locals going about their business. This area does get crowded later in the day, so it makes a good stop in the morning.
BELEM TOWER
Best time to visit: Morning (by 9 a.m.) or evening (45 minutes to an hour before closing)
Nearby Instagrammable Places: Monument to the Discoveries, 25 de Abril Bridge, Jeronimo's Monastery
Belem Tower is another of the most popular Instagram photo spots in Lisbon and commonly makes an appearance on the social media app. We actually ended up visiting Belem Tower three times, once in the morning and twice in the evening. Belem Tower is the perfect spot for sunset in Lisbon, but it also makes for beautiful photos in the morning.
Getting to Belem Tower and the nearby Instagrammable places is a little more difficult than most of the places in this list. Belem is actually about 20 – 30 minutes away from Lisbon. From our hotel, it took about an hour and a half by bus or about half an hour by car. Because we had a rental car, we drove over. There is parking in the area, and from there you can walk to the other nearby places. If you do not have a rental car, you may want to take a taxi or Uber if public transportation timing is not convenient for your visit.
The only reason to visit in the morning is to get the pictures of Belem Tower with no one around. As soon as the tower opens, the bridge stays crowded all day. It closes near sunset at night making it hard to get pictures of the tower alone. Because it is a popular sunset spot, the area is crowded in the evening.
The bridge to the tower is shut down before it opens and after it closes. If you are going to Belem Tower when it opens, get there earlier to get pictures with the bridge empty and no one around. Sometimes in the summer there can be a line once it opens at 10 a.m. If you want to get pictures before the line forms, plan to be there by 9 a.m. To make sure we did not have that problem, we went around 8:30 a.m.
The bridge does have a barrier across it when it is closed. This surprised me based on pictures I saw of Belem Tower on Instagram. At night, the security guards kick everyone off the bridge before locking the barrier into place. You can jump over or crawl under it, and from Instagram photos, you can tell some people do. Be aware that their are cops in the area who drive by though when deciding if it is worth it. You can get plenty of beautiful photos from either side of the tower or the sand bank next to it depending on the tide without sneaking past the barrier.
If you want to go inside Belem Tower, visiting just before closing is the best time to go. Belem Tower is the best spot in Lisbon for sunset to me, so we planned to visit just before closing. This let us have a chance to go inside and then stick around for sunset. In November, the sun sets behind the tower if you stay on the same side of the tower as the bridge.
Entry into the tower costs €6 or you can buy a combination ticket for Jeronimo's Monastery. There is not much inside to see, so we found that getting there about 45 minutes before closing was enough. The tower has multiple levels to explore once you are inside. Some do not have much to see, but several have good views of the bridge, surrounding area or the rest of the tower.
The only part of visiting the tower that takes time is the stairs. There is only one stairwell in the tower, so they use a traffic light system to make the stairs only up and then only down. You may have to wait a few minutes depending on when you get to the stairwell to move up or down in the tower. Because of this, it takes a little longer to see everything than it would otherwise.
If you visit near closing, start at the top of the tower and then work your way down. They start kicking everyone out starting at the top of the tower about 10 minutes before closing. They slowly work their way down from the top to get everyone out by the time closing hits. From that point, you have about 15 more minutes on the bridge to get any pictures while they finish up inside. Once they come out, they clear the bridge and put the gate back across it. This gives you a little more time before it gets dark to get pictures without anyone on the bridge.
MONUMENT TO THE DISCOVERIES
Best time to visit: Morning
Nearby Instagrammable Places: Belem Tower, 25 de Abril Bridge, Jeronimo's Monastery
There is a path along the river that leads from Belem Tower to the Monument to the Discoveries. It only takes about 15 minutes to walk between the two. You can also drive it in just a couple of minutes. This monument celebrates Portuguese explorers and their achievements in history.
We did not go in the Monument, but that is an option. Before it opens at 10 a.m., the area is empty. The outside of the monument is impressive and covered in carvings of explorers from Portugal. Unfortunately, due to a hard drive issue, the only photos I have from this morning of the trip are the few I took on my phone.
25 DE ABRIL BRIDGE
Best time to visit: Morning or late afternoon
Nearby Instagrammable Places: Monument to the Discoveries, Belem Tower, Jeronimo's Monastery
If you want a good view of this bridge, you can see it from Belem Tower, the Monument to the Discoveries, or from a park just down the road. The bridge looks like the Golden Gate Bridge and makes for a good backdrop to your photos while you are in the area. You do not need to drive across the bridge to enjoy it, but take a few minutes to check out the views from this area of town.

JERONIMOS MONASTERY
Best time to visit: Morning (right when it opens at 10 a.m.) or just before closing
Nearby Instagrammable Places: Belem Tower, Monument to the Discoveries
Jeronimos Monastery was my favorite stop in Lisbon and well-deserving of a spot on any list of the most Instagrammable places in Lisbon. It is only a few minutes by car or about a 15 minute walk from Belem Tower. If you don't have a car, you may want to see both at the same time while you are in the area. We went after our morning looking at the bridge, tower, and monument, but we also came back to the area at a different time to go in Belem Tower.
Construction on the monastery began in 1501, and it is so beautiful and full of detail throughout. Going into the attached church is free and does not require a ticket. Most tour groups seemed to take this option. If you want to visit the actual Monastery, you will need a ticket. Entry is €10 per person, or you can do a combined ticket with Belem Tower for €12.
I strongly suggest being at Jeronimos Monastery right when it opens at 10 a.m. to beat at least some of the tour groups. It gets more crowded as the day goes on. You can also visit just before closing as the crowds empty out, but then you may be pressed for time. Purchase your tickets from the building right next to the monastery, the Museum of Maritime. We did not visit the museum other than to purchase our tickets, but it is an option if you are interested.
Once you have your tickets, go straight into the monastery. It is two stories, and make sure you visit both. The lower floor stays more crowded, and there will almost always be people in the courtyard (except when it rains like it did while we were there). From the upper floor, you also have access to a balcony with a view of the church. We did not go in the free part of the church since we could enjoy the view with fewer people from the balcony.
For anyone who travels solo, the monastery allows selfie sticks. However, we set up the tripod to take pictures of the two of us together, and someone came over to tell us that we could not use a tripod there for security reasons. Be prepared and have another option for photos with you in them. The monastery is built in a way that there are lots of places to set your camera to still get pictures without a tripod.
CARMO CONVENT
Best time to visit: Anytime in winter but morning may be better for crowds in summer
Nearby Instagrammable Places: Bairro Alto, Amorino Baixa, Praca Dos Restauradores
Carmo Convent is back in Lisbon and is actually somewhere we visited in the afternoon. In the winter, this was okay as there were very few other people there. I think that this might be different in the summer. The Carmo Convent has similar hours to everything else in Lisbon, but anytime near open or close should find it emptier than midday.
The convent is mostly open air, so you want to visit on a day with good weather. Because it is closed in but open air, the shadows can be harsh depending on when you visit. The roof of the nave collapsed in an earthquake and was never restored. Only the arches remain, making it look a little like the ruins in ancient Greece.
There are some stairs when you first enter the convent that you can use to take pictures from different angles. You may have to be patient to get pictures without many people in the background. Since there isn't much to read in this part of the convent, most people move on quickly. The stairs also make it easier to set up your camera if you are alone and do not have a tripod with you for pictures.
If you walk all the way through the convent, you can enter the building in the back which is a museum and shop. The museum has artifacts from Portuguese history spread out through a few rooms. It doesn't take long to walk through unless you really take time to study each piece. You enter into one of the middle rooms, so it makes it easier to start in the room to the right and then work your way through the rooms if you are interested.
CASA DO ALENTEJO
Best time to visit: Early afternoon
Nearby Instagrammable Places: Rua Augusta, Praca dos Restauradores
This beautiful restaurant looks like something straight out of Morocco. We decided not to eat there, but you can go in and enjoy the courtyard area and part of the upstairs without entering the restaurant. We went here right around 1 p.m. and found no one else there except those eating in the restaurant. I don't think it ever gets crowded for taking pictures, so you can stop by anytime if this is somewhere you want to see.
RUA AUGUSTA & PRACA DOS RESTAURADORES
Best time to visit: Early Afternoon/Evening
Nearby Instagrammable Places: Casa do Alentejo, Amorino Baixa, Ascensor da Gloria
This area is perfect for lunch or dinner while crowds fill the other Instagrammable spots in Lisbon. If you are looking for food, you will find plenty of options in this area right near Casa Do Alentejo. You have the plaza, and plenty of restaurant options along side streets. We wandered down Rua das Portas de Santo Antao one day and found it hard to choose a place because there were so many options.
The next day we decided to walk down Rua Augusta to find food and a certain ice cream shop. Rua Augusta allows foot traffic only, so restaurants along the side of the road also set up outdoor seating in the middle of the road. Since the weather was nice, we decided to eat outdoors at one of the many Portuguese restaurants. You can also find plenty of places to buy the famous pastel de nata along the street.
I will warn you that this area is full of drugs like marijuana and cocaine. We had many people (at least 15 – 20) approach us to sell us drugs as we walked down Rua Augusta looking for food. Many took a simple no and walked away, but some were more pushy, taking offense when you turned them down. We decided to eat outdoors, but at least three or four more people approached us while we were sitting down eating. One of them began mocking us when we turned him down. The restaurant did nothing to keep them away. It was not a pleasant experience for dining, and I would probably choose indoor dining if we ate on Rua Augusta again.
GET AN INSTAGRAMMABLE GELATO AT AMORINO BAIXA
Best time to visit: Afternoon
Nearby Instagrammable Places: Rua Augusta, Arco da Rua Augusta, Praca dos Restauradores, Carmo Convent
Yes, one of my Instagrammable places in Lisbon is a gelato shop. I eat ice cream or gelato in every country we visit, and I could not pass up rose-shaped gelato cones at Amorino Baixa. Amorino Baixa is on Rua Augusta and near the Arco da Rua Augusta. The gelato appears as if it is rose petals inside the cone. If you want pictures with your cone, take them quickly or have a plan to get to the place you want pictures quickly as it will melt. We had a few extra minutes thanks to the cooler weather in winter, but summer would make it an extra challenge. The gelato is not only pretty, it was good!
ASCENSOR DA GLORIA & LOOKOUT
Best time to visit: Morning or Afternoon
Nearby Instagrammable Places: Praca dos Restauradores, Casa Alentejo, Bairro Alto
From Rua Augusta and Praca dos Restauradores, it was a short walk to this popular funicular. You have a choice to ride or walk to the top. While we rode up, we walked back down. Graffiti and street art covers the walls along the tracks. Since tickets are round trip, we gave our tickets to someone else at the top and walked down to take in the artwork. Be careful though – it can be a slippery walk if the path is at all wet.
At the top of the funicular, if you look to the right, you will see a park and a lookout area. This it the Sao Pedro de Alcantara Garden. It provides a wonderful view of Lisbon and a good starting point to walk around Bairro Alto.
BAIRRO ALTO & ALFAMA DISTRICT
Best time to visit: Morning or Afternoon
Nearby Instagrammable Places: Ascensor da Gloria & Carmo Convent (Bairro Alto), Miradouro de Santa Luzia, Portas do Sol, and Lisbon Cathedral (Alfama District)
These areas are two of the most popular for strolling around. You can find all kinds of beautiful tile work and colorful buildings that make for the perfect Instagram backdrop. Be prepared for some hills and watch out for the tiled sidewalks after the rain. You really cannot go wrong in either area, so just wander around and see what you can find.
Really, any time of day is good for this. We happened to be in Alfama in the morning after sunrise and in Bairro Alto in the late afternoon after lunch. Because there are so many cute streets to wander down, if one area is crowded, just keep walking until you find something else. In the summer, these areas are popular for exploring and the weather can get quite warm, so you may want to wander the streets in these areas in the coolness of the morning or evening instead of when the sun is high in the sky.
WHEN IS THE BEST TIME TO VISIT LISBON?
We visited Lisbon in November, and it was perfect. We did have to contend with the rain a few days, but the temperatures were perfect for walking up and down the hills in Lisbon. In the summer, Lisbon, like most cities in Europe that are popular on social media, gets crowded. It also gets hot in Lisbon in the summer, so take that into account if you visit then. If you can visit Lisbon in the fall, winter or spring, you will find much better temperatures and much less people, making it a perfect combination for exploring and taking pictures.
WHY YOU SHOULD VISIT LISBON
Lisbon is a beautiful city full of Instagrammable photo locations, delicious food, and rich culture and history. It is perfect for a weekend getaway or a longer vacation. It even makes for a perfect base to explore the rest of Portugal, especially nearby Sintra which makes for the perfect day trip.
Looking for more Europe travel inspiration? Click here for more Europe travel ideas, tips and itineraries! All photos in this blog post were edited with my own presets and/or presets that can be purchased here (World Tour Collection is the one I use the most).
Like this post? Pin it for later and share it with others!