London will always be special to me as my first international destination as a kid. Recently my husband and I returned for a long layover and both rediscovered a city we hadn't visited in years. Together we came up with the perfect itinerary for three days in London, hitting as many of the top things to do and Instagrammable places in London as possible.
While you can spend weeks in London and still not see it all, there are some iconic London landmarks that you won't want to miss while you are there. London is full of amazing places to see, eat, and stay, so here are the best ones to help you narrow it down.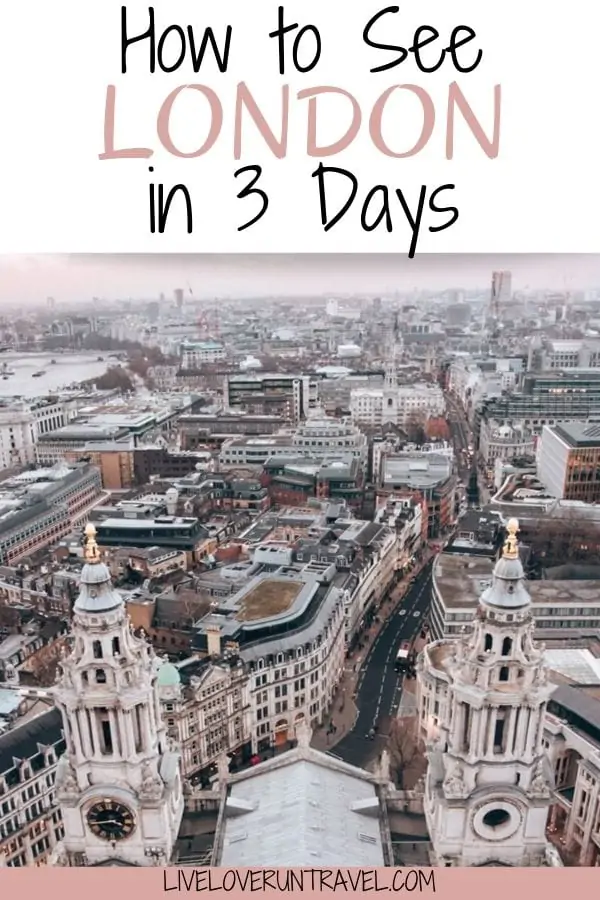 MAP OF THE MOST INSTAGRAMMABLE PLACES IN LONDON
London has no shortage of Instagrammable places to see that are perfect for pictures. We crammed as many as possible into our three days in London. We went at Christmas, so we also spent time checking out the best Christmas decorations and lights we could find. If you plan to visit London in mid to late November, December or early January, check out our full guide to the best Christmas lights in London here.
Feel free to save this map to your Google maps to edit for your trip to London. Whether you have a weekend in London or a longer stay to fill up, this list gives you a great starting point for things to do in London. The map has separate layers for each day and a layer for hotels and restaurants we recommend.
Looking for a longer itinerary? Check out this post by Our Escape Clause with an itinerary for two weeks in Europe.
3 DAY LONDON ITINERARY
DAY 1: PALACES, CATHEDRALS, HISTORY & VIEWS
Our first day of our three days in London included stops at Buckingham Palace, Westminster Abbey, Big Ben, the Churchill War Rooms, Shakespeare's Globe, St. Paul's Cathedral, the London Eye, and Carnaby Street.
BUCKINGHAM PALACE WITHOUT THE CROWDS
HOURS: 24 hours a day (open for tours from July to September with limited dates from December to May)
COST: FREE (inside tour tickets start at £25)
BEST TIME TO GO: Early morning

The best time to visit Buckingham Palace is in the morning. Later in the day, the crowds come rolling in. Because it was winter, we were able to go later in the morning and still find it pretty empty. I remember visiting Buckingham Palace the first time I came to London as a 12 or 13 year old, and it still impressed me as an adult.
There are certain times you can visit and go inside Buckingham Palace, but tours were not available when we visited London in December and January. The tours run from July to September each year and start at £25. There are tours of Buckingham Palace offered on select days in December through May. If you plan to do a tour, make sure to book in advance as they typically fill up way in advance. Find out times and book your tickets here.
The main gates make for a good photo if you get there before the crowds. There are also gates off to the right if you are facing Buckingham Palace that are a popular London Instagram photo location. You can see the famous balcony often featured in photos of the royals which is also where Will and Kate shared their first kiss. You also have the Queen Victoria Memorial just outside the front gates. Climbing up the steps can give you a good photo spot to get a centered shot of Buckingham Palace.
Nearby you also have St. James's Palace (we just walked by) and Clarence House which you can barely see. We walked down the Mall to get there and then through St. James's Park to get to Westminster Abbey and the Churchill War Rooms. Public transportation is also available between the two stops.
GO INSIDE & TOUR WESTMINSTER ABBEY
HOURS: Monday – Friday from 9:30 – 3:30; Wednesday Lates from 4:30 – 6:00; Saturday from 9:00 – 3:00 (1:00 from September to April); Sundays open for services only
COST: £21 online with fast track entry or £23 at the door (children start at £9 but family tickets cost the same as adult tickets and include one adult and one child)
BEST TIME TO GO: Earlier in the day is less crowded, but anytime is good (pictures are not allowed inside)
I love Westminster Abbey. I remembered it from going as a kid, and I couldn't wait to see it again. This was also the church where William and Kate got married, so that made it even more memorable as I watched the royal wedding.
We went here early as well, and it was not too crowded yet. Going inside and taking the audio tour at Westminster Abbey is worth the money to me. Usually I am not big on audio tours, but I loved getting the history here. While photos are allowed outside, photos are not allowed inside the abbey.
You can purchase tickets online ahead of time, but they are non-refundable. We bought tickets on arrival and had no issues. It was also a winter morning in December, so there is a chance they sell out or at least have long lines in summer. If you purchase your ticket online ahead of time, it includes fast track entry.
Inside you will see the beautiful architecture, poet's corner (a favorite for me as an English teacher), and the burial locations of many royals and famous people. It took us less than 2 hours to walk around, do the audio tour, see everything inside, and take some photos outside.
Big Ben is right nearby, but it was under construction. We saw it from down the street, but we did not walk down closer to it. We both had seen it years ago when it was not under construction, so we skipped it this time. If you want to see it while you are in London, it makes sense to add in a detour to Big Ben and Parliament here.
CHURCHILL WAR ROOMS
HOURS: 9:30 – 6:00 with last admission at 5 p.m.; July & August from 9:30 – 7:00 with last admission at 5:45; closed December 24 – 26
COST: £22 for adults & £11 for kids ages 5 – 15 (family tickets are available)
BEST TIME TO GO: Earlier in the day or later in the day; busy in middle of the day
While this one is not so Instagrammable, we still visited the Churchill War Rooms for the history. I went with my family as a kid, and I thought my husband would enjoy it. There is an audio tour available here as well, but we did start skipping some parts. Some of the rooms were really crowded, and we made the mistake of going before lunch (and after an early morning and a lot of walking).
If you like history, this is a must for you. If you don't care much about history, it probably is not worth the £22. Much of the war rooms are set up the same way as they were during the war. You can see where and how everyone worked there during the war. The audio tour lets you know what happened in each room.
It can get crowded though, so they do try to limit how many people are inside at a time. We had to wait in a short line to get inside, but they do not regulate traffic flow once you are inside. This meant that some rooms were more empty, but some of the smaller rooms were too crowded for my liking.
Because of our hunger kicking in, when we left, we walked around the corner and found the best sandwich shop of the trip. You can find out more about Pickles Sandwich Bar and other favorite restaurants below.
TAKING A TOUR OF SHAKESPEARE'S GLOBE
HOURS: Tour times vary since it is a working theater (check here for availability and tickets)
COST: £17 for adults with varying prices for kids, seniors, and families
BEST TIME TO GO: Whenever tours are available, but try to go in good weather
As an English teacher, I had to make sure to visit the Globe. There were no performances while we were there, but I still wanted to tour it and see inside. Both the interior and exterior have a few photo opportunities, but the inside makes it a little harder to avoid other tours. If you are patient and get creative, you can still get great shots inside without lots of people in them.
The tours are led by guides who are entertaining and make it a fun experience. The tours cost £17 for adults and last about 40 minutes. Sometimes the tours are delayed or cancelled since it is a working theater. I would love to go back and see a performance here one day, but they do not perform in the winter because of the open air setup and how cold it is in winter. You can check out what shows are coming up on the official Globe website.
ST. PAUL'S CATHEDRAL: THE BEST VIEW OF LONDON
HOURS: 8:30 – 4:30 from Monday to Saturday (last entry at 4 p.m.); Dome Galleries are open from 9:30 – 4:15
COST: £17 online or £20 at the entrance (child and family tickets also available)
BEST TIME TO GO: Late afternoon around 3:00 p.m.
Our last stop during the daylight hours was St. Paul's Cathedral. It is my favorite cathedral in London and one of my favorites in the world. I love the views from outside of the architecture, so be sure to explore it from various angles to get lots of options for photos. If you walk over from Millennium Bridge, make sure to take in the view from the bridge of St. Paul's Cathedral. The view from the bridge and the path from the bridge to St. Paul's are two of the most Instagrammable places in London to get photos of St. Paul's Cathedral.
If you go to London, even if you skip paying to go inside all of the other places I have mentioned so far, go inside St. Paul's Cathedral (£17 online or £20 at the entrance). Not only that, go to the top of it. The view from the top is my favorite view in all of London. It does not cost extra to go up to the dome galleries at the top of St. Paul's Cathedral.
The dome galleries close earlier, so make sure you go up in time and do not wait until after they close. In the summer, going up earlier in the morning or later in the afternoon when the sun is lower is better. In the winter though, go up and stay until the last possible second. If you can stay up there until they start closing it down, you can catch the first part of the sunset over London. The view from the top of St. Paul's Cathedral is one of the best views of London.
If you are scared of heights and/or claustrophobic, going to the top won't be so much fun. You can still go up and check out the Whispering Gallery without getting to the narrow stars or anything where you are near an edge. From there, you continue up some narrow steps, winding steps, and steps you can see through way too far down.
In addition, the area at the top of St. Paul's Cathedral where you are outside the dome is extremely narrow which makes it hard to move and tightly packed if too many people are up there at the same time. When I went as a kid, my parents did not do so well because of the heights and how tight it was. My brother and I loved it though, and I had to take my husband back. The view is still my favorite view of London.
IS THE LONDON EYE WORTH IT?
HOURS: Opens at 10:00 and closes between 6:00 and 8:30 (click here for closing times on specific days)
COST: Tickets start at £27
BEST TIME TO GO: A clear day for the view or at night to see the city lights
After watching the sunset from St. Paul's Cathedral, we headed over to the London Eye. This is probably an unpopular opinion, but I would not pay to do the London Eye again. The London Eye is not worth the money to me as the view at St. Paul's Cathedral is better. We have the Orlando Eye at home which does not have as good of a view, but I felt like the London Eye was overpriced and the wait was not worth it. If you do go, definitely go during daylight hours. If you are visiting London with kids, they might like it more than we did.
You can get tickets in advance online for less, but we had to pay £30 each to ride the Eye. Then we waited in the cold for about 45 minutes to get on. I was cold and hungry and not feeling like the views were worth the £60 for both of us to ride. My husband agrees. We found out later that both of us went because we thought the other wanted to ride. It turns out we could have skipped it completely!
CARNABY STREET AT NIGHT
HOURS: 24 hours
COST: FREE
BEST TIME TO GO: At night
Our last stop of the evening was to wander around Carnaby Street. The lights added a little something special to this area at Christmas, and it made for good people watching too. The lights pictured below are part of a permanent installation. You can get to Piccadilly Circus and Oxford Circus easily from here, but we visited them other times to see the Christmas displays. You can find all sorts of shopping and dining options in this area of London.
DAY 2: BRIDGES, IGLOOS, STREETS, AND MUSEUMS
Our second day in London started early with the sunrise at London Bridge, eating at Coppa Club in the igloos, Tower Bridge, church and lunch with friends of our family who we stayed with 20 years ago, the British Museum, and Regent and Oxford Streets for the Christmas light displays.
LONDON BRIDGE FOR SUNRISE
HOURS: 24 hours
COST: FREE
BEST TIME TO GO: Mornings, especially on weekends
London Bridge is not impressive. In fact, I remember visiting the "real" London Bridge in Arizona years ago. Even if London Bridge isn't impressive on it's own, it offers a beautiful view of Tower Bridge. In the winter, sunrise is late which is an extra benefit. The sun rises behind Tower Bridge from London Bridge making it the best spot for a London sunrise.
BEST PHOTO SPOTS FOR TOWER BRIDGE
HOURS: 24 hours
COST: FREE
BEST TIME TO GO: Mornings, especially on weekends
From London Bridge, we walked down to Tower Bridge, stopping for brunch at the Coppa Club igloos. Tower Bridge is truly impressive. We did not take the time to walk all the way across it, but we did walk partway across and get pictures from both sides of the bridge on one side of the River Thames.
There are lots of Instagrammable spots along the River Thames and near Tower Bridge. If you want great pictures of Tower Bridge, there are walkways on both sides of the bridge. You can get great views from London Bridge as well. The famous Maiden & The Dolphin Fountain is just east of the bridge on the north side of the river.
GOING INSIDE THE TOWER OF LONDON
HOURS: Open from 9:00 – 17:30 on Tuesday – Saturday and from 10:00 – 17:30 from Sunday – Monday (last entry at 5:00)
COST: Tickets start at £24.70
BEST TIME TO GO: Earlier or later in the day to avoid mid-day crowds
We did not visit the Tower of London this time. It is worth a visit to see the interior and to see the Crown Jewels. Tickets cost £24.70 for adults. We did not have time during the opening hours to visit it this time, so we cut it out since we had both been before. I would like to go back and visit it sometime as an adult, but I remember enjoying it when I went before.
VISITING THE BRITISH MUSEUM
HOURS: Open from 10:00 – 5:30 (8:30 on Fridays)
COST: FREE
BEST TIME TO GO: Anytime but perfect for bad weather days
The British Museum took up most of our afternoon. It is free which makes it a great option. With the cold and rain that day, it was the perfect way to escape the weather for a while.
The British Museum also has some great spots for photos. The main area with the stairs to the second floor is beautifully done. There is a viewpoint on the second floor that looks out over this main area. You can also get pictures with some impressive pieces of history.
Plan to spend at least a few hours here, especially if you want to see it all or most of it. We spent about 3 hours inside and still did not see everything. Some parts of it close down early, so we missed those rooms entirely. Most of those rooms were on the upper floors.
REGENT STREET, OXFORD STREET & PICCADILLY CIRCUS
HOURS: Open 24 hours
COST: FREE
BEST TIME TO GO: Early morning, especially on weekends or at night, especially for Piccadilly Circus or at Christmas
I love Regent Street and Oxford Street. At Christmas, they are gorgeous. Any other time of the year, they are still beautiful. We went at night to see the Christmas decorations, but most of the year you would want to go in the daytime. These are shopping streets, so they get crowded during the day. Piccadilly Circus is nearby and works for visits in the daytime or at night to see it lit up.
Regent Street is one of the most Instagrammable places in London. The famous shot is in the middle of the road in the divider. The best time to go is early in the morning for this shot. It is even better if you can go on a weekend morning since people will not be rushing by to get to work.
DAY 3 IN LONDON: KENSINGTON PALACE AND NOTTING HILL
We did not have a full third day in London, but we managed to still visit Kensington Palace and the Notting Hill area before heading to the airport.
KENSINGTON PALACE
HOURS: 10:00 – 4:00 (last entry at 3:00)
COST: £17.50 for adults and £8.50 for kids; grounds and gardens are FREE
BEST TIME TO GO: Anytime of day in winter; probably near open or close in peek summer travel season
We decided to visit Kensington Palace since I wanted to look at some of the houses around that area anyways. We did not originally plan to go inside but decided to after all. Tickets cost £17.50, and you walk through on your own. There also was a display with Princess Diana's clothing inside, but it was a temporary exhibit. The exhibits change regularly and are included in the price of admission.
There are some beautiful spots inside and on the grounds for photos. It does not cost to enter the garden area, only to tour the inside of Kensington Palace. I think the grounds would be even more beautiful in the summer with the flowers blooming. The gardens were not so beautiful in the middle of winter.
BEST STREETS IN NOTTING HILL FOR PHOTOS
HOURS: Open 24 hours a day
COST: FREE
BEST TIME TO GO: Anytime in daylight hours
Notting Hill is one of the most well known Instagrammable spots in London with colorful streets and beautiful architecture. We walked from Kensington Palace up to the Notting Hill area to enjoy all the views in between.
Some of my favorite homes and streets were on Bayswater Road near St. Petersburg Place, St. Stephen's Gardens, Westbourne Park Road, Powis Gardens, and Lancaster near Basing. These spots are all marked on the map at the top of this post. Really, once you get into this area, you can just walk around and see what you find. I wrote down a list of roads from several blog posts, but we ended up just walking around and finding our own spots instead. If you are looking for a list of the most colorful roads in Notting Hill, check out this post by Travels of Sophie.
From Notting Hill, it was time to head back to our hotel to check out and head to the airport to go home.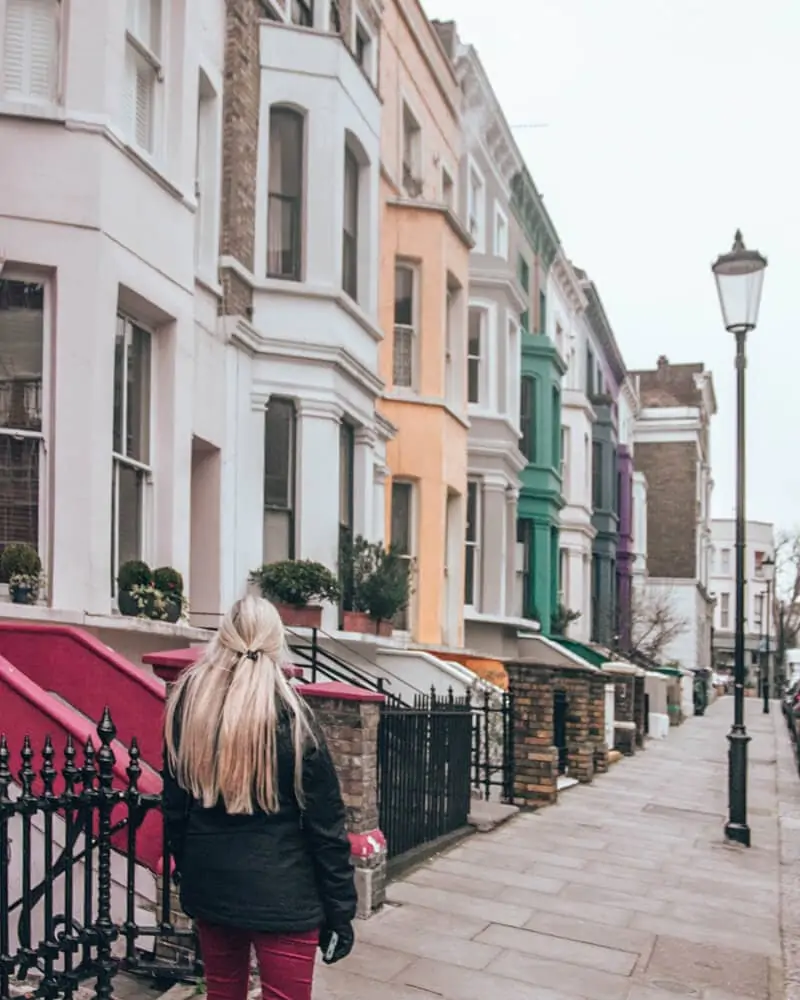 BEST PLACES TO EAT IN LONDON
You have plenty of good options for food in London. In our three days in London, we mostly grabbed food whenever we found it on the way to our next stop. Our only problem was that we learned the hard way that many places stop serving dinner and serve drinks only at a certain time. Because we wanted to see so much, one night we had a hard time finding a place that was still serving food (it was around 9:30 p.m.).
Most popular or fancy London restaurants require or strongly recommend reservations. We did not use reservations at all, but we also tended to find places that were quick and on our route for food. If you want a nice dinner or to eat at Coppa Club in their igloos, I strongly recommend trying to get a reservation ahead of time so you will not be disappointed.
EATING IN THE COPPA CLUB IGLOOS
Coppa Club's igloos are one of the most sought after reservations in London. We happened to find them our first night in town when we had a quick layover at the beginning of our trip. We decided to check out the menu and realized the prices were quite reasonable. After talking to a waiter, we found out that reservations are often required months in advance. You can book reservations on their website. However, the waiter also told us a little trick to be able to eat there without booking in advance. We used that trick when we returned two weeks later and had one of our favorite meals of the trip!
BEST LATE NIGHT FOOD AT POLO BAR: THE GREAT BRITISH CAFE
On our first night in London before heading off to Scotland, we arrived in London ready for dinner. Near our hotel, we found Polo Bar. As a bonus, it is open 24 hours a day, so you do not have to worry about open hours or going hungry. Our hunger made the decision even easier, but the food was good.
I enjoyed a hot chocolate (it was cold for my Florida blood in December!) and the Banofee Pancakes. They are topped with bananas, caramel and vanilla cream. Obviously I went for the healthy choice that night, but it was so good! My husband opted for the cheesy chips (fries) and a burger. There are several locations in London, and it works perfect for quick food while you are out and about no matter the time of day.
PICKLES SANDWICH BAR: BEST SANDWICHES IN LONDON
If you are visiting the Churchill War Rooms, Westminster Abbey, Big Ben, Buckingham Palace or anything else in this area, you need a sandwich from Pickles Sandwich Bar. Our early morning and all of our walking kicked in while we visited the Churchill War Rooms, and we needed food fast when we left. The closest restaurant was Pickles Sandwich Bar. It did not look like much at first, but it was a place we would eat at all the time if we lived in London.
It stands out on the street with the green storefront, but the inside is very low-key. We ordered a couple of sandwiches, and they were both amazing. I don't even remember what we ordered, and we were so hungry that I didn't even take a picture to remember it later. I highly recommend it if you need a quick meal in London. The prices are cheaper than most of the places we ate which was an extra bonus.
BEST HOTELS IN LONDON
Since we had layovers at the beginning and end of our trip in London, we ended up staying in two different hotels in different parts of London with completely different vibes and clientele. Both worked well for us, and we have no complaints about either of them.
K & K HOTEL GEORGE
Our favorite of the two hotels we stayed at in London was K & K Hotel George. While the hotel is usually fairly expensive, we found a deal booking online through Agoda (check Booking.com for current deals here). The hotel included breakfast with our stay.
While the room was a typical European hotel room (maybe a little larger than usual), the location is tough to beat. The hotel is located a few minutes walk from the Earl's Court station. This meant we had easy access to the rest of London. I would highly recommend this hotel if you want something nice but a hotel that still makes it easy to get around London.
The people who stayed here were mostly business people or middle age couples. The hotel stayed quiet and the staff was friendly and helpful. In the summer, there is an outdoor area to relax and enjoy a meal. It was a bit cold for that in January though!
POINT A HOTEL LIVERPOOL STATION
Our hotel for our one night in London at the start of the trip was Point A Hotel Liverpool Station. This room was tiny, but the cost and location made up for it. We had little room with the two of us and our two backpacks. There was not much room to unpack or spread out, but for one night it was just fine for us. The space within the room is maximized with hidden compartments and pull out sections of the walls. This means the actual walls are fairly thin though, so we could hear everything happening in the rooms on either side of us.
The price was right for a last minute room with easy access to public transportation. The clientele here is much younger and the room was significantly cheaper without the deal we found for K & K. The staff was friendly and helpful here as well. They target a younger and more hip crowd, and it shows in the design of the room.
If you are only staying one or two nights or travel on your own, this hotel may be perfect for you. If you are staying longer, a light sleeper, or staying with someone, you may want to consider another option depending on how picky you are with hotels.
Find current deals for Point A Hotel Liverpool Station on Booking.com here and on Agoda here.
WHY 3 DAYS IN LONDON IS THE PERFECT INTRODUCTION
London is an amazing city with a rich history that somehow still manages to stay somewhat modern. It makes for a great destination for a first trip overseas or for a seasoned traveler. With so much to see and do, three days in London serves as a perfect introduction to the city. If you have longer to stay in London, it will allow you more time to see all the city has to offer. Three days in London is better than no time at all and allows you time to check out the best things to do and most Instagrammable places in London.
For more information on visiting London, check out our full guide to eating in the Coppa Club Igloos and our ultimate guide to Christmas lights in London.
For more European travel tips and itineraries, check out the Europe section of our blog or use the search function at the top of the page to search for other destinations you plan to visit. If you are looking for more bucket list destinations around the world, see our top travel destination recommendations here.
Like this post? Pin it for later and share it with others!