If you are spending time around Christmas in London, you are in for a treat. London has the best Christmas lights and Christmas decorations of any city I have ever seen. London, in general, should be on your travel bucket list, but London at Christmas deserves a spot as well.
Luckily, the Christmas lights in London stay up for weeks before Christmas and even a week or two after Christmas. Our visit to London in December and January included as many Christmas lights as we could possibly squeeze in along with all of London's best spots (find our 3 day itinerary here!).
To find the best Christmas lights in London, you do not have to look very hard. Many of the best streets for Christmas lights are all connected and close to each other. You can easily see most of these in just a couple of evenings. If you are wanting them to yourself for pictures though, go early in the morning.
Here you will find the ultimate guide to Christmas Lights in London including where to find the best Christmas Lights in London in 2021 (and which ones to skip). Also included in this post is a map to show where these locations are and to make it even easier to plan your magical Christmas in London.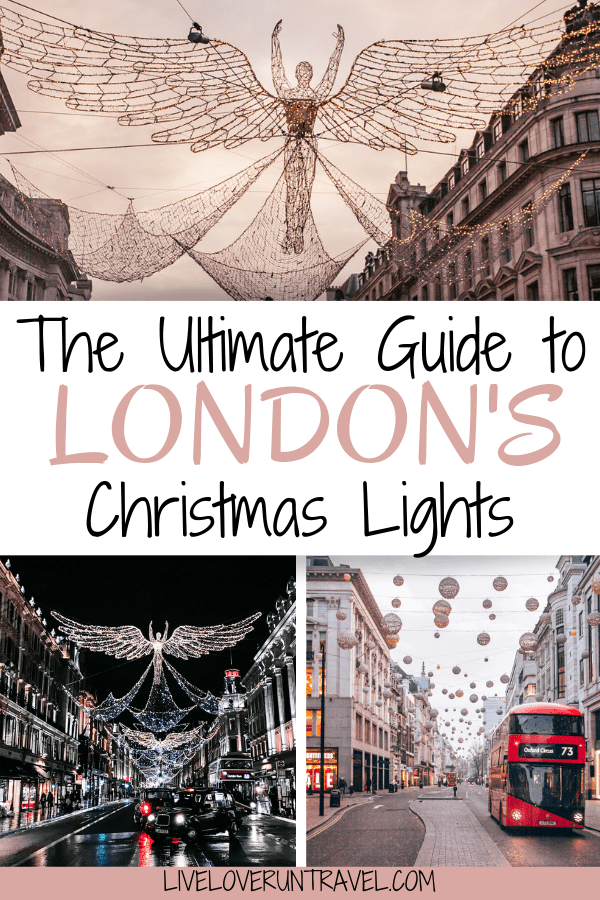 How to Find the Best Christmas Lights in London in 2021
Regent Street Christmas Lights
Start: Thursday, November 12, 2021
End: January 6, 2022
Closest Tube Station: Oxford Circus or Piccadilly Circus
Verdict: MUST SEE
The Regent Street Christmas lights are a must for anyone in London at Christmas. Christmas angels span the street, one of London's main shopping streets in the West End.
The "Spirit of Christmas" display is one of the biggest and best known of the Christmas light displays, and this shows in the crowds that gather. Because it takes a while to put them up and bring them back down, they are likely to be up before and after this but not turned on at night.
The night the Christmas lights turn on is a full event. The Regent Street Christmas lights for 2021 turn on the evening of November 12, 2021. Traffic is diverted to keep it a pedestrian street from 4 p.m. until 9 p.m.
As this is one of London's most popular Christmas-related events, expect large crowds to gather and watch the angels come to life.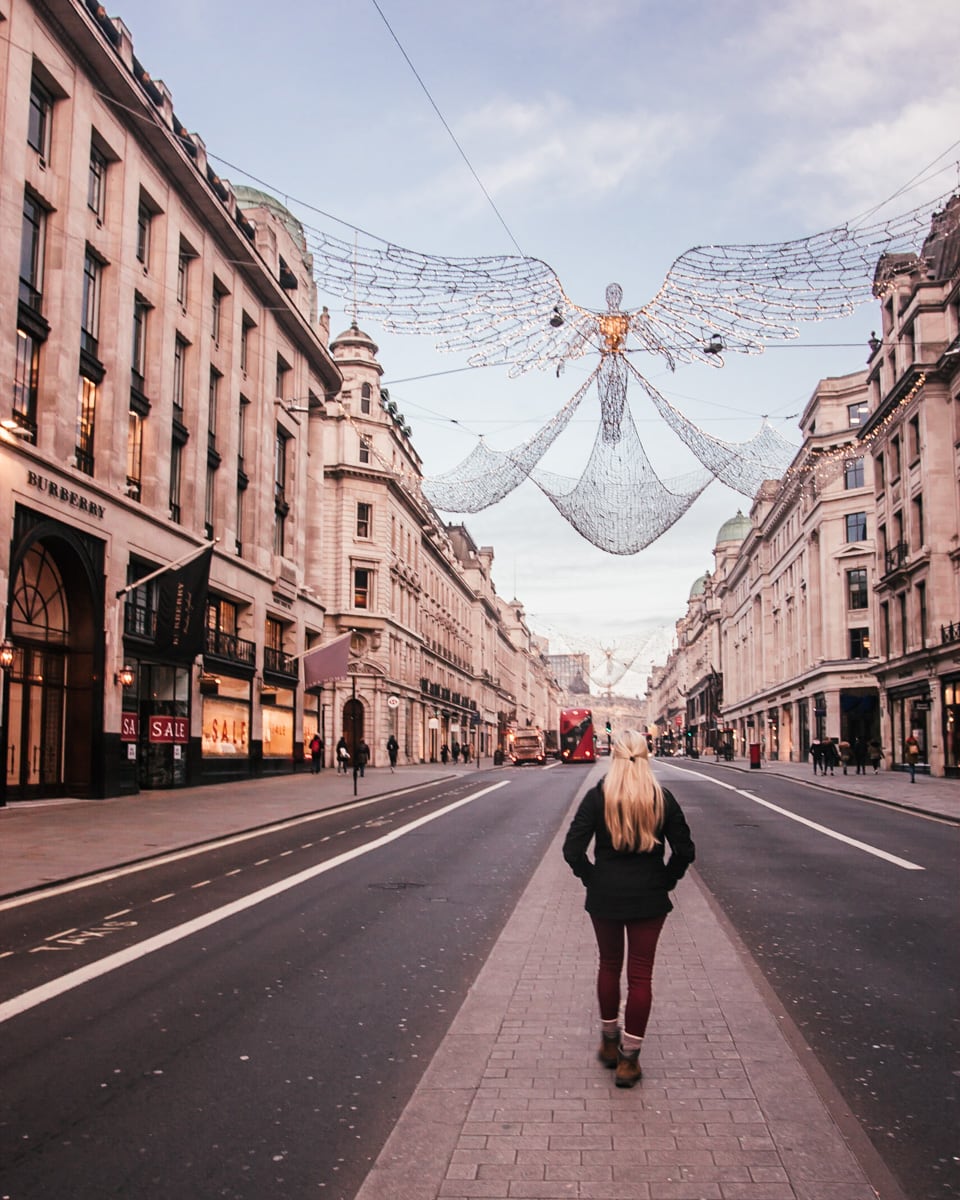 ***For 2021, the display will only be turned on from 2 p.m. until midnight each day for sustainability reasons. However, even in the morning and daytime, the display is still pretty while not lit up.
If you prefer seeing the Regent Street Christmas lights in a more quiet setting, your best bet is to go early in the morning. We went at night in the rain the first time we saw them around 8 p.m. Locals and tourists filled the sidewalks and crosswalks.
If you want the picture in the divider in the middle of the road, it is harder to get in the evening with the crowds out shopping, enjoying the lights, and going home from work. In the mornings, less people are around and there is less traffic in the background as well.
The best time to go for the street to be empty is on a weekend morning. A weekday morning also works, but you will have some locals hurrying to get to work on time. When we went back to try again, we went on a Saturday morning.
The angels are still on even just after sunrise (not the case in 2021/2022). The streets were pretty empty other than a handful of people walking by. Traffic was almost non-existent other than the iconic double-decker buses and black taxi cabs.
If you can only see one Christmas light display in London, go see Regent Street. If you have just an hour though, you can see Regent Street as well as some of the other nearby streets such as our other favorite street, Oxford Street. The intersection of Oxford Street and Regent Street makes for magical Christmas light displays in every direction.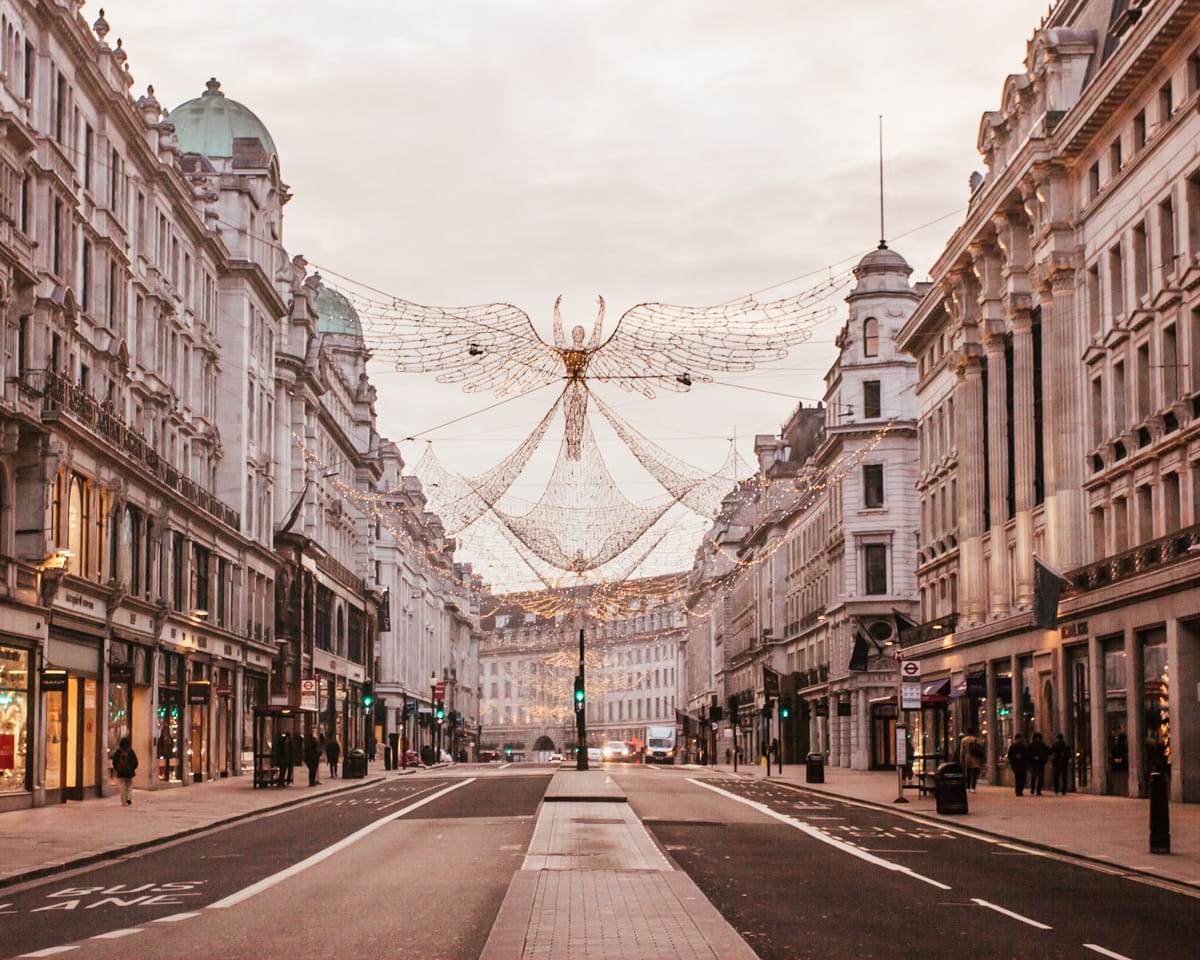 Oxford Street Christmas Lights
Start: November 22, 2021
End: January 1, 2022
Closest Tube Station: Oxford Circus or Marble Arch
Verdict: MUST SEE
The Oxford Street Christmas lights usually switch on in early November, making them the first Christmas lights turned on in London. This year, they are among the last of the lights due to an entire new display.
The new Oxford Street Christmas lights turn on the evening of November 22, 2021. The event is usually huge, drawing a million people to the area. In addition to switching the lights on, there is often entertainment and shopping deals on the popular shopping street. For more information about the event, click here. (The big event is cancelled for 2021, but the lights are up and on!)
Each year, the theme changes slightly, but this year there is a whole new display. Gone are the large balls of lights looking like large snowballs strung across the street and the 27 LED light curtains of 2019 and 2020.
For 2021, the street is covered in strings of lights with stars on them, making a starry night sky above the famous street. The photos of it are stunning and much better than the LED light curtains from the last two years.
The biggest display is likely to still be at the intersection of Oxford Street and Regent Street where you can enjoy the intersection of the two best streets for Christmas lights in London.
Again, due to the popularity of this display and the popularity of the street in general, the evening time with London's early winter sunset time brings out crowds to enjoy the display. If you want to avoid the crowds, go in the early morning or just after sunrise, especially on the weekends.
The Christmas lights do not turn off at night, so you don't have to worry about the lights being off if you go in the early morning hours. (This may have also changed in 2021 for sustainability purposes as Regent and Oxford are usually on similar schedules. If so, the lights will turn off at midnight.)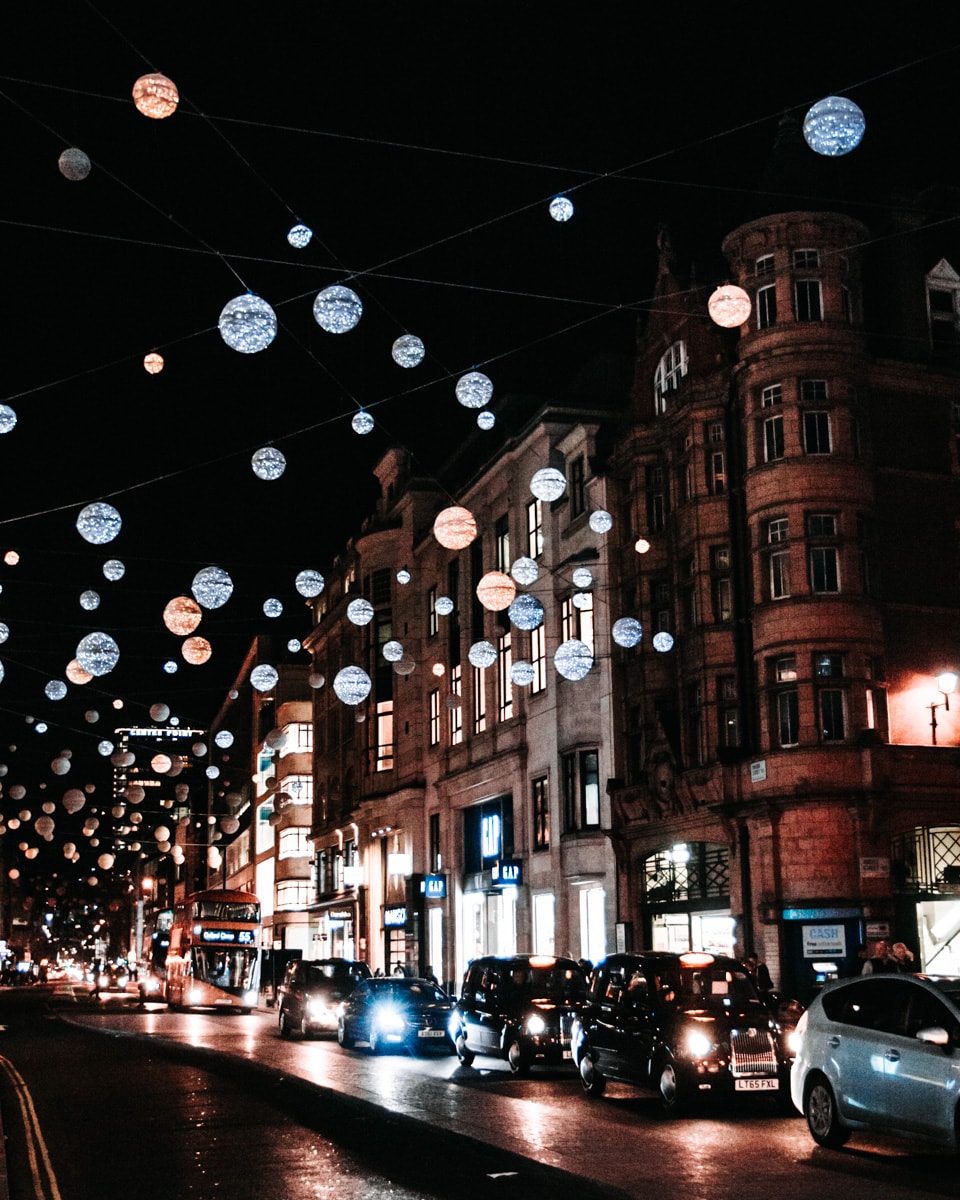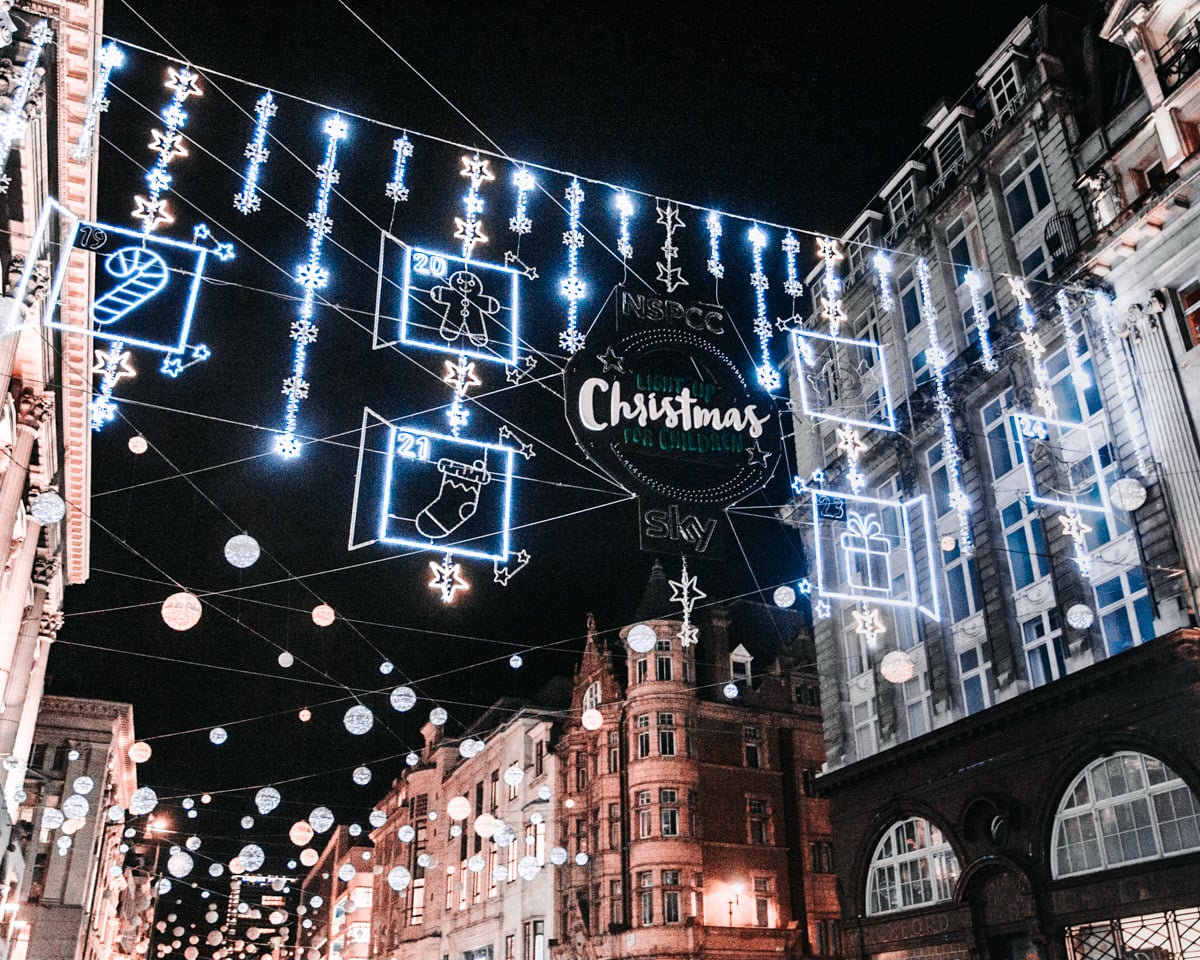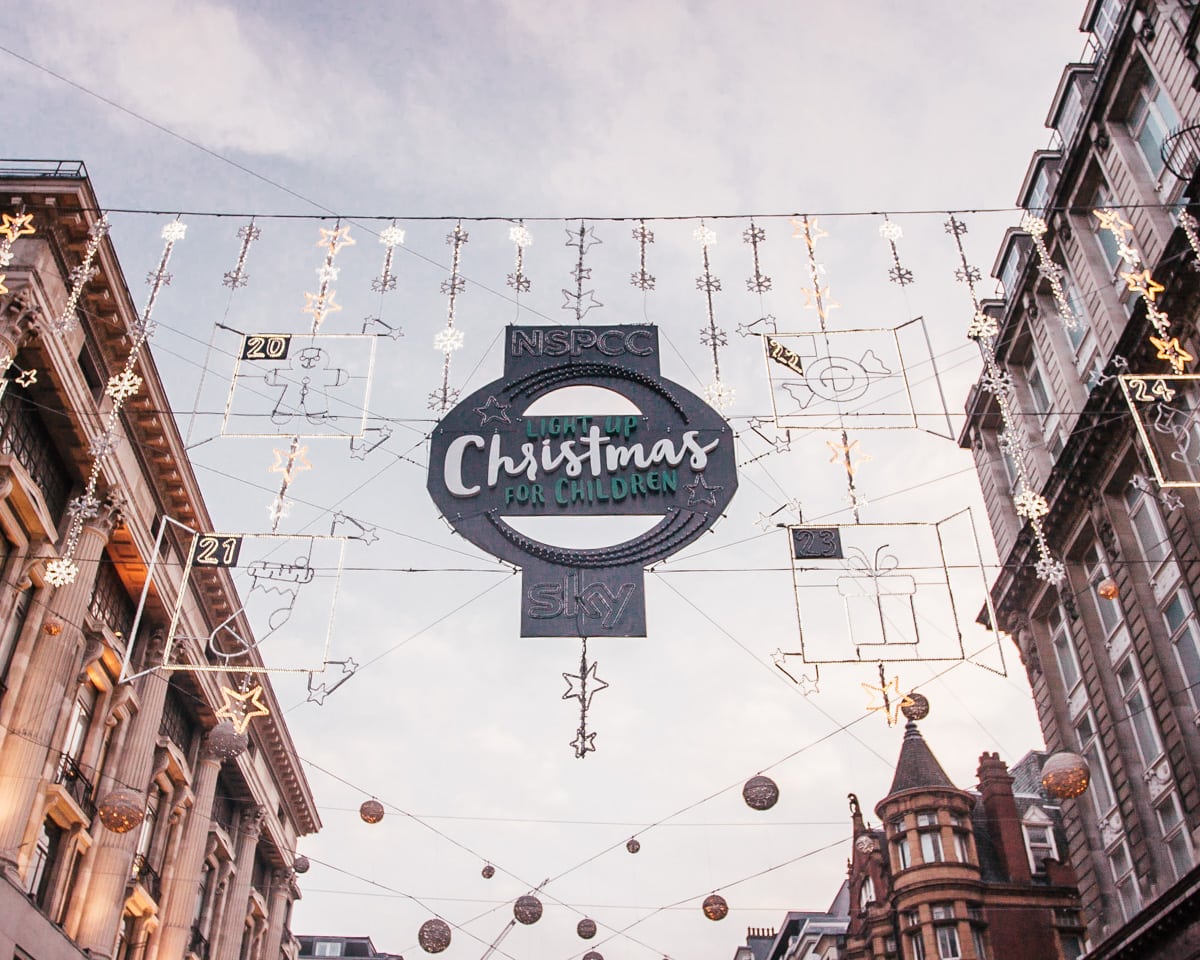 New Bond Street
Start: By November 22 (usually coincides with Oxford Street)
End: January 1, 2022
Closest Tube Station: Bond Street or Oxford Circus
Verdict: SEE THEM (while at Oxford Street)
The Christmas lights on New Bond Street were another favorite. It might have something to do with the fact that they are less popular but so close to Oxford Street and Regent Street.
Walking around this area, many of the side streets have some sort of Christmas lights or decorations. Sometimes the lights go across the street and other times it is individual stores and businesses that decorated for the holidays. This is how we found New Bond Street.
New Bond Street's theme the last few years related to peacocks. The peacock feather lights stretch out over the streets with a unique circular peacock feather design every so often down the street.
The street is not crowded, even in the evening rush of crowds filling Oxford Street. It allows you to step away and find some peace and quiet after the craziness of Oxford Street and Regent Street with their holiday crowds.
If you plan to stop by Oxford Street, check out Bond Street while you are there. Most people don't go to the area for Bond Street alone. Most seem to take a quick picture from Oxford Street, but make sure to take time to walk down the street a few blocks to see the different designs.
While you are at New Bond Street, stop by St. Christopher's Place too. This pedestrian-only shopping street is just north of the Bond Street station. Christmas lights cover it starting in mid-November.
Because it is a narrow street and a popular shopping street, it stays crowded during store hours. Visit when the stores are closed for less people in your pictures.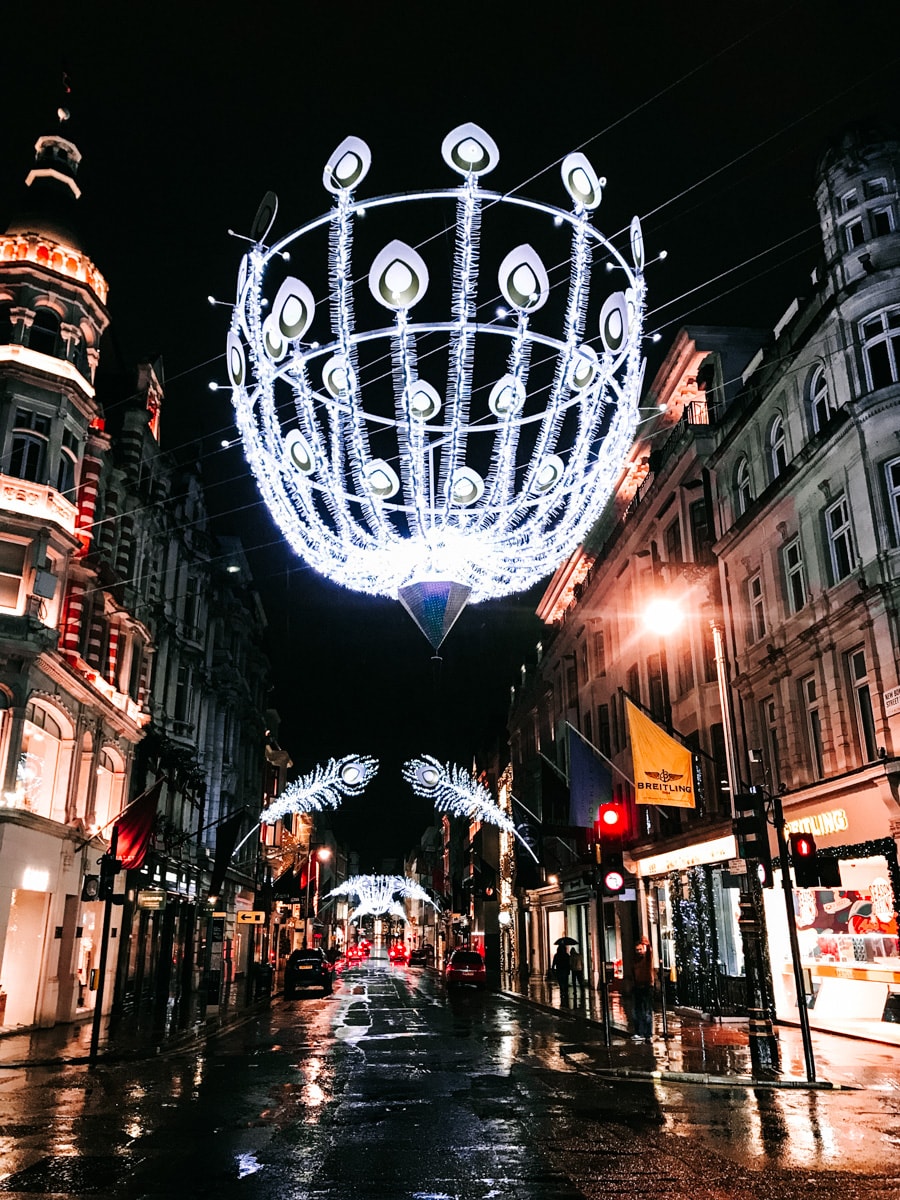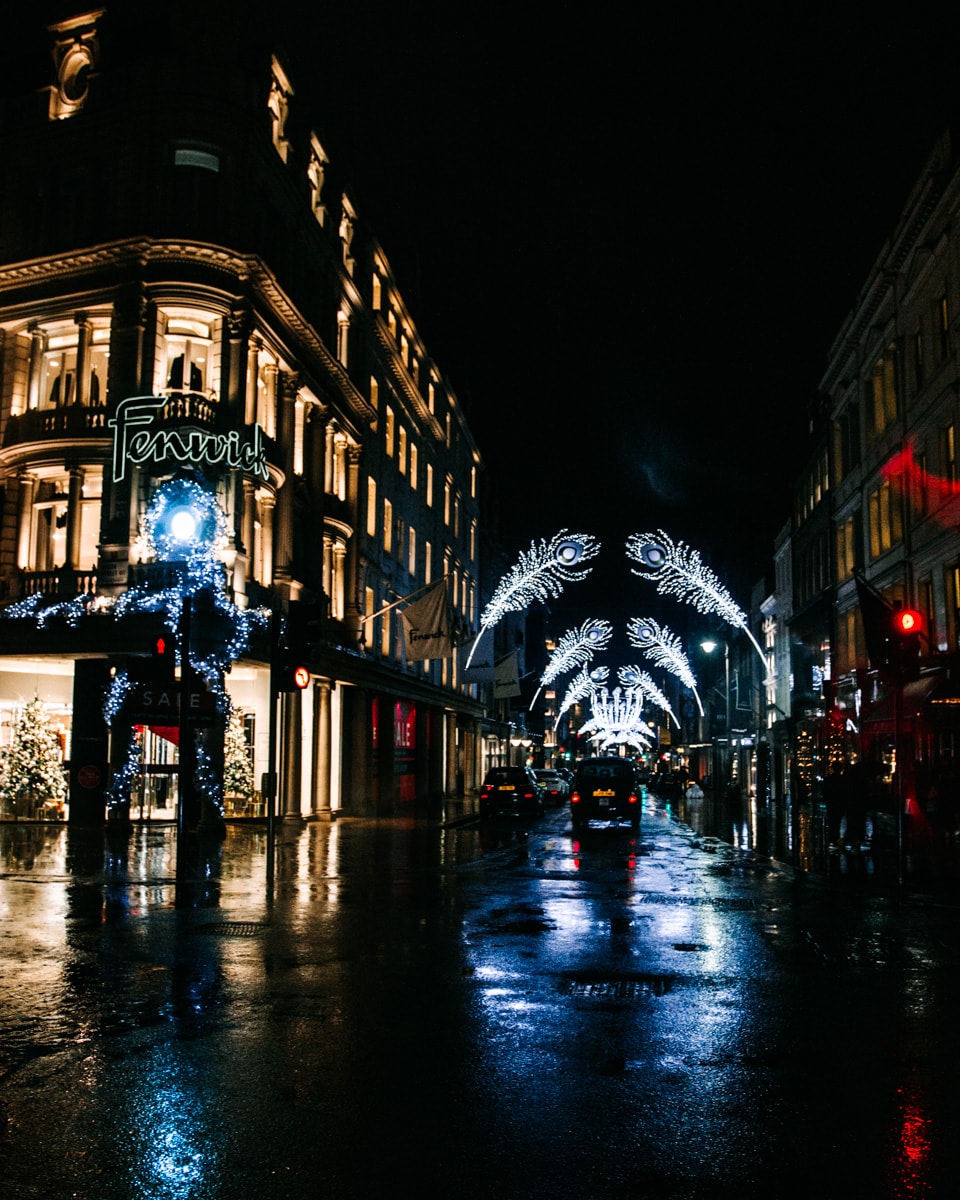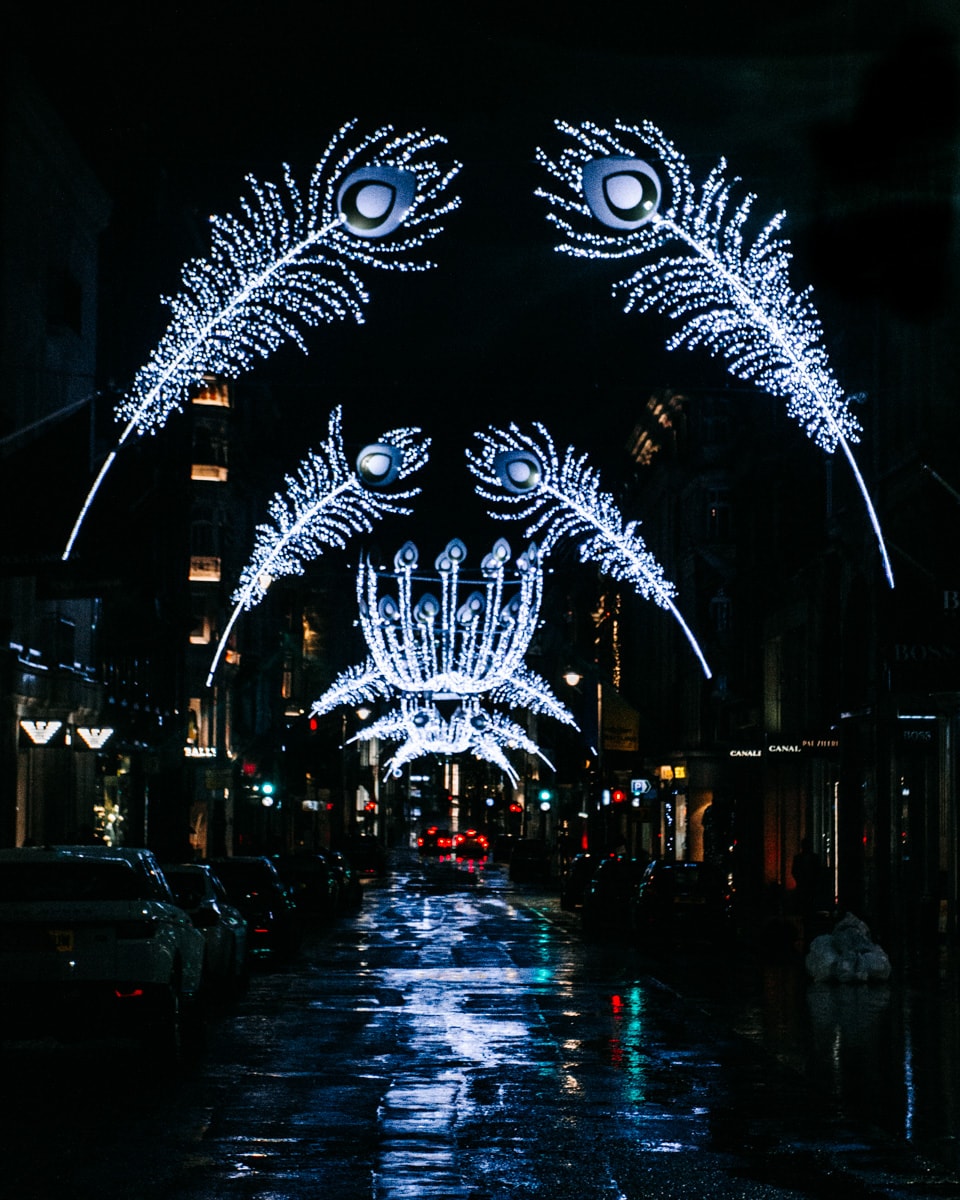 Piccadilly Circus
Start: November 12, 2021 (same as Regent Street each year)
End: January 6, 2022
Closest Tube Station: Piccadilly Circus
Verdict: SEE THEM (while at Regent Street)
The "Spirit of Christmas" display is not limited to the popular section of Regent Street from Oxford Street to Piccadilly Circus. It actually continues on Regent Street past Piccadilly Circus and on Piccadilly as well.
If you plan to visit Regent Street, head down to Piccadilly Circus to see the display with less people around. The angels still hang above the streets, sparkling throughout the night, but there are less people on the other side streets and on this part of Regent Street.
If you want a picture with the angels above you, this area might work better for you during the crowded evening hours. The crowds stick mostly to the main section of Regent Street, so the area past Piccadilly Circus is mostly empty.
The angels also go down Piccadilly, so you have multiple options if you start in Piccadilly Circus. If one of the streets is too crowded, just pick another street to use.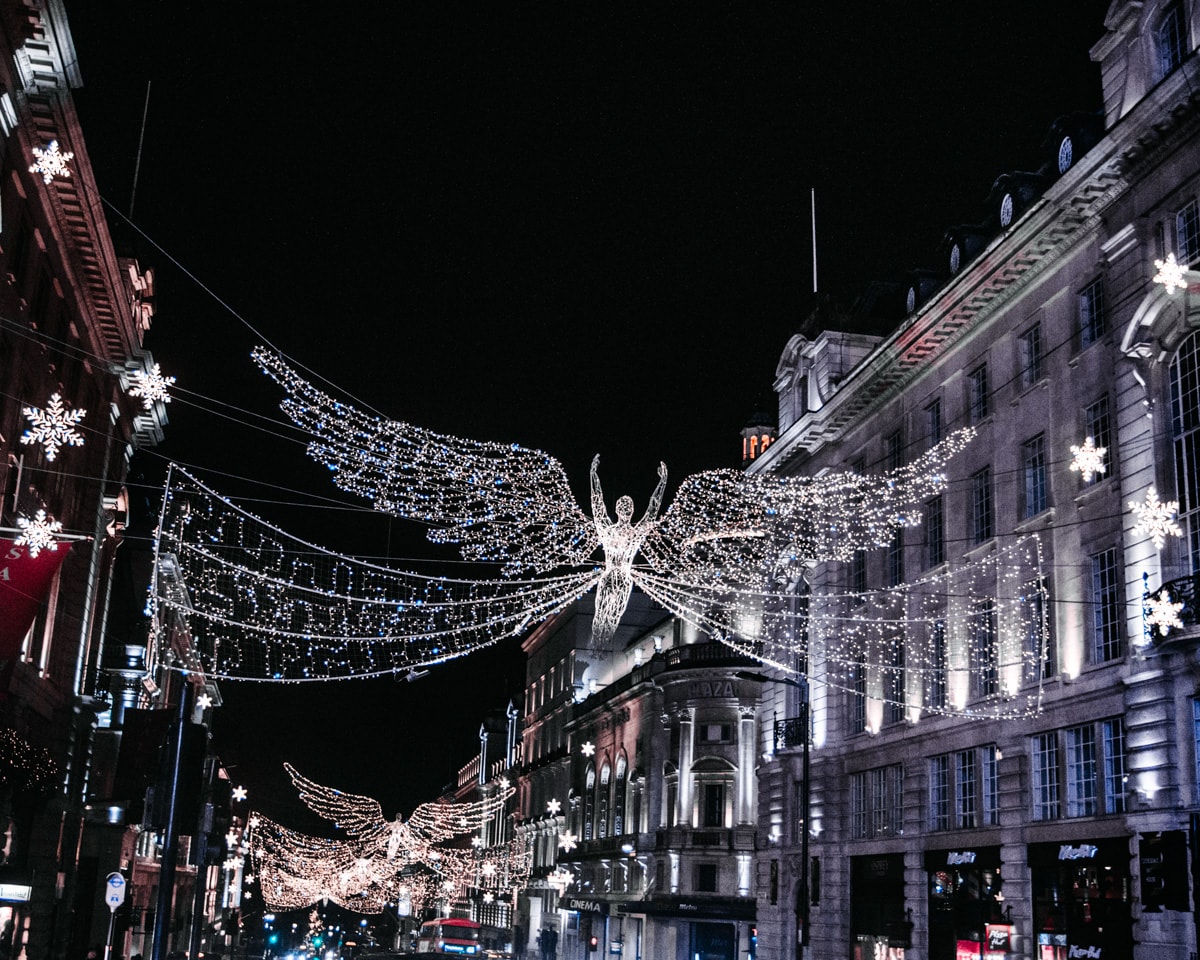 Coppa Club Igloos
Start: October 2021
End: Year round but winter igloos typically end in spring (March/April)
Closest Tube Station: Tower Hill
Verdict: MUST SEE
The igloos at Coppa Club's Tower Bridge location are up all year long. In the summer, they are opened up and have a summer theme. In the winter, they are fully enclosed to keep you warm inside and offer a perfect view of Tower Bridge from the warmth of the igloo.
The winter-themed igloos typically open in October and close in late spring. The theme typically involves some lights to give it an extra magical feeling.
There is no extra cost to dine in the igloos, and the prices are normal London food prices. If you plan to eat in the Coppa Club igloos, book an igloo as soon as possible. They tend to release a few months at a time and fill up quickly.
Keep checking back if reservations are not open yet for when you plan to go. Even if the reservations are all taken, check back a day or two in advance to see if there are any last minute cancellations. If you can't get a reservation, click here to find out how to eat in the Coppa Club igloos without a reservation.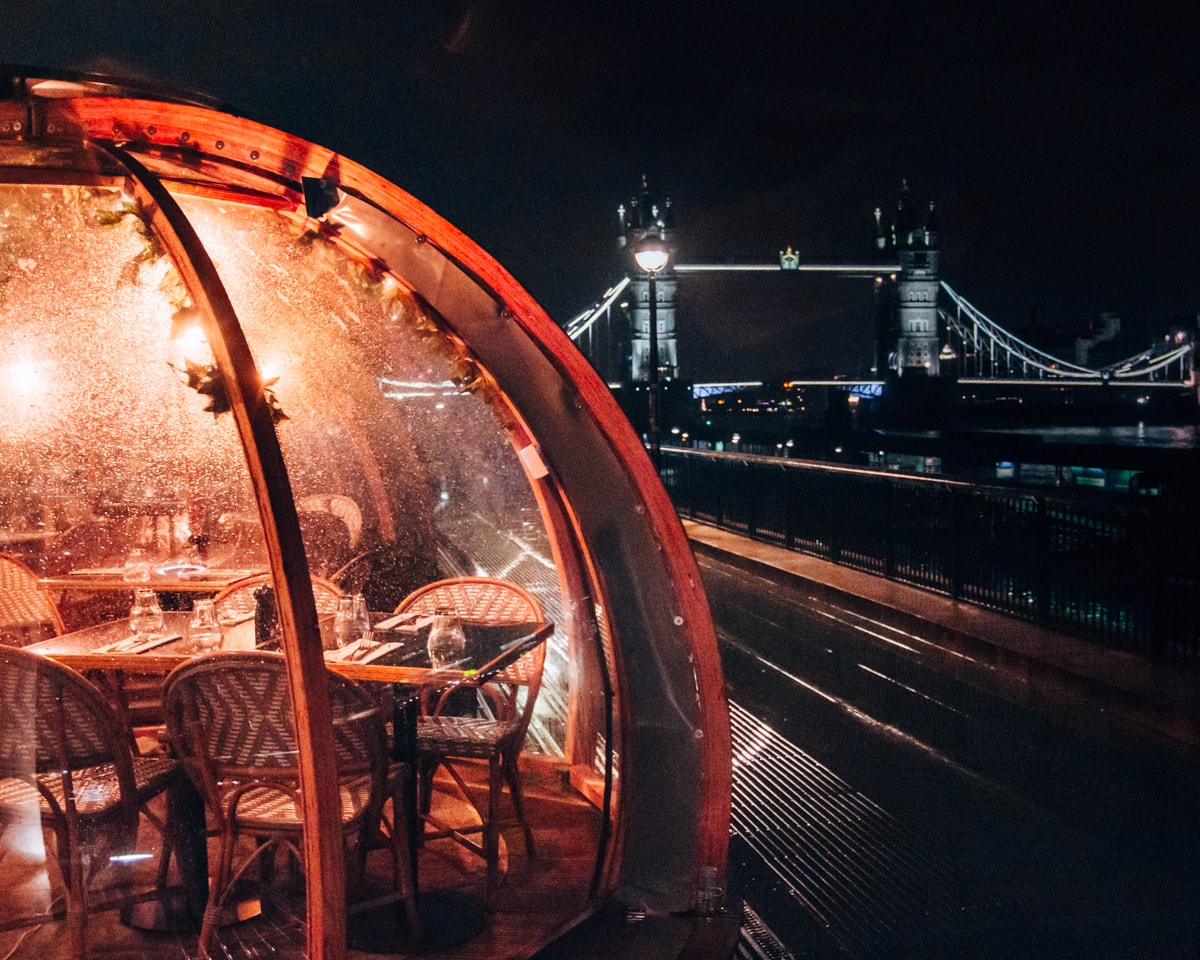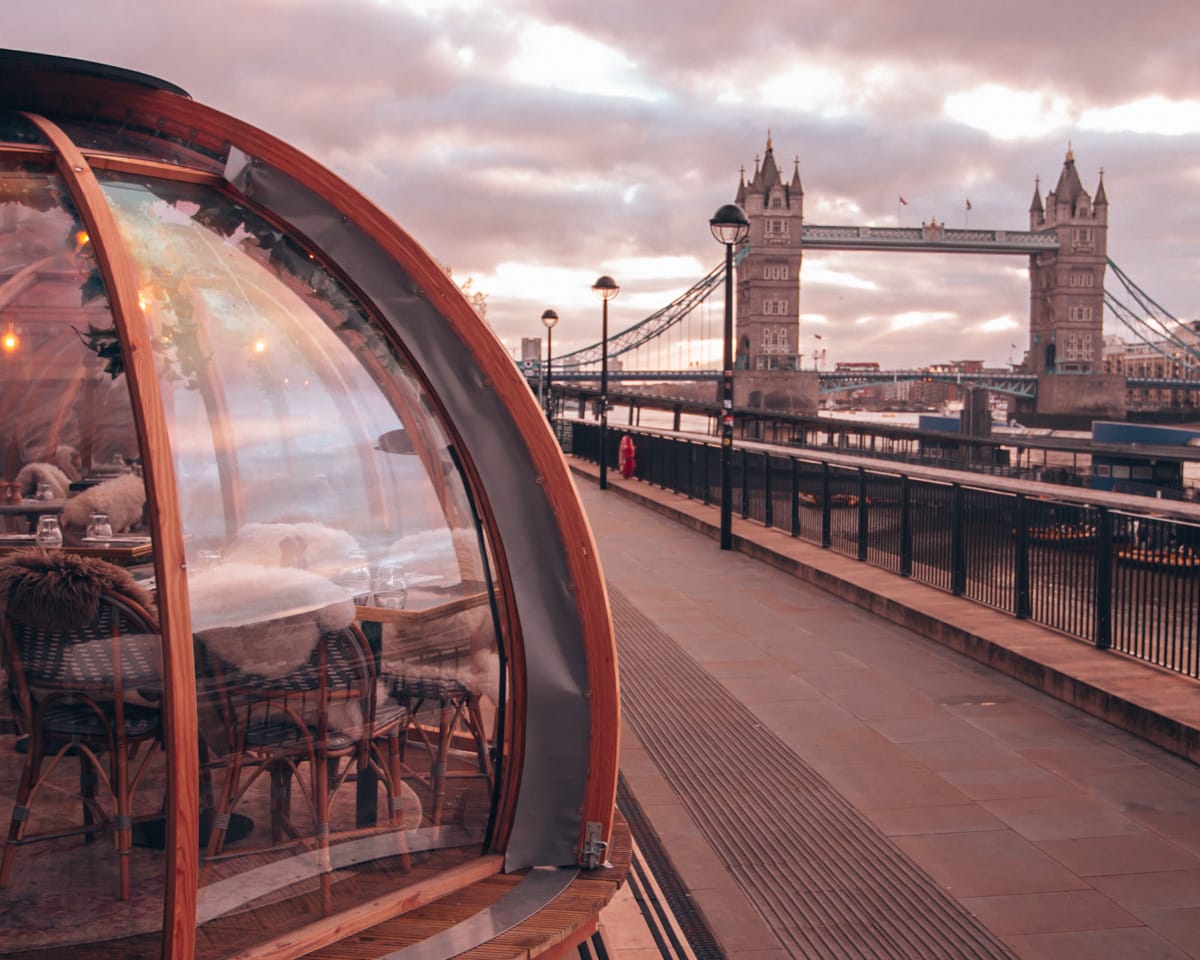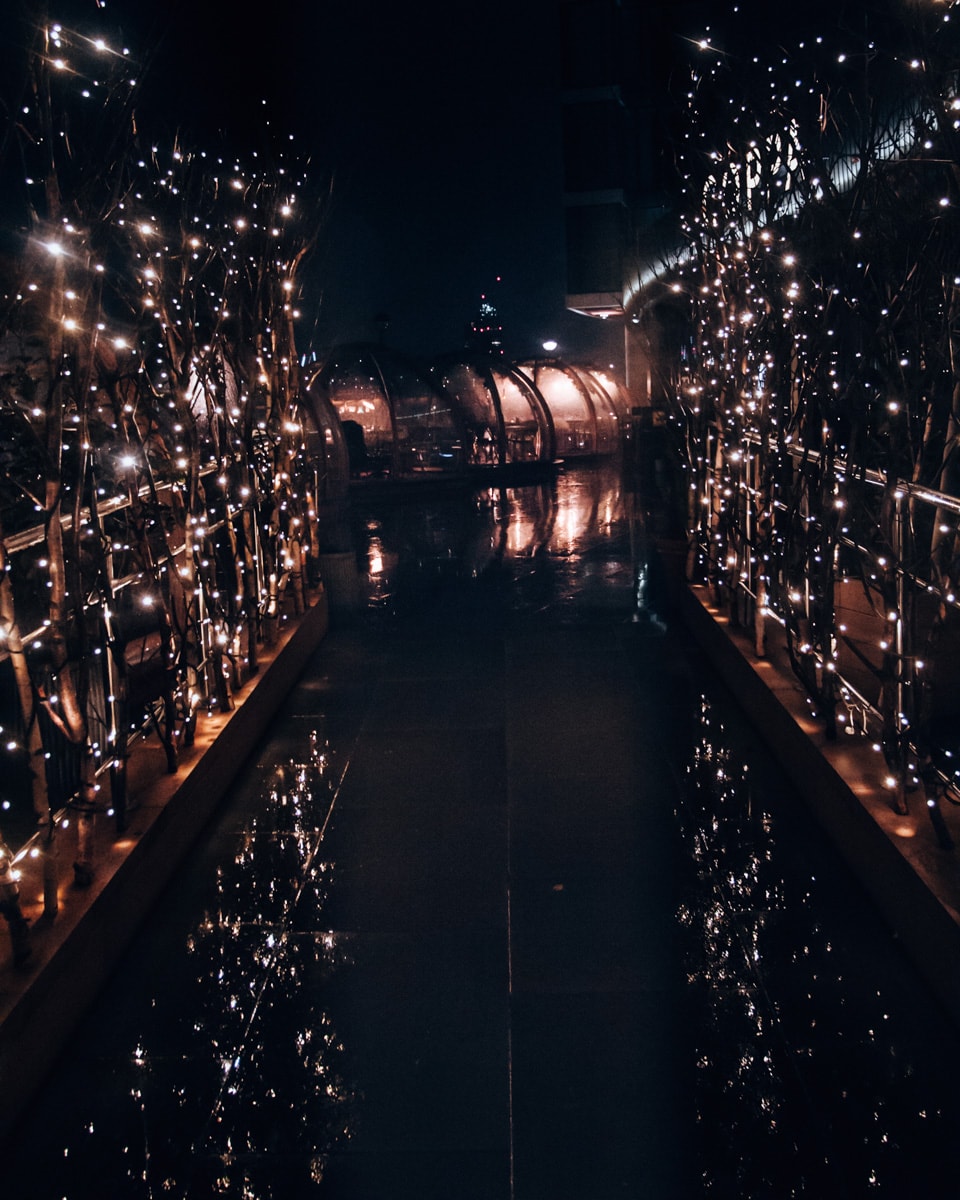 Tower Bridge & Christmas by the River Market
Start: November 16, 2021
End: January 2, 2022
Closest Tube Station: London Bridge
Verdict: SEE IT
If you want to experience a Christmas market in London, stop by Christmas by the River to enjoy a Christmas market with views of many of London's most famous landmarks. The market stretches from London Bridge City Pier to the Scoop at More London, following the Queen's Walk along the River Thames.
From the market, enjoy views of Tower Bridge, London Bridge, Tower of London, and the city skyline. Within the market, enjoy food and drinks, handmade gifts, and even craft workshops.
While Tower Bridge does not have much in terms of holiday decorations, there are usually some Christmas trees with lights up along the river including those in the Christmas market. This offers a unique picture of Tower Bridge to show the holiday season compared to other times of the year.
While you are in the area, enjoy the view of Tower Bridge from Christmas by the River Market on one side and the Coppa Club igloos on the other side.
Winter Wonderland in Hyde Park
Start: 4 p.m. on November 19, 2021
End: January 3, 2022
Closest Tube Station: Marble Arch, Green Park, Victoria and Knightsbridge (Hyde Park Corner gets busy on weekends)
Verdict: SEE IT (if you like Christmas markets)
Located in Hyde Park, this is the biggest of London's Christmas festivals. Entry is free, but most things inside cost money. Tickets for the attractions can be purchased now at the event website.
Winter Wonderland includes over 100 fairground rides and attractions (including a 60 meter observation wheel), Santa Land, Christmas markets, themed bars and shows, ice sculpting workshops and the U.K.'s largest open-air ice skating rink.
If you are in London during the days of the Winter Wonderland, stop by and get your fill of Christmas festivities all in one place. Schedule in at least a few hours there one evening. Plan your adventure ahead of time and find out more about the event on the Winter Wonderland website.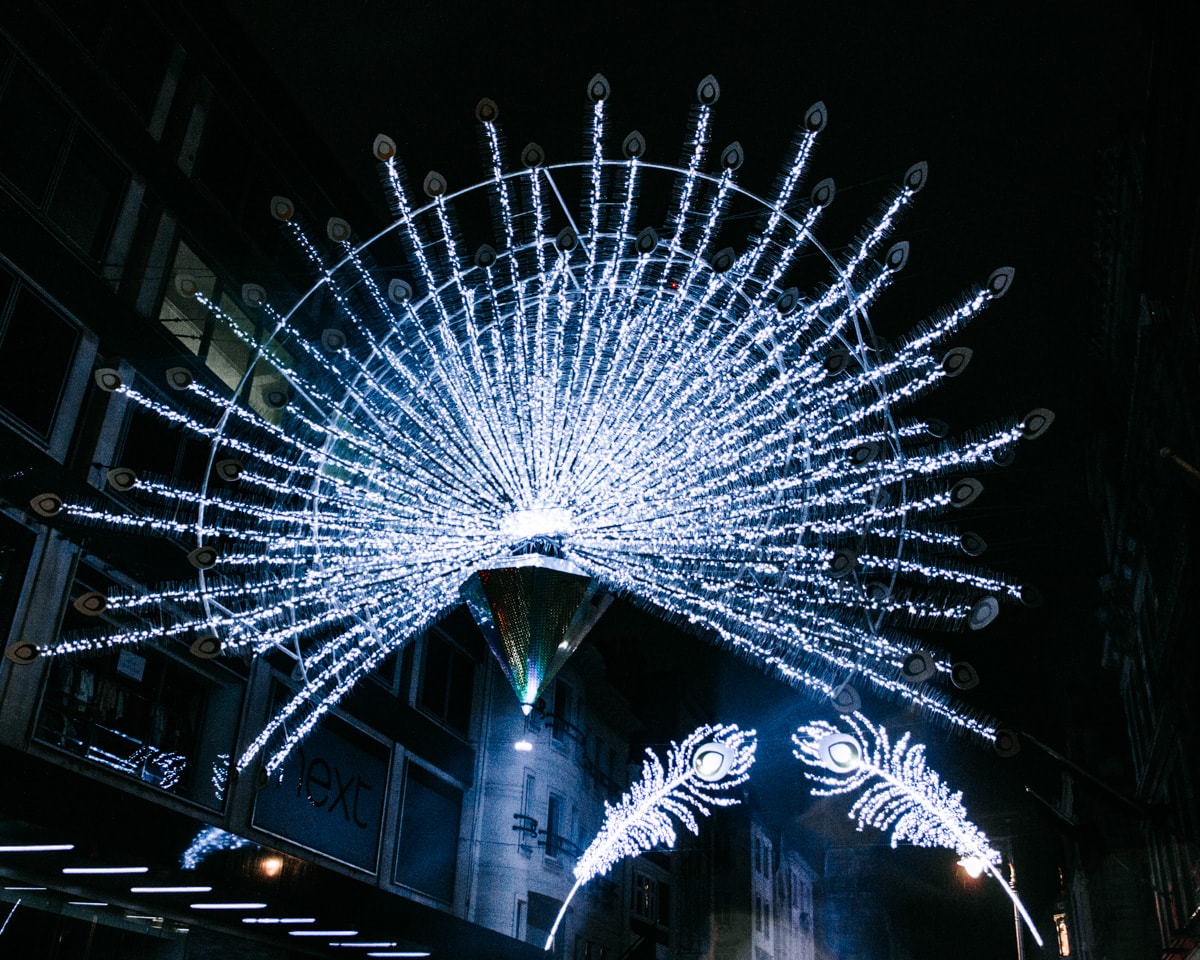 Carnaby Street
Start: November 4, 2021
End: January 2, 2022
Closest Tube Station: Oxford Circus
Verdict: SEE IT
Carnaby Street is another popular shopping street taken over by Christmas lights each year. In past years, the theme featured colorful parrots to represent Christmas in warmer climates, a Bohemian Rhapsody theme, and a "One Ocean One Planet" theme.
The 2021 theme is Carnaby Kaleidascope. There will be more than 600 2D and 3D butterflies hand painted fluttering around the street. The photos of it look amazing.
On top of the display, you can stop by Choose Love (3 Carnaby Street) to purchase items to be sent out by humanitarian projects to locations worldwide.
Carnaby at Christmas also includes discounts at the local shops and restaurants. Last year, most places offered 20% off on the night of the ceremony to switch on the lights. The lights typically turn on in early November each year.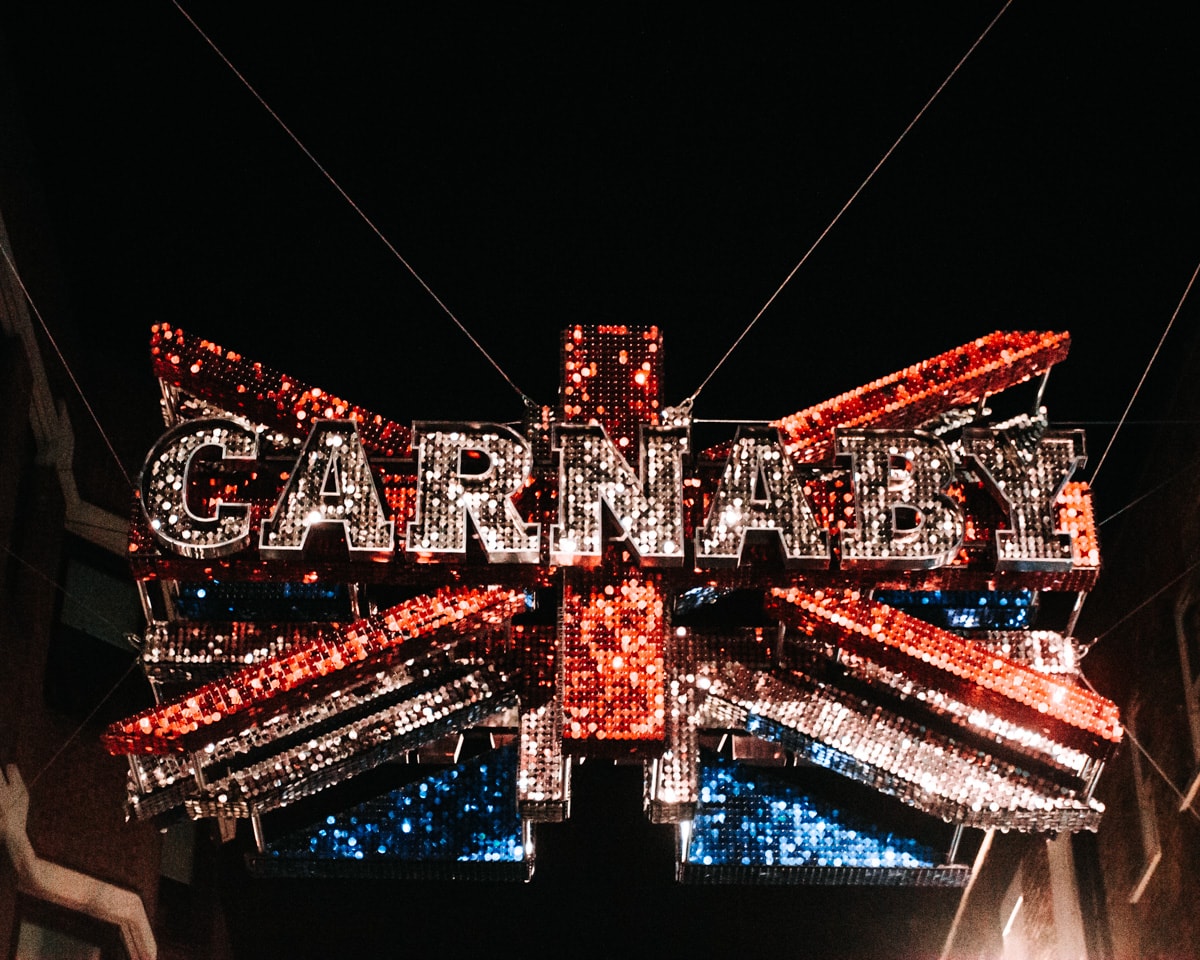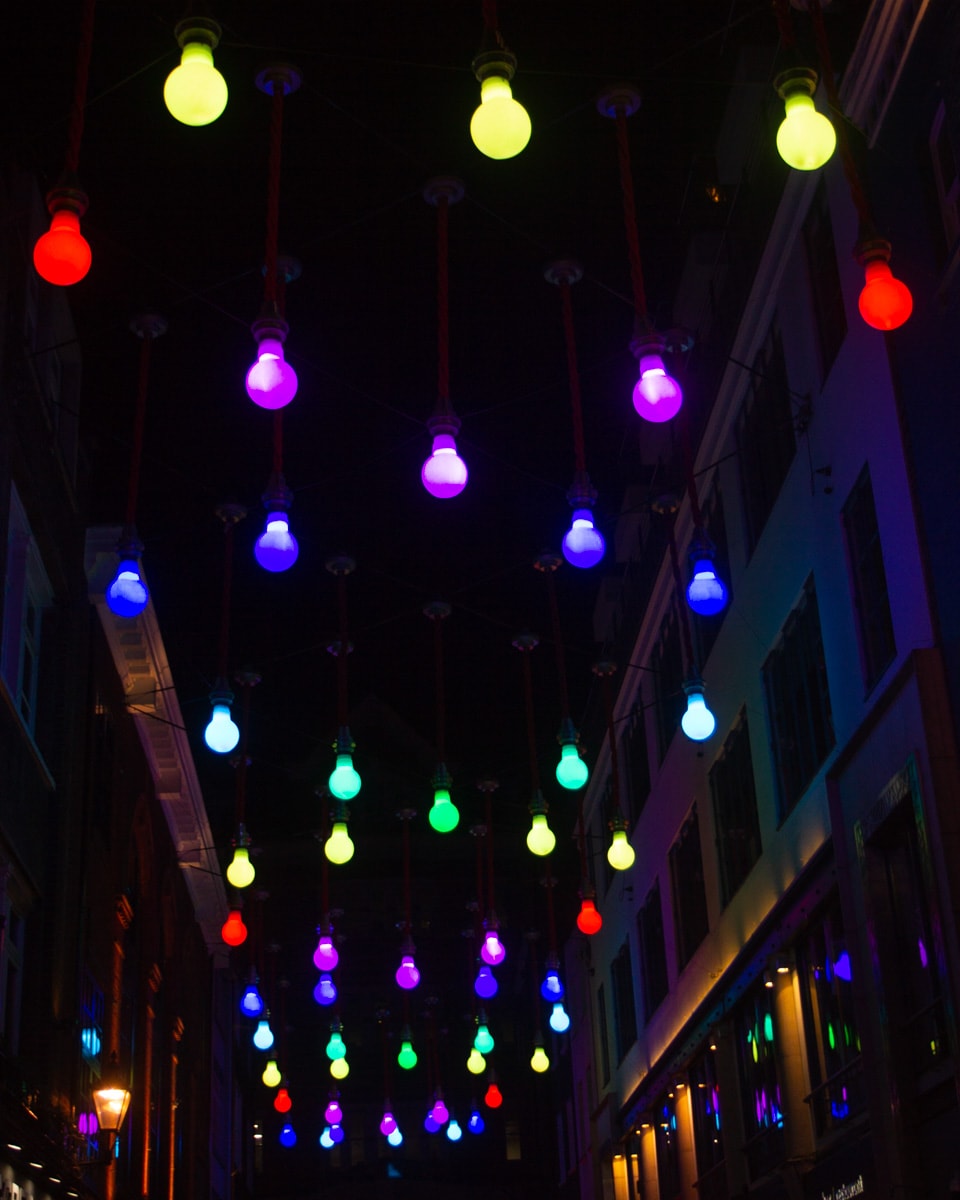 Christmas Decorations in Covent Garden
Start: November 9, 2021
End: January 3, 2022
Closest Tube Station: Covent Garden
Verdict: SEE IT
We missed Covent Garden, but I would recommend seeing it if possible. We did not have time to see it on our one night in December, and the Christmas decorations disappeared before we returned in early January.
The Christmas decorations in Covent Garden every year look spectacular though. The decorations included 40 mistletoe chandeliers and 700 sparkling berries in addition to a huge Christmas tree. Over 115,000 lights were used this year, and there is a 55 foot tall Christmas tree.
This year you can experience Frozen in Covent Garden as well as the LEGO adventure that returns this year. Plus, if you visit from 12 p.m. – 7 p.m. from November 9 to December 27, you can experience the hourly snow!
When the Covent Garden Christmas lights switch on, it is a big event. In 2017, Kylie Minogue turned on the lights. In 2018, Paloma Faith did the honors. The cast of Matilda and the Kingdom Choir (they sang at Harry and Meghan's wedding too) performed as well in 2018. The performers for 2019 included the West End cast of The Snowman.
The big event appears to be cancelled for 2021 but will hopefully return in the future.
Covent Garden is good for pictures almost any time of the day or night – the display is turned on from 7 a.m. until 11 p.m. Not all of the holiday decorations involve lights, so some make the perfect backdrop for daytime photos as well.
If you have a chance to stop by, definitely take the time to see what they create in 2019. Don't miss out on nearby Seven Dials while you are there.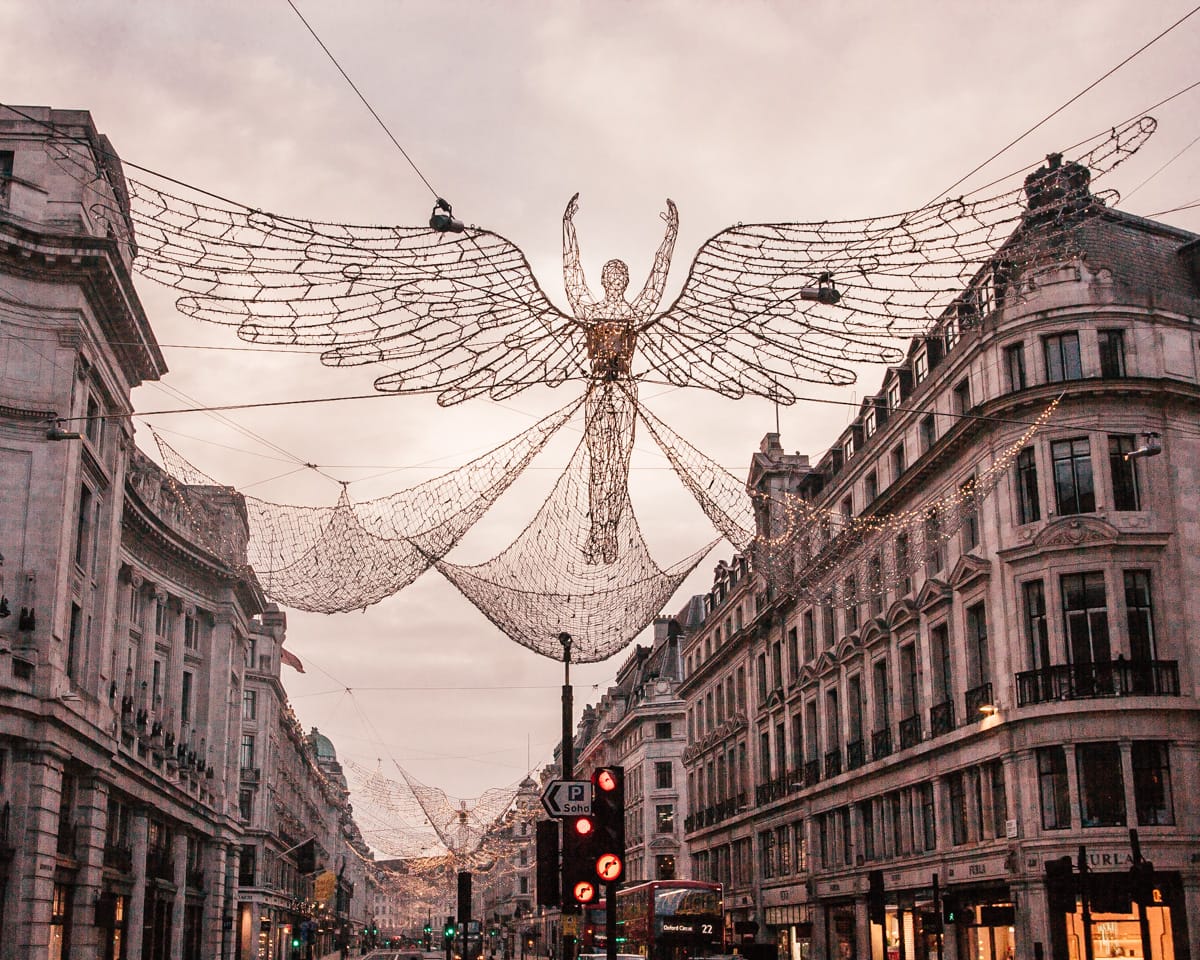 Trafalgar Square
Start: December 2, 2021
End: January 5, 2022
Closest Tube Station: Oxford Circus
Verdict: SKIP IT
Usually the last of the London Christmas lights to be switched on, Trafalgar Square's Christmas tree has a long history. Norway gifts this tree to the people of London every year as a way to thank them for their support during World War II.
Every year since 1947, a 25 meter tall tree is chopped down in Norway and shipped to London. Once it arrives in London, it is draped with fairy lights and turned on for the holiday season. Throughout the holidays, there are other events that take place in Trafalgar Square as well including concerts and a nativity.
While I love the history of the Christmas tree in Trafalgar Square, it is not nearly as impressive looking as many of the other London Christmas displays. After seeing Regent Street and Oxford Street the same night, it was underwhelming. If you have time to see it or are in the area, go check it out. If not, skip it instead of taking a special trip for it.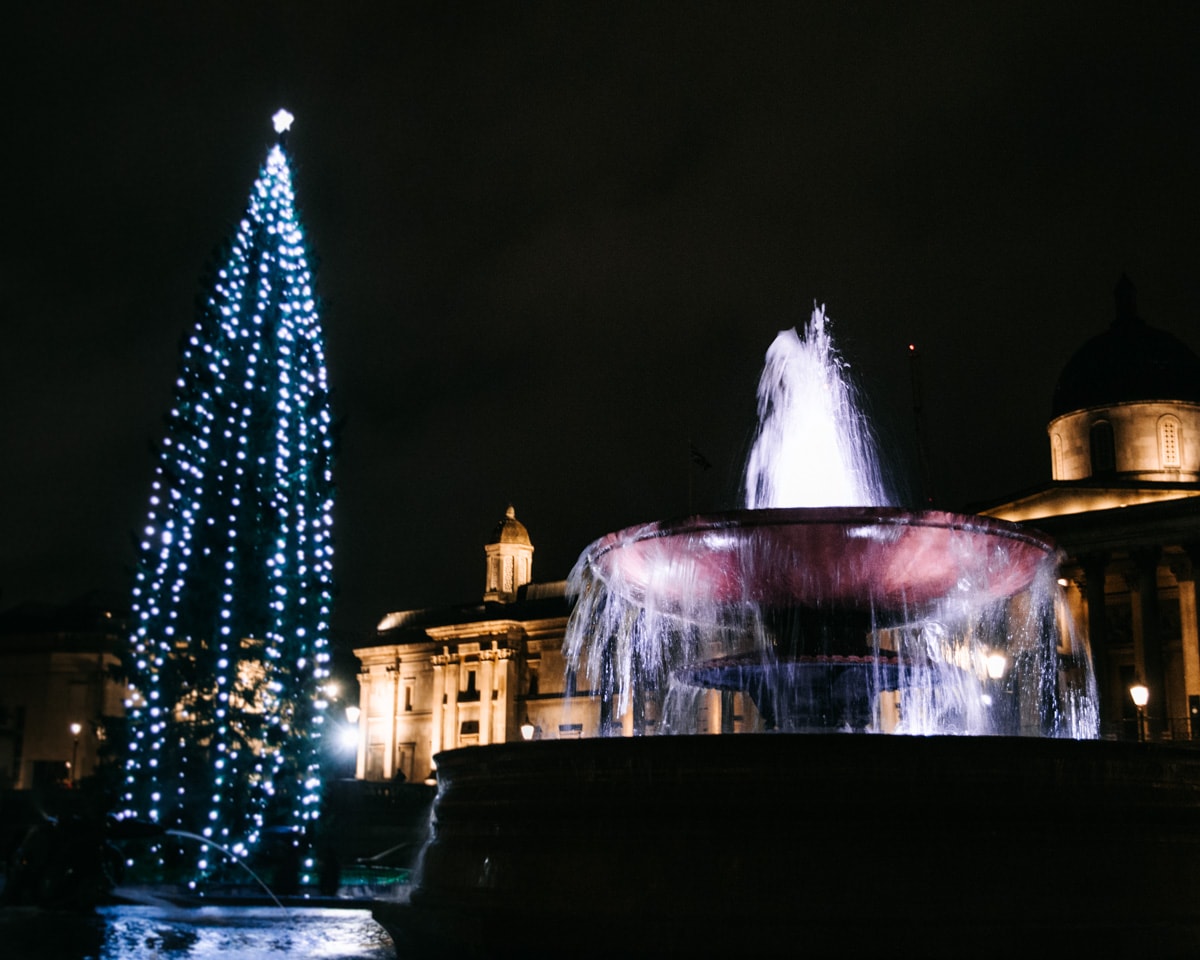 Other London Christmas Light Displays
Since we only had one night in London in December, we had to see what we could that night. When we returned the first week of January, many of the displays were already closed for the season. If you have more time or are looking for other displays as options, here are other commonly mentioned Christmas light displays in London:
Brunswick Centre Christmas Lights: The area features a large Christmas tree made of lights and turns on November 11, 2021.
Kew Gardens: For the past few years, Kew Gardens promised a display with a million lights, and this year promises to be just as spectacular. Follow the 2 kilometer (1.2 mile) trail through the lighted decorations, a laser garden and boats glowing on the lake. This display usually opens later in November (November 17, 2021 – January 9, 2022).
Marylebone Village Christmas Lights: Switching on in mid-November (November 10, 2021), these lights give the area a magical feel with simple designs stretching out over the streets.
Northbank Christmas Lights: With snowflakes and ornaments made of lights crossing the Strand, these lights also switch on in mid-November (December 8, 2021).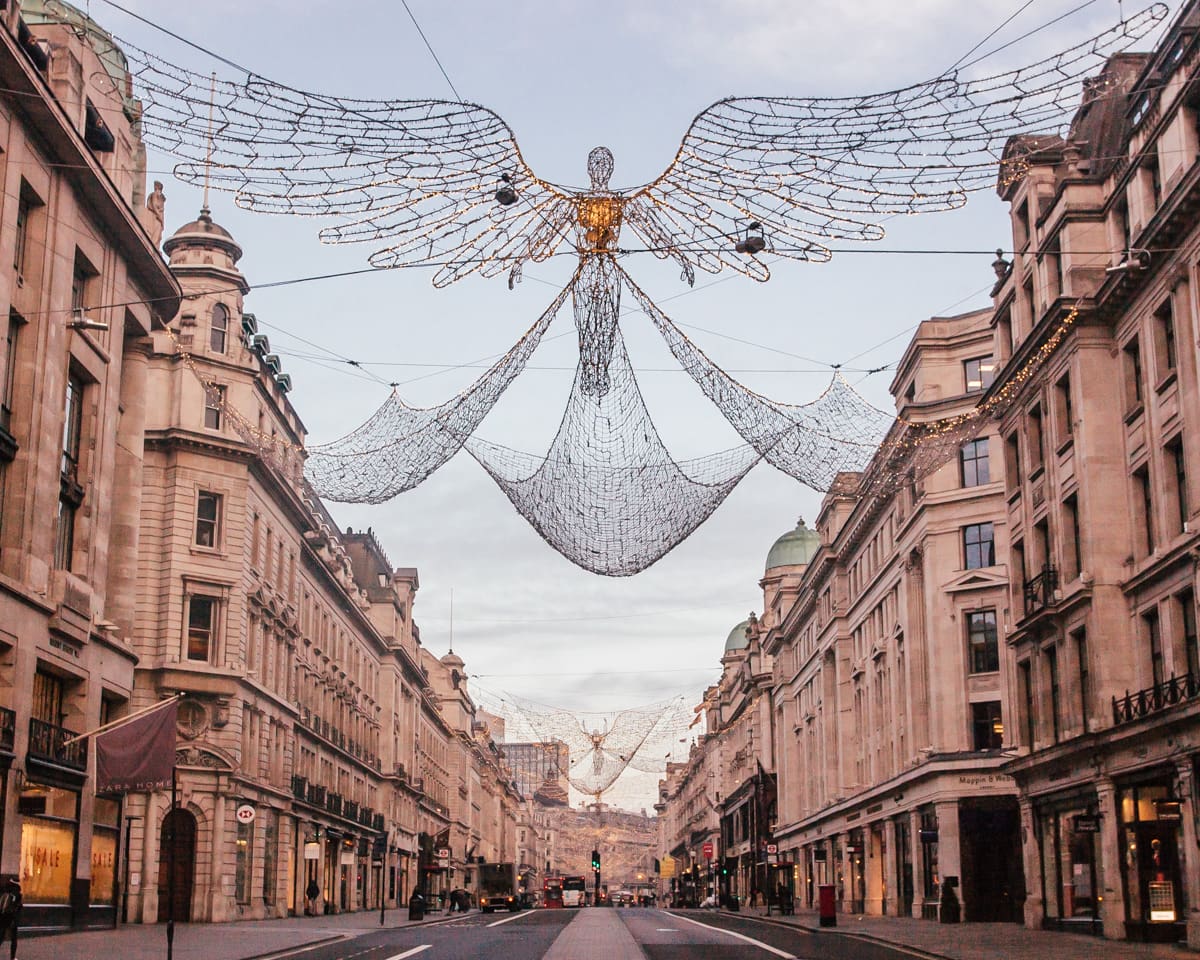 The Shard Christmas Lights: There is no switching on ceremony, but the top 20 floors of The Shard light up for the Christmas season starting on December 1, 2021. Keep your eyes open for the show every half an hour from 4 p.m. to 1 a.m. On New Year's Eve, there is a special light show starting at midnight and lasting into the early hours of the morning.
Sloane Square & Duke of York Square: Sparkling snowflakes made of lights hanging from trees and Christmas trees covered in lights brighten up these Chelsea squares starting in mid-November (November 20, 2021).
Syon Park's Enchanted Woodland: The Enchanted Woodland in Brentford End features an illuminated trail that takes about an hour to walk. The 600-year-old garden transforms with Christmas lights and decorations, and the Great Conservatory is a favorite for pictures. The Enchanted Woodland typically opens in November and closes the first weekend in December. In 2021, it was only open for 3 weekends in November (November 12 – November 28). Tickets sell out, so purchase them ahead of time. Tickets can be purchased here and start at £10.
Wembley Park Christmas Lights: Stop and check out the Light Maze in Wembley Park, perfect for colorful Instagram pictures. The glass panels that make up the maze reflect lights in all colors throughout the maze. In 2021, the display is up from November 25, 2021, until January 4, 2022.
MAP OF THE BEST CHRISTMAS LIGHTS IN LONDON
This map contains all of the locations listed above. It is separated into two layers, one for the locations listed as the best Christmas lights in London and the other layer for the additional Christmas lights you may want to see. You can toggle between the layers using the button at the top left of the map or view all of the locations at once to make it easier to plan your Christmas in London.
How to Get the Best Pictures of the London Christmas Lights
The best thing about the major London Christmas light displays is they don't turn off at night. Because the Christmas lights are on all night, you can avoid the crowds by going late at night or early in the morning.
We went around 8 p.m. the first night, and even in the rain, crowds filled the sidewalks. When we came back to London, we went early in the morning on a Saturday. No one was out, and pretty much the only vehicles around were the double-decker buses and the black taxi cabs.
The best time to go for pictures is around sunrise or just after it for Regent Street and Oxford Street. The lights are still on since they do not turn off at night (this has changed in 2021 – Regent Street turns off at midnight).
The sky is a little brighter with the sun rising, making it easier to get crisp photos. If you want photos at night, go late at night or even in the early morning hours to avoid the crowds.
A tripod will make it easier to get clear photos at night as your shutter speed may have to be lower to capture the lights. Shooting with a wide aperture (f/1.4 – f/2.8 for example) will also help allow more light with a faster shutter speed.
Keep in mind that a wide aperture will give you a shallow depth of field though. This works well if you only want the lights in the front or the person in the photo to be in focus.
Keep in mind that batteries do not last as long in the cold. My phone kept shutting down when I tried to take pictures on it because of the cold. My camera battery was okay, but take an extra just in case.
If you are shooting on your phone, take a portable charger with you or keep the phone in a pocket so your body heat can keep it warmer when you are not using it.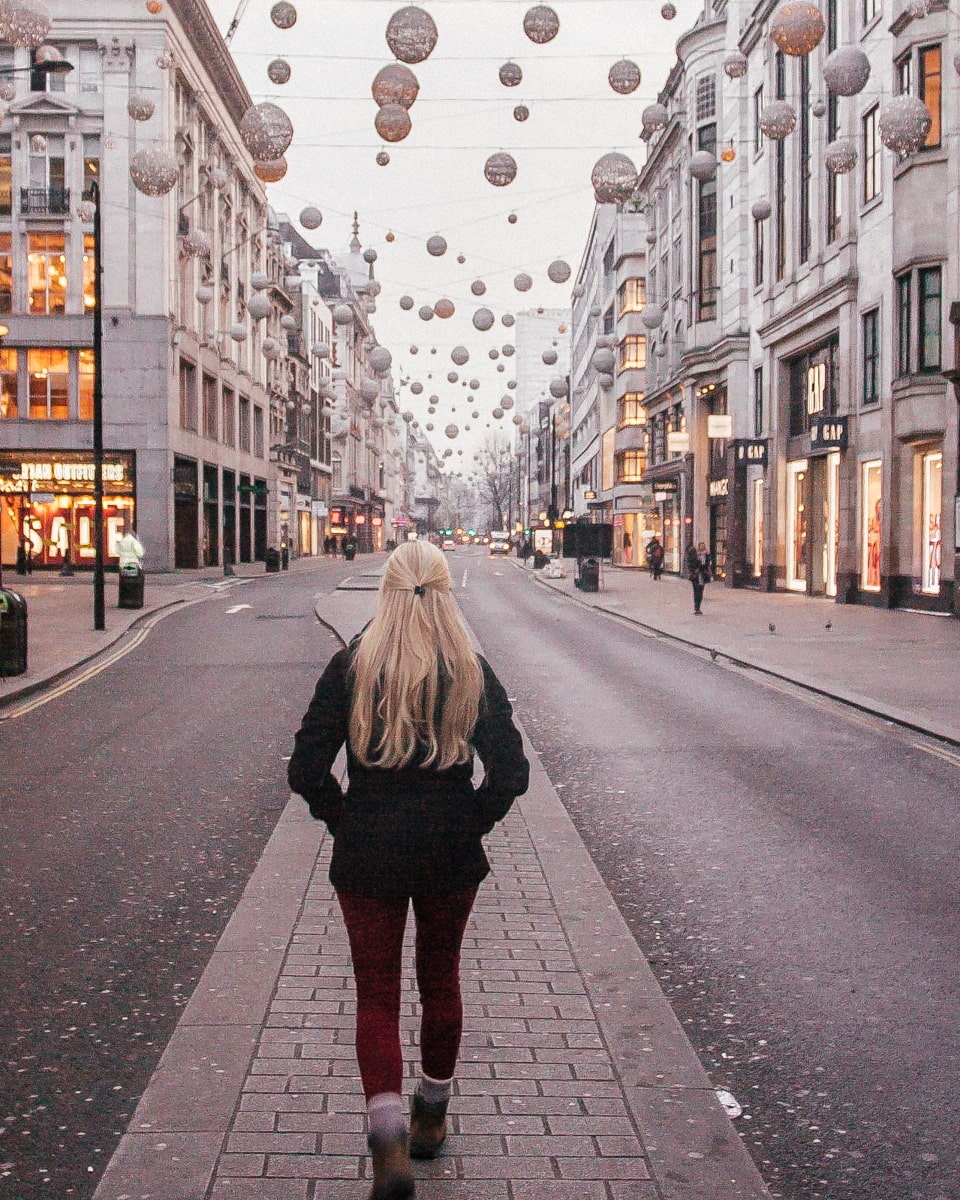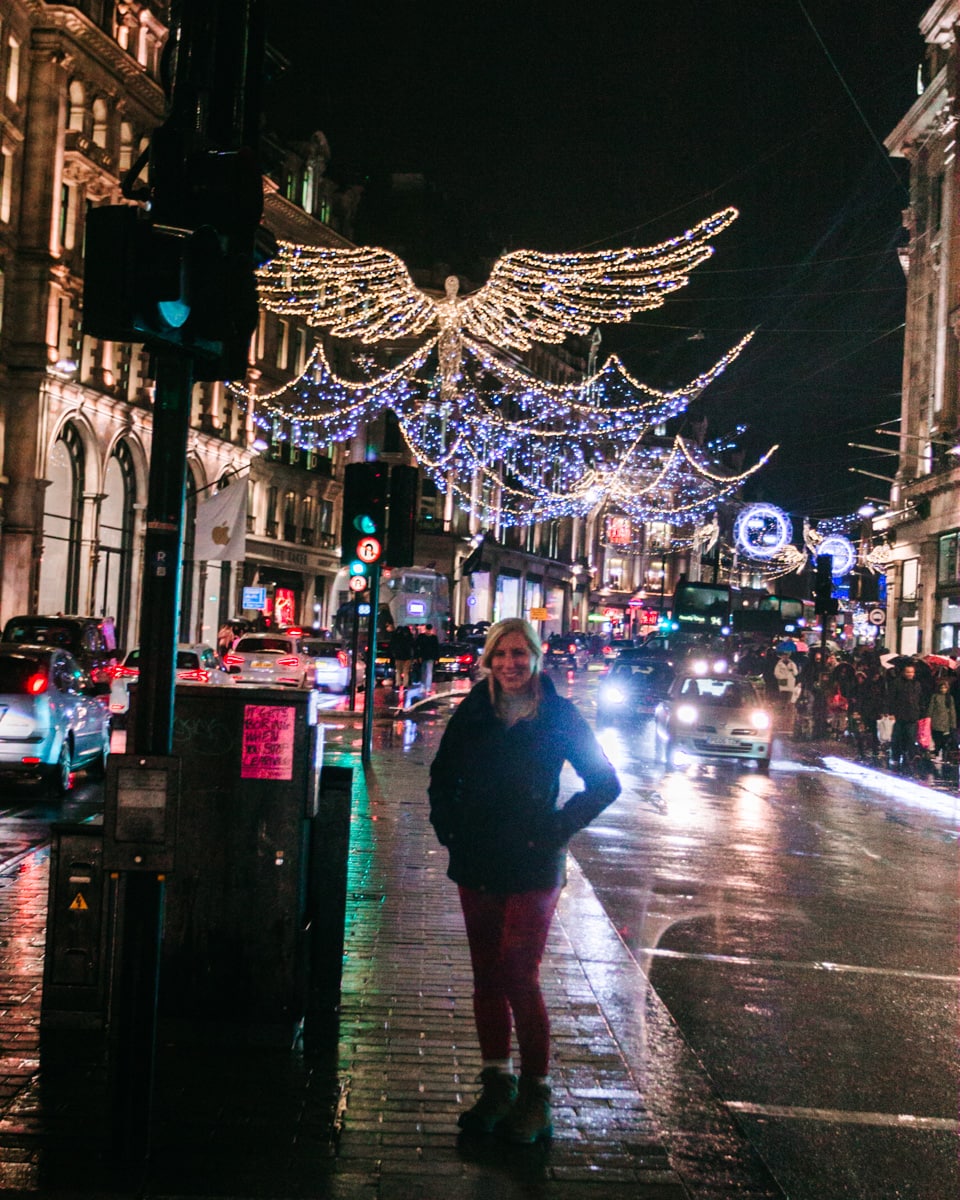 Why You Should Visit London at Christmas
London is absolutely magical at Christmas. The Christmas decorations are some of the best I have seen throughout Europe and the U.S. If you can visit London in December or the first few days of January, you can take advantage of the season to see most of these displays. Even if you visit in late November, you can still experience some of the Christmas magic.
London is amazing all year long, but Christmas is extra special thanks to the beautiful holiday displays throughout the city. If it isn't already there, add London to your winter vacation bucket list!
Need a hotel for your stay in London? Click here to search for current London hotel deals!
Looking for more London tips? Find our perfect three day itinerary for London here and our guide to eating in the Coppa Club igloos without a reservation here.
Looking for more Christmas inspiration but in a warmer climate? Check out this list of things to do in Orlando at Christmas.
Like this post? Pin it to share it with others and save it for later!