Cappadocia is quickly becoming one of the most Instagrammable locations in the world. From the magical hot air balloon sunrises to stunning landscapes, Cappadocia has everything a photographer could want in a travel destination. When we decided to take a road trip across Turkey after our time in Iceland, we knew Cappadocia had to be a stop on our trip.
When visiting Cappadocia, make sure you have at least 3 days in Cappadocia. That gives you two chances to see the sunrise in case the balloons don't go up on the first day. If you plan to ride in the hot air balloons one morning, you can still enjoy the sunrise from the ground on the other morning.
Really, I wish we had stayed 4 or 5 days instead to be able to do more hiking, but you can see all the main spots in Cappadocia in 3 days. Even with only a short time in Cappadocia, it still makes our list of the best travel destinations to add to your bucket list.
Sunrise Views in Cappadocia
In June, the balloons usually take off around 5:00 – 5:30 a.m. You get up early, get to the location to watch them, and then you wait. It was cold even in June in the morning, so make sure to take layers! We waited and waited and waited that first morning. The balloons were blowing up, and we could see them. However, they didn't take off until closer to 6:00 or 6:15 that morning. If they don't take off right away, don't give up on them! It's worth the wait and the early morning.
Sunrise & Hot Air Balloons in Cappadocia
While most people say that a hot air balloon ride is a must, we are not most people. We skipped the hot air balloon rides due to time and cost. If you have the time and want to spend the money, I've heard nothing but good things about them. If you decide to fly, book a flight on your first morning in case of cancellation. Then you have a chance to still fly another morning of your stay.
The hot air balloons take off at sunrise every morning unless the wind is too strong (above 7 mph usually). We wanted to see the balloons take off from the ground, and we only had two mornings in Cappadocia. In case they were cancelled, I wanted to have both mornings to experience it from the ground.
Best Free Sunrise Views in Cappadocia
While many of the most popular sunrise views are at the local cave hotels (more below), there are some places you can view the sunrise for free no matter where you stay. The cave hotels are typically closed to anyone who is not a guest while the balloons are flying, but there are other options.
Sunset Point
Sunset Point in Goreme can be reached on foot (but plan enough time!) or by car. If you have a car, it will be much easier to reach but parking can fill up quickly. We went up on our second morning to see what the view was like. It was only a 10 minute walk from our hotel, but that walk was basically straight uphill.
You have a sweeping view over Goreme from the viewpoint. We went in mid-June, but the area did not feel crowded. While the parking lot was full and there were a decent number of people around, everyone stayed spread out to enjoy the view and get their photos. We did not end up staying long because we loved our hotel so much. However, it is a great option if you do not stay in a cave hotel or just want a different view.
Panoramic View Point
Panoramic View Point (yes, that's its name) is another good option for sunrise. We went here for sunset, but it would offer a different and free view of the balloons. If you are want the landscape views but not the city views, this is your best option. You look out over the rock formations and watch the balloons rise over them. The sunrise will be behind you but will light up the balloons in the sky.
Balloon Take Off Site
There are two main sites in Cappadocia. Find out which one is being used the day before you plan to go. You may not be able to go to the one they are using. You may have to stay a certain distance away, but it is supposed to be a special experience to watch them take off up close.
Must See Locations & Most Instagrammable Spots
Cappadocia is full of diverse locations that make for great views and photos. There are cave churches built hundreds of years ago and landscapes that make you feel more like you are on the moon. If you love hiking, there are a ton of trails you can hike in the area as well. If you aren't up for hiking, you can take bus tours or rent a car to make your own itinerary in order to minimize the amount you hike.
Goreme Open Air Museum
Goreme Open Air Museum is one of the most popular stops for tours in Cappadocia. You can reach it on foot if you are up for a walk. It as located about a mile (1600 m) from the hotels and main street through Goreme. The museum opens at 8 a.m. and closes at 6 p.m. (5 p.m. in the winter). The cost is 45 TL (about $8) per person.
Make sure you arrive right at 8 a.m. as the tours begin pouring in between 8:30 and 9:00 a.m. I am guessing it also clears out in the evening before closing if you are not an early riser. For us, it made sense to go early. We watched the sunrise and then headed straight here after breakfast.
There is an extra fee to visit the Dark Church (10 TL or about $1.75 per person). We opted to skip this as we heard it was not worth the extra time or money. Some people say it was worth it, so you do the research or look into pictures of it to decide. Part of the exterior shows over the wall without paying a fee. The Dark Church is the most well-preserved of the cave churches, but we felt like the other cave churches were impressive as well.
There are men sitting outside of most of the cave churches to remind you of the rules. Inside many of the churches they ask that you not take photos and that you stay quiet out of respect. Religious frescoes cover the inside of the churches. Some have areas dug out that were used for burials or tables and benches that were carved out of the rock.
Fairy Chimney Valley/Pasabagi
Also known as Pasabag Valley, this is worth a stop and is free! We went here after Goreme Open Air Museum. If you want to reach this one on foot, it is a much longer walk (4.3 miles or 7 km one way). The best way would be to rent a car or hire a taxi. You can also take a tour, but the tours did not seem to stay long there.
This is one of the Instafamous locations in Cappadocia, and we did not realize that at first. I assumed they were all taken in Goreme Open Air Museum, but this area is similar. It is a much smaller area in terms of cave churches. One of the men at Goreme Open Air Museum took one look at the picture I showed him and typed it into my phone so we could find it with the map.
The most famous shot is right near the parking lot. If you walk straight in and then stay to the left, you will see a little shopping area. It is just past that area. Even in the mid-morning, it was empty when we first arrived. Because it is further out, most people arrive with tour groups. These groups had anywhere from 20 – 40 people, but if you are patient, they leave and the area is totally empty again within 10 – 15 minutes. Another group will arrive soon though, so be ready!
When we went, there was also an ice cream cart selling Turkish ice cream for 1 euro per scoop next to the shopping area and right next to the most popular spot there. Since I try ice cream in every country, I had to try some. The man serving the ice cream puts on a whole little show with it, so be prepared – it is impressive but it takes longer than you would expect to buy ice cream. I bought some to use in a picture and then eat, but a tour came in and crowded the area. I ended up eating that one and buying another one – you get the same show the second time! Overall, I was not a fan of the texture and ended up not finishing it.
Don't just see this spot and leave if you can help it. Keep walking to the south and climb the trail up the rocks to enjoy the moon-like landscape and the views from the top. We were both wearing flip flops (we are from Florida after all), and they were not great for climbing the rocks. Trail shoes or hiking boots would have been better. We ended up taking off our shoes and climbing barefoot. It was safer and the rock was smooth to our feet.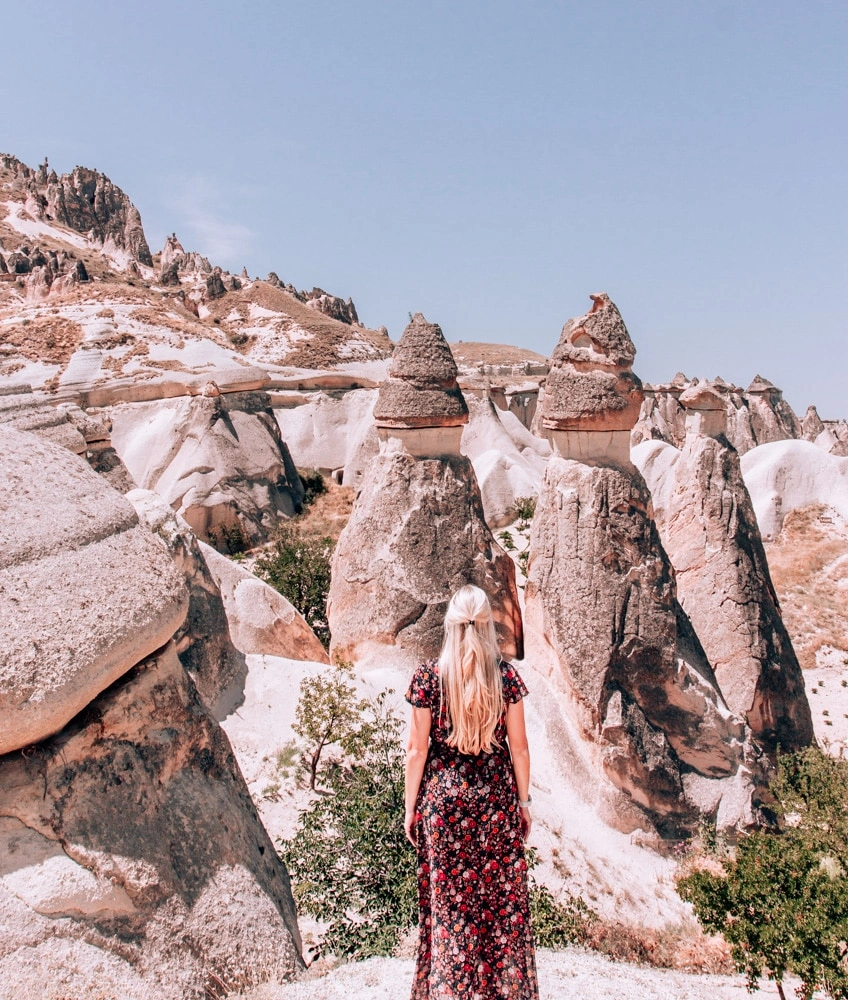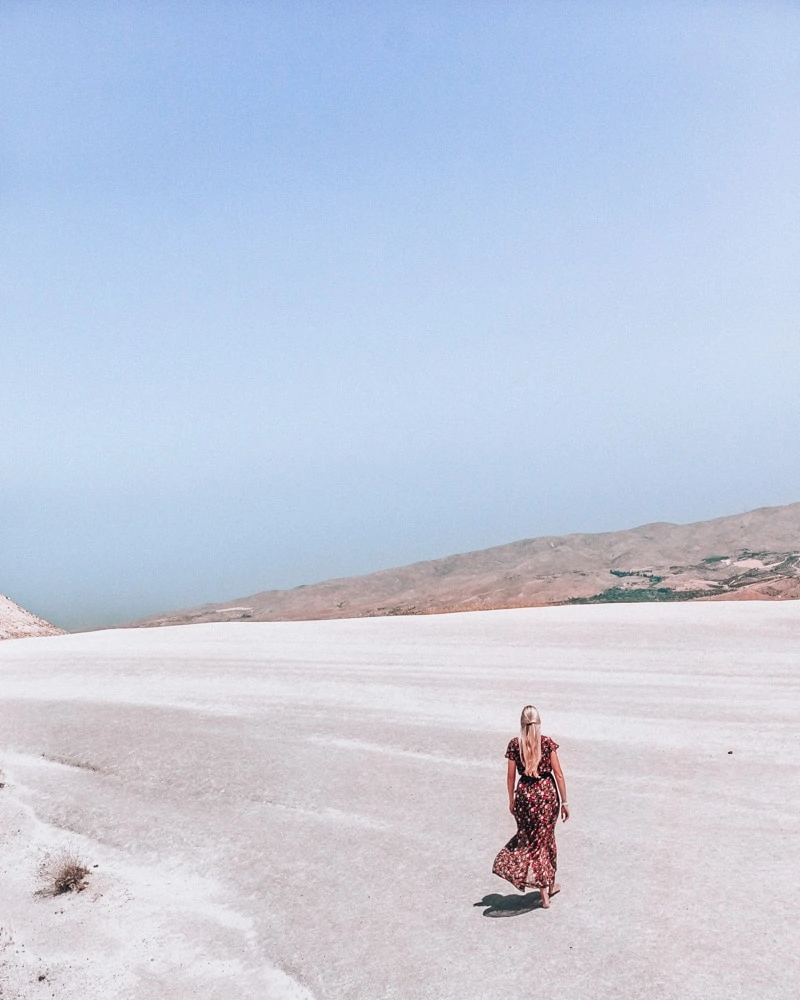 Sunset Point/Goreme Balloons Take Off Area
This spot goes by two names and was the hardest to find. I saw pictures here before we left, but no one I showed the pictures to knew the location. They just said somewhere over there and pointed in all directions. I finally gave up looking and decided to just find a similar landscape while driving around the last morning. My husband pointed out a spot that seemed like we would be able to hike up the trail quickly. When we got to the top, I realized we found the spot I wanted to find all along.
If you are using Apple Maps, search for Goreme Balloons Take Off Area. If you are using Google Maps, search for Rose Valley or Sunset View Point – it is the area between them. This is one of the areas where the balloons take off in the morning, but if you take the trail to the left that goes up a hill, you end up with an amazing view of the area.
Other Things to Do in Cappadocia
Galerie Ikman is the famous carpet shop in Cappadocia. If you decide to visit, make sure to ask permission before taking photos as it is a place of business. You may want to make a purchase or at least offer a tip as a thank you for letting you shoot photos there.
Uchisar Castle is another popular stop in Cappadocia. It is the highest point in Cappadocia and not supposed to be a bad climb. Several blogs I read described the view from the top as amazing.
Don't Underestimate the Sunsets in Cappadocia
Sunsets in Cappadocia can be just as magical as the sunrises. The only thing missing is the balloons. We wanted a spot to watch the sunset, and our hotel mentioned going to Panoramic View Point. They warned us that the clouds were not a good sign for the sunset. We decided to go anyways, and the sunset blew us away. The white rocks take on the sunset colors, and the sun paints the valley as it sets.
When we first drove up to Panoramic View Point and saw the crowded parking lot, we knew it wouldn't be the best spot to watch the sunset in peace. The view there is amazing, but we wanted to be away from the crowds. If you go back down the road, you will see different trails off the main road. We drove out one of these dirt roads and then hiked from there. We saw one or two other cars that took different dirt roads but otherwise had the view and area to ourselves.
Sunrise Point is another good option for sunset if you do not have a car and need to get somewhere on foot. The Goreme Balloon Take Off Area or Rose Valley area mentioned above also makes for a beautiful sunset view in Cappadocia.
Best Cave Hotels in Cappadocia to Stay In or Visit
The cave hotels in Cappadocia are more affordable than you may think. We waited too long to book since we hardly ever book things more than a few days in advance, and it left us without many options. I ended up doing a lot of research in a short time frame on the options available.
Cappadocia Cave Suites
We ended up choosing Cappadocia Cave Suites. I cannot say enough good things about this hotel! While it may not be one of the Instafamous hotels, it should be. There are so many spots that are perfect for photos and perfect for sunrise views just at the hotel. We had the entire balcony overlooking the sunrise and balloons to ourselves except for about 10 – 15 minutes when a family and then another couple joined us to take photos and then leave.
Breakfast was included with our stay and was a decent sized layout. We did not leave feeling hungry at all. There was space inside and outside to eat, and you had a view over the town from both areas.
The service we received went above and beyond. The people were friendly and helpful, offering suggestions for food and things to do. When we needed to change where we were going to drop off our rental car and could not do it ourselves, they acted as translators for us. They explained the situation and helped us find someone who could speak English at the call center to get the changes made.
I expected the cave hotels to be outrageously overpriced, but they were actually quite affordable. Our hotel room was $180 for two nights with all of the fees added in. Even the more famous hotels were about the same price except for a few. As for the rooms, we booked a cave room called Cappadocian Deluxe II and loved it. It had a large jacuzzi tub/shower, a queen sized bed, and a twin bed tucked into another area of the cave. It also had two sitting areas within the cave and a sitting area outside the room as well.
Sultan Cave Suites
Probably the most famous of Cappadocia's cave hotels, Sultan Cave Suites is worth a visit even if you can't get a room there. This one books months in advance, so we were out of luck. The prices are about the same as our hotel, but it definitely attracts a crowd. Sunrise brings everyone from Sultan Cave Suites and neighboring Kelebek Cave Hotel to the rooftop to get the photos the hotel is famous for. That means you have to wait your turn for the shot you want and move quickly so others can do the same.
The hotel rooftop closes to anyone but guests for sunrise, but it opens again later in the day. We went by in the evening just before going to watch the sunset. The view is still beautiful then and less crowded. There were still a few other people trying to take photos, but everyone took their turns fairly quickly. There is also a rooftop bar if you want to enjoy a drink with the view and of course, Izmir, the famous Cocker Spaniel who lives there.
Other Hotels to Consider
We also stopped by Local Cave House Hotel which is another Instagram favorite. It is centrally located and was only a couple of minutes from our hotel. The owner was there when we walked in and was kind and welcoming. He allowed us to take pictures without a problem and seemed to welcome the free publicity that comes with the photos.
If you are looking for a pricier option, Museum Hotel makes for gorgeous photos and has a pool with a view. You can also stop by later in the day for this hotel.
Rox Cappadocia was another hotel we considered for a stay, but we ultimately decided not to stay. The options available were more expensive, and I really liked the vibe of Cappadocia Cave Suites from the pictures I could find online. They definitely have gone out of their way to make it a perfect spot for photo ops though!
The Practical Information
When To Go
We went in early June. It wasn't too crowded yet, but I think April – May and September – October would be perfect for weather and crowds. The winter months have the most cancellations for balloon flights, but I have seen pictures of the landscape covered in snow that make me want to go back to see that sometime!
How to Get There & Get Around
There are daily flights and bus rides from Istanbul and other cities, but we decided to do a road trip. We flew into Istanbul and then drove to Ephesus and Pamukkale on the way to Cappadocia. It paid off to have a rental car in Cappadocia to get to some of the sites that were further away without having to worry about taking a tour. You can rent vehicles at both airports that service the Cappadocia area. You may need to get an International Driver's License, so make sure you know the rules before you go.
There are also tours named by color – the green tour, red tour, and blue tour. If you are not renting a car, you can use these tours to get out to the locations that are further away from town. I have heard good things about these tours, but we had a car and did not need to take one of them. This post goes into detail on picking the best Cappadocia tours for your trip if you are not interested in renting a car.
How Many Days to Spend in Cappadocia
If you are short on time, know that you can still see most of the major sites in just a few days. We only had three days and two nights, but we still managed to fit in everything we really wanted to see and do. If you have more time, I think four to five days would be perfect. It allows time for more hiking and exploring of the surrounding areas as well as a chance to watch the sunrise and sunset from a few places including from a hot air balloon.
***
Have you been to Cappadocia or is it still on your list? If you've been, what is your top suggestion for others planning a trip there? Let me know in the comments below!
Looking for more inspiration for a visit to Turkey? Check out this post with our full road trip itinerary and these posts on visiting the ruins of the ancient city of Ephesus and enjoying the thermal pools in Pamukkale.
All photos edited with presets that can be purchased here.